Fi-2 Music Player for Windows 10 Mobile, this week's myAppFree Deal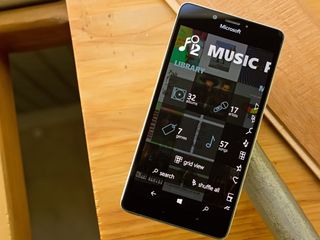 If Groove Music isn't doing much for your Windows 10 Mobile music experience, take a look at Fi-2 Music Player. It is an alternative to the native music player that shines the spotlight on your music library with a user-friendly interface that makes it easy to find the songs you are hunting for.
The music player is available for Windows 10 Mobile and is regularly priced at $1.99. However, if you've been on the fence about buying Fi-2 Music Player, now is your chance to take the plunge and save a little along the way. Through the myAppFree promotion, over the next twenty-four hours, you can pick up Fi-2 Music Player free. It's a nice looking music player and with the myAppFree deal an easy savings.
The layout of Fi-2 Music Player is in panorama style with various ways to access your music library. You have a Library Page that has options to pull up your music files by album, artist, genre or songs. A Menu Page offers options to view what's playing, a shuffle all option, a keyword search for music files, access to the app's settings and more. A Favorites Page highlights any songs, artists or albums you have tagged as favorite for easy access.
Other key features include:
Grid View for a more visual means of searching your music library
Live Tile support that includes options to view your collection stats, a collage of album artwork and your most played songs
Search results are nearly instantaneous due to a smart indexing system that refreshes itself in the background
Fi-2 Music Player is regularly priced at $1.99 with a free trial version available. However, with the help of the myAppFree promotion, you can pick up Fi-2 Music Player free over the next twenty-four hours. The Windows 10 Mobile app comes across as a user-friendly alternative for music playback and with the myAppFree deal, you can save a little along the way.
Please keep in mind that with global time zones, it may take some time before this deal is reflected in all the Windows Store markets.
Download Fi-2 Music Player from the Windows Store (opens in new tab)
myAppFree
Windows Central is proud to be partnering up with myAppFree to bring you savings on Windows 10 apps and games. myAppFree is a free Windows 10 app and service that highlights special deals for software in the Windows Store. Make sure you download their app to keep track of all the specials they run weekly, as you'll never know what you may find.
Windows Central will continue to highlight select Windows 10 titles from myAppFree on a regular basis as a benefit to the Windows Central community. Many of these deals will be available for both Windows 10 Mobile and PC, so you'll double your savings.
Download myAppFree for Windows 10 PC and Mobile (opens in new tab)
George is the Reviews Editor at Windows Central, concentrating on Windows 10 PC and Mobile apps. He's been a supporter of the platform since the days of Windows CE and uses his current Windows 10 Mobile phone daily to keep up with life and enjoy a game during down time.
Groove music is great. I just miss pivots. Could be something like within photos app. Hate to tap hamburger every time I want to switch from Artists to Albums to Songs etc.

it definitely could use a small UI overhaul.

all I want is E Q A U LI Z E R but yet, still waiting and waiting.... and switching platform

The equalizer in the settings isn't enough? Or are you on a non Lumia device?

what about NON lumia devices?? Iam talking about them :))

It is there in the phone my dear. Oh my!

My question is, is it so difficult to also say this is downloadable for Windows 8.1 too?!

not at all difficult .... i have it downloaded on my phn with 8.1

It's beautiful... And it works! Good offline player. I especially love the collage bit... Thanks WC & MyApp Free!

So can't find any mention of whether this will access my OneDrive music folder.

This app plays only your local music collection. No OneDrive support I believe.

Downloaded it hoping it would be better than Groove. Groove only sees 720 or the 751 songs I have on my phone. This only sees 540 even after 5 refreshes.

Hmmm... I don't think I have that issue with my groove. I will certainly have to check now.

If I'm not wrong, this app looks for music only in the music folder of your phone and SD. Try moving all your songs there.

That is where all of it is. I thought that I may just have currupted files when it was just with Groove but now I'm not sure. The files are FLAC but that shouldn't be an issue since both see, and play, the others without issue.

Mine shows over 9900 songs. 700+ albums. As does Groove

I so much love this app... Sleek, easy to navigate and reminds me of windows phone 8.1. Groove music UI is super ugly. Thanks developer. U Dug in deep where MS have failed. Rubbish hamburger menu messing everything up

Oh jeez this is the windowsphone 7 UI!! ******* missed this. Microsoft catered too much to the oil and Android design. It's bllsht

Agreed. The panorama navigating was an essential part of the music app.

I don't understand why every music player I have ever used on Windows 10 requires internet connection to play local music. It is frustrating. I hope this one doesn't.

Huh? Groove doesn't require an internet connection...? It plays my sd card stored music just fine in the subway or on a plane.

I don't use Groove because I need a player that completely exits out and Groove doesn't. I have tried tons of 3rd party apps and every time I use data the music breaks up or when I try to play music in bad areas without connection, I can't. Maybe Groove does, but it is not an option for me.

Just download the stop app and run it when you are done playing music. I realize this is a work around, but for some reason apps not exiting on W10M is a common thing that apparently developers don't feel is annoying.

The frustrating thing is the stop app was a Windows 8 headache and should have been fixed in Windows 10. Very frustrating. Perfect Music and Core Music are 2 apps that I found that do have an exit and I enjoy them both, but the data connection is still an issue.

I use both Core Music and Perfect Music. Neither requires data connection to play. I even play songs in offline mode, without wifi. Surprised by your experience

I don't know what to say. When I'm driving and hit bad reception areas the music cuts in and out. Or when I try to browse Facebook on data while listening to music it also cuts out. What setting are you referring to I. core music?

I use default setting. No special rejigging

Solid App! Still love my X-box Music! Yes. I'm still rocking WP 8.1!

I run Groove, play songs. Every time I navigate away, it turns off. It started about two months ago. I went back to my Lumia Icon and Xbox music. Does anyone have a fix or answer to this problem. I keep thinking every update will fix it, but no.

Faulty tags interpretation, such as album/artist/genre. Same bugs as Groove. Seleted already.

This is nice, but no gapless playback. Bummer.

Got It!!! Love it!!! It doesn't skip in the middle of songs. It's good

It sure looks good. Downloading.
Windows Central Newsletter
Thank you for signing up to Windows Central. You will receive a verification email shortly.
There was a problem. Please refresh the page and try again.