FIFA 16 demo now available for download on the Xbox One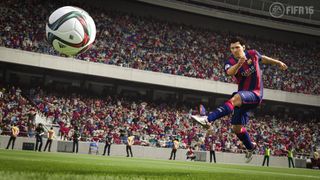 Itching for some football action on your Xbox One? You're in luck, as FIFA 16 demo is now available for download on the console. The demo offers one-off matches and a new FIFA Trainer mode, with access to three stadiums and ten teams from the full game, which includes two women's squads.
The game features female footballers for the first time, offerings 12 women's national teams. There's a new game mode called FIFA Ultimate Team, and you can develop skills of players in a new training mode before heading off to a matchday (if only it were that easy to train Walcott to finish better in real life).
The game will be available from September 24, and EA Access members will be able to access the title a week ahead of everyone else. Head to the link below to download the demo, and let us know who's on your team sheet in the comments.
gameplay video, guys. please

Sorry, but the only women's team worth mentioning is Germany.

America is a joke. (I'm not biased against them, because I live here)

in terms of beauty or skills :P dude ?

You are joking right? The US team are much better, they have won it all.

Even the local women's teams in the US are pretty fantastic. I just watched Seattle Reign vs Washington Spirit play live over the weekend. Way more exciting than the men's teams, despite the stadium size difference. But the women's game I went to was a sellout. They deserve better than a high school style stadium. And I'm glad that EA finally included the women this time around.

When in pc?
When in India?
When for free?
When on my phone?
The "when" questions never end. I wish it didn't exist at all.

FIFA is too bogus, it is stick crunching game. You can't relax,view the scenery, interact with people in viewing arena while play is going on.

But can you bribe officials and experience fully realistic corruption from the top down? It just wouldn't be FIFA without that feature...

Live gold subscription needed to download on 360?

All weekend I wanted to try this out. Now that the long weekend (in the US) is over, the demo is finally released. Oh well, that's all I have time for now. I have to get to work.

Haha, for real. So inconsiderate of them.

Fifa 16 Demo Download http://www.36games.org/fifa-16-demo-download/

I play the demo its different to the fifa 15 I like but not I expected. Play on x1

Sorry did the england women's team not beat the german women so realistically there worth mentioning
Windows Central Newsletter
Thank you for signing up to Windows Central. You will receive a verification email shortly.
There was a problem. Please refresh the page and try again.