File History backup returns in Windows 10 preview build 16226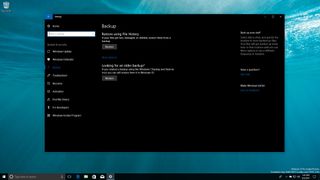 For a brief period, it looked like Microsoft was set to kill off its File History backup feature in the Windows 10 Fall Creators Update, but that no longer appears to be the case as of the latest preview build release.
File History was initially axed in an accidentally release build, 16212, earlier in June. The feature was also absent from build 16215, which was released not long after. As spotted by MSPU, the feature is now back in the most recent Insider build, 16226, appearing in the Settings app once again.
It's not entirely clear why the feature was removed and then returned, but it's good news for anyone who needs to perform a File History backup to another drive. Curiously, when the feature initially went missing, @h0x0d on Twitter also spotted dialog popup references to File History no longer being supported, so it's still entirely possible we could see the feature replaced in the future.
Windows Central Newsletter
Get the best of Windows Central in your inbox, every day!
Dan Thorp-Lancaster is the former Editor-in-Chief of Windows Central. He began working with Windows Central, Android Central, and iMore as a news writer in 2014 and is obsessed with tech of all sorts. You can follow Dan on Twitter @DthorpL and Instagram @heyitsdtl.
Would be good if WC could reach out and find out what's going down? File History is essential for Windows 10 S because there's no alternative.....OneDrive is for Sync and that is very different to backup

Having files in multiple locations including OneDrive, is a backup. And I'd never place my eggs in on basket so I back up OneDrive as well. Also,
OneDrive has version history for Office documents.

OneDrive is sync, not backup. I'm not saying don't do it but they are different things. If your computers are on at the same time or you turn another one on without realising and something like wannacry infects the files, those changes sync to all other pcs. OneDrive has history for SOME file types but not all. Have Sync, its extremely useful and I'd never be without it but also have a true backup solution.

I'm not saying any one solution is a best practice, but regardless of which hardware or software you are using, any place you store another copy of a file, is by all definitions, a backup. Also, the same argument can be made with NAS, External HDD, or if your data retention policies are limited. You never know how long a virus may have been dormant, a zero day that attack, or if your backup solution was compromised. It comes down to the more copies you have in different locations, the better off you'll be.

Let's agree to disagree on the terminology, it's not worth arguing over. I just prefer things not to be ambiguous and I would never have a client using a sync tool like OneDrive on it's own. You've said you also keep a true local backup too so you're covered, there's just a lot of average users though who won't understand at all why OneDrive is different to keeping actual separate copies of the files where they can't both be accessed and won't overwrite each other.

I won't get in to the semantics of what backup software does either, but working with IT BC & DR planning for over a decade, and because I've seen how every solution can fail, not once have I suggest doing less. Relying just on FileHistory and not open to all other solutions (free if that's all people can afford) was the original reason for concern, and pointed out the downsides to that way of thinking.

Current File history is like trash, Doesnt work as it should. Constant multipies the same files even if they werent changed

But it's not like its eating up data online.

It does work, the thing is I set it for 24h for large files changes. On release Windows build it is hidden but still there.

I for one am happy with this seeing as i have sold it to my family for the last year as a free and easy to use backup process.

They should replace the trash with something more versatile that combines the functions of File History and applications like FreeFileSync...maybe call it File Sync and History. I'd proudly use that to constantly keep individual directories in sync across my internal and external SSD.

They had briefcase in the past versions of Windows. I think they do this on purpose to give us half complete features to let developers come up with something better and make money.

I don't know if this is news after all, because Microsoft never cancelled the feature officially.
An educated guess would be, that to keep such add on parts really decoupled from core windows, they have a separate build process to have a working Windows core build. And that one got accidentally leaked.