File sharing service 4shared launches beta of its Windows 10 PC and Mobile app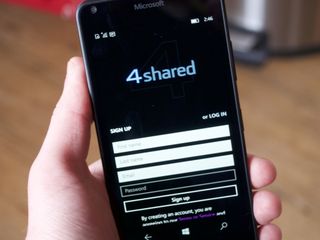 4shared, the file sharing service that launched an official Windows Phone app in 2014 has now introduced a universal app for Windows 10 and Windows 10 Mobile.
Like the Windows Phone version, this new Windows 10 app is designed for users of the 4shared service to upload, view, move, copy or delete their documents from within the app. However, they also label this release as a beta and it shows. The app currently has lots of glitches and issues so you may want to wait until 4shared comes up with an updated release that fixes these bugs.
Thanks to Mohamed for the tip!
Download 4shared (Beta) for Windows 10/Windows 10 Mobile (opens in new tab)
Is it better than Xander?

They are two different things

Alotta apps these days , just waiting for : Snapchat , instagram and fb messenger ( as ms said on 6th October) , clash of clans , and maybe retrica ( which is coming soon btw , on their website ), then I think WP will really start to fly high!

I'm only waiting for 8-ball pool from Miniclip

I'm only waiting for local bank apps and map

I dont think Facebook messenger or instagram are gonna make a difference when it comes to Wm. They're both already available, even if not perfect.

I dunno... There are a LOT of features getting added to the iOS and andriod versions that windows is missing out on. And with facebook gunning towards making messenger more than just a chat app, windows users could ge left in the dust without a significant update.

They are nonetheless horrible feature wise (FB and its apps are terrible in general) compared to the iOS and Android application counterparts Posted via the Windows Central App for Android

Even Microsoft's own apps are horrible feature wise compared to their iOS and Android counterparts.

They mean universal like on desktop the whole loops and with a better ui too speed etc

Yeah man. I totally agree

These are the same apps that were on WP8.1, just updated for W10M.

Perfect ? , They're almost featureless (fb , fb messenger and instagram) compared to IOS and android versions

I think MS only said about Facebook apps: Facebook, Messenger and Instagram. I did not hear anything about Snapchat, which personally I don't care, but it will be good for the platform.

FB Messenger and Instagram is suck at feature here. But run great and reliable. Hope they keep that when adding new feature

Instagram is great if you use 6tag by Rudy Huyn rather than the abandoned Instagram BETA app

Thanks for your sharing. juegos de pou, juegos de un show mas, juegos de los simpson, Pirate Kings, Banana Kong, solitaire games

Seems that universal app thing is working.

Universal cool cool. Universal apps are rising.

Wonderful, wonderful stuff! More to come please!

I don't think 4 shared is useful for us..

Despite whether or not you think it's useful it's still good for our platform to see that developers are making universal apps.

Great for the ecosystem and those who use 4shared.

Awesome! :) Glad finally here.

And that weirdo steve said UA wont fill up the app gap

Wow. The power of UNIVERSAL apps.

Universal windows app is really working. The apps are comming . That satya nadele is genius lol..
Windows Central Newsletter
Thank you for signing up to Windows Central. You will receive a verification email shortly.
There was a problem. Please refresh the page and try again.