The final Call of Duty: Black Ops III DLC pack brings Treyarch's Zombies saga to an end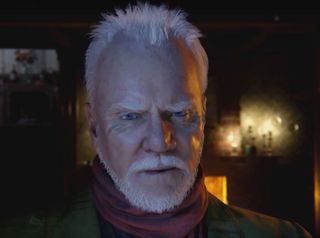 Activision has announced Salvation, the fourth and last DLC pack for the first-person shooter Call of Duty: Black Ops III. It includes Revelations, the final part of developer Treyarch's Zombies saga that began in 2008 with Call of Duty: World at War.
The announcement comes with a trailer that serves as a prologue to Revelations, and features a myterious character with the voice and likeness of actor Malcolm McDowell.
The Salvation DLC pack will also add four new multiplayer maps to Call of Duty: Black Ops III:
Citadel: Once home to a powerful medieval army, this ancient castle now sits broken and abandoned. Tight corners force close-quarters engagements, while the moat and drawbridge allows for unique player movement opportunities in this mid-sized map. The last trespassers didn't make it out alive – maybe you'll have a better shot.
Micro: What's better than a BBQ on a hot summer day? A miniaturized war zone that takes place on a well-stocked family picnic table, that's what! Navigate this bite-size battlefield for a larger-than-life experience.
Outlaw: Gear up for a showdown in Outlaw; a western-style re-imagining of the fan favorite map Standoff from Call of Duty: Black Ops II. This rough-and-tough medium-sized map brings classic engagements, flanking routes and strategic positions for long and medium ranged combat.
Rupture: The Call of Duty: World at War classic Outskirts is re-imagined as a high-tech facility, designed by a futuristic society desperate to repair the Earth's atmosphere.
Salvation will be released first on the PlayStation 4 on September 6, with the Xbox One and PC versions to follow a month later. The pack will sell for $14.99 on its own or as part of the Call of Duty: Black Ops III Season Pass for $49.99.
Get the Windows Central Newsletter
All the latest news, reviews, and guides for Windows and Xbox diehards.