The final Call of Duty: Black Ops III DLC pack brings Treyarch's Zombies saga to an end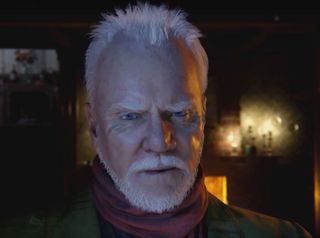 Activision has announced Salvation, the fourth and last DLC pack for the first-person shooter Call of Duty: Black Ops III. It includes Revelations, the final part of developer Treyarch's Zombies saga that began in 2008 with Call of Duty: World at War.
The announcement comes with a trailer that serves as a prologue to Revelations, and features a myterious character with the voice and likeness of actor Malcolm McDowell.
The Salvation DLC pack will also add four new multiplayer maps to Call of Duty: Black Ops III:
Citadel: Once home to a powerful medieval army, this ancient castle now sits broken and abandoned. Tight corners force close-quarters engagements, while the moat and drawbridge allows for unique player movement opportunities in this mid-sized map. The last trespassers didn't make it out alive – maybe you'll have a better shot.
Micro: What's better than a BBQ on a hot summer day? A miniaturized war zone that takes place on a well-stocked family picnic table, that's what! Navigate this bite-size battlefield for a larger-than-life experience.
Outlaw: Gear up for a showdown in Outlaw; a western-style re-imagining of the fan favorite map Standoff from Call of Duty: Black Ops II. This rough-and-tough medium-sized map brings classic engagements, flanking routes and strategic positions for long and medium ranged combat.
Rupture: The Call of Duty: World at War classic Outskirts is re-imagined as a high-tech facility, designed by a futuristic society desperate to repair the Earth's atmosphere.
Salvation will be released first on the PlayStation 4 on September 6, with the Xbox One and PC versions to follow a month later. The pack will sell for $14.99 on its own or as part of the Call of Duty: Black Ops III Season Pass for $49.99.
See at Microsoft Store (opens in new tab)
Windows Central Newsletter
Get the best of Windows Central in in your inbox, every day!
I wish they would just release a Call of Duty: Zombies and it's all of the Zombies content from all of the call of duties in one neat lil package :(

That would be awesome. I mainly buy Cod just for zombies anyway. Posted via the Windows Central App for Android

That's probably the reason they'll never do it. It sells too many extra CoD copies.

Call of Duty: Infinite Warfare will be the next CoD game. It's due out in November.

It comes free with purchase of the Call of Duty 4: Modern Warfare remake. Posted via the Windows Central App for Android

So will there be any future zombies at all if this wraps it up? I mainly played black ops and black ops 2 zombies so idk all the story line, but I do recall a doctor Monty on a paper in the theater pack a punch room in the original black ops.
Windows Central Newsletter
Thank you for signing up to Windows Central. You will receive a verification email shortly.
There was a problem. Please refresh the page and try again.