Final Fantasy 14 (XIV) Endwalker expansion has been delayed two weeks
Endwalker has been delayed. Here's what you need to know.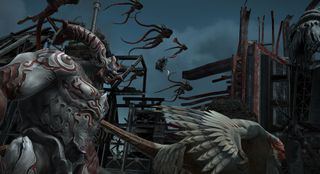 (Image credit: SQUARE ENIX)
What you need to know
Final Fantasy XIV: Endwalker is the fourth and latest expansion for Square Enix's popular MMORPG, Final Fantasy XIV.
During a Letter from the Producer presentation, the developers have announced that the release for Final Fantasy: XIV has changed to Dec. 7, 2021.
Final Fantasy XIV is the 14th mainline installment in Square Enix's Final Fantasy franchise and its 2nd MMORPG entry. In this game, players become fabled Warriors of Light and are charged with saving the world from the evil machinations of the Garlean Empire.
On Friday, the director and producer of Final Fantasy XIV, Naoki Yoshida, and Global Community Producer, Toshio Murouchi, hosted a "Letter from the Producer" presentation. During this presentation, they revealed new details for Final Fantasy XIV's upcoming expansion, Final Fantasy XIV: Endwalker. The biggest announcement is that Final Fantasy XIV: Endwalker's release date has been slightly delayed from Nov. 23 to Dec. 7. Also, the Early Access release for players who pre-ordered the game has also been pushed back from Nov. 19 to Dec. 3.
According to Naoki Yoshida, the reasoning for this delay is that the development team wants to make sure that Final Fantasy XIV: Endwalker is 100% polished and ready for launch. The story for Endwalker will bring about the end of the war between the forces of Hydaelyn and Zodiark, a saga that has lasted for over ten years since Final Fantasy XIV: A Realm Reborn. Tying up all the loose plot threads, seeing all the character arcs reach their conclusion, as well building up an epic finale could prove a monumental task. They also want to make sure server congestion will not hamper Final Fantasy XIV: Endwalker's launch, especially for the new influx of players that came in during last summer.
It's understandable why the developers delayed Final Fantasy XIV: Endwalker to spend more time on polish. Final Fantasy XIV has recently become the most profitable game in the Final Fantasy series and has received so many new players, they had to temporarily halt selling the game digitally to make room on the servers. Expectations from new and old fans alike for Final Fantasy XIV: Endwalker have never been higher, so Yoshida and his team made the difficult decision to delay the game to ensure they can deliver.
Will the extra Q&A time be enough to allow Final Fantasy XIV: Endwalker to become one of the best games on PC of the year? We will find out later this year when Final Fantasy: Endwalker launches on December 7, 2021.
The Final Days are approaching
Final Fantasy XIV: Endwalker
Become what you must to see this war finally end.

Final Fantasy XIV: Endwalker is the latest expansion to Square Enix's long-running, MMORPG, Final Fantasy XIV. This expansion will feature two new Jobs, reworks to existing Jobs, new lands to explore, and new enemies to fight.
Windows Central Newsletter
Get the best of Windows Central in your inbox, every day!
Alexander Cope is a gaming veteran of 30-plus years, primarily covering PC and Xbox games here on Windows Central. Gaming since the 8-bit era, Alexander's expertise revolves around gaming guides and news, with a particular focus on Japanese titles from the likes of Elden Ring to Final Fantasy. Alexander is always on deck to help our readers conquer the industry's most difficult games — when he can pry himself away from Monster Hunter that is!
I know it's to catch searches, but god, I hope at least Final Fantasy fans have learned their Roman numerals by now, heh!