Final Fantasy XV Cooking Guide: Food in Eos is delicious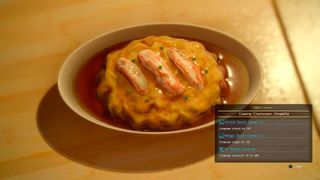 When it comes to food and eating, most games gloss right over this aspect of how humans survive. You might occasionally see a feast, or places where you could buy food, but rarely is food as important a part of gameplay as it is within Final Fantasy XV. You're able to collect ingredients in the wild, buy dinner at restaurants, and reap the benefits of both in pretty big ways.
Why does food matter?
In Final Fantasy XV time is split up into day and night, and at night you're highly encouraged to make camp, lest you run into some nasty night time beasties. At night you have two basic options: make camp at specific locations in the wild, or pay for the pleasure of sleeping in a bed at a town or outpost. If you decide to camp, Ignis will give you the option the cook dinner for everyone, if you're at an outpost you can purchase a meal from local restaurants.
When you eat a meal, no matter where it comes from, your team will get specific boosts that can help them out during the following day. These include —but are not limited to— perks like increased attack and defense, a higher HP, more magic and vitality, and plenty more to boot. Each recipe is a little bit different, so choosing the meal that will give you the best perks for your upcoming adventures is a good call.
Choosing between dinner at the diner or in the woods
When it comes time to grab food to get those sweet, sweet, buffs, you'll need to decide between paying for dinner at a local diner or having Ignis make everything at a campsite. While the obvious difference between the two is that you'll need to pay for dinner at a restaurant, it goes a little bit deeper than all of that. That's because for the most part, restaurant food will only deliver minimal buffs comparative to a home cooked meal.
If you decide to have Ignis make dinner, there are a few more hoops to jump through. Initially, you need to set up at a campsite. At this point, Ignis will ask what you want for dinner. This allows you to choose from the various recipes he has learned during your travels. While Ignis may have dozens of recipes that he knows, just like in real life you need to have all of the ingredients.
You can find those necessary ingredients in the world around you. Generally, when you are running around you'll see blue markers on the ground around you. If you investigate them, you'll be able to pick up different ingredients. These vary from things like Sahagin Liver all the way to Ulwaat Berries. There are actually 53 different ingredients that can be found and then used to create 46 different recipes.
As you make recipes, eat from restaurants, and find ingredients, Ignis will learn new recipes. Some recipes will require his cooking skill to be at a certain level before he can make them, and you can level that skill up by regularly cooking for the party. Certain ingredients will also have to be caught by fishing, and only certain fish can be caught in certain areas.
Everyone has their favorites
While every recipe that you can create has its own specific perks, there is a subset of recipes that will give a serious advantage to specific members of your party. Just like in the real world, every person in your party has a favorite food, and if you feed it to them they get special perks on top of the regular boosts that any meal will deliver.
If you feed Noctis his favorite meal, the tech bar will fill 100% faster than normal. For Ignis, Prompto, or Gladiolus, critical hits are guaranteed when using techniques, and it doubles the leveling rate for any techniques used in battle. There are 14 recipes that are favorites of at least one member of your party.
Swipe to scroll horizontally
| Character | Favorite Recipe | Ingredients Required |
| --- | --- | --- |
| Noctis | Grease Monkey's Schnitzel Salad | Garula Sirloin and Cleigne Wheat |
| Noctis | Memory Lane Cake | Leiden Sweet Potato, Fine Cleigne Wheat, and Ulwaat Berries |
| Noctis | Mother & Child Rice Bowl | Chickatrice Leg, Birdbeast Egg, Saxham Rice |
| Noctis | Grilled Wild Barramundi | Barramundi Filet, Schier Tumeric |
| Ignis | Breaded Cutler with Tomato | Anak Meat, Lucian Tomato |
| Ignis | Fluffy Chiffon Cake | Leiden Sweet Potato, Cleigne Wheat |
| Ignis | Fisherman's Favorite Risotto | Cleigne Mollusk, Caem Pinkshrimp, Saxham Rice |
| Gladiolus | Prarie-Style Skewers | Anak Meat, Leiden Pepper |
| Gladiolus | Cup Noodles (real taste) | Cup Noodles |
| Gladiolus | Skewered Wild Trout | Trout Fillet, Leiden Pepper |
| Prompto | Peppery Daggerquill Rice | Daggerquill Breast, Saxham Rice, Leiden Pepper |
| Prompto | Cup Noodles | Cup noodles |
| Prompto | Meldacio Meat Pie | Leukorn Steak, Dualhorn Steak, Cleigne Wheat |
| Prompto | Spicy Long-Bone Rib Steak | Dualhorn Steak, Leiden Pepper |
So get cooking, because you're going to need a good dinner and a solid night's sleep for tomorrow. It's a big day!
Windows Central Newsletter
Get the best of Windows Central in in your inbox, every day!
Barramundi sounds good right now! And some Fisherman's Risotto

Waiting for someone to come up with real-life versions of the recipes.
Windows Central Newsletter
Thank you for signing up to Windows Central. You will receive a verification email shortly.
There was a problem. Please refresh the page and try again.