Final version of revamped Skype app for Windows desktop launched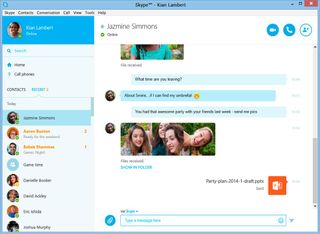 Earlier this month, Microsoft launched a preview version of Skype for Windows desktop users that included a number of new features and design changes. Today, the revamped Skype app for Windows is now out in an official release build.
Microsoft says that the chat experience is much-improved with this new Skype build, with better display of photos and more spacing between contacts and chats. There's also message preview support for unread chats. Microsoft says:
The new UI design, which is similar to the recently release Mac app allows Skype users on Windows to share chats, files and photos without having to leave a video call. It also makes group calls easier to view as well.
Version numbers jump from preview 6.21.85.104 to the now stable Skype 6.22.81.104. If you are on the preview version, just download the final release and it will update it. There is no need to uninstall.
Source: Skype blog (opens in new tab)
Windows Central Newsletter
Get the best of Windows Central in your inbox, every day!
Should I uninstall the "preview" version of Skype and install this one?

Just download and install.

Worked, thx!
Okay, I'm not sure if the last section in the article was there before I asked. If so, I'm sorry!

What about the Skype app from windows store?

No it updates your preview to this one.

Oh Good, Any luck for windows 8.1 metro apps?

The WP app should be a universal app for metro on Windows 8.1 too. No excuse for MS making any apps that arent universal. If they want to sell this concept to developers, they need to practice what they preach.

It would be nice if the desktop team would take at least a few things from the modern app. At least in the preview, it STILL doesn't have HiDPI support on windows, which is absurd.

Wish they made Skype for WP much better than it is now. We don't want just drawings. Let us have stickers. Let us send files. Let us send PDFs. Let us send recorded videos. Let us send recorded audios.

Send files? You realize you can do that... and a PDF is a File. There are things called "Video Messages" (Aka "Send recorded videos") there's also a thing called "Voicemail". It isn't exactly "Audio messages" but its close.

I think we will see updates to it and qik when we get closer to win10.

We need a faster app first

Same here Lumia 720 man it takes ages to load

But will it still support plug-ins for recording? (Still can't understand why it's so hard to find a good Skype recording solution.)

It still doesnt support High dpi! Fix your shit Skype!

Just a thing what's the difference between metro app of Skype and desktop app of it will it wont have same features on metro Skype???

Metro runs full screen. It is big. Optimised for touch. You can't remove/delete contacts or conversation. Desktop is sizable however you want. It is adjustable. Not touch friendly. You can remove/delete contacts as well as conversation.

But video call and group call is the same :P and Am trying the metro app it runs the background better then desktop

"Metro runs full screen" Well, not if you're using Windows 10 (;

But can make it full screen unless if they cant read the message conversation properly for eg :P

Actually, Rockstarzzz is wrong. The metro version is resizable (in Windows 10 TP you can resize the window to any size, and in Windows 8.1 you can snap and resize the window). This new desktop version is actually optimized for touch as well with bigger controls and spaced out contacts. Both are esssentially the same, and I'm guessing the metro version will eventually replace the desktop version since the metro version runs like a regular desktop app on Windows 10. There are some features currently missing in the metro version, but it's safe to assume it will get all the features by the time Windows 10 is officially out.

Windows 10 TP ISNT real OS. It could be significantly different than what you see. When talking about Metro UI we should perhaps stick to what exists as a final product, no?

It is funny how many are acting like Windows 10 TP is the final rtmed product lol...

Now I want Skype better for Windows phone. :)

I would love the WP version to look like this. No more annoying clouds imagery.

'....in the coming decades.'

desktop apps are stable than metro apps.

Clueless statement is full of incorrect assertions. Ok that might be a bit mean, but the point is Desktop apps are not inherently any more stable than metro apps. It depends entirely on the complexity and quality of the code as created by whoever developed it

Thanks for the swift rebuttal Jay. I know of several Metro apps that works better and are more stable than the desktop versions and it's always good to hear the opinion of the experts in the field.

Wow great when we are getting this features in WP.. Office and pdf attachment. ..ms pls do it faster...

Probably when Win10 comes out. Since they will run the same apps.

I don't think 10 is going to help WP much. I just can't see it. Maybe best to keep my expectations lower than low.

It Will bring windows ecosystem together. Developing will be much easier and devs will spend more time with coding for windows as a whole.

windows 10 will kill many barriers

Why don't they make skype activated on phone numbers?

I think its why they invented qik. I think it'll happen eventually.

Because then how would it be integrated with your Microsoft account? The beauty of WL Messenger was that integrated with Office, Outlook.com (back then Hotmail), etc. and your online status and contacts followed you and you can collaborate nicely. Skype now does that (though still has catchup to play with WLM).

Skype Qik that they released recently is what you're looking for which is Skype activated by phone numbers, no MS account required.

Of course, similar to mac, meaning MS's own crap is last. Smfh

Actually the article is wrong, this design has been on Windows on preview for quite some time now (well before it was on Mac). The Mac one is similiar to the Windows one.

Is the text still fuzzy/blurry oh the surface pro 3?

why not square contact, as in Metro UI?

Metro Ui does not say you can't use circle contacts. Plus, that's part of Skype's brand.

well, the last version used square

still no support for Full HD !!

This is all nice but we REALLY need Skype to step up on the WP front and integrate tightly with messaging and calling (See what Hangouts is doing.... Google learnt from Skype and iMessage and beat both to it.) Really need to do this to tap into the multimillion Skype users, and this might be the easiest way to increase market share for WP.... MS needs to step up big time, and fast. Some more Canadian apps will help... :)

Get an iPhone or Android and you get everything you want...so disappointing. My poor 1520 has so much display to be utilized.

maybe on iphone because every android phone that uses skype feels worse than WP: yeah, android might have some more features but I am ok with Skype WP app. I remember my friend's phone discharging even when plugged. or the thing just crashing everytime you wanting to chat. But anyway, windows 10 is going to merge both desktop/tablet and phone skype apps, so if Win10 is still not close to release, it's obvious some features will not be implemented in both, desktop and phone store apps until Win10 is released and the merge is imminent. but of course everything will be faster and better for WP and Win10 development.

you have no idea what I am talking about. :(

Of course, ios was before Windows. Perhaps the ios features existed before MS bought Skype, still always last...smfh

This was on Windows for quite some time already for certain people and in Preview for anyone who downloaded it. It was just released to everyone now.

Skype rocks on pc. love to use it

Need to update when home. I wanted to use the modern app, but jeez how crippled that one is. Sometimes its just hard to understand what Microsoft is doing, or trying to do...

I see that i have Skype 6.21.85.104 but when i click check for updates, it says I have the latest version.

Wow....amazing finally a usable app from from Skype

I just updated mine but I still have the old UI.

Will this come to WP ? , its awesome !

Wish they would bring back "offensive" smiles instead...

It's there, it's just hidden ;) Go on Bing and search for hidden Skype emoticons.

No, they removed them. (finger)/(fubar)/(wtf)/etc. only shown as text now and not as smileys.

I like it, I have been using for a while and the new way of transfering files it's really better than before. also the way of chatting while in a call. it was really bad before... it's nice Microsoft finally fixed what Skype didn't do in years.

Skype was in need for updates, is one of the Microsoft most talented sons and it needs support. Glad they into it now

The preview version of Skype app for Desktop was good and I think its what Microsoft should do with the Modern UI app too. The Modern UI app works fine on my Windows 8.1 computer but is really glitchy on my windows 10 tech preview. Skype modern UI app also has this issue with file transfer i.e. its extremely slow and sometimes it gets stuck and wont progress. If I had to tell skype what I wanted it would be an improved Skype modern UI app, ability to delete my history (FOREVER) without it appearing out of the blue when I resume a conversation with the person even after clearing the history from settings.

Any change log from preview version?

Hmm... one of the last updates added spell checking to the desktop version... now, it's removed :(

Took me a minute to figure out "Split Window View" is the code word for "get rid of this giant pane of Disney, Facebook, and Progressive Flo advertisements."

Why doesn't spelling checker work in the new Skype? I have it enabled both in Skype and in system settings (spelling checker works fine in IE11), but still the new "revamped" Skype does not highlight misspelled words.

oh no, ads in chat :/ http://i.imgur.com/XqJUZow.png

I'VE THE LATEST VERSION BUT IT STILL HAS THE OLD DESIGN

Do not update form within Skype but rather download the new version from the website. You will then get the true latest version.

So let me just set my status as Away or Busy on the Desktop....done. Now let me check that it's synced that to my Windows Phone version....oh wait...it STILL doesn't have those Status options. If you're all about syncing everything across your devices, at least get some consistency of design across your Apps Microsoft.

Doesn't work on me, stuck on 6.21.0.104... Is this somewhat related to region ?

Updated from the web and all cool :)

Could they please make the menu bar on top a ribbon????

Wow, it looks so much nicer than the old version. It looks like a decent IM client now, the old version was crap for IM. ​

Would love to know what "web cam" they're using for those screen shots. That's some crazy depth of field.

The lnk above is for the offline installer, but Microsoft didn't update it yet, so just use the online installer as i did to have the new version of Skype :)