Find your next craft beer with Beer Suggestions for Windows Phone 8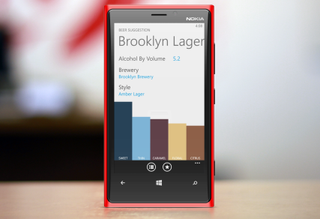 Spend your weekends at local breweries trying out local craft beer? Beer Suggestion is a Windows Phone 8 app that every beer enthusiast should check out. It's a well-designed app that helps users know a bit more about the beers around them and offers some suggestions.
Beer Suggestion is built by Austin Andrews, he's a man that you probably owe a beer, especially if you've ever used one of his icons designing or building an app. The apps looks really good, but what do you use it for? Mostly discovering the underlying flavors of whatever beer you're interested in trying out and getting suggestions for similar beers based off those flavors.
For example, there's a local brewery here in Redlands, CA called Hangar 24. They made their mark in southern California for having a unique tasting beer based off the local orange groves. If you look at the profile of their signature Orange Wheat, you'll see that it scores high in the following categories: orange, thin, citrus, sweet, crisp, etc. Now that we see the underlying flavors of why we like Orange Wheat so much, we can find related beers that have similar flavors – for example Orange Blossom by Buffalo Bill's Brewery, which scores high in orange, thin, and sweet. Just like the Orange Wheat we like so much.
The app is fairly Spartan in terms of functionality at this stage: flavor profiles for beers and suggestions based off of those flavors. But there is more coming in the future. The app uses data from Beerator (http://beerator.co/index.html), a website that offers recommendations and the database for all these flavor profiles. The website is bringing user profiles in the future, which will enable you to leave reviews of your favorite beers and help to refine the recommendation engine to more than just flavor profiles. The Windows Phone Beer Suggestion app will presumably include these features in the future when they become available.
The app is ad-supported, but you can remove those ads for $1.99 with an in-app purchase in the about page. You can grab Beer Suggestions for free in the Windows Phone Store here, use the QR code below, or swipe to the right in our Windows Phone Central app.
Now, what are some of your favorite craft brews?
Windows Central Newsletter
Get the best of Windows Central in in your inbox, every day!
YES! downloading right now! I

Finally, an app worth having.

I prefer using the HTML5 version of the Untappd.com mobile website. Enter enough brews and you start getting a suggested brews tab.

Then you'll be happy to know that they're working on a Windows Phone app.

Dang, I could really use this. Wish this was 7.8 compatible.

I wish Microsoft would stop screwing around.

I love homestyle beers always tastes best

What, no weed apps. . . I kid

That would be nice. I live in a state where its legal (Washington).

Yet you still live in a country where it is not.

I just had that Hangar 24 Orange, last night. It was good!! I wish I could get my hometown (Kalamazoo, MI) Bell's Beer out here in Los Angeles. I'll download the app now, too! :)

Thats rad! Glad you liked it.

My home town also (will be back there during Easter). Luckily I'm just in Chicago now so I can still get a few of the Bell's beers here. Will have to try this Hangar 24 though.
If you notice the screenshot for the application in the store I have their season "Bell's Oberon" on my favorites. :D

I really need to upgrade to WP8. But I think I'll hold off until Nokia brings a flagship phone to Verizon

Not terribly comprehensive for Australia. It doesn't include my favourite beer, Vale DRK, but does seem to have most of the big breweries covered and a few of the indies.

The API is getting a refresh with a bunch more keywords shortly, if you know of a source to find Australian beers I would be very interested as we are trying to make this as comprehensive as possible.

Shameless promoting for my brother. But he just made an app called brew trak which uses your untapped accounts!
Check out "Brew Trak ..." for Windows Phone http://www.windowsphone.com/s?appid=25bcc4f6-07bf-4596-b153-e46ce3e2a817

Which is another beer tracking app.

I knew I was gonna read hangar 24 somewhere on this article ;)

Thanks everyone! I will hopefully have an update out soon. Wanted to get it into the Marketplace before St. Patricks day.
If you have a friend with Android the creator of the API has an application called Beerator in the Google Play Store.

Downloaded. Will most likely donate. Quick question about possible feature to add... Would it be remotely possible to add searching by location? Local beers and the like?

and sorry if i've missed something.

Thanks.

We really want this feature. The best idea we have now is like a beer checkin combined with the http://beermapping.com/ API. But still working out ideas (no promises). The problem is our primary goal for the app is in a different direction. I'll blog about this shortly (subscribe to the RSS on templarian.com till then).
Windows Central Newsletter
Thank you for signing up to Windows Central. You will receive a verification email shortly.
There was a problem. Please refresh the page and try again.