Find your next craft beer with Beer Suggestions for Windows Phone 8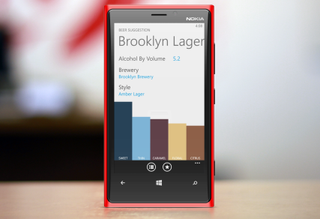 Spend your weekends at local breweries trying out local craft beer? Beer Suggestion is a Windows Phone 8 app that every beer enthusiast should check out. It's a well-designed app that helps users know a bit more about the beers around them and offers some suggestions.
Beer Suggestion is built by Austin Andrews, he's a man that you probably owe a beer, especially if you've ever used one of his icons designing or building an app. The apps looks really good, but what do you use it for? Mostly discovering the underlying flavors of whatever beer you're interested in trying out and getting suggestions for similar beers based off those flavors.
For example, there's a local brewery here in Redlands, CA called Hangar 24. They made their mark in southern California for having a unique tasting beer based off the local orange groves. If you look at the profile of their signature Orange Wheat, you'll see that it scores high in the following categories: orange, thin, citrus, sweet, crisp, etc. Now that we see the underlying flavors of why we like Orange Wheat so much, we can find related beers that have similar flavors – for example Orange Blossom by Buffalo Bill's Brewery, which scores high in orange, thin, and sweet. Just like the Orange Wheat we like so much.
The app is fairly Spartan in terms of functionality at this stage: flavor profiles for beers and suggestions based off of those flavors. But there is more coming in the future. The app uses data from Beerator (http://beerator.co/index.html), a website that offers recommendations and the database for all these flavor profiles. The website is bringing user profiles in the future, which will enable you to leave reviews of your favorite beers and help to refine the recommendation engine to more than just flavor profiles. The Windows Phone Beer Suggestion app will presumably include these features in the future when they become available.
The app is ad-supported, but you can remove those ads for $1.99 with an in-app purchase in the about page. You can grab Beer Suggestions for free in the Windows Phone Store here, use the QR code below, or swipe to the right in our Windows Phone Central app.
Now, what are some of your favorite craft brews?
Get the Windows Central Newsletter
All the latest news, reviews, and guides for Windows and Xbox diehards.