First look at real-time co-authoring for Office Web Apps across Windows, iOS and Android platforms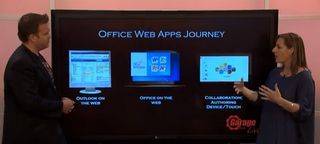 We're back at The Garage - essentially Microsoft's attempt to take Top Gear and spin it with the Office suite of products. Jeremy Chapman, Office Senior Development Lead and Amanda Lefebvre, Senior PMM of Office Web Apps both walk us through the new real-time co-authoring that's feature in the upcoming web version of Office.
Sit back, relax and enjoy the ride as we're taking through pure text editing across Word, PowerPoint and at a cell level in Excel, as well as net new capabilities previously only available on the desktop. If you're an avid user of the web apps, or are looking to get started with the tools available online, this video series is definitely worth following. Watching through some of the features the team has been implementing for co-authoring across the Office Web Apps suite is impressive.
Source: YouTube, Office Blog (opens in new tab)
Rich Edmonds is Senior Editor of PC hardware at Windows Central, covering everything related to PC components and NAS. He's been involved in technology for more than a decade and knows a thing or two about the magic inside a PC chassis. You can follow him over on Twitter at @RichEdmonds.
Try Gingko, it is known to help those who are cognitively slow.
This is a great move by MSFT. I think the subscription model started a slow leak of customers to other (terrible options in my opinion) suites. But with these features offered, it makes it a very good deal. On another note, I downloaded and used the Office for iPhone the other day, it isn´t that bad at all. i makes great use of the limited screen space. Well done MSFT.
P.S. Right now it is only good for limited editing.

It should be cross platform. As long as WP gets it.

Well if they've started off not even mentioning WP its a fair bet it won't support WP, just like Skype video messaging.

My fanboyism is wavering....

The video has a WP in it...

He sent a text with his WP and then viewed the document on a tablet.

From a buisness stand point this is huge!
As it means when working out of the office I no longer have to wait to receive a contract, edit with track changes, save and send it across or upload to my skydrive. Then chase my colleague to check if they have received and wait for their amendments.. this is a very very tedious process as my work still uses office xp and xp machines still...lol. I have tried to get the IT guy to look into office 365 but its currently not high on the director's agenda list... old fart really doesn't like change lol.

I got about 4 minutes into the video and my eyes glazed over. Could just be me but the video seems extremely boring. And the fact that 4 minutes into it and they hadn't shown anything yet....Guess what type of attention span I have?

That said, I use Office on my Surface RT, Desktop and phone. The features really do work pretty well.

Hahaha you made me laugh.

Neither one of of those people should be speaking publically.

I have to agree! Sheesh she spoke way too fast. Needs to take public speaking lessons, and could barely understand the other fellow.
Love the co authoring though

man i gotta be honest the host of that show for some reason reminds me of butthead when he talks.... i know thats probably mean sounding, but i just picture him saying Shutup beavis, you buttmunch.

They got a "garage" band to write a song using microsoft office co-authoring and perform on the "garage" show? Really? I've spent more time writing this comment than watching that video. This is why some people still see Microsoft as their dad's software company.
Windows Central Newsletter
Get the best of Windows Central in in your inbox, every day!
Thank you for signing up to Windows Central. You will receive a verification email shortly.
There was a problem. Please refresh the page and try again.