First look at Todoist for Windows 10: A sleek and powerful way to manage your day
Todoist is a popular cross-platform task manager and now we get our first look at its new app for Windows 10.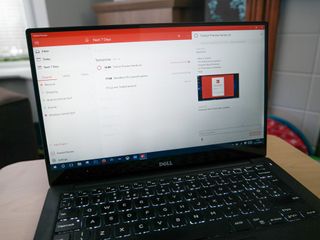 Update: Store link is now live so you can try it to for Windows desktop!
I've been a huge Todoist user in the past, partly because it's so powerful and partly because it's been (mostly) cross-platform. It's fair to say the Windows offerings have been lacklustre, with a disappointing desktop client the only official support for some time.
Then, not too long ago, Todoist acquired the talent it needed to make a brand new app for Windows 10. When finished, it'll be universal for PC, tablet and phone. What we have right now is our first look at the new app, albeit exclusively on Windows 10 desktop at the moment.
What is Todoist?
Unless you're already familiar, which lets face it, you might not be, your first question may well be "what is Todoist?"
As described by the Todoist team:
In its simplest form it's a to-do list and task manager. And the free account will basically give you that, synced across your devices. Pay up the $25 a year Premium subscription though and you'll unlock the full potential of the platform. The image below shows you just what you get extra for your money.
Todoist also has a heap of plugins available both to pull into your task list and to integrate it with other apps and services. For example, you can download a Todoist plugin for Outlook, so your email and your tasks are right there, together.
Checkout more on the apps and services at the link below.
The TaskCrunch Acquisition
The Windows 10 app for Todoist was born from the acquisition of popular third-party Windows Phone client, TaskCrunch. Not just the app, but also its developer, Jan Kratochvil.
While TaskCrunch remains on Windows Phone, the talent behind it is what has produced the brand new, official app for Windows 10.
The look and feel
Image 1 of 2
The user interface is very much Windows 10 from the moment you first lay eyes on it. Given enough window space you get a three pane approach on the desktop. On the very left your lists of projects, labels and filters, in the middle the tasks assigned to a project and on the very right the actual task you've highlighted.
Shrink the window and the right hand pane goes away. What you'll likely see most of the time on a tablet. Shrink further and you're down to a singular column and a hint at what the app will look like on Windows 10 Mobile. There is still further development work on the touch friendly nature of Todoist for Windows 10 Mobile, hence right now being limited to the desktop.
It's all very organized, very clean and very easy to navigate. If you ever used Todoist on any platform you'll feel right at home. If not, it'll take a few minutes to find all the little tools, but it's fairly obvious where to look.
Using Todoist on Windows 10
Image 1 of 2
I've been able to take the Preview for a test drive before its release to the public and I'm very happy with it so far. I've actually decided to start again from scratch with a fresh account because my old one became kind of a mess with different integrations filling it up beyond control. But it also allows me to start completely fresh with the Windows 10 experience, finding my way as others will.
Since this is still an early version, hence the "Preview" moniker, there are some bugs and there are some things missing. Karma is one of those. Karma is Todoists way of gamifying your daily tasks, giving you a score for achieving them on time, ranking you up as you earn more and more points. It's better than it initially sounds and I've found in the past it really helped keep me on track. For fear of my score dropping it became a daily obsession to reach task list zero.
One of the biggest bugs I've come across is when you want to delete a project. This has caused the app to completely freeze several times and crash out. But, preview. It's not finished and I'm sure these bugs will be ironed out before general release. I'm especially confident given Todoist's recent work and the obvious talent of its Windows developer.
But most of the main features are present, else. Filters seem absent, but labels are present and correct. You can add tasks and sub-tasks, notes and attachments, share with other people, set recurring tasks by date and time, priorities and more. View a break down of today's tasks or the next full week. It also leverages Windows 10 to allow interactive notification support and pinning items to your start menu with a Live Tile. Cortana support is planned for the future.
One other thing that is absent right now is the ability to login with a Google account. So if you signed up this way you'll need to to online into your account settings first and set a regular password.
Since this isn't a full review, I'll leave some of the exploration to down to you. You can get a feel for it with the free account, at least. Todoist is a service I personally have no issues paying for to get the most from. I've tried others, like Wunderlist, and always end up back on Todoist.
Try it yourselves!
So far I'm really happy with Todoist on Windows 10 and I'm excited for what the future holds. We will get this on Windows 10 Mobile as a Universal App in the future and I'm confident it'll be a shining example of what Windows 10 can do. Forget the desktop app of old, Todoist has got right up to date with this new one.
And it's a public preview. Which means you can go ahead and download it yourselves and take it for a spin. As I already mentioned, it's not yet ready for Mobile, but go ahead and fire it up on your PC and take a look. It'll be available sometime today, November 17, and we'll add the download link below when it's live.
Download Todoist for Windows 10 Desktop (opens in new tab)
Todoist Releases Its First Ever Native App for Windows The Preview app will be available for Windows 10 starting today
November 17th, 2015– Today, Todoist makes its biggest leap into the Windows market, with the launch of their first native app for Windows 10. The app's foundation is constructed on the already-solid base of TaskCrunch, the top-rated Todoist client for Windows acquired earlier this year by Todoist.
Despite its initial Preview status, Todoist for Windows 10 will be one of the most powerful yet approachable task managers available in the Microsoft Store. The Todoist experience for Windows will be brought up to speed with all of the features that the company's nearly six million users have come to love across its 15+ platforms.
"Our ultimate goal is to make Todoist the best to-do list app on the planet, on any Windows-powered device. The ambition is to keep the distinctive experience that is Todoist, while incorporating elements that make Windows 10 apps truly universal, namely the ability to transition seamlessly from mouse to touch and pen and work on any screen size," says Jan Kratochvíl, founder of TaskCrunch and current Head of Windows at Todoist.
To begin, that the app is native brings immediate improvements including faster performance, seamless offline support, and a user interface optimized for Windows. Compatibility with touch screen devices will likely be the most impactful and enjoyable new feature of the native app as compared to the previous version of Todoist for Windows (a web wrapper).
In addition, the Todoist for Windows 10 Preview will come packaged with several key Windows-specific features including:
Third panel view: Windows 10 is the first platform where Todoist will support a third panel view. This is ideal for group collaboration as the third panel provides a spacious side-by-side overview of projects, tasks, comments, and attached files.
Live Tiles: Live Tile squares on the desktop make information-at-a-glance incredibly easy. The customizable Todoist Live Tiles are perfect to use with an important project, a frequently viewed task or label, or an urgent task that may contain an active comment thread.
Interactive notifications: Todoist's notifications for Windows 10 will provide instant, actionable updates and reminders. Users can complete or snooze the task directly from the notification without ever having to enter the actual app.
More to come: Todoist will continuously release updates to the Preview until it becomes a final version, which is slated to include even more Windows-specific features including possible Cortana and Windows Hello integrations. "After the initial release, we plan to aggressively update the app to fix bugs and add new features. We hope our community will actively help us decide which features to prioritize and how to take full advantage of Windows 10 capabilities," concludes Kratochvíl.
For Windows users who want to increase their productivity and get more done, Todoist offers the most customizable task manager on the market. Like Todoist's other platforms, Windows 10 users will now be able to enjoy highly flexible organizational features like drag-and-drop sub-tasks and sub-projects, text formatting capabilities, inline editing, unlimited comments, and much more. It's a robust app that can be customized to fit any workflow, ideal for users already familiar with Microsoft's productivity suite.
About Todoist
One of the first task-management softwares available on the market, Todoist– launched in 2007– is a powerful to-do list app for personal and group productivity that lets users manage tasks from their email inbox, web browser, desktop, or mobile/wearable device. Todoist is available in 20 languages and on 16 different platforms and is used by nearly 6 million people who have completed more than 250 million tasks in over 39 million projects. Todoist, a champion of lean startup principles, is built by a chiefly virtual team that spans 16 different countries and five continents.
Windows Central Newsletter
Get the best of Windows Central in your inbox, every day!
Managing Editor - Tech, Reviews
Richard Devine is a Managing Editor at Windows Central with over a decade of experience. A former Project Manager and long-term tech addict, he joined Mobile Nations in 2011 and has been found on Android Central and iMore as well as Windows Central. Currently, you'll find him steering the site's coverage of all manner of PC hardware and reviews. Find him on Mastodon at mstdn.social/@richdevine
Hope this will drive MS to improove their W10 and WP wunderlist apps. Mobile client is pretty non-functional now.

Wunderlist actually works well but the main thing missing is the lack of Live Tiles, a very feature of Windows that weirdly they didn't tale advantage. It would be nice if these task manager apps will be integrated to Cortana.

Wunderlist shows live tiles in Windows 10, and on 8.1 on the phone. Not working on W10 Mobile yet. You just need to pin the actual list/todo to the start screen. Works really well in tablet mode in WIn10 actually, on a supersized tile. Shows about 11 entries. Far beeter than ToDoist in my experience.

I use Wunderlist and like it - my needs are relatively simple though - better than Tasks in Outlook which I hate and which is the least W10 design Microsoft app/function.

If they would free tasks up to be shown as a separate tile, or integrated properly in calendar I would use them. As usual, they assume (wrongly) that everyone is using Outlook on the desktop. I use a Mac, and I hate Outlook, it's far too cluttered.

Yeah, but not the main Live Tile though. I didn't realize that I have to pin the Live Tiles individually to show. So they really need to have combined notification on main Tile. Anyways, I'm been using Wunderlist for a month already so I'm still quite new to this. Still it fits most of my needs so far and looks great too. I will try Todoist also, that Actionable Notifications is pretty much an advantage for me.

How can they show it on the main live tile? I have about 10 different lists in Wunderlist, how would they know which one to show? Cycle through them all, hundreds of random entries? That's why you pin the one that you need. It would make no sense any other way. :-) That way you can have two or three different tiles, all showing different lists.

I will definitely try this out. I have been using Wunderlist on Windows 10 and Windows 10 Mobile and it is a little ridiculous. No way to snooze tasks directly from the notification. No way to set repeating tasks based on completion date rather than due date. Little stupid things like that. My favorite of all time used to be Astrid, which was bought and discontinued by Yahoo. However, on Android, there is an Astrid clone. It had smart snooze options like "This afternoon, this evening, tomorrow morning, Custom..." which makes sense because sometimes you snooze without caring much about specific times. I miss that one, except for it's lack of multi-device syncing. This is the only thing I like about Wunderlist.

This is great! Glad that Todoist created good app for Windows 10 and hopefully they will finish for mobile too.

Hi Everyone, Our app is now live at https://www.windowscentral.com/e?link=https2F%2Fclick.linksynergy.co... go give it a spin, we can't wait to hear your feedback! Jan

The link doesn't work for me :/ What's your app called?

Thanks for supporting Windows 10.

The link is https://www.windowscentral.com/e?link=https2F%2Fclick.linksynergy.co... Not sure what happened there, sorry.

Could you just give us a name of your app? (...or is is Todoist?) Links here doesn't work anymore, because Windows Central f***s them up with some advertising crap.

The second link I posted works (just checked it). The app cannot be found through search in the Store yet, we want to make sure that it's solid in real-world usage first. Jan

Nah.. it doesn't work either. Never mind. (Our network admin is blokcking everyting related to tradedoubler, so all links are broken) I'll just wait until I can find it from Store or from another source.

same here, link not working in any browser...

Great job, I will install it tonight. I can't wait for the Win 10 Mobile so that I can replace TaskCrunch with you new app... Escellent job... A killer feature, display graphically the task on a timeline per project and put depedencies on tasks... keep the excellent work tony

You might check your coffee for pee. Just saying.

Can you use it and still keep the current desktop app?

Great, will install it today.

Tempted to try it out, as I did with Wunderlist, but unfortunately from experience I've learnt that the huge drawback they both share makes them unusable over time: ... no support for start dates :-( If I can't easily filter-down my list of tasks to exclude all those that either cannot be worked on at the moment, or that I've already decided not to work on now / in the next few days, then it just becomes totally unmanageable (and the various hack-y workarounds all suffer from other problems in keeping them going). I've never been able to understand why so many task management products get this so wrong - simply thinking about the fundamental definition of a 'task' it's clear that every single one has a start date ('real' or just de-facto of when you think of it), whereas perhaps only a single-digit percentage of tasks have a true deadline... yet almost all tools only bother with simplistic and relatively rare deadlines.

Seems pretty nice and more feature complete than Wunderlist

Need to update this page :) http://i.imgur.com/iu2iTwy.jpg Image isnt showing for some reason. The home page for Todoist has the Play Store and iSO app store buttons, but no links to Windows store.

The app is hidden from Store search right now. We want to make sure everything's solid before we expand the availablity. Don't worry, we'll add that button. No #dontForgetYourOwnApp from us :D

Thank you! Thats my pet peeve - seeing those links when they actually have a Windows/Windows Phone app. Then they shut it down because no one used it...

Flat Notes ftw. Less powerful, but more beautiful:
https://www.microsoft.com/en-us/store/apps/flat-notes/9wzdncrdd0xx

I had a quick look at Flat Notes. to me this look like a "post it" tool, not a taks management tools... You can natively put "post it" in Windows 10 by using the "Sticky Notes" (type Sticky in Windows 10 search/cortana bar)... You can put all of them on a "virtual desktop" for review and processing for instance...
For the purist, you can put a desktop background picture which devide the screen into "process" area (such as "Urgent", "Next", "Someday", "Project1", "Waiting for" etc and move the sticky notes to the relevant place as you would do on a real "scrum" board!
I do this at works and it works pretty well for me. You can also change to colour of the sticky to suit your need (1 colour per project for instance, red for "urgent") etc http://www.windowscentral.com/how-use-sticky-notes-app-windows-10-remind-you-all-things To me, the native Windows 10 Sticky Notes are also beautiful!
I use ToDoist for a couple of years now (moving from Wunderlist) and happy to see some love and care for the Windows 10 platform! Well do ToDoist !

Yes, correct, it's more a replacement for sticky notes

Funny thing about that, the name of the developer on Flat Notes is the same as yours. What are the odds? haha.

You got me! I actually tried to delete my comment but there is no option for that :(

But at $25 you got to be crazy

I tried Wunderlist for WP for a while, but found it frustrating to use. Todoist was significantly better on the web and as browser plugins. Then I found TaskCrunch for WP and never looked back. Looking forward to seeing Todoist on Windows 10 desktop and mobile platforms.

microsoft.com/sv-se/store/apps/ todoist-preview/9nblggh698fj

Well looking good so far. No reason to use this app over the desktop version with full functionality as yet. Am annoyed at Wunderlist/MS - its been a while since they purchased the company, they had a window of opportunity 1 month ago when Todoist shot themselves in the foot by breaking todoist functionality, people were up in arms and it took them a month to sort it out with the CEO (who is a developer) showing complete disregard for their customers. I had another look at Wunderlist (I use the GTD methadology) and was interviewed by the designer at Wunderlis as to how/what can be improved. I expressed my frustration in that Todoist has Outlook integration (not drag and drop..yet) and Wunderlist is nowehere. I wish they pull thier finger out, they said 1 month for outlook integration and 10 months for OneNote/Office integration. Based on past performance im not holding my breath..

As an insider, I got an email to preview this app.

So many To-Do, List, Note, Calendar, Productivity apps out there and they all share the same kinda boring disease: They look like excel! ​Just the selection of apps in the "List" space is insane and it reminds me of Aziz Ansari talking about jam: "Customers buying jam at supermarkets were much happier when they made their selection from a shelf displaying four types of jam, as opposed to 25 types". I have switched to a more visual way of making my own notifications and actually, if i wanted to, i could go download project sierra, spend a couple of hours and almost create an app that does exactly the same as all of the others. (almost). I am sooo tired of list and To-Do apps!

Same for new apps. They all look like Microsoft news app.

Haven't tried Todoist yet, but it looks like the big thing missing is a Live Tile that's a simple list of the highest priority five or so tasks for one list. Is that in there and it just isn't shown in the screenshots for the app? Thanks!