Fitbit OS 2.0 rolling out to Fitbit Ionic with new gestures, Deezer, and more
Quick Replies are coming later in the spring.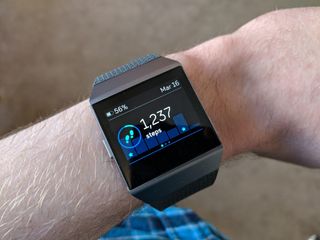 (Image credit: Windows Central)
The Fitbit Versa is Fitbit's latest smartwatch, and with it comes an upgraded version of Fitbit OS that debuted on the Ionic last October. Now, Fitbit's updating the Ionic with the Versa's improved software.
Officially titled as Fitbit OS 2.0, the update is rolling out now to 10% of Ionic owners. Fitbit calls this a "progressive rollout," and all Ionic users should have the update within the coming weeks.
This is a big update for the Ionic, and perhaps the most notable change is how you now interact with the watch. Swiping down now reveals your notifications and a swipe up takes you to the new "Fitbit Today" page. This houses all of the information found with the old Today app, including your steps, calories, floors, distance, and active minutes. Your main goal is shown first with a graph of your progress for the last seven days, and you can swipe left on this to see your other stats.
Below this is where you'll find how many steps you've taken each hour, and now you can swipe to view your total active time throughout the day even when you still have steps to go for the current hour. Another swipe up will take you to a live readout of your current heart-rate and graph of what it's been for the past seven days, and at the very bottom of Fitbit Today is a brief breakdown of your most recent workout.
When you hold the left-side button on the Ionic, Fitbit OS 2.0 takes you two a new page with shortcuts for Fitbit Pay, any local music you have stored on the watch, and quick settings for screen wake and notifications.
Deezer is also available on the Ionic as part of the update, and between animations, swiping through the UI, and opening apps, everything feels noticeably smoother.
Also, before you freak out, Quick Replies are still coming to the Ionic. Fitbit announced this with the Versa as a new feature that lets Android users reply to text messages and other app notifications right from their wrist, but this won't be available until sometime this spring.
See Fitbit app on the Microsoft Store (opens in new tab)
I've personally been loving Fitbit OS 2.0 on my Ionic, but I'd love to hear from you. If you've got the new software on your watch, how do you like it so far?
Windows Central Newsletter
Get the best of Windows Central in your inbox, every day!
Is the ionic compatible with windows 10 mobile at all?

It is. I reviewed it. Also works with Windows 10 (PC, laptop, Xbox One, HoloLens) including syncing.

And are notification replies coming to Android only, or Windows 10 too?

My Charge 2 gets call and SMS notifications, so I'm guessing the Ionic gets as much on Windows as on Android and iOS.

Yes, all notifications from my Lumia 950XL are coming on Ionic

Can you set the Ionic to receive notifications from two devices at the same time...? i.e., Lumia 950 and an iOS device...

I have five devices connected to my ionic, but I think it interferes with notifications. So, I scaled down to connecting one only ☹

Gets calls and all notifications on W10.

Does fitbit do email as well? I have not been able find that it does. Calls, texts, calendar are all that I see.

I turned off email notifications because it was too much.

Any way to force the update?

Fantastic!!! Hope it has fixed the slow issues and syncing issues with different apps. Love this device. My wife wants to get the new Versa Fitbit.

Hope they addressed the response lag issues. Still love mine though. Guess no Spotify yet?

Just deezer is the new music app. I'm hoping Spotify is coming Question for you: if I don't do a lot of outdoor runninf/biking/etc. is there any point in getting the ionic over the versa? Trying to decide whether to get the versa and save some money or ionic.

The Ionic has the bigger screen. There is an O2 sensor built in, that should get enabled by fitbit in the future. The Ionic has a built in gps too.

Versa has the SpO2 sensor too.

No, Versa doesn't... at least not built-in. Its connected GPS, so you need a phone or other GPS device.
Ionic is $100 more pretty much solely because of built in GPS.

What I mean is as far as I've read the only difference between the ionic and versa is the versa doesn't have GPS or nfc (unless you get the special edition). If I'm not doing a lot of outdoor fitness that requires GPS tracking then will I be better off with the versa and save some money? Or is there some other benefit of GPS aside from tracking location and distance when you do those runs or whatever outdoor activities. I don't care too much about nfc payments so that's not a factor for me.

I recall Ionic also has Wi-Fi that Versa does not.... From what you're describing it seems Versa is your next smart watch!

Oh didn't realize about the Wi-Fi, though I don't know if I'll need it. Thanks

It's not what you think. The Wi-Fi is only for the Iconic to connect to the internet, when updating or downloading music to your Iconic and it is only for a WiFi network you have full access to. It's not a Hotspot connection, if that's what you were thinking. With that said, you can update and download music by connecting it to your Windows 10, Windows 10 Mobile and PC, since Fitbit has an App for all of them.

Got it, Thanks. Yeah I figure it was just for those but didn't think that would be the only way to update or get offline songs.

It will boil down to what you want. You can turn the GPS off on the Iconic, if that is a concern. You can find some okay deals on Amazon for the Iconic, if price is an issue. I had the Iconic for about a month and it has great battery life. I had the misfortune of having two malfunctioning Iconics. Both times, the battery would drain quickly. Without issues, I can say the Iconic can get 4 - 5 days, with everything on. That's why I know it was a Iconic on both occasions. As to not deter or put negativity on the Iconic, a friend of mine and his girlfriend both have Iconics. Neither of them have had any battery issues and they've had them for almost 3 months. So, I was unlucky with mine. Anyway, I would recommend actually trying both on at the store and do a side-by-side comparison in feel and look. If price isn't really an issue, go with witchever one fits your style and need.

No issues with mine so far, going on 4 months.

Good to know about the battery life experience, thanks. Yeah I think that'll be my next step is to see how they both feel. I may go with the versa to save some money unless I find a good deal on the ionic.

I think I got my ionic on the last day of Sept, but maybe the first week of October (before the official release, at least... I was an early pre-order)... and I've never had issues with my battery.
I usually get 5 days, though I think it lasted 6 one time.

Versa has connected GPS, meaning it can connect and use your phone's GPS

Versa has Fitbit pay. On the ionic it's awesome. Ha e used it many times.

Only the special version of versa will have nfc to use fitbit pay

I think the Euro editions have it too; just not the US model for the $199 model.

I don't care that there is no Spotify as I use Deezer and Spotify. As far as I'm concerned they are both inferior to the great and beloved Groove ☹🔪🔫🔫🔫🔪😡

The Versa will be fine if you don't need the built-in GPS. For those times that you do want the GPS you can just keep your phone with you and use the Connected GPS, just like the Blaze offers.

Add your votes here: https://community.spotify.com/t5/Live-Ideas/Partnership-Add-Spotify-to-F...
https://community.spotify.com/t5/Live-Ideas/Partnership-Add-support-for-...
https://community.fitbit.com/t5/Feature-Suggestions/Spotify-for-Ionic/id... All of them if possible.

watch companies are signing exclusivity deals with music companies it seems. spotify local storage is only on samsung, even though they make "apps" for other watches. Likewise, Pandora local storage is only on Fitbit.

That's lame. The Samsung fitness watches aren't as accurate based on reviews I've read

I didn't get you? Can someone explain?

That's awesome, given Pandora exited the Australian market, nice one FitBit. Still no sign of FitBit Australia doing a deal with Spotify Australia... >.>

Deezer is now available though, are they in Australia? But yeah I really want a Spotify app with offline capability

Any Ionic owner knows if spO2 sensor is still disabled with the new software installed?

Can't wait for this update. It will be an amazing difference, and having Deezer will be cool. Hope the update fixes the app connections, and updating. Also, the slow 🐌 OS in general.

Just aside, I got a couple of unofficial bands from China - one metal, and the other is a rip off of the green/blue sports band from Fitbit. The metal band is great, not so much with the sports.

That thing looks ridiculous massive.

That persons arm is really small. I'm 6'2" and the whole watch (including the silver part around the black screen, where the band connects) fits well within my wrist... I'd say maybe 1/2 inch on each side even.

Update's coming down now! Going for a run after it finishes, will test...

OK the updates are nice (maybe a touch faster with the lag?) but I wish there was a way to program what you want with the swipes. I already use a digital watch face with Steps, Heartbeat, Calories, and local Temp - so why would I also need that in the new "swipe-up"? I miss being able to swipe-right and switch Manual/Auto Screen Wake - now I have to hold down the button? Used to be the lower-right button activated whatever you placed on the first lower-left app screen (for me, a Flashlight app) now it doesn't do that. Also not keen on the notifications scrolling in reverse order from top-down??
If they're going to make changes, they should try to make them customizable so people can put things "back they way they were" if they want.