Fitbit OS 2.0 rolling out to Fitbit Ionic with new gestures, Deezer, and more
Quick Replies are coming later in the spring.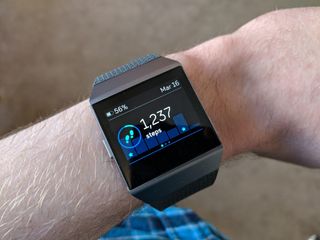 (Image credit: Windows Central)
The Fitbit Versa is Fitbit's latest smartwatch, and with it comes an upgraded version of Fitbit OS that debuted on the Ionic last October. Now, Fitbit's updating the Ionic with the Versa's improved software.
Officially titled as Fitbit OS 2.0, the update is rolling out now to 10% of Ionic owners. Fitbit calls this a "progressive rollout," and all Ionic users should have the update within the coming weeks.
This is a big update for the Ionic, and perhaps the most notable change is how you now interact with the watch. Swiping down now reveals your notifications and a swipe up takes you to the new "Fitbit Today" page. This houses all of the information found with the old Today app, including your steps, calories, floors, distance, and active minutes. Your main goal is shown first with a graph of your progress for the last seven days, and you can swipe left on this to see your other stats.
Below this is where you'll find how many steps you've taken each hour, and now you can swipe to view your total active time throughout the day even when you still have steps to go for the current hour. Another swipe up will take you to a live readout of your current heart-rate and graph of what it's been for the past seven days, and at the very bottom of Fitbit Today is a brief breakdown of your most recent workout.
When you hold the left-side button on the Ionic, Fitbit OS 2.0 takes you two a new page with shortcuts for Fitbit Pay, any local music you have stored on the watch, and quick settings for screen wake and notifications.
Deezer is also available on the Ionic as part of the update, and between animations, swiping through the UI, and opening apps, everything feels noticeably smoother.
Also, before you freak out, Quick Replies are still coming to the Ionic. Fitbit announced this with the Versa as a new feature that lets Android users reply to text messages and other app notifications right from their wrist, but this won't be available until sometime this spring.
See Fitbit app on the Microsoft Store
I've personally been loving Fitbit OS 2.0 on my Ionic, but I'd love to hear from you. If you've got the new software on your watch, how do you like it so far?
Get the Windows Central Newsletter
All the latest news, reviews, and guides for Windows and Xbox diehards.