Fitbit Tracker for Windows Phone updated, ready for the Fitbit Force band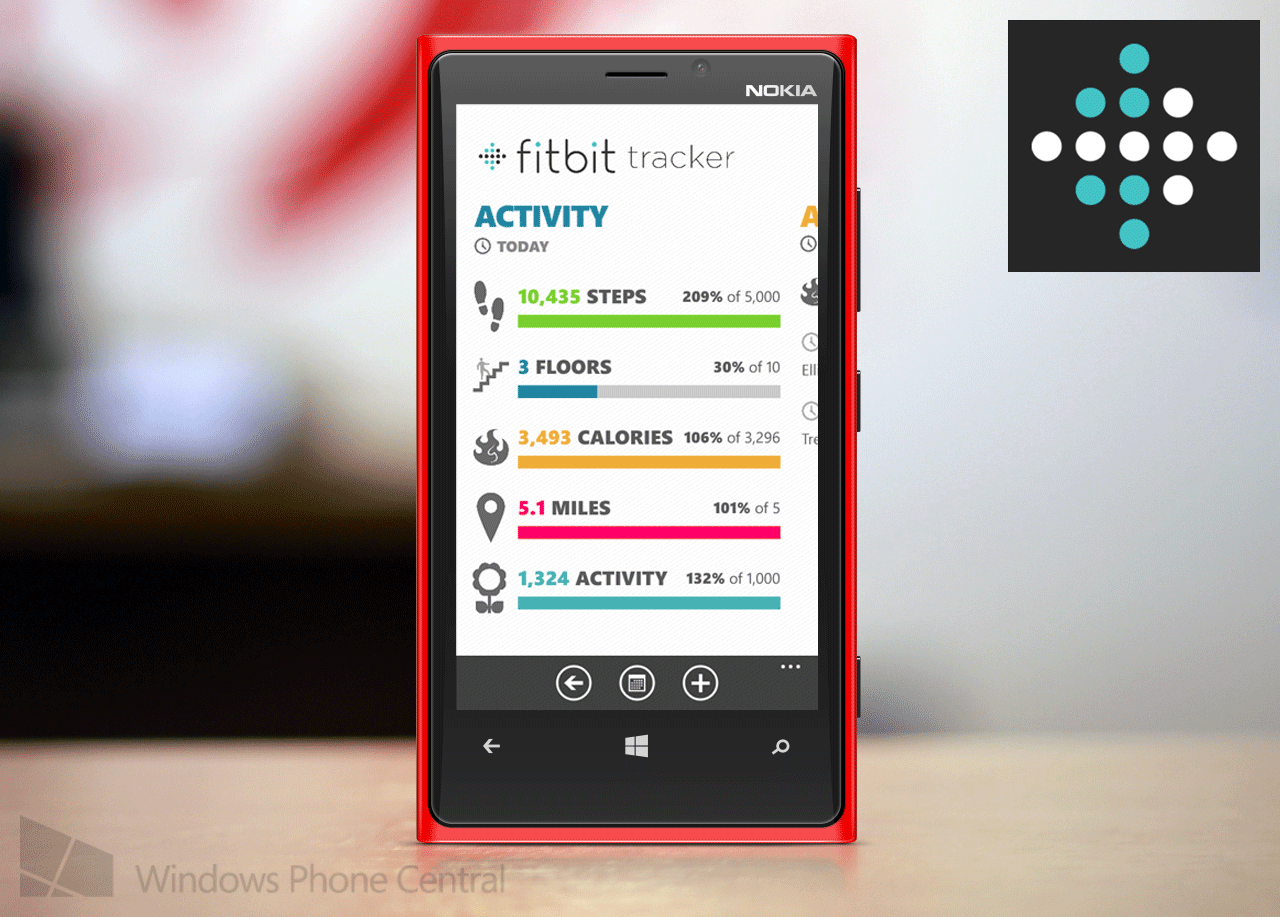 When it comes to tracking our fitness, we're big fans of the Fitbit family of trackers and the overall ecosystem. Unfortunately, they don't have an official app on Windows Phone, but do have on for Windows 8 and have a desktop app to sync with you tracker.
However, Windows Phone does have a nice set of third-party apps that at least let you view your data. One of our favorites, Fitbit Tracker, just received an update. Let's check it out.
We first saw Fitbit Tracker in early May when it hit the Windows Phone Store in beta form. We quickly proclaimed it outstanding, fast, and fluid. Those statements still hold true after a few months and a few updates to the app. Here's what is new in the latest update to the beta (v 0.9.6.0):
Floors tile hidden for Flex and Zip users
Client support for upcoming Force band
Removal of now obsolete "Active Score"
Ability to donate to FitTracker development from in the app
Change to threading model such that sync from Fitbit's API is faster
General bug fixes and performance improvements
If you've ordered the upcoming tracker from Fitbit called the Force, this latest update is ready to support it. Other small changes include removing the Active Score, which is a feature Fitbit retired from their platform and replaced with a new concept called "very active minutes". You earn these minutes by doing cardio workouts and other high intensity activities like jogging or running.
You'll also get other general bug fixes and performance boosts with the latest update. Well worth upgrading and we're not seeing any issues yet.
Another cool feature we're more than happy to promote is the ability to donate to the developer. Apps like these are from community members like yourself, but they just happen to have solid coding skills. If you're digging Fitbit Tracker for Windows Phone, consider donating through the app to help support it. It's a free app, with no ads, so the least we can do as users is drop a few bucks to help out with further development and show our appreciation.
Fitbit user on Windows Phone? Head to the Windows Phone Store to download it, use the QR code below, or swipe to the right in our app.
Now if we could only get the ability to sync our FitBit with the phone and also log food... (ya know, make the app useful)

If only Windows Phone could give devs access to BT 4.0. Nokia should hook this guy up with their special sauce to at least get that working on Lumia devices.

Hopefully Windows Phone 98.1 brings this feature.

I was under the impression devs do in fact have COM Bluetooth access?

Thanks for the post, Sam!
On the topic of sync, BT 4.0 is definitely a limiting factor but it's actually not the most difficult component (as it is available for some Nokia phones already, as you said). The main issue is that Fitbit has chosen to make both their Bluetooth API as well as their Sync API (uploading of data) private. I've contacted Fitbit a few times to try and obtain access but unfortunately haven't had much success.
For anyone interested in sync, rest assured I would love to have this functionality just as much as you! If you'd like to help out, the best thing t do is contact Fitbit (either e-mailing support or posting on their forums) asking for the Sync API to be opened up to FitTracker. Maybe a bit of crowdsourcing will help grease the wheels!
Thanks everyone for your support on the app!

Definitely will email them and post in their forum! Im think I'm going to get the force so I'll definitely be downloading this app soon and donating since its free w/o any ads! Keep up the awesome work!

I emailed them and I'm about to hit them up on Twitter and Facebook. I have about a dozen companies that I poke regularly with requests for better WP8 and W8 support. I'll be adding these guys to the shrinking list (Citibank, Mint, Instagram, CVS, Waze (in beta), HBO Go, Amazon Instant player, American Express). Keep up the good work!

App is useful, I use it everyday. I am sure we will have sync once wp8 supports Bluetooth 4.0. You can always use my fitness pal to log food and sync that with fitbit

yeah dont need bt4 to track food and i would pay for that. Maybe he cant get access to the food databases?
I just donated $4.99 its so good and happy to pay. Food tracker would be really sweet, sync -- not that bothered, app syncs to the web and my pc is normally not far away for very long.

Who wants to buy me a Fitbit Force? :P

Gonna ask for it for Xmas but... Idk, hope I get it. May go down in price by then but doubt it. I'd get it myself but after getting a 1520 and Xbox one shit... I just can't lol

Ha. Yeah, I hear ya. I've spent too much money on stuff right now, plus I bought that Agent smartwatch which I should be getting in December. The Fitbit Force looks pretty neat, though.

Man... I would pay actual money for this app on WP7 to use with my Flex. But I know that's mostly wishful thinking. Enjoy everyone! :)

I was looking to donate but I can't seem to find it. What am I missing?

I had the same problem. I wish to donate.

I recently sold my Lumia 920 and purchased a Galaxy S4 primarily because the S4 has BT 4.0 and syncs / reads fitbit activity real time while on the move. I'm averaging 20K steps a day building up for a wilderness hike with friends and use the fitbit Flex and ordered the Force. Definitely like WP8 OS more than Android 4.2.2 and will be back once BT 4.0 is working along with a few other Apps I can only find on Android. Hope to see a new Nokia WP8 phone that will sync with the Fitbit app soon..

I put a message on Fitbit's FB wall asking when they would make an official WP8 app and they said "It will be driven by volume of demand"
Not sure how many people they see as worthy of having an official app or opening their API's on a platform.
Enjoy using this app, thanks to the dev.

The app would be the most convenient if it synced sure, but its still amazing, form and function are very good.
Windows Central Newsletter
Get the best of Windows Central in in your inbox, every day!
Thank you for signing up to Windows Central. You will receive a verification email shortly.
There was a problem. Please refresh the page and try again.