Five Android apps we're most excited to see on Windows 11
Android apps are on the way to Windows 11, which opens up a whole new world of possibilities.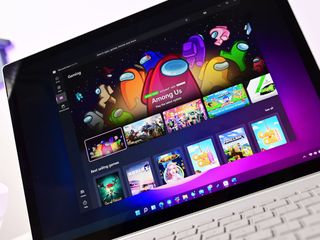 (Image credit: Daniel Rubino | Windows Central)
Windows 11 will support Android apps, bringing millions of new apps to PCs. You'll be able to grab apps through the Amazon App Store or sideload apps onto Windows 11. Between these two methods, some of the biggest app gaps will be filled, which has me excited for the future of apps on Microsoft's upcoming operating system.
Last November, I asked our readers which Android apps and games they would use on their PC. I've gathered together some of those thoughts, my own wish list, and chatted with our writers at Windows Central and Android Central to come up with the five Android apps we're most excited to see on Windows 11.
Amazon's own apps
To save this list from being mostly apps made by Amazon, I decided to combine them together. Unsurprisingly, the Amazon App Store has ComiXology, Audible, and Kindle, all of which are made by Amazon. These will all be welcome additions to the Microsoft Store and Windows 11. Between web and legacy apps, you can get some functionality from these services on Windows now, but the Android apps in the Amazon Store should provide a much better experience.
For example, you can read Kindle books using Microsoft Edge. This provides a good, but not great, experience. Using Kindle Cloud Reader through Edge has many features, including offline use, but it isn't as touch-friendly as a native app. Having the Kindle app made by Amazon for the best Amazon Fire tablets should provide a better experience on Windows.
Instagram
There's already an Instagram app on Windows 11, but it doesn't let you upload content (yet). The Instagram app in the Amazon App Store supports uploading images and videos, streaming live videos, and sending disappearing content with Instagram Direct. Assuming all these features work when the app comes to Windows 11, it should provide a more complete and robust Instagram experience.
Using the Instagram app from the Amazon App Store might not be needed for uploading in the future. Facebook is rolling out support for uploading content to Windows and macOS, though only some people have the option at the moment. The good news is that whether it's through an updated Windows app or the Android app, people on PCs will be able to upload content to Instagram from Windows 11.
Google apps
Much like the Amazon apps listed above, I decided to gather all of Google's apps, including YouTube and Google Maps, into one group so I can spread the love to some other apps. The future of Google apps on Windows 11 is a bit murkier than the apps I've already mentioned. While you will be able to sideload apps onto Windows 11, there will likely be limits for any apps that require Google Play services.
There's a good chance that people will find a way around these limitations, but nothing is guaranteed. Also, average users won't want to take any extra steps to get their favorite apps to work.
All of that being said, at least some of Google's apps should be available on Windows 11 in some format, even if they're limited.
Mobile games
You may sense a trend of gathering together types of apps. You'll probably also see a trend of not knowing the exact details about how certain apps will work on Windows 11. Microsoft hasn't shared details regarding how Android apps will look on its new operating system. Things like if they'll be able to run full screen or how they'll support touch controls are question marks at this point.
What we do know is that millions of games will be available on Windows 11 that you couldn't play on your PC previously. Many of the best Android games aren't in the Amazon App Store, so you'll likely have to resort to sideloading. Even those who only use Amazon's store will have some great options like Lego Star Wars: The Complete Saga.
Whatever you want
This may sound like a cop-out, but it's more to highlight that since you'll be able to sideload Android apps onto Windows 11, that there will literally be millions of apps to choose from. For example, my American football team uses a service called Hudl to review game film. The web interface isn't great and certainly isn't built for touch. I'll happily sideload the Hudl app onto my PC to see whether it works.
I doubt that Hudl is that big of a deal to most of you, so I'm not going to say it's one of the five apps to be most excited about. But it illustrates the value of having support for Android apps. Whether you want to grab a popular app that isn't in the store or a niche app, there should be a way to run it on Windows 11.
Filling in the app gap
To me, the app gap on Windows was never about how many of the top 25 apps were on the Microsoft Store. It's always been about confidence. Do people have confidence that they can open up the Microsoft Store and find the app that they're looking for? Until now, I'd say that hasn't been the case. I know plenty of people who don't even check to see whether the Microsoft Store has an app they want because they assume it doesn't.
With Android apps through the Amazon App Store, support for sideloading apps, and support for more stores potentially on the way, people may develop confidence that the Microsoft Store has what they're looking for.
Windows Central Newsletter
Get the best of Windows Central in your inbox, every day!
News Writer and apps editor
Sean Endicott brings nearly a decade of experience covering Microsoft and Windows news to Windows Central. He joined our team in 2017 as an app reviewer and now heads up our day-to-day news coverage. If you have a news tip or an app to review, hit him up at sean.endicott@futurenet.com (opens in new tab).
The touch optimized version of KOTOR and KOTOR II are enough for me. And if I load up the Xbox app I'll finally have a way to Remote Play my Series X on my PC. Right now you can only do Cloud Gaming on Windows, which is garbage by comparison.

That's my number one must-have feature of the Series X, is to bring back PC streaming capabilities.

Touch KOTOR is a good one

This Kotor? 😂 - http://en.wikipedia.org/wiki/Kotor

Why title it "5 apps," if you're going to have one app, 3 app categories, then "anything you want?" Seems like a silly title that doesn't properly present the content of the article well. Even just "Apps We're Excited For" gets the point across without misrepresenting the content for no reason. I do wish this was how Microsoft went for mobile again, though. They failed with Astoria last time, but especially having sideloading support would be a huge get to making a Windows-based mobile ecosystem viable. I wonder if they'll reconsider it, but I also suspect they'll HAVE to get the Neo off the ground as a consumer testing ground for an ARM-based Windows 11 device. In an ideal world, seeing them make the Duo dual-boot with Android and an ARM-based version of Windows 11 would be really cool, but I couldn't imagine that would ever ACTUALLY happen.

I'm a little more optimistic we will see some version of a Duo-like device with Windows 11 on it. We already have WoA and now there will be Android apps running in 11. I think it's coming.

It is not. Dash those hopes right now sir!

Microsoft is now successful with their Android and iPad adoption. I don't think they need it. Windows 11 on a Neo and especially Duo would be terrible. An operating system dating back to the 1980s on a phone. Windows 11X, if it ever comes, maybe.

Audible is already in the store... These kind of apps are not necessary on a PC... Shame they didn't add this feature to Windows Phone... It's more important to have native PC apps and games all available in the store, if all of these developers support the store then this will be a real game changer... Services like Instagram and Facebook etc can be accessed using Edge if you use those services... Also you can install Web pages as apps using Edge too, I have Disney Plus installed as a Web app and it works really well, I don't need an app on my PC as these are not necessary for this form factor...

A lot of services are fine without a dedicated app, but that's not always the case. For example, the web experience for Kindle is good, but it's missing some functionality of a dedicated Kindle app. I use a mixture of PWA, win32 apps, UWP apps, and my browser. I think most people just want to be able to do what they want and don't care what type of app is needed to do it.

Using Disney plus is horrible as a PWA on touch screens, using our surface pro to watch it is a nightmare without the keyboard, which isn't ideal when on the couch or in bed.

I use my Galaxy Tab S7 or my Note 20 Ultra for this purpose, the Surface Pro is an awful tablet experience...

The Surface Go 2 m3 on the other hand... Not to mention any newer Windows tablets or those ~1 kg 2-1 laptops.

For streaming and website/basic apps, pwa tends to be better (because of plugin support and better privacy + security), however mainly a handful of good android games and some more advanced or offline apps will make this a welcome addition to Windows.

Five apps:
- amazon apps
- google apps
- games
- whatever you want
- instagram best article ever

Listing every Google app seemed redundant to be honest. I highlighted specific apps within each category. I'd you'd like it to be an exact five: Instagram YouTube Comixology Lego Star Wars Google Maps

What does the YouTube app offer over the PWA version?

The PWA is actually BETTER than the YouTube app. At least you can cut out ads.

In terms of functionality, yes (and as blockers can work). But using it on a tablet, YouTube Web can be frustrating especially when scrubbing through. Though personally that's why I use myTube instead. Perfect for touch, have a nice UX. Sadly YouTube keep messing their APIs and if you watch streams, myTube doesnt load those stream comments for now. Good thing myTube dev is very active and able to work on the API changes.

I did notice youtube web support double touch on left/right side now to go back or forwards.

Offline playback. I'm a fan of PWAs but the delay as the PWA reloads, as it's a website, is a pain when YouTube is all about refreshing to see new content. YouTube is the only app I'd like on Windows but it won't be coming. The third party YouTube UWPs aren't for me.

So you would prefer the slightly quicker refreshing over the ad blocking (or paying monthly)?

ComiXology is going to be so great to have back again. Hopefully this encourages Marvel to get onto the Amazon store with their competing offering. Then I'll be able to buffet comics without needing to buy an iPad or run stuff like Bluestacks

I dont need mobile games...if I wanted to play a Lego game I would just use xCloud or Remote play. I rather play the full versions, not the mobile versions on a PC anyway.

Personally, the app I'm most looking forward to is Microsoft Authenticator. I don't think that it's currently available on the Amazon store but I would hope that Microsoft would aim to get all their own apps published there so that they are then avalable on Windows 11. As a developer, I use Microsoft Authenticator a lot so it would be beneficial to have it on my PC rather than having to reach for my phone each time. A Samsung phone or a Duo would alleviate that issue but that's not me right now. We'll see what happens with the Duo 2.

My phone is linked to my pc, so I don't see a need for Android apps. I can use multiple apps from my phone on the pc at the same time. At one stage I thought Android apps would be great, so I installed blue stacks but never used it.

Then you obviously have a Samsung or Microsoft phone which, as I said, I don't. App mirroring in Your Phone is only supported on a few high-end Galaxy models and the Surface Duo. I use Your Phone for notifications and SMS but, sadly, cannot run apps on my PC.

It's also TERRIBLE. Your Phone does not bring Android apps to Windows. It's an awful experience that's doing nothing more then using the existing Screen Mirroring and just then automatically tapping on the app. Screen Mirroring isn't unique to Samsung so actually if you have an Android phone you have it. Like I said, all it does is save you the extra tap to open the app from the Android mirror on your PC. Actually Your Phone is pretty poor, always autocloses and is still buggy.

I think the fact that it lets the apps keep running on the phone is part of the charm since it allows you to work with the data on the phone (eg written/typed notes or images to c&p your pc). Although it seems DEX does it better (especially since it will have wireless support too or maybe already has). What I think is a shame is that YourPhone only works fully on Samsung phones, it would have been nice if other phone brands like Nokia would implement this too.

I can use Microsoft Authenticator on my Chromebook so agreed.

Not really something I would use, none of them to be honest, if I have to use Google services on my computer, I will do it via the browser. Android app? nah

Yeah exactly. Google's web services are already best in class.

You missed the most important app of all, and that is Microsoft Office 365! Seriously, though without the Android apps, on my Fire tablet when I was using it, it was almost useless other than as a Kindle Reader. Maybe now with the Office integration, which BTW you can get on your Fire for free right now from the Amazon store. Luckily back then I knew how to get the Google Play store on their, and that took care of a lot of my needs. Sure I could play games and surf with their Browser, if you can even call it a browser, But now I have gone to a Surface Go 2 and with the exception of Cloud Reader I've got everything I need and more.

Why on earth would you use the Android Microsoft 365 apps on a Windows device of all things?

I just wanted to play Star Wars: Galaxy of Heroes and EVE Echoes on Windows 11, but of course neither are available in the Amazon store.

Windows has 30 years of apps. This "app gap" is modern nonsense.

This is a very risky move by Microsoft. Running your competitor's OS on your phone is bad enough. But running your competitor's apps on Windows? This could easily result in even less developer interest in Windows. "No need for a native Windows app, let them run the Android version". IBM tried this very strategy with OS/2, over 25 years ago. IBM gave OS/2 the ability to run Windows apps, which quickly killed what little developer support OS/2 had. I'm sure many here have no idea what OS/2 was. Which is the whole point. OS/2 went away VERY quickly, when it was perceived (and rightly so) as merely a more expensive and more complicated way to run Windows apps.

Hardly man. Android apps are not Desktop apps. "IBM gave OS/2 the ability to run Windows apps, which quickly killed what little developer support OS/2 had." Not in any way the same. OS/2 and Windows were both desktop operating systems. There was no need to develop OS/2 apps but there's still a need to develop Windows apps.

And, what killed OS/2 was Windows 95 -- OS/2 ran Windows 3.1 applications, not any of the new 32-bit apps that emerged in large numbers shortly following the launch of Windows 95.

This is comparing apples with oranges. I have seen this comparison often on this site but it is false. One of the reasons is because of what bravadon mentioned, and also Android apps in itself are not really bound to an OS only Android apps WITH Playstore APIs are affiliated to Google.

Yay I'm back lol some reason it won't let me log in with Facebook. Now I can keep up and discuss Windows 11 again

I'm playing on using no Android apps. Hopefully Facebook and all the companies they own make some nice pwa's and stick in the Microsoft store.

Might not be a bad idea to put them in the store, though I suspect they (eg Facebook) prefer you using the app since you cannot use plugins/adblockers as easily as compared to the PWA or by website.

I'd rather see these apps deployed through MS Store as it supports APK deployments. I'm not a huge fan of Amazon to be frank... Andm if those apps are being downloaded, it might be the devs would consider native Windows app as well...

This looks like abomination.
Besides you already can install bluestacks and have all android bullsh1t you want. I guess microsoft abandon windows development and that's all.
Ms don't use uwp themselves but instead using electron js.
Ms use competitor os on duo device.
Ms will have amazon android store in win11. This is what I call abomination.
The only good idea of win10x removed because lazy ms don't wanna improve its ecosystem (win native app development).
They have azure brain and windows is dead. Screen my post.