If Android apps and games come to Windows, which ones would you use on your PC?
There are millions of Android apps, but are any of them worth using on Windows?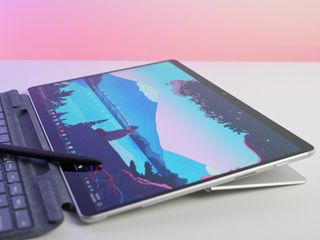 (Image credit: Daniel Rubino / Windows Central)
With the news that Android apps might come to Windows in some form in the relatively near future, we started chatting about which Android apps people would want to use on their PCs. While we have a few apps in mind, we can be in a bubble when it comes to our usage. There might be apps or games that we don't use or play that people are dying to use on Windows. So, we want to know which Android apps and games you'd like to use on Windows.
Desktops and the browser
Windows 10 has always been attached to discussions of an app gap, but for many desktop users, their needs are met on PCs. With more services and workflows moving to browsers, the value of dedicated apps has diminished some over time, at least on desktops.
That being said, with scaling tech like Samsung DeX being on some of the most popular Android phones, there are some Android apps that are optimized for larger screens in a desktop setting.
Tablets and touch-friendly apps
While desktop users may be happy with Windows 10, the same can't be said for many tablet users. You can pick up Windows 10 tablets with excellent hardware, such as the Surface Pro 7, but software and apps lag behind. Many Windows apps aren't optimized for touch and tablet interfaces.
Android apps coming to Windows could fill the gaps and help create a better tablet experience on Windows 10.
Games on the go
One area that could benefit greatly from Android apps is casual gaming. While Windows 10 has Steam, Epic, and other major gaming stores, mobile and casual games are almost nonexistent on Windows. The Microsoft Store is full of Among US knockoffs and lookalikes, and there are similar situations surrounding other popular titles.
If Android apps come to Windows in a way that's easy to use, casual and mobile gamers could see the biggest boost. Tablets like the Surface Go 2 or Surface Pro X could be used to jump on the latest gaming craze.
Android tablets are currently some of the best devices for Xbox Game Pass Cloud Streaming, and they could become even better gaming devices with support for Android apps.
Over to you
What Android games and apps would you use on your PC? Do you think they'll make an impact on the Windows ecosystem if they come to Windows 10? Let us know in the comments below and share the apps and games that you'd love to use on your PC.
Windows Central Newsletter
Get the best of Windows Central in in your inbox, every day!
News Writer and apps editor
Sean Endicott brings nearly a decade of experience covering Microsoft and Windows news to Windows Central. He joined our team in 2017 as an app reviewer and now heads up our day-to-day news coverage. If you have a news tip or an app to review, hit him up at sean.endicott@futurenet.com (opens in new tab).
I would use an app to control my Cable TV Box when I lose my remote, I rarely need it and I have it on bluestack, but it would be neat as it takes like 20 seconds to open Bluestack.

All the apps that have no app alternative on Windows.
TP-Link Tether app is one example.

I'm curious, why use TP-Link Tether instead of the more powerful tplinkwifi.net? (I have a TP-Link router, and while the phone app is OK, it can't match what tplinkwifi.net can do. It can even be installed as an 'app' via Edge, pinned to your taskbar.)

I like the convenience of being able to rename devices in the app.
This feature is not available in the web version for my current firmware (latest firmware from official website).
I'm still on the fence to install newer firmware from 3rd party websites.

One very glaring omission that would quickly be filled by an Android app on Windows 10 is Amazon's Kindle reader app. The browser-based reader just doesn't hold a candle to the native app, and having that on 2-in-1 laptops plus Surface devices would make them more enjoyable for me. Besides that, I would just use any other touch-friendly apps on my 2-in-1.

Aren't most of those covered by banking websites?

I think there are some cash apps that don't have a website.

I don't understand what service people still rely on a bank app for. We have direct deposit and we do everything with a debit/credit card. Once in a while we'll pull cash from an ATM, but that's about it.

Bill Pay? Bank Transfers?

I would install xbox game streaming so i could stream xbox games from my PC!

That's a short-term victory though as we know that is coming officially via an app (we already have the internal version; I'm running it on the Pro X). By the time you can install the Android version on Windows (sometime 2021) you'll have the Xbox streaming app for PC.

As the disappointed user of a Samsung Galaxy A51 who finds out that the phone doesn't run as reliably with (mostly) Microsoft apps as it does with (mostly) Samsung's, I have to give to the need to see Samsung's own apps ported to the Microsoft Store, if only because Samsung laptops and convertibles aren't available in my region (which is quite the weird omission for a company that keeps talking about their #GalaxyEcosystem) and thus I don't have access to their Windows equivalent services and components. Call of Duty Mobile would be pretty neat to have, too, considering they already keep users from the Gameloop version separated from those playing on mobile phones. And because I'm an addict to it, which is quite surprising since it's my first Call Of Duty game in years since my previous obsession, which was Black Ops II on the Wii U.

Being able to use Android widgets like I use Rainmeter would be great. Using Messages or Photos without having to open the heavy Your Phone program. (I know... still need a phone connection.) Spotify for Kids, Google wifi, Venmo.

I don't believe Android widgets are going to be supported as they're not actual apps, but an extension of the Android OS.

Which SMS app do you use? Most have a Web App, like Google's.

Facebook Messenger Kids! So annoying having to give my phone or my wife's phone to our kid to be able to chat with his school friends. Makes no sense that Facebook has not made access to Messenger Kids available either through an app for Windows or through the browser. So many people do not have phones available to just hand their kids, but have PCs around. I would also love to see a Samsung SmartThings app able to be used on Windows.

Instagram for me!
I love the web application (I have it pinned as an app in Edge) but there are a few features I'd like that don't currently exist.

What's wrong with the UWP app?

Instagram app for Windows 10 doesn't allow you to post at all. I have one installed and its basically only good on messaging, interacting on existing post you can't make one. Also for whatever reason, Instagram app on Windows 10 doesn't even support Share feature, though I don't think Android version would do either, unless somehow Microsoft manage to redirect the Android Share API to Windows Share API, then that would be great actually.

Couple of them which are exclusive to smartphones only. My security camera apps, GE appliance app, TP-Link deco mesh, Pushbullet, MS authenticator, Viber (no bloated electon app).

The old Viber UWP app still works. I have an appx installer. 2 Factor Authenticator UWP app from the store could be used instead of MS authenticator.

How do you install UWP apps if they're not on the store? I'd love Skype UWP back. It's also cruddy Win32 Electron urgh. Wish this platform wasn't so damn popular.

Viber UWP x86
https://1drv.ms/u/s!AlMjGT4-IWrQi8gnHfkZTB77gcKUgA?e=7Tp2Lz Skype 12 UWP
https://1drv.ms/u/s!AlMjGT4-IWrQjKhk6Xx8MSpAI4_g2g?e=8LAxK1 Shazam UWP
https://1drv.ms/u/s!AlMjGT4-IWrQjIBHA5uR9J0O2d_UtA?e=xX7BP8 If you want to keep Skype 12, you'll have to disable automatic app updates, check updates manually from time to time and stop Skype updates when they show up. Viber needs that you first install the certificate to Trusted People. You may also need to temporarily change your current date before installing the appx.

Thing is UWP Viber app aren't listed anymore in the Store. So its good as non-existent, only for those who had it. Viber has a Win32 version, but yeah its more desktop oriented.

Interesting. Thanks for sharing.

Any video app not on windows store yet so I can download episodes and movies for offline viewing

Hi -
For me it would be:
Eufysecurity
MyQ
Cubii
snapchat

Snapchat won't come, they hate MS's guts and if I understand correctly, developers need to bring their apps to the windows store

YouTube. Would love to be able to have a proper Google YouTube app. But can't see Google supporting this platform so not gonna happen sadly.

So odd when people say Windows has no apps or not many. Its got 25 years of apps.

I think this one more benefit on able to install some Android games, which are contrary to most belief, are not very casual games anymore especially if you are into RPG games or at least playing beyond FPS title. Though some of those games do have PC version though, one example is Genshin Impact which has become popular lately, but it has its own Windows version that is cross-play with mobile anyways, so no loss there. Other than that, though Android may not have the same amount of tablet apps for iPad, Android still have more apps to be used for tablets even not all of them are perfect. Windows 10 on the other hand have far limited apps that are usable for tablet use. Many on the apps in Microsoft Store are repackaged Win32 apps, which may not be that usable or at least optimized for touch use. For people who wish or really take advantage of Windows tablet devices like Surface Pro and Go series, this could be useful in terms of actual usability, not may be necessarily better on functionality. Even for things like streaming apps though website counterpart exist, many of them are just designed for desktop use websites and not all designed for touch use. Yes technically you can use touch, but not optimized so expect tiny tricky UI targets, loots of zooming in, and UI layout too dense for small tablet screens.

I feel like this could be such a big, awesome GAME-CHANGER for both Android & Windows users! 👍 😁 It could totally change the world of tech for all we know. For me, I would use the Sony Headphones Connect app for my WH-1000XM4's & the Soundcore app for my Flare 2 assuming the apps will be added. That would be cool! 😉

Feedly because the UI is better than the website.
Pocket because the PWA opens on a bad link and touch breaks often in the web site.
Kindle because Kindle cloud reader and the Windows app are terrible.
O'Reilly learning for offline support.
Almost every video app besides Netflix, Amazon and Hulu for offline support.

It will attract people to Microsoft Store. That's good. And if the support of Android apps will be implemented in Win10X, it will solve one more problem - lack of apps. P. S. I wonder, how did Microsoft get it done with Google.

I do not think they have a deal. It is probably only Android apps that do not use google Play Services (or that use MicroG to still work) but still it will give some extra options and probably some apps can be succesfully deattached from google play services. Together with PWA and UWP it will be good enough I think for touch.

Only banking apps related to tokens and some touch friendly apps for raspberry pi / smart home stuff, the rest I find as good or better on Windows actually.

By far android launchers. This hopefully with permissions to use windows 10 and Microsoft store features sacrificing windows 10 security. Medical apps. Hardly any relevant titles in the Microsft store. A few local business apps/titles on occasion. Banking app is a nice one. A pity many of them stopped on the microsft store. The website is okay, but the app seems faster and more intuitive. Only problem is that the app is a bit clumsy to use on the desktop because its ui is touch input centric less mouse and keyboard centric. So there will have to be a phone to desktop ui conversion to make it work. On the flipside I wish we had windows phone outlook app on android. The android app has its shortcomings and a couple of odd unprofessional features. I wish we had windows phone Chronos plus calendar app on windows phone. I truly miss the calendar layout customizations. It also has a lot of lovely widget designs. haven't come across a similar one on android to date.

I can't think of a single thing on an Android device that I want on my PC that I don't already have access to.

Me neither. If anything it's UWP apps like MyTube that I want on Android, haha

Whichever makes sense on a Mac 😊

I would really like to see some games that are not on steam/microsoft store.
OT: can we have the wallpapers from the HP AIO and the first Pro X?
So beautiful

give me widgets that actually work! calendars and To-Do and other useful productivity items. The Action Center doesn't do enough and Outlook does 95% of the heavy lifting in guiding my day. To-Do does the other 5%

this is really weird the only reason to do this if they bring it back windows phone??? so no

My big areas are the apps for my home automation. iRobot, Ecobee, etc. Sometimes I just want to check these apps while working on my PC without taking out my phone.

Everyone has an Android or Apple phone, which people keep with them at all times. So I do not see any reason for any mobile apps being on a PC.

Zero android apps from the store. I want unified apps that I can use across my PC and Xbox. Windows Phone was part of that ecosystem but we all know what happened there. Android apps on the PC are a extremely niche use case. Not to mention... the scaling are just terrible - you only have to look at the experience of android apps on chromebooks and then make it a thousand times worse. I live in a multiplatform household and I can tell you categorically most android apps are not really optimised ergo the need for more beefier hardware to run basic apps. If they were then most apps would run fine on lower end hardware, they truly don't. I also use Sailfish X and some of the issues with android apps is how AOSP has been implemented in the OS. I'll give credit where credit is due, ios apps barely have the issues you experience with android apps. Microsoft is just making more work for themselves by trying to integrate droid apps, they should be focusing on improving the UWA framework instead. Unfortunately, the easiest way to get apps and games on the Windows store is to lax their advertising standards with the annoying full screen video and interactive game adverts you see on android apps.

FB and instagram. They are both slightly better on android. And for tablets. Also, though, linux apps - there's a few exclusives it'd be nice to run.
Windows Central Newsletter
Thank you for signing up to Windows Central. You will receive a verification email shortly.
There was a problem. Please refresh the page and try again.