Five reasons Office 365 is an incredible value
Is Office 365 really worth it?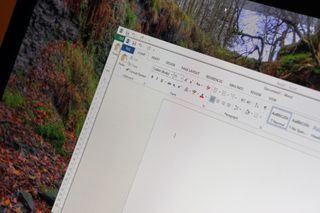 (Image credit: Windows Central)
Office 365 offers a new take on Microsoft's classic office suite. It is subscription-based (monthly or annual) and will receive ongoing updates for the foreseeable future. Not convinced you need another subscription? These five reasons might change your mind.
See at Microsoft (opens in new tab)
1. Storage space
Included with the Personal edition of Office 365 is 1TB of storage space on Microsoft OneDrive — included with the Home edition of Office 365 is 1TB of OneDrive storage for each of the five users. Compare this with Google Drive and Apple's iCloud: with both services, a 1TB subscription costs $10 a month, and there is no option for an annual subscription. On the other hand, an annual subscription to Office 365 Personal will cost you $70. You're already saving $50 on storage fees alone.
If you want to go month to month with Office 365 Personal you'll be looking at a $7 fee (still cheaper than offerings from Google and Apple), but you'll also receive the full suite of Microsoft Office products.
2. Multiple users
An Office 365 Home subscription lets you use Office apps on up to five separate PCs or Macs, five tablets, and five phones. If your siblings, roommates, or friends are also thinking about getting Office 365, suggest a joint buy-in. Each person would have 1TB of OneDrive storage and their own suite of office tools. If you find even two other people to split the cost of Office 365 Home, you'd only be paying $30 for the first year. A similar purchase of three copies of Office Home & Student 2016 would cost about $450.
3. Included content
Office 365 includes Word, Excel, PowerPoint, OneNote, Outlook, Access, Publisher, OneDrive storage, and 60 monthly Skype minutes per user for international calling. Purchasing each piece of software or feature separately would cost about $500, a significant amount more than even six years of an Office 365 Personal subscription.
Yes, there are one-time purchase bundles — Office Home & Student 2016 can be used on one computer and includes Word, Excel, PowerPoint, and OneNote, all for $150. While this is comparable to Office 365 in that you get four main office tools, you do not receive any extra OneDrive storage and will not be eligible for future updates.
4. Ongoing updates
Unlike standalone, one-time purchase versions of Microsoft Office, Office 365 will receive ongoing updates to its content and features. This means you won't have to purchase the new Office to receive the latest and greatest updates. Over the years, you may potentially receive the equivalent of two or three entirely new versions of Office.
5. Tablet compatibility
The three Microsoft Office staples — Word, Excel, and PowerPoint — are optimized for use on Windows 10 tablets and Apple iPads. If you've subscribed to, say, Office 365 Home, you can work on your desktop PC when you're at home and switch to your tablet while you're waiting for a flight or sitting in class. OneDrive makes it easy to access your files from any device, and you won't experience any weird screen configurations or document changes when you're working on your tablet. The mobility of seamless transitions between PC and tablet is worth a different amount for everyone, but it's still worth something.
See at Microsoft (opens in new tab)
Do you use Office 365?
Let us know in the comments section below if you use Office 365, and, if you do, what you love most about it.
Senior Editor, Laptop Reviews
Cale Hunt is a Senior Editor at Windows Central. He focuses mainly on laptop reviews, news, and accessory coverage. He's been reviewing laptops and accessories full time since 2016, with hundreds of reviews published for Windows Central. He is an avid PC gamer and multi-platform user, and spends most of his time either tinkering with or writing about tech.
I totally agree with this article. As far as "no brainers" go this one can't be much easier. I have been a user since it was launched.

yeah thats right upload all your personal work and information to microsoft.. its perfectly safe..

I trust Microsoft as much or more than I trust anyone else. I don't completely depend on any one provider no matter what I do anyway. My OneDrive folder gets backed up to Carbonite automatically.

I've heard that some people have had major problems with Carbonite not backing up properly.

If you've ever visted a website or made a purchase online, then odds are your info is stored on a Windows server. You have more personal information behind less secure protection than what Microsoft has. If you use Dropbox, then your info has been freely given to any government that asks for it.

In fairness, in 99% of circumstances, when a government demands data from a corporation, they pretty much have to comply, sue and provide acceptable reasons why they shouldn't have to, or risk feds with guns breaking down their doors.

It IS perfectly safe in 99.9% of situations.

If you are really worried about it, you can encrypt your files using winrar, winzip, etc before uploading to the cloud.... But it sounds like you just don't trust the cloud in general. I get it, heck I work in the Information Privacy field, but to say MS is any more or less secure than Apple or Google offerings is just not not true. Also you can upgrade to OneDrive for business which does have encrypted on transit and at rest...

I know a couple no brainers that have it.

Even a better value with a student ID. 80$ for 4 years. Beyond worth it. After my 4 years are up I'll probably switch over to the normal yearly pricing. Worth it.

Tip: before your 4 years are up, get another 4 yr student subscription (for $80) and that will just act as renewal for the plan you already have. Students can purchase/activate 2 MS Office product every 3 years. Posted via Surface Pro 4 or Microsoft Halo Phone

I would like to do that, can you give a little more details? Would I have to verify via student ID or is there an easier way to renew the student sub?

How does that work? Mine has 2 years left but my girlfriend is due early 2017

Maybe If you have a use for it and going to use 1TB of data, otherwise it is a waste of mony. i have two documents in dropbox and that is it and they are not important, just house keeping budget spreadsheet and I only keep them there because it is easier to get them on either the laptop or the desktop, but I hardly use the laptop now, even so they are both locked. I use Libre office, whihc does what I want fine, I can write a letter and do some spreadsheets if need be and it do not badger me to save it to the cloud. We trust this cloud too much and one day it will come and bite us, I hope I am not around when it does, or then again, it could be good fun to watch.

Yeah, cool article. I had one question, why do I want one of these? Now, I'm clear and good to go.

Ditto. Office 365 was the smartest change Microsoft has ever made to the suite. It's a killer deal.

Nope, no desire to pay a subscription for less storage than I currently have (6TB) and my old version of office works fine.

Putting 1TB of data online will take a long time and if you need to get it all back quickly it will also take a long time, certainly in some places where broadband is not up to scratch

I've been a subscriber pretty much since it launched. Some months, I barely even use the included software - but it's great to know that it's there when I need it. I only wish they would include some more basic productivity services, like a graphic design app so I can get rid of Adobe's stuff, or a web hosting service.

You can go back to Office XP where FrontPage, and Photo Manager were bundled. Posted via Surface Pro 4 or Microsoft Halo Phone

So you pay for something you do not really use that much? you must have plenty of money.

I have been using Office 365 for a few years now and am a very satisfied customer. It is a great value for the money when you spread that out amongst a family.

Totally agree...with one exception, as a paying customer you shouldn't have ads in Outlook.com, MS should change that.

My only complaint as well. No ads would be the icing, but it's a great deal regardless. Especially when you share with others and find cheap key cards.

I suspect that's because Outlook.com is not part of the Office 365 subscription -- it's free for anyone. You can stop the ads on the computers where Office is installed by using the included Outlook application, which integrates as a front end very nicely for Outlook.com plus does a lot more.

I have a 5 user account for My self, my wife, my sister, my niece and my son for $99 a year. Each of us gets 1TB plus office.... No Brainer.

Exactly. I don't know why this article states the 1TB is shared among 5 users when it is actually per user fit a total of 5TB. Big time no-brainer. It needs to be corrected.

I was going to add this too. It's really 5 TB of storage included (if you factor in the multiple user accounts) not just 1TB. Either we're all wrong or the article has it wrong. I confess, I'm not 100% sure -- my wife is my other user and she doesn't put enough on OneDrive to make a dent, so if we were sharing 1TB, I'm not sure I'd know. Can anyone clarify this definitively?

Nope article is wrong. I have an Office 365 sub which I share with my GF, parents, and sister, and it's worth it. Posted via the Windows Central App for Android

There is only one thing stopping me purchasing Office 365, the fact they limit mail aliases (rather than mail accounts) when you're using your own domain. I want to be able to create individual mail aliases for companies/services that I sign up to rather than using one of just ten mail aliases for everything. They also don't support the + alias, so you can't create myalias+windowscentral@mydomain.com which would be delivered to myalias@mydomain.com and the + bit is just shown in the header so you can use it for filtering (spam).

I get full office for less than €20 thru the MS HUP program and my employer so personally avoided 365 in the past as any subscription is a serious increase.
I got the free year with my 950 XL so I am using it currently but I don't know if I will keep it ongoing.

I use office 365 because Microsoft gave it to me for FREE. I used to have office 2013. They gave me 365 after they took my OneDrive storage as an apology. Lol

Recently subscribed for the 1TB storage. Still not using office at all.
This was also right before receiving the free year notice from onedrive storage thing (on another account), but no big deal because sharing the subscription really makes it worthwhile.

Don't use Office 365 and have zero intentions of ever using it. It simply isn't a good deal for me. Based on the reasons you gave, I'm giving the reasons of why it doesn't compensate for me: 1 - Storage: do you really need 1TB of cloud storage? If you do, there are better solutions like your own personal, expandable NAS. With the advantage that Microsoft can't access it to spy on its contents (if they wanted to, that is) and you can always expand those 1TB to whatever you wish. A 3TB My Cloud from Western Digital costs you around 150€. Once. If you don't want to go through the troubles of getting a NAS, then there's also diversity of offer. You can always get other accounts on Google Drive, Dropbox, etc. If you use a Windows Phone, you can have all of those accessible through a single app - CloudMesh. 2 - Multiple users is indeed an advantage. However, even though 5 copies of Office would cost you around US$600, those copies could be used for the next 10 years if you want. Unless you get a group of 5 people to split the costs, Office 365 would cost you US$70€ which means at the end of the 8th year, you'd already be paying more for it than if you had bought 5 copies of normal Office.
To me, it's not worth it as I don't need 5 copies of Office. I only need 2, one for the PC, one for the Surface. And if you consider that there's also free Office apps on Android and iOS and the free Office online, for most people it would make no sense to spend the money on Office 365. 3 - Exactly because you have things like Office Home & Student 2016, it makes no sense wasting money on yearly subscriptions of Office 365. Because if we're being realistic here, Office Home & Student offers pretty much everything the vast majority of users need. Outlook, Access and Publisher are niche products that the majority of consumers don't use. Outlook they have the Windows app AND the browser page. And Skype international calling, again, niche product. So for the general consumer, the extras Office 365 bring don't justify the price of a yearly subscription. 4 - Updates are cool. For us, tech nerds. For the average consumer, they're a pain. People already complain about Windows updates. Add to that Office updates and they'll moan to no end. Besides, Office isn't the sort of suite that is radically evolving. I could still be using Office 2003 and apart maybe from the cloud integration, I would still not be missing anything particularly relevant from Office 2013 or 2016. So the appeal of ongoing updates isn't that broad. 5 - I don't see the point of this at all. If you're using Office on a tablet, chances are you're using a Surface or Surface-like product. Which means you're using a mouse and keyboard. Which means you'll be running normal Office anyway. And on tablets with Android and iOS, again, the Office apps are available on the respective stores, for free. For all these reasons (and a few others), I have zero intentions of ever buying Office 365. Not only I refuse to pay for subscription-based software, it doesn't make economic sense to me to waste money on it as I don't need it. A one-time investment on a NAS and a normal version of Office quickly satisfy all my needs. Now, for the enterprise, Office 365 is likely a good solution. For individual consumers? Not so much.

1. And your own personal NAS will get lost if your house is burgled or burns down... you have to have offsite backup even if using something else, but when one service can do two things, OneDrive is good. And yes, I have a home NAS too... really neat Synology unit. 2. Those Office versions in 10 years will be laughable. Having 5 accounts each with Office on phone, tablet and PC is great value and easy to use. No one is forcing you to buy anything, but that doesn't make this great value for families like mine.

I guess you skipped the part in which I wrote why it's not good value TO ME? Because that was the point of my comment. Anyway "1. And your own personal NAS will get lost if your house is burgled or burns down... " If that happens, the NAS will be the least of my concerns. Even though my insurances cover pretty much everything. Including the NAS and its contents. And I didn't say OneDrive wasn't good. I said there are options beyond it. For example, I use OneDrive to store documents cross-devices. I use Google Drive to store photos. And I use my personal NAS for everything else. I don't need to pay to some company for extra storage. That was the point. If you go around, you can get tons of cloud storage even without an NAS of yourself. I see no justification to pay for extra OneDrive storage. "2. Those Office versions in 10 years will be laughable. Having 5 accounts each with Office on phone, tablet and PC is great value and easy to use." To you. For most users, it won't make a difference. Heck, I spend most of my day working on Microsoft Word and I can assure you, Office 2003 is still perfectly fine to use today. And to the end consumer, that's what matters. I can assure you, I currently use Office 2013 and I have no intention of replacing it until at least Office 2023 comes out. Because there's absolutely no reason to do it. I only upgraded from Office 2003 in the first place because of the integration with OneDrive and because I started carrying around a Surface to work outdoors. Otherwise I would still be using Office 2003 because there would be absolutely nothing in Office 2013 apart from that to justify me buying a new version. As for the accounts, again, I have all of that. I have the Office apps on my phones. I didn't need an Office 365 subscription for that.

+l929 only thing I really use is one note not much else

Insurance will not replace my years of digital photos and family movies which are priceless and the reason I recommend cloud based data storage or backup...

Depends, we use a backup nas at another location, and further backup legal documents to a thumb drive in a safe. There are comcerns as well with cloud, the article is about value though. Nas and libreoffice is easily the best value, imo.

Blimey, that's the longest troll I've ever seen!!

A bored troll with nothing better to do i think, I use office 365 cause I want to and it's my choice!

Lol on all the downvoting you receiving.
I tend to agree that office had change very little from 2003, I would even say from 97. I used 2007&2010 for the entire time Windows 8.x was current and for a year on Windows 10. 2010 doesn't look dated at all.
I had 2013 free on a tablet and now 365 free on Lumia 950xl.
Honestly, the only thing noticeably different from 2013 to 2016 is the colour coding of the apps and splash screens. Office 2016 still has the same annoying issues from Office 97. 1. Outlook still won't support animated gif
Pain setting up a signature
Still doesn't save HTML images
Still cannot replace Windows Outlook Xpress/Mail etc. 3. Poor and limiting use of graphic editing across all office products.
Publisher looks modern but still use 90's templates 4. Still use Office 2003&97 to install custom fonts in the office Plus folder not possible on 365. 5. PowerPoint still poorly renders PDFs of slide shows 6. MDI file, miss it and had potential. 7. Office image editor (can't remember what It's called) removed from 2016 8. Some languages remain place holders and have no proofing tools from as far back as office 95. Like TS-ZA In the end, do I like office 365.. Yes i do but the office team are very lazy. I still cannot find Office that radical from Borland Quattro Pro, Lotus, WordPerfect etc... Microsoft have done very little since winning the monopoly war from those companies.

This is why MS offers various options, so that's good that you prefer the standalone Office version. I originally thought I'd stick with that too, hating the idea of a long-term recurring cost, but for basically $100/year, I realized it's actually cheaper for me because I always upgraded Office with each version anyway -- there's always at least one or two new features that make each new version a must-have for me. I also need Outlook. There is nothing else that is even close to being in the same league when it comes to e-mail, scheduling, etc. Sure, I could buy the stand-alone version (that's what I did before Office 365), but the inclusion makes the economics even better (for me). Also, while I didn't need Access, because I have it, I find I use it. Great for contracts and complex merge operations with Word, where using Excel or other options would be significantly more cumbersome. I also get my wife on it for free (otherwise I'd probably have just installed from the disk in quasi-violation of the license terms), and can give my mother access, and when my kids get older, them too. I do use OneDrive now that MS has fixed the document sharing/syncing deficiency, so that's nice too, but like you, I don't store any critical files there -- for that I keep files sync'd across all my computers and on multiple RAID arrays, so even a house fire would be unlikely to wipe out any of my data. However, unlike you, if my house burned down, assuming no people or pets were hurt, the next thing I'd be concerned about would be my data. Things I don't care about, but files and information, I do.

You'd prefer to trust Google or Dropbox with your cloud storage?

DJCBS - All 5 of your points are salient. I don't employ a personal cloud, but I would add one more thing to maintaining your own cloud (hopefully encrypted) storage, and that is having your own external drive on your person if you carry your tech with you. Having an external drive to augment and replicate your storage before backing it up to a cloud will prevent data loss should a catastrophe occur that destroys your cloud hardware. I have a 3 TB HDD and a 280 GB SSD that I carry in my bag. They are small, reliable, and most importantly, LOCAL. Any "cloud" is too unreliable, and I need my files with me at any given moment due to the clients that I work with. I am a "minimum necessary" tech enthusiast and freelance IT consultant with MSCE, CIW and CompTIA certifications, but, working 9-5 as an underwriter with an economics consulting background, I find the Office 365 a total separation of fools from their hard-earned money.

I use 3 cloud services, one drive, Google photos and Google music. One drive backs up all my music, photos and personal videos in the free 365 subscription I got thanks to the storage offer. Google photos backs up the vids and photos for free, and I get all my music via Google music anyway. Means I have 2 separate backup solutions for my important data (don't really care for anything else on my pc) and I can play music on my lumia 650, xbone, LG g3, iPad and ZenPad. Google photos works on everything apart from the xbone and 650 but as they are on onedrive they work on them to. I don't subscribe to a music service, I own the music. Everything is also automatic for photos, if I take a pic on the 650 it goes on One drive and Google photos via the pc, the g3 does it to both. For music I buy it from Google, download it to One drive and done. Only other thing I really use is OneNote, which is the best note taking app in my opinion. Posted via the Windows Central App for Android

I agree with what you say DJCBS. I am a supporter of Microsoft and I find their efforts to provide a SSAS, albeit with recurring cost, to be pretty cool, e.g. constant upgrades and 5 user license. It was a bummer when to removed the unlimited OneDrive storage (I am still feeling the pain of it and resorted to having my own NAS). Somehow it is hard to justify the recurring cost to the typical end-user use case, e.g. using Word to write a letter/term paper, prepare a simple table in Excel to put into Word/Powerpoint. Not to mention there are other alternatives available, just they may require internet access. Just my thoughts to support your post here. I found it surprising people took to down vote your post...

I've got five people on my plan that all get 1TB of storage. If you look around you can get yearly subscriptions for much less than $99. It's a steal. Oh and also office is included. And some skype minutes. A good solution for individual consumers? So much.

you would probably want to purchase the Groove Music pass instead. It comes with 100gb of storage.

why the negative votes, this poster was only saying why it did not suit him, for goodness sake. Is this another one of those sites that if you say anything negative about Micrsoft it is frowned on?

You have clearly not read Google's and Microsoft's privacy agreements. Read the fine print, compare and think, before throwing baseless accusations about spying

I use Office 365 on 2 PCs, an Android phone, and an Android tablet. Posted via my Nexus 7 2013 using the Windows Central App for Android

I get Office 365 personal just for the storage. However, the last few times I have gotten deals on it, so I payed even less.

newegg had it for $15 last year.

Our family got three Lumia 950s. Each one came with a year of Office 365. We are set until sometime in 2019. I originally got a free year with my HP Stream 7. It's handy to have.

office365 is that the same as the windows store apps?

No. Office 365 is a full Suite of Office apps for PC plus 60 international Skype call minutes per month. However, a subscription gives you the mobile apps (Windows, Google and Apple store) the full feature ability mean for tablets and phones. Posted via the Windows Central App for Android

The Windows Store apps will require a Office 365 subscription in order to use it. The only time the apps give you access for free is if the screen size is less than 8 inches (diagonal measurement) Posted via Surface Pro 4 or Microsoft Halo Phone

Office 365 is great value and the unlimited updates and upto 5TB of data is plain awesome.

Had for several years. Worth it for me. Son went to college so one install on his laptop, have on his computer at home, my desk and my surface. Like the flexibility.

You forgot to mention the BLACK theme!!

there is a mistake in the topic
you dont have to share the one drive storage. all 5 invited person get one tb and skype minutes

1. This assumes you have use for that 1 TB of storage. It's pretty clear that they throw it in because so few people actually need it. Heck, I'd imagine that the vast majority is under 10% of that, maybe even under 1%, for a lot of folks. It's like the minutes and messaging in a shared plan--it's easy to throw it in because it doens't matter. 2. But their site says 1 TB per-user, up to 5 users. Regardless, it also requires trying to split the payments. That's not all that fun, and it assumes that no one owns multiple computers. 3. Again, it assumes you want all that stuff. Never once even thought about Skype's international calling--didn't even realize they charged for it. I still have no clue what Publisher is. I only use OneNote on my phone because it's there, not because it's legitimately helpful (I'd get by just fine if it left and I had to use Word). Certainly not jumping to use Access, a database tool, at home. 4. I mean, I'm still using my personal license of Office 2007. Never felt I needed updates from it. This just seems like something added to get to the requisite "five reasons," rather than something of substance. 5. But that kills point #2, that you can share with 5 users. If you have it on your PC and tablet, you're using 2 of those licenses. Seriously, this just looks like it's trying to be a shill for the subscription service that is clearly a better value for MS than the users. My old Office 2007 license was allowed to be used on 3 PCs. They changed that here, pushing folks to these sub-basd models. They're not a good deal for people, really. Microsoft just made thte other options worse to make this look better.

If it's working for you, more power to you. But I'd rather punch myself in the face than use 2007 every day.

You are wrong you get to install office 365 on 5 devices for each person you give a license to.

Show me where. It certainly doesn't say that on their site, where it just says: "Get the fully installed Office experience on 5 PCs or Macs, 5 tablets and 5 phones (including Windows, Apple®, and Android™ devices). " Compare that to the OneDrive storage, where it says: "Get 1 TB of OneDrive cloud storage per user, for up to 5 users. " So, point me to where you get a total of 75 installs (5 each of PC/Mac, phone, and tablet for each of 5 users) for a subscription.

This is what my Office portal says, note the underlined text: Office 365 Home is for five people. You can share your subscription benefits with up to four other people at no extra cost. Each person gets: Full installed applications Install the latest Office apps on PCs and Macs. Work across multiple devices Install Office on iPads, iPhones, Android devices, and Windows devices. 1 TB online storage + 60 Skype minutes

Thanks for that, since I don't have it handy. Definitely doesn't say 5 devices per-user, so it must just be the Skype and storage that are individualized.

I have photos, music documents and videos created for work and family on OneDrive, now just over 450gb. I am comforted to know the added headroom is there. OneNote is my most used app, with links I use in a regular basis, Quick Notes from meetings and schedules others send me from email. I have it everywhere instantly. I updated slides in my PC and by the time I got to my meeting they were ready for me on my Surface. Notes I added there with a pen could be viewed oh my phone on the way back to the office. Publisher is my go to application for my Newsletters and other docs. It is the least loved and most dated of the package, but I have used it for 20 years. 365 is simply a great value and I never have to argue with myself about buying an update again.

OK. Not at all addressing my point that it isn't a great value just because a site says it. That it works for you, in a way I would call EXTREMELY unusual for families, doesn't change my statements at all. I will add, though, that even in your extreme example, you aren't getting to half of the storage you're allegedly getting a deal on.

Actually.....a bunch of people were abusing the onedrive storage if you remember. A ton had used well over 1tb of their storage until microsoft changed it from unlimited.

They weren't abusing anything. Microsoft just decided that they were giving out too good of a deal and took it away. Prior to that, Microsoft said "unlimited," and those people operated within the parameters of the agreement. MS shouldn't have given them unlimited storage if they didn't want to offer unlimited space.

Each user gets to install on a PC/Mac 1 tablet and 1 smart phone so each user essentially gets 3 licenses. Each user gets to have their own seperate 1TB of storage, which one can easily make quite a dent in, I keep all of my photos, all of my music, all of my important documents, and all videos that fall under any kind of home movie. I don't think that's out of the realm of average and I'm over 100GB. You should probably get your facts straight before posting such a long rant about all the reasons being wrong.

I love 365. Could never go back to the old way. Now if they would just add a Groove subscription to it as well. That would be amazing.

Have a pro version at work and leech off my wife's account at home! It's on all of my devices. Can't believe anyone would go any other route.

I have subscribed for two years. I am sporting the insider build of Office 2016. I last purchased a package set 6 years ago, Office 2010. Educational set was still $150. And was out of date within a year. I am always up to date now and I run it on three devices plus phone. Left my surface home yesterday but still had access to my latest PowerPoint in a meeting on my 950. Great value for less than $9 a month with yearly. Will never go back to off the shelf.

Is worth it. I love O365! Posted via the Windows Central App for Android

1. Screw that cloud sh*t, my 2TB external T3 SSD is more than enough and significantly faster than that privacy-invading public cloud nonsense. Only cloud I'll put my personal data on is my ownCloud. 2, 3, 4. I only need office to work as described since I first purchased it outright, if Microsoft thinks I'll pay them again for a whole new copy of Office just to get Outlook/OneNote working correctly, they can dream on. http://answers.microsoft.com/en-us/office/forum/office_365hp-onenote/rem... http://answers.microsoft.com/en-us/office/forum/office_2010-onenote/pinc... http://answers.microsoft.com/en-us/office/forum/office_2013_release-outl... http://answers.microsoft.com/en-us/office/forum/office_2013_release-outl... I'll just keep pirating future versions if that's what it takes to get the software working as I paid for. 5. Meh, never have, and never will purchase any bastardized ARM tablet, so, useless function. Posted from my Surface Pro 2

Sounds like most of your data probably is of a kind that is not shared easily or talked about. Though we all "may" have stuff like that the vast majority of stuff is easily suited for cloud storage and sharing.

Suitable for you, sure, do what you want with your data. IMO, nothing personal, which I don't want the entire world knowing about, is suitable for public cloud storage. Posted from my Surface Pro 2

Trust me, the entire world couldn't give 2 ***** about your information lol.

Strangest thing I have read this month. haha. There is either a company and or government agency that wants every single piece of data/information that we generate whether personal or corporate in nature.

I was shocked to realize how cheap the Home option was a few months ago: $100 a year for 5 users, desktop and mobile apps plus OneDrive space (and Skype minutes, but don't use those). I currently have 4 different Office365 subscriptions: Enterprise E3: for my main job Business Essentials: For my small business I do on the side. I think email and OneDrive space alone are worth $6 CDN a month in a business scenario, but getting other things like SharePoint, Yammer, and Skype for Business are definitely a bonus. Education: Just the Outlook tools (email, calendar, tasks, contacts) from my alma mater. Home: Bought primarily for the OneDrive storage, but obviously desktop software would be pretty important if I didn't already get that from Enterprise (which I won't be for long as that job is ending).

I got a cheap ($11) copy of Office 2016 through work that I'm fine using, plus I got a year of O365 Personal when I bought my Lumia 950. I was never sure about paying a subscription fee for software that I barely use, prefer a standalone option.

I agree this is a great value however there're two points that's have downside to it. Who wants to share their email account with others? Doing so will kill personalization in so many aspect, devices, apps, cortana. Skype minutes is selective to certain countries, it's not always a score.

Not sure I understand what you mean, but if you mean all isers have to use the same email address, that's not true. The way it is shared is inviting each user using either email addresses or even sending them a link. They don't need to be signed into either Windows or Office with the main account holder's credentials. The main account keeps track of who it is shared with, but each person uses their own account, so personalization, apps, Cortana, etc all stays personalized for each individual user.

Each of the up to five users get their own email address.

Yes I have been using Office 365 for couple of years. And it is solid product especially once you use the same data on multiple devices. Only wish is better Onedrive integration in terms of place holders as I don't want to fill up the ssd with the whole content of Onedrive

Bargain of the century as far as I'm concerned. Hopefully MS will start to do bundles that include discounted subs for Xbox Live and Groove also.

I have Office 365 for 2 years now. I have a home edition which I've added 4 familiemembers/friends. It's great. You have 1 tb for your photos. All my photo's of my 950xl go straight to the cloud. My mom also uses this on here 930 and watches the photo's on her surface pro. Whenever someone sends me a document to review, I review the document and then send them a link. Even though they don't have office 365 they stil can edit and then ask me to review it again. This way we can improve the document togheter and in this proces they learn a lot more. So they don't have to ask me for my help as often :P edit: And I purchased it after the company I worked at the time, forced everyone to use LibreOffice/OpenOffice. Which I used for a couple of months. After a while work pressure increased and I had to collaborate more on presentations and other documents. Also Sheets was not cutting it. While working very hard under a heavy deadline for a report on the backlog, Sheets crashed, losing all my work. After this I switched to Office 365. Added my co-worker so we could collaborate and now I don't want to go without.

Was thinking not to renew my subscription but that 1TB is too much to loose, so renewed it.

Do they still include the 60 World Minutes for Skype too? I have that on my account and we get it per user.

I like the storage and being able to access Onedrive from any device. I use the heck out of Word being a writer but didn't think i would ever use the other Apps. One day I had to throw together a simple logo banner for my website with text and an existing graphic ... i fired up Publisher and layed it out there in about 5 minutes. I have been playing with Sway too. It's the best $10 a month i spend. My Office is where ever i need it to be.

Microsoft is literally making people repurchase its ecosystem every year. They'd better be GIVING AWAY a new Lumia device each time that happens.

I disagree.
Office Pro costs nearly $500 to buy outright.
365 costs $100 a year with 1tb storage.
Assuming that you'd want to upgrade your software at least every 5 years, the price paid in the end is the same and the stage is a bonus.

The apps run just fine on my Chromebook too.

Where's the alert this is an ad mascaraded as article?

Subscribing to software is better or worse than buying software?

If it's on Windows, why wouldn't they cover it? The article is pertinent to those looking at office options. I use it. I have 5 installs. As for security, I don't send anything sensitive to one drive. It's purely for music, pics and phone restores. As for the office suite, I use access a lot, which you don't get with some of the other offerings at this sort of price bracket. As for 2000 character trolls, some people need to get out more.

If you want an extra layer of security use boxcryptor. Based in Germany and encrypts data before uploading to OneDrive. Used it for 2 years. Works very well and on mobile.

It's an awesome service at that price. The storage is more than worth for the price when compared to other services and the office suite is bonus

This article is the best way to convince other users to get into Office 365, I love this article, these are the reasons for why I bought an Office 365 subscription.

Got two years free (buying a 950 & SP4). Also use O365 business for work.
Got to ask WC, if O365 is so great (which it is), then why do mobile nations use Google Apps for Work? Or they did last time i checked.

Ever since I've gotten Office 365 I've never regretted it. And that 1TB of OneDrive storage is really helpful!