Five secret features in Windows 10
What are some hidden features in Windows 10?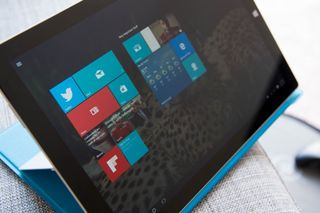 There are so many things you can do with Windows 10, it's almost impossible to keep track of all the features offered. So, we thought we would highlight some of the features you may not know about; they aren't secrets per se, but for one reason or another they're hidden away. It's time to unmask them!
1. Find my Device
Microsoft has joined the battle against loss and theft of your devices. It turns out that you can just log into your Microsoft account (opens in new tab) and track its last known location from there. But there's a catch: for reasons unknown, this feature is turned off by default and kind of buried, so you'll have to enable it in the Settings app: Settings > Update & Security > Find My Device.
2. Change the location of installed applications
By default, most Windows 10 PCs will automatically install new apps to the (C:) drive, and while this works for most people, there are some individuals who prefer to use different drives to install programs. If that's you, Microsoft has made it easy to change the place your new apps will be installed. Just go to Settings > Update & Security > Storage.
3. Start Menu customization options
Windows 10 has a plethora of ways you can alter the look and feel of your Start Menu – the color of it, the size of it, what's included in it – basically, if you can see it, you can change it. Check out our guide to customizing your Windows 10 Start Menu!
4. Put a search bar in your taskbar
Did you know that you can search directly from the taskbar? You can — and with Cortana, no less! It's super helpful to be able to find all your files and search the web right from the comfort of your Desktop. Not to mention, if you have Cortana enabled, the search bar is where Cortana "lives", meaning you can have easy access to her "infinite" wisdom.
5. Automatic time zone changes
You may have noticed that if you travel anywhere that has a different time zone, the time on your PC will have to be manually set. In Windows 10 you can set up automatic time zone detection, so when you cross over that line your PC automatically moves changes its time to the local time — you'll love this if you do a lot of traveling — just head into your settings to turn this feature on: Settings > Time & Language > Set Time Zone Automatically
What are your favorite lesser-known Windows 10 features?
We want to hear your tricks and tips! Let us know all the features you think everyone should use in the comments section below!
Windows Central Newsletter
Get the best of Windows Central in your inbox, every day!
"Put a search bar in your taskbar" "Secret feature"? ffs its there by default.

That's exactly what I was thinking

Agree with you. Search on taskbar has been there since the address bar on task bar. WinXP anyone?

I think you could even have it before XP with the PowerToys

Haha, secret that everyone knows.

i MEAN WHEN LOKI VISIT EARTH AND USE WINDOW IT LIKE SECRET TESERACT!

How can I make it appear when I have small task bar icons activated?

All good points. I have never had a search bar show up in my taskbar. Sounds good to me. Rick Stoneking Sr
Owner/Founder
#InternationalTravelReviews

It's gone in the Anniversary Update, and you can no longer switch off Cortana, either. Read this article on PC World (right-click to open in new tab or window): http://www.pcworld.com/article/3093573/windows/what-microsoft-is-taking-away-from-windows-10-in-the-anniversary-update.html

Inb4 "we already know this" comment. This article isn't meant for regular users of this site, but rather for people new to this site and windows 10. These sorts of articles bring in new users.

If anyone takes a small amount of time to go through their settings they will easily find these options. The oddest one is the searchbox. Unless it has changed in the anniversary update, it is enabled by default. I always change it to just be a button.

See, so many people neglect to even do that, or they're not windows 10 users yet. Tons of people that use PCs are not very tech savvy and would never know these features are there.

and none of them will ever go to windowscentral.com

But they will bing and Google this topic and Windows Central will rank high enough to show in the top 5 or so articles. Posted via the Windows Central App for Android

You don't have to tell me. I sometimes feel like I'm one of the less than 1% of Seniors 65+ that know how to do much with a computer or mobile device. I'm the one that helps them through their difficulties and I even offer free PC repairs (excluding parts / HW upgrades) for my friends and relatives. Most users don't even have any idea about the built-in System Icon folders available in Themes. The hardest part is trying to explain things in terms they understand. Even Layman terms are too complicated in most cases. Fortunately in retirement, I enjoy helping and at the same time keeping experienced. Thank goodness for Search Engines!

You are correct, but people don't do that. So I guess that makes you incorrect? The avg user, which this article is pointed to, won't dig into settings to find most things. They will search online and if this article doesn't exist they won't bother. Or they will ask the "computer guy" in the family who won't take the time to explain, and just do it for them. Posted via the Windows Central App for Android

This site is chock full of nerds and tech info, It's not the place a first time user of Windows 10 would look.

A Bing search is how I found windows central. It was an article like this one that appeals to outsiders. Don't be so quick to assume

Search engines... Posted via the Windows Central App for Android

Biggest secret: Data collection.

WOAH?!!! REALLY?!!!! It's as if MIcrosoft is the ONLY company out there doing that!!!!1!1!1!1!!!!!111!!!!!!
Kappa, /s, whichever you prefer

Microsoft is very aware of user's privacy that's why they encrypt PII information stored on OneDrive. If Microsoft is collecting any info from your Windows 10 PC its not reading your personal info, that data is anonymized, they're just collecting stats to make Windows as a service better.

If you wanna complain about a company collecting the most data, look at Google. They're known for their data hugging ways :p

Thats why MS is getting sued for it and NOT google....

So that means Google is innocent? Big companies get sued for it all the time. But Google has been known for it for years now. All I'm as saying is Google is more guilty for it that other companies.

The auto timezone feature has screwed me over a couple of times recently. Whenever I go visit my girlfriend who lives near the border my phone's time goes up by an hour to match the other county's time

So? That way you always have an excuse to leave early.

I have the same problem here in Columbus, GA which borders Alabama where the time changes. I've reported the issue to Microsoft but I don't think they give a crap.

Actually for those of us that don't have to deal with the issue, we don't give a crap either. BTW, just trying to make light of the dilemma you have. Hope they get it figured out or break out the Tomohawk Chop from the Braves.

:'( Haha I hope they get it worked out as well...or else... :P

Just disable automatic time zone.

I know I can do that, but I like having it automatic.

I thought already installed apps couldn't change location unless you delete and reinstall with the default location on another drive?

The article says how to change location for new installs. Yea the heading is misleading

You can hit "move" to move it to your other drives. But if the app requires to be installed on your main drive it won't work.

You can move already installed apps via the storage section. Just click move and select the drive

The second one says"Installed applications" but the description says "For new applications"

My favorite hidden feature is FTP server capability, its great for transfering large files over your home network without the need of carrying external hard drives. It is useful to demonstrate the amazing speeds of Wireless AC or 5G Wi-Fi as some people call it.

I always forget Windows has integrated ftp server capabilities

How do you enable the FTP server capability?

I also didn't know so WindowsCentral pointed this great article on it a while back http://www.windowscentral.com/how-set-and-manage-ftp-server-windows-10

Biggest secrets? the ones telemetry has stolen.

In #2, I think that should read Settings -> System -> Storage, rather than Settings -> Update & Security -> Storage.

I like the feature that i can search and enter to a command like "dxdiag" by search in Cortana search option

Shame on you Windows Central. Clickbait at its worst. Secret?

Tomorrow on WC: "15 breathtaking historical photos you won't believe are real (#7 will blow your..."

...blow my what?!? Come on, man, tell me!

Considering the Cortana/Search bar is default, that's pretty ridiculous in itself. And shame on them for trying to save their butts and call the stuff hidden even....it's all in the most logical location. I never find any useful information in anything here. Not sure why I continue to get the emails.

Ik it's only for insiders atm, but the ability to project a phone to a PC is pretty good. Just a shame my laptop doesn't support Miracast.

Cortana has a ton of hidden gems that work on both PC and phone. From pc, ask Cortana, "send text to name of friend, want to see that movie?" And it sends from my phone. Cortana, define (word), provides answer in pop up, doesn't spawn browser. Cortana, what is 15% of $200?

TIME doesn't work on my SP3. Right now it'2.5 hours behind. Automatic switching of time zones doesn't work on my windows phone.

Do you live on a timezone border? I've used Windows phones for about 4 years without a time issue nor have I had any problems with the clock on my SP3. I've used the preview releases of both PC and mobile with no major issues of any kind. Good luck in getting a resolution. As for your SP3, if it's still under warranty, call Surface Support.

The ability to change the width ratio of two windows snapped by side is definitely one of my favourite features.

How do you put your user on top of the start menu?

not really lesser-known windows 10 features

The feature everyone should use? The (Windows) feedback Hub/app ;D!

Funny (or not)... That secret time zone adjustment feature does not work on ANY of my windows 10 devices. Not my 950XL, not my SP4, and not on the lenovo x1 Yoga that work provides me. Three strikes from three devices.... Was very frustrating on my recent trip from US to Bangalore via Frankfurt. Complete failure on such a basic staple feature. lame! The setting is there and enabled on all devices. It just didn't work.

Change the location of installed applications.... and easy to do.... thanks

The Find My Device feature is nice but since I suffered the theft of my 950XL earlier this year, I wish it could be found without it being booted up. Fortunately the phone got locked and the thief has been unable to reset it even after repeated attempts from time to time (I get email notifications that a reset attempt was made). I immediately replaced the phone and my data has not been accessed.