Five secret features in Windows 10
What are some hidden features in Windows 10?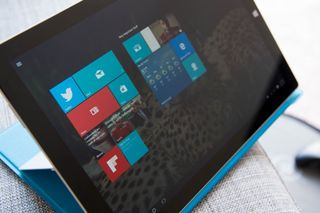 There are so many things you can do with Windows 10, it's almost impossible to keep track of all the features offered. So, we thought we would highlight some of the features you may not know about; they aren't secrets per se, but for one reason or another they're hidden away. It's time to unmask them!
1. Find my Device
Microsoft has joined the battle against loss and theft of your devices. It turns out that you can just log into your Microsoft account and track its last known location from there. But there's a catch: for reasons unknown, this feature is turned off by default and kind of buried, so you'll have to enable it in the Settings app: Settings > Update & Security > Find My Device.
2. Change the location of installed applications
By default, most Windows 10 PCs will automatically install new apps to the (C:) drive, and while this works for most people, there are some individuals who prefer to use different drives to install programs. If that's you, Microsoft has made it easy to change the place your new apps will be installed. Just go to Settings > Update & Security > Storage.
3. Start Menu customization options
Windows 10 has a plethora of ways you can alter the look and feel of your Start Menu – the color of it, the size of it, what's included in it – basically, if you can see it, you can change it. Check out our guide to customizing your Windows 10 Start Menu!
4. Put a search bar in your taskbar
Did you know that you can search directly from the taskbar? You can — and with Cortana, no less! It's super helpful to be able to find all your files and search the web right from the comfort of your Desktop. Not to mention, if you have Cortana enabled, the search bar is where Cortana "lives", meaning you can have easy access to her "infinite" wisdom.
5. Automatic time zone changes
You may have noticed that if you travel anywhere that has a different time zone, the time on your PC will have to be manually set. In Windows 10 you can set up automatic time zone detection, so when you cross over that line your PC automatically moves changes its time to the local time — you'll love this if you do a lot of traveling — just head into your settings to turn this feature on: Settings > Time & Language > Set Time Zone Automatically
What are your favorite lesser-known Windows 10 features?
We want to hear your tricks and tips! Let us know all the features you think everyone should use in the comments section below!
Get the Windows Central Newsletter
All the latest news, reviews, and guides for Windows and Xbox diehards.