Flipagram can now turn your photos into videos on Windows 10 PC and Mobile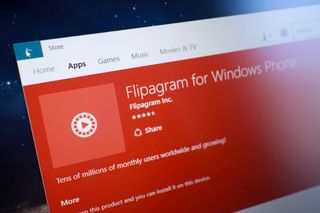 Flipagram, which previously was released for Windows Phone, now has a version that works with Windows 10 PC and Mobile. The app still allows users to make quick video clips using photos from their smartphone, or by using images from their Instagram or Facebook accounts.
That's not all that's new with Flipagram. Here's what's listed in the new version:
Free 60-second music clips
Windows 10 compatibility
Use Cortana to launch Flipagram and search for users or hashtags and see your activity
Pin Flipagram as a live tile
Use Windows Inking to draw on your profile photo
Drag and drop in albums
While Flipagram is free to use, it does place a watermark in the videos. However, that watermark can be removed with a $1.99 in-app purchase.
Thanks to Corey for the tip!
Download Flipagram for Window 10/Windows 10 Mobile (opens in new tab)
Windows Central Newsletter
Get the best of Windows Central in in your inbox, every day!
Hey John, u forgot the "i" in mobile in the headline.

So... Windows 10 iMobile?

I was just about to say that...

You were just about to say that what? ...That WHAT?! THE SUSPENSE IS KILLING ME!! :P

The app is also compatible with Continuum Mode. This should be a key feature for UWP-ready apps.

U can't share to instagram, what's the big deal with adding instagram, they added Facebook, is it that difficult to add instagram? Useless

Which isn't available for Windows 10 desktop, so in that respect the app is useless

Both 6tag and official Instagram should be available -- and I know you're tired of hearing this, but we can't help it -- sooooon

Official Instagram is great on my Android phone, and is does Flipagram but I would like to use it on my desktop PC eventually

Use instapic. A valid desktop instagram client.

Seriously? One missing feature causes the entire app to be "useless"?

Considering the fact that instagram made flipagram a very popular app. I just don't get how they released it without instagram support

I prefer Photo Story as Flipagram is nice but looks like a PowerPoint presentation. MS's Photo Story produces intense videos based on your camera roll--but isn't working on the 950 or 950XL. To make up for that, I used Flipagram and, while I'm glad it's available and think it's a nice app, the end result is a bit of a yawn. I'm hoping MS fixes whatever's wrong with Photo Story and the 950 XL.

For Windows Phone 8.1 it shows up in the Store for Lumia 928 but not for Lumia Icon. Why would that be? Do developers need to tailor WP 8.1 apps for individual devices?

Yeap, it's a Win10 app, not a compatible Win8.1 app.

Utterly pointless on Desktop, no option to upload to Instagram

Pointless for people who has and uses Instagram. (edited :))

Use instapic or other apps. There are a dozen decent desktop instagram apps

Win 10 update! For Lumia 535! When is it releasing?

Nothing from Instagram though. I wonder if they are even writing for W10.

Very unstable on my 950XL. Constantly crashes.

Totally what do you think about the Microsoft share in mobile market in 2016? Let me know friends

Not so impressive.... no effects, transitions or even no option to add your own logo.... Movie Creator Beta is still my preferred app. Wishing for PowerDirect or something similar to come to Windows10 mobile!

Prefer movie creator beta ...

Just more universal apps good

This is one of those apps that really needs Microsoft to push forward the interactive live tile. ​

App itself is a bit unstable.... Need a bugfix update or two

i want to make a slideshow with music from my last years selected photos on Instagram. is it possible on Windows platform? something like this https://www.instagram.com/p/_4KLPWGCbz/?taken-by=cubacubicula​

Windows phone users need few more apps like this..
Windows Central Newsletter
Thank you for signing up to Windows Central. You will receive a verification email shortly.
There was a problem. Please refresh the page and try again.