Focused Inbox finally coming to Outlook Mail for Windows 10 Mobile Insiders
Better late than never: Focused Inbox is finally arriving on Windows 10 Mobile — for at least some Insiders, that is.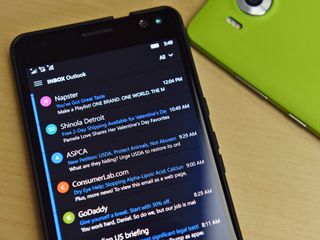 Focused Inbox is a handy feature for the Outlook Mail app that shows you the most important emails sitting in your inbox at a glance. It's especially useful if you receive a lot of junk on a daily basis and want to filter things down to only high-priority items. Notably, the feature has already appeared in Outlook on nearly every platform except Windows 10 Mobile, leaving many of Microsoft's mobile users frustrated. But if you've been holding out for Focused Inbox in Outlook for Windows 10 Mobile, that's all about to change.
As initially spotted by German blog WindowsUnited.de, Focused Inbox (labeled "Relevant" in the sample screenshot) appears to be rolling out to at least some Release Preview users in the Windows Insider program. It doesn't appear to be available for Fast ring yet, but it could also be rolling out for testers in gradual waves.
Focused Inbox rolled out on desktop Windows 10 some time ago, so it's good to see it's gradually starting to appear on Windows 10 Mobile. It's not clear when other rings, or even production users can expect Focused Inbox to arrive, but it seems it might not be too much longer now that it's in testing.
See at Microsoft (opens in new tab)
Windows Central Newsletter
Get the best of Windows Central in your inbox, every day!
Dan Thorp-Lancaster is the former Editor-in-Chief of Windows Central. He began working with Windows Central, Android Central, and iMore as a news writer in 2014 and is obsessed with tech of all sorts. You can follow Dan on Twitter @DthorpL and Instagram @heyitsdtl.
The Focused email inbox sucks! I hate it and have been forced to disable it everywhere. Looks like they are forcing it on insiders now, too.

Kinda disagree wz you on this one.
I cannot live without Focus (or you could say Google's Inbox-like feature)

Agree, I don't like it either.. Hope it can be disabled for mobile, just like it can be disabled on desktop.

But if you can disable it, how is it being "forced" on anyone? Options are good.

The focused inbox is default following the update. You have to go into settings to disable.

If the default is enabled, and a user wants it disabled, it's forced. :) Personally, I find it annoying. I have to check two folders when looking for emails.

Agreed. I turned that thing off very quickly after it showed up on my other devices. Once it shows up on my Lumia I'll kill it there, too.

Awesome....I still hope the new photos app comes too, need that desperately.

The new photos app with all the editing power looks awesome. I waiting for it too.

Which "new photos app"? Any reference?

Modalità Disegno in azione su Microsoft Foto per Windows 10 Mobile https://youtu.be/hyN56iLNVTA #myTube

Couldn't care less. They should fix real issues not work on useless features.

Please take your political non sense somewhere else. There's no need for these on Windows Central. This isn't Breitbart.

Dude, it's a username. Settle down. The 2 posts this user has made in since creating this account haven't been politically charged at all.

Oh look someone got offended.

I need to go figure out how to turn it off on android and in the desktop app I hate it tbh

It's in settings. Cleverly named Focused Inbox.

This article is better late than never. I've had this update for the last 2 months on Mobile...

I have had it for weeks and it is a mild inconvenience.

Sorry about this MS, it will get turned off as soon as it arrives just has it has been on my PC's, although I suppose having the choice is good for some.

I've always turned the Focused Inbox off, my OCD for organised emails has never liked this feature.

Useless feature. Tried it for a week, missed like four important emails, no thanks.

I'll be disabling it on day 1. I don't trust an app to decide what is important to me or not.

Um, didn't we already have this? It used to work on my 950xl and out of nowhere it completely stopped working. Looks like it's coming back. I wonder if they will fix the notificaiton problem with Phone while they are at it....

Glad to hear I am not the only one that hates this feature. It just seems to hide emails from you. I don't get it at all.

Thoroughly enjoy this feature. Glad to see it coming back to mobile. Makes things much more streamlined for me.

The comments about this being forced doesn't make any sense. On by default doesn't mean forced UNLESS there's no way to turn it off. You can choose not to like it but doesn't mean it's forced. Like some other people are saying, I am a but more specific with my email account so I'm not sure if this would be that much more beneficial for me than what I already do. However, I think this is the kind of feature that is useful once it learns your preferences. In the beginning, you are teaching it what to prioritize and what not to, so it's not going to feel helpful at first.

I dislike Focused inbox and disabled it shortly after it became available.

Finally! Now I will be able to turn the damn thing off on my WP, just like I turned it off in Outlook for iOS, Android, Mail, Outlook 2016 and the web. I will feel so good about that. Can't wait to be able to turn off conversation view too. (don't recall if that was an option already, but if so, it's off) Would it be too hard to look at how I have every other client connected to Outlook.com set, and default to that? Just let me know I now have the option, rather than assume I want it.

Don't know why they bother. Had to turn mine all off as no need for it

Focused is great for business mail, its ******* annoying for personal mail. I turned that **** off the second I realized that I could.

They need to stop this mockery

I have this focussed inbox on My Lumia 830 for quite some time now (Build 10.0.15063.540)... Windowscentral...you are late :-P

My Wife when she first experienced the focused inbox was very upset. The things it chose to focus on were all un important emails. The important ones were effectively hidden from her point of view.

I really like focused inbox. It keeps important email clean and streamlined while sending things like sales flyers and requests for donations to the Other folder. Gets it right about 95% of the time on the first try. The few it gets wrong are easy to correct and it remembers/learns from your choices. However, people don't like having a big change pushed on them without asking. Outlook should describe the new feature and ASK if you want to try it instead of turning it on by default. Will Microsoft ever learn?

Under Settings-Reading the option is there. However it says none of my accounts are able to use it. Same for Image Preview. I do have a Live and an Exchange account. Not sure what is going on here.

I don't see the point of this. I already mark stuff not interesting to me as junk mail. So all my mail I get I want to see. I don't need to 'focus' on anything other than what comes to my inbox. This just creates more clicks and more ways to clog up my inbox in case I miss an email that gets put into one or the other.

Yes, it's overkill for anyone who has already manually simplified/streamlined thier inbox. More useful for those who have a larger variety of email that can be divided into urgent vs. still needed, but not urgent. This is one of the main reasons Microsoft should give users a choice to turn it on or not.

Nothing here. Still no update of Mail and Calendar mobile app on Fast Ring. Production release did upgrade and now the focused inbox is available. But no on the fast ring. WTF are they waiting for?

FINALLY I just had mine show up today, I was in Office Depot and I went "OH MY GOD!" and the store clerk asked if everything was OK... hahaha. This was the ONE missing thing I was ready to dump my phone for. I get so much damn email every day for work it's a nightmare. Now, finally, I'm at peace with my mobile email.

It showed up in my WM10 Outlook today. On latest release of W10, O365, and Outlook 2016 I seem to be in the lerch; Clutter seems to have been disabled but Focused Inbox hasn't shown up yet. I'm not happy to have to use OWA (or whateverthey are calling it these days) in the meantime. I loved Clutter and worry that Focused Inbox will notify me every time an Other (formerly Clutter) email comes in when I could previously set Outlook to notify on main Inbox incoming.

As if MS didn't f' up my Monday morning enough, email is still going into Clutter, the Clutter settings seem to have been removed or moved from where they were recently, and MS just sent me an email touting Clutter as a feature.