Here's how to force the new Slacker Radio 2.0 update on your carrier phone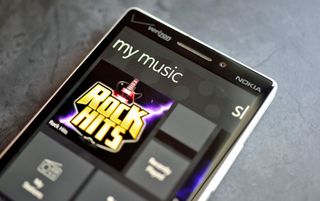 Being on a US carrier has quite a few downsides, from high data costs to exclusive Lumia phones, it can be a drudgery. We can add a new one to the mix today too: carrier-branded apps that are outdated.
This morning I wrote about the new Slacker Radio 2.0 update, which brings a new UI and improvements to the app for the first time since 2013. But if you're on Verizon, T-Mobile, Sprint or AT&T, searching for Slacker Radio brings you to their old, outdated branded version. Lame. Luckily, I've managed to get the apps to download and install, bypassing the carrier blockage.
Here's how.
The problem
Searching for Slacker Radio brings up the old carrier-branded version, not the new 2.0 one with a new UI. Clicking the Store link for the new 2.0 version brings up an 'Item not available' error message.
The solution
Perhaps surprisingly, removing your carrier SIM and rebooting the phone on just Wi-Fi won't bypass the Store restrictions. But at least for myself, this little trick did get it to work:
Open the Slacker Radio 2.0 link found here and get the error message
With your Windows Phone on and connected to Wi-Fi, remove the SIM, do not reboot
Refresh the Store link and download
(Remember to reboot phone to get your cellular signal back)
It sounds weird but in doing so I was able to view the Slacker Radio 2.0 in the Store, bypassing the 'Item not available' message and subsequently download the app. I've done this for Verizon and AT&T with no issues. Perhaps many of you know you can do this already, but for myself, it was new.
So give it a go and let us know if you're able to 2.0 of Slacker Radio on your carrier-branded Windows Phone! (Have an easier way? Having problems? Let us know below)
Daniel Rubino is the Executive Editor of Windows Central, head reviewer, podcast co-host, and analyst. He has been covering Microsoft here since 2007, back when this site was called WMExperts (and later Windows Phone Central). His interests include Windows, Microsoft Surface, laptops, next-gen computing, and arguing with people on the internet.
Why is it not available?... It's just not official yet, or are carriers blocking it❔❔❔❔

I thought the 'carrier branded' version of the apps explained that. Clearly the carriers and Slacker Radio have a deal in place for revenue sharing, etc.

Thanks Slacker Radio for this latest update that was long overdue and thanks WPCentral (Daniel) for giving us the know-how on downloading this app.
I've had my $3.999 Subscription to Slacker Radio since my Android days (GSIII) and missed one major thing and that was the ability to "fine-tune" my custom radio station...to me this is the best and now I can do this via my Lumia 1520 and not my PC.
I practically gave up on an update but now i can JAM to Nicki Minaj & Movado "Give it all to me".
I do wish there was a wide tile option, please make it happen. BTW the entire Slacker Radio UI looks great and very Modern.

Verizon also has a branded Netflix app, which is under the "Verizon" list in the apps. The problem with this one is that it literally does not work - it won't even allow you to log in. Fortunately, the regular app from Netflix, Inc is also available and shows above it in search results. But I'm sure some Verizon customers do what I did and just use the one from them and get that error message. It's a shame they still have that one in the store, and don't remove it or update it.

Blocking. ATT provides "their" version in the market. Lame. Posted via Windows Phone Central App

Follow the instructions in the article, you can get it. However you will have to restart your phone after you re insert you SIM card. My 920 didn't recognize it until I did so. After restarting, the app worked fine.

:( The SIM is under the battery in my Lumia 810. I'll just stick with Pandora for now.

Do it while your phone is plugged in.

Hasnt worked like that since mango

On my Lumia 521, I was able to slide the sim card over far enough without removing the battery that it actually disconnected the sim. I now have version 2.

Same here, it slides just enough to lose contact.

Why is it even blocked..?

Carriers, ergo money, is a pretty good guess.

The specific carrier version allows you to have your subscription billed to your cell bill. I'm more than certain the carrier gets a cut of it. Would be nice if they just had "Slacker Radio" along side "Slacker Radio for [carrier name here]", so we can choose newest version, or billing convenience.

Another example of why carriers are evil.

A pretty good example why it is enough that carriers rip you off with contracts.. they dont need to be involved in the hard and software of your phone in any way other than providing a SIM and being able to connect to their network

Worked like a charm. Thanks Dan.

Glad it worked! Congrats.

I didn't have to do any of this because I don't have a SIM card, and use my phone mainly for music.

Would've loved to use it. Too bad Spotify came out with an update first :P

HM.. I clicked the download and it was available for me to install. Rogers Canada. Lumia 920

That just means Rogers doesn't have a carrier deal in place with Slacker Radio, so you're lucky. For those on US carriers, it actually has a the carrier logo in the Store listing.

Yup. Got 2.0.7.0 via Rogers

Doesn't affect us here in India, but is it ok to remove the SIM while the phone is on? Nokia's manual doesn't recommend it.

Just remember to reboot to get the signal back. I'm sure there's a risk somewhere, like not unplugging something when it's on, but it's very small. I've never had an issue at least.

Speaking of updates, I just received an update for 8.1, does anyone know what it includes? Sorry if this has been discussed before, but I've been away a few days.

Check the site. Update came out yesterday. No changelog, just fixes.

Have you updated before???

This wouldn't work on 520, 620, 625, 820 or 1320, because you have to remove the battery to access the sim

See above, it did work on my 521. Was able to slide out the SIM card just enough to lose contact.

Worked without removing sim Verizon 928 using 8.1

Doesn't work on my L928. How did you do this without removing SIM?

Not sure that I even wanted the Slacker Radio app, but I had to try the work-around. Thanks Dan!

Doesn't this damage your sim?

Only if your SIM is weak and unworthy of not being inserted (and re-inserted) into the almighty Windows Phone...

Or a Nokia phone Posted via Windows Phone Central App

I'm too chicken sh*t to try it lol. I'll keep using my other streaming services for the time being. ;)

Damned 822. Sim card and SD card are UNDER the battery. Stupid Verizon.

Try turning off cellular abs installing if.

Thanks Dan, worked on my ATT lumia 1020

Lumia Icon on Verizon. I was able to install the app by removing the SIM, but it would not let me log in to Slacker. After I tried logging in, if I closed the app and opened it again, the app crashed. Never could get back to the log in screen. Tried WiFi with no SIM, as well as on cellular. No dice. Oh well, I use XBox Music anyways.

Works without problems on my Lumia Icon on Verizon. Tried it after rebooting? Side note: seriously, Slacker has video ads now? I hope they only do those on WiFi at least...

Nope, got the barbershop Surface ad on HSPA+.

Didn't work on my Icon at first either. Noticed I had two Slacker apps installed. Deleted the old version and the new was all good.
I went with changing my country instead of the SIM trick, as I'm at work and not on wifi.

Change country to say Canada for example & it should work

Thanks for pointing that out. Got it to work on my 8X on Verizon which would shutdown almost as soon as the SIM was removed.

Great now I've got to find that damn SIM key for my 1020. Where the hell did I put that?

Easier solution: On ie phone browser, search for slacker in the windows phone store website, select link for the app, let me install no problem.

Tried, doesn't work for me. (AT&T 920) Says unavailable or family settings preventing it. (It's not the family settings in my case)

Removing the SIM didn't work on my Icon running WP 8. Tried changing region to Canada, and it did the trick.

The really odd thing is, it automatically installed the update for me, but when I clicked on it when looking at my app updates it told me it wasn't available in the store (I'm on AT&T with an AT&T branded 1020). I'm not sure why it happened, but I'm really glad to not have to use the old app anymore.

Perfect, thanks for this tip!

Worked for me on AT&T. Thanks for the tip.

Won't work on my Lumia 820 (AT&T branded) because I have to remove the battery in order to pop the SIM out. I hope they do get the update out in the carrier.

Didn't know this was an issue. I actually got the update on Saturday and it updated automatically through the store. I'm on Straight Talk so that might be the reason.

These instructions don't work on an HTC 8X (on T-Mobile) since ejecting the SIM tray will reset the phone. Although with a lot of trial and error I did get it to work. It seemed that removing the SIM tray entirely and allowing the phone to reboot would allow me to follow the link provided and download the app (although I had to try this several times to get it to work). Hopefully this helps someone else with an HTC 8X.

Someone on Slacker's Facebook page said he spoke with customer support and was told the carrier versions have been submitted to the carriers for approval. Hopefully we'll see the updated carrier versions in the store soon.

What other apps may this work for?

I was able to get it installed with the instructions above. App won't play any music or anything though. Just crashes every time I try to do anything.

The steps here didn't work for me on my Icon, as I was getting a totally different error message when following the link to the store from here...it had a number in it. And searching didn't even show the Verizon branded Slacker app, let alone the new one. I changed my region to Canada, and boom, got it.

Changing the country worked for my HTC 8x as well, because removing the sim immediately makes the phone shut off...

Seemed to work for me by using the Windows Phone website on my Surface and initiating the install to my phone. No error messages, no need to remove the sim card or change my region. Verizon HTC 8X on WP8.1.

Little much just for slacker.. Just wait...

i updated the app just by going to the link posted above, downloaded it, and it's up and running with no problem on my Verizon 928. didn't have to go thru any of the hoops of fire as daniel mentioned. as i said....no problem at all.

This trick worked for me as well. Now we just need the SiriusXM app for WP8!

Verizon Icon here, searched the store, installed fine without any "hoops" for me. It didn't update the existing Slacker app, but installed a second instance instead. Was easy enough to just uninstall the old version... Odd the different experiences people are seeing.

I'm a dummy. You said to remove the Sim card. When do I put the card back in ? After the reboot? , before the reboot ? Don't understand when to put the Sim card back. Sorry , but I am not a techie type and need to know explicit instructions. Every minute detail lol.

You don't, you just sit it on a desk somewhere.

I see the version 2.0.7 through the link. I have NEW CRICKET/AIO...i know its a subsidiary of ATT so I figured I wouldn't be able to download it but I guess I can. Now id I only had enough phone space on my Lumia 620. Such a shame we can't put apps on our SD cards...what's the freaking point of having the SD slot if we can't utilize it?

Update to 8.1 and you can no problem.

Nice update but...has commercial's like Pandora lol...I'm happy with the old design just because of that.

It took several attempts, but I finally got the new Slacker app to install on my AT&T Lumia 920 and 1520 following Daniel's instructions. The problem I kept encountering was that when I clicked on the link to the app, I kept getting the following error message: "There is a problem completing your request. Try again later. Error code: 805a0194." So, I kept trying to open the link over and over, until by some miracle the app came up and I was able to install it. Now I'll have to test out the app. The UI is a huge improvement over the last one. I suppose I could have waited until AT&T approved their version, which Slacker supposedly already submitted, but knowing AT&T, goodness knows how long that will take. I'm curious about one thing. When Slacker issues future updates, will I be notified by the Store like for other apps and be able to update the app, or will I have to go through this work-around again because it's not the AT&T version of the app. I guess I'll have to wait and see.
Windows Central Newsletter
Get the best of Windows Central in in your inbox, every day!
Thank you for signing up to Windows Central. You will receive a verification email shortly.
There was a problem. Please refresh the page and try again.