From the WPCentral Forums: New to Windows Phone help threads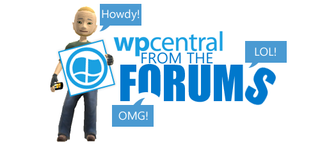 With the release of the Nokia Lumia 900 and the Titan II we are seeing a new group of Windows Phone users joining the fold. We'd love to welcome our new members and invite everyone to join our Forums as we have a great community full of people ready to help.
Our Windows Phone 7 OS discussion forums is the place for your general Windows Phone questions. Think of "help and troubleshooting" when posting there. We even have a Frequently Asked Questions (FAQ) thread stickied right at the top. For more information about Windows Phone (and a must tread for all new to Windows Phone users) check out our "WindowsPhone: Getting started!" thread.
Our Windows Phone 7 General Discussion forum is where we discuss just about everything else. We have some must-read stickies in this area as well. In our"Post Your Wallpaper" thread you will find lots of great wallpapers ready for download or where you can post your own to share with others.
The "Post your Mango phones Ringtones here" thread is a great place to find or post new ringers with hundreds available and ready to use already. This thread even includes instructions on how to make your own ringtones. If you can't find something or you're not inclined to make it yourself, post a request as I bet one of out Forum Members would be willing to make it for you.
We also have a new WinPhan movement underway and you can get more information about that in this thread: Windows+Phone+Fan=WinPhan: Take Part In The WinPhan Campaign
Don't forget our device forums for all your device-specific questions. You can find help and support in our Lumia 900 Forums or Titan II Forums areas.
Our Community of over 50,000 members and is a great place to get help with all your Windows Phone needs. Remember, the forums are more fun when you register, so sign up today.
Windows Central Newsletter
Get the best of Windows Central in in your inbox, every day!
Dave is there a way to get my IE favs from my desktop to my WP during a sync?
Windows Central Newsletter
Thank you for signing up to Windows Central. You will receive a verification email shortly.
There was a problem. Please refresh the page and try again.