Forza Horizon 2 demo coming to Xbox One next week, get pumped with new launch trailer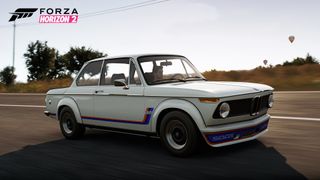 Forza Horizon 2 is coming to Xbox One later this month. Starting next week you'll be able to download a demo to your Xbox One and check out the game yourself. Until then, check out this gorgeous launch trailer for the upcoming game. Dibs on the P1.
Next week, on September 16, the Forza Horizon 2 demo is coming to your Xbox One. Early impressions of the racing game are very positive.
How's Forza Horizon 2 differ from the copy of Forza Motorsport 5 that you probably already have on your Xbox One? Forza Motorsport is like a racing game, while Forza Horizon 2 is a driving game. In regular Forza Motorsport titles you're doing track racing, while in Forza Horizon you'll be doing open world racing. Confused? Just check the demo next week.
Forza Horizon 2 will feature over 200 cars. You'll find exotics, rally cars, trucks, hot hatches and other types of vehicles in the game.
Look forward to a new dynamic weather system in this game to mix things up when you're racing.
Looking forward to Forza Horizon 2?
Windows Central Newsletter
Get the best of Windows Central in in your inbox, every day!
FORZA YEEAAAAA the hype is REAL!!! I want this game IN MY VEINS

Pure adrenaline rush! Awesome!!!

...and the audio! And the cars!!!

They will be releasing the game on the 360 not sure well see a demo though

do not own a xbox 360 either. I own a ps3

don't have the money. college is the priority right now.

You know what to do....don't let me spell it out

Game's coming to Xbox ONE and Xbox 360 since September 30. There's still much life on the previous generation, friends!

That's only happening because it wasn't developed in-house

Ya I'm going to be taking some time off of work

Alright. My M4 against your AMG whatever ;)

Sam we can do that in real life in two weeks when I'm in Redlands.

Sam, now that windows phones are gonna be called windows, your site is going to change name and be called windows central?

They already report on a lot of new unrelated to windoows phone anyways.

Not that it's bad or I don't like it but yeah..

GREAT idea, forza is the best game on Xbox for me just wish I had more time to play. I think I will take a sick day or two too ;-)

You know, I am not a gamer at all. Had an old PS3 sitting in my closet. Got an email from Microsoft about the $100 off trade-in promotion, figured what the hell. Also you get a free game and $50 Xbox gift card. Intended to get the $399/$299 bare bones One, but ended up getting the $499/$399 with Kinect (Forza bundle). My goodness. Forza is awesome, I got the $70 Madden 2015 with $40 in gifts (free) and I am sitting here controlling my Dish Network Hopper with ... my voice. Amazing. Even old non gamer dudes should own a One. Walking in my living room in the morning and saying "Xbox On" and boom, TV, Xbox and CNBC all appear hands-free while making my coffee is like living in the future. (yes, I know I'm late to the party...)

That's how WE do in XBox One World.

See, I use a universal remote which turns off the system so I can't use voice features to turn it on, I still do for navigation and stuff though.

Re: coolbreeze78,
Wow, your comment was interesting and great. Full of intrigue and excitement. I'm happy with my Xbox 360s as media extenders for my whole house Windows Media Center (Comcast and over the air unlimited DVR) and occasional Forza Motorsport 4, PGR 3, and PGR 4 play, but your comment really made me think about buying the new Xbox One.

I feel the same way. My sister and I got my brother the XBOX One for his 30th birthday this year, and while he doesn't have a lot of time for gaming, it makes a great multimedia device. Netflix plays a lot better through it than his Smart TV, he can control his Cable box through it, he can even control his TV through it ("XBOX on" turns on the TV as well). And the feeling never gets old of just walking in front of the thing and it recognizes you and logs you in. That is such a necessary convenience now that we've used it. Like you said, feels like the future.

LOL!!! I Thought I was the only late to the party person that walks into the room and says Xbox On, tv and everything comes on, gets coffee and smiles because the future has arrived. My last console was the OG Xbox with the Duke controller. Talk about late to the party. Oh well, I'm older, barely have time to play games but I'm here and enjoying the Xbox One whenever I can. :)

Why am I the first one to Up Vote this post? :D


Yea, Forza 5 was awesome but, the thing I hated about that game is there is only 8 tracks, after playing for 5-8 hours, hearing "we now return to" gets really old.... I hope Forza 6 comes out with like 20+ Tracks.....Forza 4 for the 360 (another great game), had I think 28 tracks..

Just took advantage of that bundle too. Upped it to $150 more and got extra controller 3 free games, year of live and a $50 gift card. Also the two year w. Since I picked up Madden as a free game, got the swag bag too. Wife still doesn't like taking to the Xbox, but I'm all in.

Yeah wonder what s the real diffrence

Will grab this, interesting that it has a weather system given that they claimed they couldn't do one for forza 5. I'll be looking forward to not driving directly into sunlight for a change.

As far as I understand it, they concentrated on making Forza 5 at 60fps @ 1080p. Unfortunately they couldn't get the weather system in and keep 60fps @ 1080p in FH2 so have lowered it to 30 fps

Seem like another game i have to end up buying

Really want to get an XB1... still resisting... must resist! Dangit!

This is my Destiny. Except it doesn't suck.

I think its time I trade in my original XBOX for an XBOX ONE.

This game can't come out soon enough. Shelby GT500 all day everyday!

If this game isn't good I'm just waiting for halo and if that's not good I done with game all together for like the next couple of decades unless I make games for a living or something but these games..! Hype just want a fun game!

Been trying not to buy the Xbox to go with my 1020 and surface 2 pro, but if this has the BMW 2002 turbo pictured I need it to go with my 1973 2002.

BMW, The ultimate driving machine.
Fun to drive in real life too, no matter new or older.
Forza is alot of fun.

Yay!!!!! The Bomb game I love it!!!! Getting the Xbox one for Christmas I'm going to be a happy 14 year old!!!!!!! Posted via the Windows Phone Central App for Android

I want that Scion FRS soooo bad, I would rock that but where is the Mitsubishi Lancer Evolution!?!?!? The games and graphics just keep getting better and better!!! Posted via the Windows Phone Central App for Android

I just need to get fired and go on unemployment

Good way to mooch off the system. It's people who think like that who wreck it for everyone else.

Can't wait .. I wish they did the deal like the are with destiny. Buy digital, get on both the 360 and the one... With that said, I will be getting it for the xbone

OK, Microsoft, release the FH2 preorder already!

I wish the Forza games were available for PC. Don't want to spend the money on an XBOX when I have a perfectly good high end computer. But I've played Forza 5 for XBOX One and do enjoy it. Guess it's just NFS Shift for me here on the PC...any other good racing games come out after that? I'm itching for a good open world one.

Dirt 3, shift 2, ate also good games. Might also try nfs rivals for open world

I don't own an XBox One or any other gaming system. Is a good comparison Forza Motorsport 5 to Forza Horizon 2 to Gamelofts GT Racing 2 to Asphalt 8 in terms of gameplay differences?

No. Mobile racing games can be fun, but there is zero comparison between them and modern racing games like Forza or Gran Turismo

Not really, I actually don't think there are any mobile racing games that provide an open world design similar to forza horizon, though I may be wrong.

I was referring more to one game being more of a realistic racing sim (GT Racing 2) and one being more of an arcade racer (Asphalt 8) Is that the difference between the two Forza games?

Time to PreOrder. :) I passed on Destiny...

THIS LOOKS TOO COOL!!!!! Wished i had an xbox one to get better graphics but my 360 is good enough for now!!!

Man, I REALLY want to use my Logitech G27 with this game. But I can't :(
I'm so considering buying the Maxrace F1 v4 for this...

I just hope it's less buggy than Forza 5. I've owned that game for ages but haven't played more than a few tracks as it keeps crashing back to start, redownloaded umpteen times and it crashes back to start on a different track. Known problem looking at some blogs out there, MS have even given refunds for digitally purchased copies.

Can playing in xbox 360 ??

I'm sad that I have to send my Xbox One for repair, just as the demo arrives :-(

Oh, Yea ! Cant freaking wait, Grabbed part one on a MS promo for $15 and played the heck out of it (think I got most achievements as i did everything I could in that game) Pre-ordered part 2 from the Microsoftstore.... They are also giving a $10 Xbox live credit... I wont even download the demo, I'll hold tight till the whole game comes on the 30th...

I wait for "The crew" online World open Racing game who looks nice even for Xbox 360

I used to rally a turbo 2002... Great little car. Dynamically similar to the datson 1600 (500 in u.s.). How good does the rendering look? Amazing

My two favorite cars of all time. Watched them a few weeks ago race each other at Lime Rock during the Legends Weeked. There were plenty of restored Datsuns and 2002s in the infield on display

You sir have impeccable taste. Just don't make em like they used to. So nimble and lightweight. Great aftermarket support too. I agree with you completely. Onya

A WP port would be lovely, MS should start looking into making some of there in house games ported over to WP and Windows, I'm sure it will bring more Windows fan to WP hence boosting sales of WP.

Horizon 1 soundtrack was awesome. I remember hearing songs on there many months before they were popular on the radio. They got the same BBC radio DJ to do the soundtrack for Horizon 2 as well, and I expect it to be just as good. Oh,and the cars, and King mode is the best multiplayer mode for a car game of this style.
Windows Central Newsletter
Thank you for signing up to Windows Central. You will receive a verification email shortly.
There was a problem. Please refresh the page and try again.