Forza Horizon 3 getting trio of classic Australian cars and much more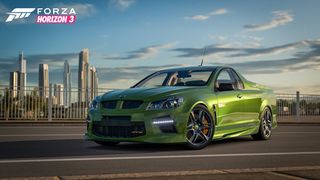 A new set of cars bound for Forza Horizon 3 has been revealed. Developer Turn 10 has revealed a trio of Australian-made cars for the game, due to launch later this year on PC and Xbox One, along with a lineup of supercars, coups, and more.
The three Holden models offer a look at different eras of Australian car manufacturing. First up is the 1951 Holden 50-2106 FX Ute, a classic pickup truck. We the have the 1974 Holden Sandman HQ Panel Van, which you may recognize from the original 1979 version of Mad Max. Finally, moving to modern day, we've got the 2016 Holden Special Vehicles GTS Maloo, which focuses on one thing: speed.
While these Australian cars led the pack, a slew of other cars were revealed this week as well. We've got 2011 BMW X5 M, the 2014 Land Rover Supercharged, and the 1978 Mustang II King Cobra, among many others.
Forza Horizon 3 will feature more than 350 cars when it hits the track on September 27.
I call them WASHING Machines! Haha, now even my whole family calls them like that every time we see one on the road. They just look like washing machines, don't they?

Wha?? No, just no... They do not look lile washing machines....... What the actual ****?!

Anybody knows how many cars were in Forza 5, 6 and Horizon 2? It would be nice to have a list of each cars and see if they were in the previous games straight at launch or as DLCs. I have the weird feeling that they are reselling the same cars over and over again (maybe as DLC) with each iteration.

http://manteomax.com/ has a very thorough spreadsheet for this.

FH3 needs more and better Teslas. They announced it'll have a Model S P85D. Great car to be sure, but it's not a Model S or Model X with the infamous Ludicrous speed package.
Windows Central Newsletter
Thank you for signing up to Windows Central. You will receive a verification email shortly.
There was a problem. Please refresh the page and try again.