Forza Horizon 3: The Ultimate Buyer's Guide
Which version of Forza Horizon 3 is best for you?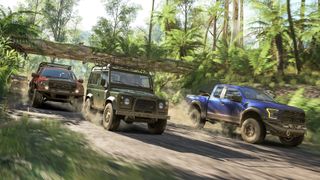 Forza Horizon 3 is just around the corner, which makes it the perfect time for you to secure your copy for launch day. But with so many editions and an absurd number of retailer-exclusive preorder bonuses, choosing where to pick up your copy has become abnormally complex.
But which version should you get? There are a few to chose from, so we want to make that decision as easy as possible. Normally in this kind of guide we'd throw in some of the merchandise available alongside the game at launch, Forza Horizon 3 isn't accompanied by any guides and collectibles (unless you count the cars themselves).
Release date
Forza Horizon 3 officially releases on Tuesday, September 27 in all markets. Unlike a number of this year's biggest releases, Europeans won't be seeing a delayed release in their region. However, those who purchased Forza Horizon 3's $100 'Ultimate Edition' will be receiving early access on Friday, September 23.
Preorder bonuses
While preorder bonuses are nothing new in the modern gaming landscape, some games are famous for their complex preorder schemes. Exclusive in-game items are often split between the world's biggest retailers, making it nearly impossible to access all of the content on offer. Forza Horizon 3 is a game that lends itself to this model, with a number of cars exclusive to certain retailers.
Here's a breakdown of the preorder bonuses available from each retailer.
Amazon: 2016 Audi R8 V10 plus, Mercedes-Benz E63 S Coupe DLC (Digital Only)
Microsoft Store: 2016 Ford Mustang GT350R, $10 Microsoft Store credit
Xbox Store: Forza Horizon 2 Rockstar Car Pack, Forza Motorsport 6 Meguiar's Car Pack
GameStop: 2015 Ferrari 488 GTB, 2015 Dodge Challenger SRT Hellcat, Mercedes-Benz E63 S Coupe DLC (Digital Only), Lamborghini Centenario Scale Model
Best Buy: 2016 Jaguar F-TYPE Project 7, Controller Stand Set by Controller Gear, Limited Edition Forza Carbon Fiber Xbox One Controller Skin
If you redeem a digital code for Forza Horizon 3 from any retailer, your copy will be playable on both Xbox One and Windows 10 through Xbox Play Anywhere!
Game versions
Forza Horizon 3 Standard Edition (Physical)
Across most retailers, the standard version of Forza Horizon 3 is being offered for $59.99, with additional bonus content dependent on the retailer (detailed breakdown supplied above). This version of the game is most common and stocked by a majority of video game retailers, but includes no additional bonuses.
Preorder the game from various video game retailers below:
Forza Horizon 3 Standard Edition (Digital)
A digital version of Forza Horizon 3 is also available, sold as a pre-paid code to be redeemed via Xbox Live. Most retailers who stock pre-paid codes will distribute the codes ahead of launch, to give players the chance to pre-load the title. Like digital copies purchased directly from the Xbox Store, these copies of the game will unlock at 12:01 in your time zone. Retailers can be bypassed by directly purchasing the game through Xbox Live, but preorder bonuses will differ.
These codes are valid for both Xbox One and Windows 10 and allow players to take advantage of Microsoft's Xbox Play Anywhere program.
The following retailers stock digital copies of Forza Horizon 3 for Xbox One:
Forza Horizon 3 Deluxe Edition (Digital Only)
Forza Horizon 3's Deluxe Edition is a minor step up from the standard edition, adding bonus content packs into the mix. For an additional $20 you'll be getting access to the VIP and Motorsport All-Stars packs, which collectively add fifteen new cars and a few additional pieces of exclusive content. Forza Horizon 3 Deluxe Edition is only available in digital form, unlike the other versions of the game.
Forza Horizon 3 Deluxe Edition is available as a digital code from the following storefronts.
Forza Horizon 3 Ultimate Edition (Physical)
Forza Horizon 3 Ultimate Edition brings together all of the game's content available at launch into a single package. This version of the game is the most complete Forza Horizon 3 experience, bundling together the base game, Motorsport All-Stars pack, VIP membership and Car Pass. By purchasing the physical version of the Ultimate Edition, the game also comes in a limited SteelBook case. While this version of the game contains all of the game's available content, you'll need to purchase a digital copy to take advantage of Xbox Play Anywhere.
Here's where you can find a physical copy of Forza Horizon 3 Ultimate Edition.
Forza Horizon 3 Ultimate Edition (Digital)
The digital version of Forza Horizon 3 Ultimate Edition offers the same content as the physical counterpart, but drops the SteelBook case (being digital and all that, a case would be rather superfluous). Included inside the bundle is the VIP membership, Motorsport All-Stars pack and Car Pass in digital form. As a digital version of the game, you'll also be able to claim your free Windows 10 copy of the game through the Xbox Play Anywhere program.
Forza Horizon 3's Ultimate Edition can be purchased from the following retailers:
Forza Horizon 3 VIP Membership
Forza Horizon 3's VIP Membership gives owners access to five exclusive cars, exclusive events and other additional bonuses. Other benefits as a VIP member include double Wheelspin accumulation, VIP-only online events and community gifts. A VIP membership can be acquired through the Deluxe and Ultimate versions of Forza Horizon 3, or standalone from select retailers.
The following cars are available as a VIP member:
2016 Lamborghini Aventador LP750-4 SV
2016 Koenigsegg Regera
2015 Ferrari F12tdf
2015 Ultima Evolution Coupe 1020
2015 Ford Falcon GT F 351
Forza Horizon 3's VIP Membership can currently be purchased from GameStop below:
Forza Horizon 3 Car Pass
The Forza Horizon 3 Car Pass gives players access to a monthly release of cars, over a six-month period. Each monthly drop will introduce seven new cars, totalling a collection of 42 exclusive vehicles by the end of March 2017. The game's Car Pass can be purchased individually from certain retailers, or as a part of the Forza Horizon 3 Ultimate Edition.
The Forza Horizon 3 Car Pass is also being offered by GameStop for launch:
Holding off?
For those unconvinced, there are still a number of ways to get an idea of the game's content ahead of launch. While we've previously provided impressions after our hands-on sessions, a free playable demo is also available for download over Xbox Live.
Which version of Forza Horizon 3 are you planning to pick up? Make sure to let us know in the comments!
Matt Brown is Windows Central's Senior Editor, Xbox & PC, at Future. Following over seven years of professional consumer technology and gaming coverage, he's focused on the world of Microsoft's gaming efforts. You can follow him on Twitter @mattjbrown.
There is an error in the preorder bonuses, the car some retailers give is the Mercedes-Benz C63s Coupe not the E63s Coupe.

Also an error for the Car Pass. It says you keep getting vehicles until March 2016 , should be 2017

Looking at their sites, it looks like it is the Mercedes-Benz E63 S Coupe DLC (: https://www.windowscentral.com/e?link=https2F2Fdeeplink3DkXQk626mid26u126murl253A252Fwww.gamestop.com252Fgames252F133397&token=NTW0XUcM

Need education here as I will be new to the Forza patry. I have seen the complete list of cars annouced for the game. So the Car Pass adds 42 Cars, are these from the complete list or additional cars? Thanks

They are extra to the list unless they already state that some of the cars belong to certain dlc. Usually they release new dlc once every month. Also, after the season pass expires, there are still some new dlc, but you have to buy each of them at full cost, unless there's some kind of sale. Posted via the Windows Central App for Android

Thank you very much for the informaiton. Here is praying my beloved 2001/2002 Trans Am WS6 gets added.

No problem, I hope you enjoy the game as much as I always do with Forza games. I'm hoping to get a BMW i8 in the game in the future, my current-gen favorite car (; Posted via the Windows Central App for Android

I hope so too. I taught my son how to play games on the origanl xbox, playing Halo and the old Test Drive Off road racing. We spent days jumping off cliffs in Hawaii and mountins in Utah. Great times. as he was only 6, we tried Forza Motosport 5 and did not like it. We both have played the new Demo for Horizon, and can not wait. Good Luck in Austaila Mate, its going to be fun.

Yup, test drive was one of my all time favorites, but forza is way more demanding because is simulation driving, so physics are hard for a young person. However if you dive into the control settings and difficulty settings in the game you should be able to make the driving physics easier to use, add driving line suggestions and even auto-braking. Posted via the Windows Central App for Android

FYI its not a simulator, not even close. So dont worry about the car physics as its very forgiveable when it comes to handling/crashing as its more of an arcade racer than anything which is great because i like both kinds of drving games so as long as they are good games. TDU2 well the driving was actually pretty mediocre BUt it had tons of charm and things to do (gambling in the casino, shopping for bigger houses and buying cars was awesome do to being able to go in the dealership) and so to me its kinda crazy that one of my favorite driving games of all time had actually bog standard driving. Some of those devs went on to make The Crew but Ubisoft tends to ruin their games with dlc..

It's not an "ultimate" buyers guide if it only relates to one country.

Even then there are a handful of mistakes here and there when it comes to certain cars. I agree Ultimate should = details about just about every way to buy and everywhere to buy it..

Note for Amazon Prime members, save an extra 20% on pre-orders and newly released games. The 20% only applies to the Standard and the Ultimate physical editions bringing their prices down to ~$48 and ~$80, respectively. I don't do digital for big games so I figured why not get the Ultimate for the same price as the Deluxe digital only.

Ok, that is cool. Thanks for the Heads up, you just sold me on the Ultimate.

Keep in mind that the preorder 20% off for amazon prime members is only good for the physical disc. If you buy the physical disc, you cannot get the free PC version, only digital downloads get that.

I'll wait till launch so I can get it for 50% off.

Matt, appreciate the effort, but this is US only in terms of information. Could do with fixing. Not saying that you need a price for every country, but surely we need £, €, and Australian $.

Although im from the states well yes they should incude stuff like big retailers from around the globe as well, incuding Game.

Thanks Peachy! We previously did a UK guide for Quantum Break, but it appeared that it wasn't as popular as we'd hoped. I'll look into working this into future guides (:
Windows Central Newsletter
Thank you for signing up to Windows Central. You will receive a verification email shortly.
There was a problem. Please refresh the page and try again.