Forza Horizon 3 will be the ultimate racing game on Xbox One and Windows 10, and here's why
Last week, we played Forza Horizon 3 and spoke with developer Playground Games about the upcoming Xbox One and Windows 10 racer.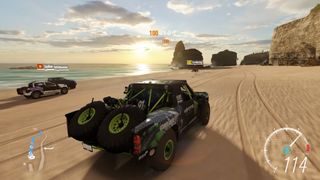 Forza Horizon 3 promises a huge open-world with full co-op, Groove Music support, and cross-buy and cross-play thanks to Xbox Play Anywhere. Read on for impressions and screens!
An approachable simulation racer
The Forza Horizon series is a spin-off of Microsoft and Turn 10's Forza Motorsport games. The mainline Forzas are straight circuit racing games in which races take place on closed tracks. They tend to be sterile, serious simulations with cutting-edge graphics and a huge lineup of cars. Despite the clinical presentation, Forza Motorsport features the industry's best livery editor and allows players to adjust difficulty and simulation aspects to make the game as hard or easy as they want.
Although the Forza Horizon games maintain the same physics and simulation aspects as the main series, they present everything in a livelier and less linear manner. Players take part in the fictional Horizon festival, driving around open-world environments based on real-life locations. Horizon lets players take part in a variety of races in city and off-road environments or simply explore, hunt for items, and take in the sights.
Forza Horizon 2 was so special, I named it as my retail game of the year in 2014. Let's look at the features that could make Horizon 3 a game of the year contender as well.
Diversity of diversions
Although Forza Horizon 2 certainly gave players plenty of things to do, it wasn't a poster child for diversity. You could only play as a white guy and take part in a festival run by another white guy. Horizon 3 thankfully corrects that issue by allowing players to race as 14 different characters of varying races and genders. I'm not sure why we can't just create our own characters, but at least we have some choice in our digital avatars this time.
Horizon 3 also takes place in a more diverse location than previous games: Australia. The world map here is twice as large as its predecessor. And like real-life Australia, it features a wide variety of ecotypes, including canyons, hills, rainforests, deserts, and beaches. All those different environments provide both visual diversity and new driving experiences. This is the first Horizon game in which players can actually drive on sand and through water deeper than puddles!
That diversity extends to the car lineup as well. Horizon 3 will ship with more than 350 vehicles. That's 150 more than Horizon 2 had at launch! The roster is bolstered by new vehicle types meant to take advantage of Australia's rugged terrain, such as off-road racing buggies and trophy trucks. And of course, sports cars like the Lamborghini Centenario LP 770-4 will be present as well. Microsoft brought a real Centenario to E3, and I fear I will never see a more beautiful car in this life.
Blue blue skies
Racing games like Forza tend to push the boundaries of visual realism. Horizon 2 was already one of the loveliest games around, and now Horizon 3 will handily exceed it on both Xbox One and Windows 10. Besides improved water effects and deformable sand, the new game boasts some truly unparalleled skies.
To make Horizon 3's skies look more realistic than ever, Playground Games used a custom-built 12K HDR camera rig captured footage of actual Australian skies. They shot skies throughout the summer in the Outback and near the coast, shooting at different times of day and in varying weather conditions.
The Playground has built new technology that incorporates those sky recordings, builds them into the game's set of skies, and blends them together dynamically. The sky in Horizon 3 is always changing. The clouds don't just move – they morph and change shape, fold and unfold.
Horizon 2 already featured dynamic weather, with storms occasionally erupting as players explored the European countryside. The same happens here. But because of the new sky technology, stormy weather rolls in realistically now. The skies and weather effects will be more immersive than ever.
Speaking of immersion, Horizon 3's sky is one enormous HDR light source that touches everything in the environment, including the cars. Windows 10 and Xbox One S owners with 4K TVs will experience super vibrant and dynamic color thanks to those ever-changing skies.
Putting the player in charge
Whereas the first two Horizons had players enter the Horizon Festival as beginners and work their way up through the ranks, Horizon 3 actually puts you in charge of the festival. Players will "make all the big decisions that affect the festival," deciding on new race sites to build, which events will happen, and even the music that will play.
I'm a bit skeptical that Horizon 3 can actually make you feel like the boss of the festival. But the new Horizon Blueprint feature might just manage to create that sensation. For the first time in the series, it lets you edit and create new events for you and your friends.
From any existing event, players will be able to go into Blueprint mode. There you can change the route, the number of routes, the time of day, eligible cars, and even name the event. The game will generate a poster to promote your event, and it will then show up whenever you or your friends visit that location. Playing the Blueprint events created by you and your friends still advances you in the game, just like developer-created content.
Players can also create Bucket List challenges and send them directly to friends. In Horizon 2, Bucket List challenges tend to be time attack or drift attack races. Here, you can customize Bucket List challenges by setting the type of car, music, area, and difficulty. You have to complete the challenge yourself before sharing it. Besides your own challenges, you can also share anyone else's Blueprint Bucket List challenge with friends.
Ambient gameplay
The Horizon series has always featured something Playground Games calls ambient gameplay (not to be confused with ambivalent gameplay). When you come across certain locations in the wild, you'll begin quick challenges that start and stop on the spot. Horizon 2 had numerous Speed Zones, for instance, in which players could try to achieve high speeds on various stretches of road and automatically compare performance with friends.
Speed Zones return in Horizon 3. They're now joined by Drift Zones, areas in which players can try to drift as much as possible. More excitingly, the developers have also scattered 50 big jumps called Danger Signs across the map. Start one of these jumps and the game goes into slow motion as you sail through the air. Pull off the jump successfully and you'll get to see how you stack up against your friends and Club members.
Drivatars for hire
Speaking of ambiance, Forza games have always featured AI racers with behavior patterned after real players' behavior. As you're driving around in the Horizon games, you'll see cars representing your Forza-playing friends. They might drive aggressively, cautiously, or erratically – just like real people. However, you've never been able to team up with Drivatars – until now.
As the festival manager, Horizon 3 lets you hire Drivatars to race for you. As they complete races, you'll receive credits based on their performance. You can only hire four Drivatars at a time, so you'll want to pick friends with the skills to pay the bills. The early Forza Motorsports let us hire AI racers as well, but they were pre-built AIs rather than Drivatars based on members of the player's friends list.
Groove to your music
Forza Motorsport's soundtrack can be sleep inducing at times – and in Forza 6's case, difficult to even hear over the sound of your car's engine. But Horizon games always have user-selectable radio stations with a diverse selection of licensed music to listen to while you cruise. Horizon 3 promises to pack more radio stations than ever before, including new genres like punk (my favorite), hip-hop, and hard rock.
If the built-in variety of radio stations doesn't keep you pumped, Horizon 3's Groove Music support surely will. Horizon 3 is the first Forza on Xbox One to allow users to listen to their own music in place of the stock radio stations. Adding your music will be a relatively simple process, too. Put your MP3s into your OneDrive account, make a playlist, and then it will become a radio station in-game via cloud streaming.
Pimp your ride
Forza games are made for car lovers, many of whom enjoying tinkering with and customizing their virtual vehicles. Horizon 3 has more customization parts than ever before, including new rally and off-road parts. It also has more than 30 new wheels, including some from manufacturers that haven't appeared in a Forza before.
Many of the car customizations are aesthetic in nature. These now include wide body kits. Body kits are collections of exterior modifications to a car, customizing items like spoilers and bumpers. Wide body kits actually make the car look wider for an even more distinct look. Some of Horizon 3's licensed body kits will come from Liberty Walk and Rocket Bunny.
Horizon 3 will include the same livery editor featured in Horizon 2 and Forza 6. As usual, that means players can create amazing (or amazingly hideous) custom decals and looks for their cars. I'm told the livery editor will be unchanged, which is a shame as I was hoping for some refinements.
On the plus side, license plates can now be customized natively without having to fake them via decals. And we'll even be able to change horn sounds too.
Auction House returns
Part of the fun of creating custom decals and car designs is sharing them with other players. Forza games previously went the extra mile by letting players buy and sell cars with their designs via online auctions. That feature has been absent from Xbox One Forzas, until now. The auction house is back in Horizon 3!
The new Auction House packs some cool features like sections for bargain, rare, and Elite cars. Designers will not only profit from selling their spare cars on the auction house, but they'll also pick up new fans. You can jump from the Auction House to a player's storefront and see everything he or she has for sale. Follow individual designers and you'll be notified when they release new designs. The Auction House was a fun component of older Forzas, so it's great to see it returning in Horizon 3.
Most social ever
Playground games calls Horizon 3 not just the most social Forza yet, but also the most social racing game ever. For starters, Xbox Play Anywhere support means the game is cross-buy. If you buy the digital version of Forza Horizon 3, you'll get it on both Xbox One and Windows 10.
Going one step further, Horizon 3 is also cross-play. Playground wants Horizon 3 to be about playing with your friends, even if they don't have an Xbox One. If you buy the game on a Microsoft platform, then you can play together.
Just as exciting, Horizon 3 features four-player campaign co-op. Everything in the game can be played cooperatively; nothing is locked out from co-op. People can jump in and leave at any time, whether they're on Xbox or Windows 10. Anything they complete in the host's game will stay completed in their game, even if they hadn't reached that point yet on their own. Rewards and experience are persistent across single-player and co-op.
Car Clubs return from Horizon 2 as well. These clubs are primarily guilds or clans, allowing up to 1,000 players to join up and participate in shared goals. The Club features won't be changed from the last game – again, a bit of a shame. But Horizon 3's improved multiplayer focus and co-op features should still make Clubs more exciting than before. And you can bet Windows Central will have an official club on this one.
Now that's a promising racer
Forza Horizon 3 is coming to both Xbox One and Windows 10, and I was lucky enough to play both versions at E3 last week. The E3 demo consisted of four segments that highlighted several of the game's exotic Australian environments.
The highlights of the demo were undoubtedly a sprint across the beach and a race through a rainforest. The latter proved the most exciting, as I raced a jeep as it was carried through the air by helicopter! The Horizon games always feature exotic races like that as boss battles, so it's great to see them return as the game heads down undah.
Forza Horizon 3 won't arrive until September, but already the demo showed an incredible level of polish and visual detail. The PC version looks especially crisp, but the Xbox One version is no slouch in the beauty department. The game handles just as well as ever, and the off-road segments are particularly thrilling this time out. Racing fans have every reason to be excited for the new Forza.
Like Halo Wars 2 and Gears of War 4, Forza Horizon 3 will be released in both Standard and Ultimate Editions. The Standard Edition just includes the base game and will cost $59.99. The Ultimate Edition costs $99.99 and packs some nice bonus content.
The Forza Horizon 3 Ultimate Edition includes the following bonuses:
Early access – Play Forza Horizon 3 four days early (September 23, 2016)
Forza Horizon 3 Car Pass – Six monthly car packs of seven cars each, for a total of 42 exclusive cars
VIP Membership – Five exclusive vehicles, double Wheelspin rewards when leveling up, exclusive online events, and car gifts over time
Motorsport All-Stars Car Pack – 10 exclusive cars
Forza Horizon 3 races onto Xbox One and Windows 10 on September 27 this year. You can preorder it now on both Xbox.com and Amazon. Who else is excited about exploring and racing across Australia Forza-style?
Get the Windows Central Newsletter
All the latest news, reviews, and guides for Windows and Xbox diehards.
Paul Acevedo is the Games Editor at Windows Central. A lifelong gamer, he has written about videogames for over 15 years and reviewed over 350 games for our site. Follow him on Twitter @PaulRAcevedo. Don't hate. Appreciate!