Forza Horizon 3 will be the ultimate racing game on Xbox One and Windows 10, and here's why
Last week, we played Forza Horizon 3 and spoke with developer Playground Games about the upcoming Xbox One and Windows 10 racer.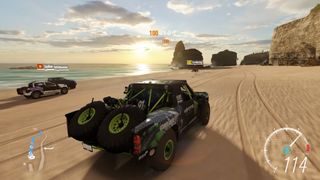 Forza Horizon 3 promises a huge open-world with full co-op, Groove Music support, and cross-buy and cross-play thanks to Xbox Play Anywhere. Read on for impressions and screens!
An approachable simulation racer
The Forza Horizon series is a spin-off of Microsoft and Turn 10's Forza Motorsport games. The mainline Forzas are straight circuit racing games in which races take place on closed tracks. They tend to be sterile, serious simulations with cutting-edge graphics and a huge lineup of cars. Despite the clinical presentation, Forza Motorsport features the industry's best livery editor and allows players to adjust difficulty and simulation aspects to make the game as hard or easy as they want.
Although the Forza Horizon games maintain the same physics and simulation aspects as the main series, they present everything in a livelier and less linear manner. Players take part in the fictional Horizon festival, driving around open-world environments based on real-life locations. Horizon lets players take part in a variety of races in city and off-road environments or simply explore, hunt for items, and take in the sights.
Forza Horizon 2 was so special, I named it as my retail game of the year in 2014. Let's look at the features that could make Horizon 3 a game of the year contender as well.
Diversity of diversions
Although Forza Horizon 2 certainly gave players plenty of things to do, it wasn't a poster child for diversity. You could only play as a white guy and take part in a festival run by another white guy. Horizon 3 thankfully corrects that issue by allowing players to race as 14 different characters of varying races and genders. I'm not sure why we can't just create our own characters, but at least we have some choice in our digital avatars this time.
Horizon 3 also takes place in a more diverse location than previous games: Australia. The world map here is twice as large as its predecessor. And like real-life Australia, it features a wide variety of ecotypes, including canyons, hills, rainforests, deserts, and beaches. All those different environments provide both visual diversity and new driving experiences. This is the first Horizon game in which players can actually drive on sand and through water deeper than puddles!
That diversity extends to the car lineup as well. Horizon 3 will ship with more than 350 vehicles. That's 150 more than Horizon 2 had at launch! The roster is bolstered by new vehicle types meant to take advantage of Australia's rugged terrain, such as off-road racing buggies and trophy trucks. And of course, sports cars like the Lamborghini Centenario LP 770-4 will be present as well. Microsoft brought a real Centenario to E3, and I fear I will never see a more beautiful car in this life.
Blue blue skies
Racing games like Forza tend to push the boundaries of visual realism. Horizon 2 was already one of the loveliest games around, and now Horizon 3 will handily exceed it on both Xbox One and Windows 10. Besides improved water effects and deformable sand, the new game boasts some truly unparalleled skies.
To make Horizon 3's skies look more realistic than ever, Playground Games used a custom-built 12K HDR camera rig captured footage of actual Australian skies. They shot skies throughout the summer in the Outback and near the coast, shooting at different times of day and in varying weather conditions.
The Playground has built new technology that incorporates those sky recordings, builds them into the game's set of skies, and blends them together dynamically. The sky in Horizon 3 is always changing. The clouds don't just move – they morph and change shape, fold and unfold.
Horizon 2 already featured dynamic weather, with storms occasionally erupting as players explored the European countryside. The same happens here. But because of the new sky technology, stormy weather rolls in realistically now. The skies and weather effects will be more immersive than ever.
Speaking of immersion, Horizon 3's sky is one enormous HDR light source that touches everything in the environment, including the cars. Windows 10 and Xbox One S owners with 4K TVs will experience super vibrant and dynamic color thanks to those ever-changing skies.
Putting the player in charge
Whereas the first two Horizons had players enter the Horizon Festival as beginners and work their way up through the ranks, Horizon 3 actually puts you in charge of the festival. Players will "make all the big decisions that affect the festival," deciding on new race sites to build, which events will happen, and even the music that will play.
I'm a bit skeptical that Horizon 3 can actually make you feel like the boss of the festival. But the new Horizon Blueprint feature might just manage to create that sensation. For the first time in the series, it lets you edit and create new events for you and your friends.
From any existing event, players will be able to go into Blueprint mode. There you can change the route, the number of routes, the time of day, eligible cars, and even name the event. The game will generate a poster to promote your event, and it will then show up whenever you or your friends visit that location. Playing the Blueprint events created by you and your friends still advances you in the game, just like developer-created content.
Players can also create Bucket List challenges and send them directly to friends. In Horizon 2, Bucket List challenges tend to be time attack or drift attack races. Here, you can customize Bucket List challenges by setting the type of car, music, area, and difficulty. You have to complete the challenge yourself before sharing it. Besides your own challenges, you can also share anyone else's Blueprint Bucket List challenge with friends.
Ambient gameplay
The Horizon series has always featured something Playground Games calls ambient gameplay (not to be confused with ambivalent gameplay). When you come across certain locations in the wild, you'll begin quick challenges that start and stop on the spot. Horizon 2 had numerous Speed Zones, for instance, in which players could try to achieve high speeds on various stretches of road and automatically compare performance with friends.
Speed Zones return in Horizon 3. They're now joined by Drift Zones, areas in which players can try to drift as much as possible. More excitingly, the developers have also scattered 50 big jumps called Danger Signs across the map. Start one of these jumps and the game goes into slow motion as you sail through the air. Pull off the jump successfully and you'll get to see how you stack up against your friends and Club members.
Drivatars for hire
Speaking of ambiance, Forza games have always featured AI racers with behavior patterned after real players' behavior. As you're driving around in the Horizon games, you'll see cars representing your Forza-playing friends. They might drive aggressively, cautiously, or erratically – just like real people. However, you've never been able to team up with Drivatars – until now.
As the festival manager, Horizon 3 lets you hire Drivatars to race for you. As they complete races, you'll receive credits based on their performance. You can only hire four Drivatars at a time, so you'll want to pick friends with the skills to pay the bills. The early Forza Motorsports let us hire AI racers as well, but they were pre-built AIs rather than Drivatars based on members of the player's friends list.
Groove to your music
Forza Motorsport's soundtrack can be sleep inducing at times – and in Forza 6's case, difficult to even hear over the sound of your car's engine. But Horizon games always have user-selectable radio stations with a diverse selection of licensed music to listen to while you cruise. Horizon 3 promises to pack more radio stations than ever before, including new genres like punk (my favorite), hip-hop, and hard rock.
If the built-in variety of radio stations doesn't keep you pumped, Horizon 3's Groove Music support surely will. Horizon 3 is the first Forza on Xbox One to allow users to listen to their own music in place of the stock radio stations. Adding your music will be a relatively simple process, too. Put your MP3s into your OneDrive account, make a playlist, and then it will become a radio station in-game via cloud streaming.
Pimp your ride
Forza games are made for car lovers, many of whom enjoying tinkering with and customizing their virtual vehicles. Horizon 3 has more customization parts than ever before, including new rally and off-road parts. It also has more than 30 new wheels, including some from manufacturers that haven't appeared in a Forza before.
Many of the car customizations are aesthetic in nature. These now include wide body kits. Body kits are collections of exterior modifications to a car, customizing items like spoilers and bumpers. Wide body kits actually make the car look wider for an even more distinct look. Some of Horizon 3's licensed body kits will come from Liberty Walk and Rocket Bunny.
Horizon 3 will include the same livery editor featured in Horizon 2 and Forza 6. As usual, that means players can create amazing (or amazingly hideous) custom decals and looks for their cars. I'm told the livery editor will be unchanged, which is a shame as I was hoping for some refinements.
On the plus side, license plates can now be customized natively without having to fake them via decals. And we'll even be able to change horn sounds too.
Auction House returns
Part of the fun of creating custom decals and car designs is sharing them with other players. Forza games previously went the extra mile by letting players buy and sell cars with their designs via online auctions. That feature has been absent from Xbox One Forzas, until now. The auction house is back in Horizon 3!
The new Auction House packs some cool features like sections for bargain, rare, and Elite cars. Designers will not only profit from selling their spare cars on the auction house, but they'll also pick up new fans. You can jump from the Auction House to a player's storefront and see everything he or she has for sale. Follow individual designers and you'll be notified when they release new designs. The Auction House was a fun component of older Forzas, so it's great to see it returning in Horizon 3.
Most social ever
Playground games calls Horizon 3 not just the most social Forza yet, but also the most social racing game ever. For starters, Xbox Play Anywhere support means the game is cross-buy. If you buy the digital version of Forza Horizon 3, you'll get it on both Xbox One and Windows 10.
Going one step further, Horizon 3 is also cross-play. Playground wants Horizon 3 to be about playing with your friends, even if they don't have an Xbox One. If you buy the game on a Microsoft platform, then you can play together.
Just as exciting, Horizon 3 features four-player campaign co-op. Everything in the game can be played cooperatively; nothing is locked out from co-op. People can jump in and leave at any time, whether they're on Xbox or Windows 10. Anything they complete in the host's game will stay completed in their game, even if they hadn't reached that point yet on their own. Rewards and experience are persistent across single-player and co-op.
Car Clubs return from Horizon 2 as well. These clubs are primarily guilds or clans, allowing up to 1,000 players to join up and participate in shared goals. The Club features won't be changed from the last game – again, a bit of a shame. But Horizon 3's improved multiplayer focus and co-op features should still make Clubs more exciting than before. And you can bet Windows Central will have an official club on this one.
Now that's a promising racer
Forza Horizon 3 is coming to both Xbox One and Windows 10, and I was lucky enough to play both versions at E3 last week. The E3 demo consisted of four segments that highlighted several of the game's exotic Australian environments.
The highlights of the demo were undoubtedly a sprint across the beach and a race through a rainforest. The latter proved the most exciting, as I raced a jeep as it was carried through the air by helicopter! The Horizon games always feature exotic races like that as boss battles, so it's great to see them return as the game heads down undah.
Forza Horizon 3 won't arrive until September, but already the demo showed an incredible level of polish and visual detail. The PC version looks especially crisp, but the Xbox One version is no slouch in the beauty department. The game handles just as well as ever, and the off-road segments are particularly thrilling this time out. Racing fans have every reason to be excited for the new Forza.
Like Halo Wars 2 and Gears of War 4, Forza Horizon 3 will be released in both Standard and Ultimate Editions. The Standard Edition just includes the base game and will cost $59.99. The Ultimate Edition costs $99.99 and packs some nice bonus content.
The Forza Horizon 3 Ultimate Edition includes the following bonuses:
Early access – Play Forza Horizon 3 four days early (September 23, 2016)
Forza Horizon 3 Car Pass – Six monthly car packs of seven cars each, for a total of 42 exclusive cars
VIP Membership – Five exclusive vehicles, double Wheelspin rewards when leveling up, exclusive online events, and car gifts over time
Motorsport All-Stars Car Pack – 10 exclusive cars
Forza Horizon 3 races onto Xbox One and Windows 10 on September 27 this year. You can preorder it now on both Xbox.com and Amazon. Who else is excited about exploring and racing across Australia Forza-style?
Get the Windows Central Newsletter
All the latest news, reviews, and guides for Windows and Xbox diehards.
Paul Acevedo is the Games Editor at Windows Central. A lifelong gamer, he has written about videogames for over 15 years and reviewed over 350 games for our site. Follow him on Twitter @PaulRAcevedo. Don't hate. Appreciate!
Forza Hori 3 is the reason why I'm taking a racing serious now by getting steering wheel controller.

This and Halo are the reason why i game

I'm still waiting for Forza Apex to get wheel support :(

just got forza Hori 2, to practice and get used to the game before getting into hori 3. ive always enjoyed free roaming racing over closed ones. i love the freedom.

For me Horizon 1 was the best racing game of last gen and Horizon 2 is the best racing game of this gen. 3 though wow I think its going to take some beating. I've still not completed H2 yet but day one I will be getting H3 and all the DLC

Get ready to plat a LOT. Finishing H2's 'campaign' requires you to compete in 178 4-race tournaments, over 700-odd races. I finally did it a week ago.

''For starters, Xbox Play Anywhere support means the game is cross-buy. If you buy the digital version of Forza Horizon 3, you'll get it on both Xbox One and Windows 10.​'' - sneaky microsoft is slowly luring gamers from building their digital content and ditching physical. i dont think xbox one disc will work on PC's

Especially as its a BR disc. Not too many systems out there with a BR drive.

I haven't had even a cd-drive installed for.. 7 years now?

And frankly, once you begin to adopt digital, you'll gradually begin to appreciate its value more. I agree that there's value in a physical disc which a virtual digital copy can't replace (just like with books, music etc.), but I feel it has more to do with what we were first exposed to as gamers and the associated nostalgia and sentiment. I bet kids born today that hardly knew physical discs would wholeheartedly adopt digital without complaints.

I've been gaming since 5.25" floppies were the norm. For me physical discs couldn't die soon enough. It's been at least 8 years since I bought my last disc. Digital downloads make gaming so much easier/better.

For me, I have also been gaming from Cassette tapes on a computer, yea, loading Frogger from a cassette was awesome in it's day. Digital is nice to use but, in the long term, there could be flaws. 20 years from now when you have a console, you pop it in to play your game, odds are the digital games will no longer be available. If you have the phsical disc, you could install it and play it... I know everyone will never play some titles again, but, others like myself, like a lot of classics and new games will be classics in 10-20 years..

In 20 years those disks might not even read anymore

in 20 years you'll break your disks just by trying to take them out of their case, that's what is happening to my DVD's now, the first ones I ever bought where the movie was split in two sides because double-dencity disks did not exist, they're so old they're feeble. besides, backwards compatibility doesn't last forever either... I wish I could still play Wing Commander 3, but the comand promp in Windows 10 just isn't DOS

No, Play Anywhere is a Digital game only feature as I understand it. So if you buy the physical disc your out on this feature. Would LOVE to be corrected if I am wrong....

I'm pretty sure you're right. If not you could just load the disc to a friend who could then get their own 'free' W10 copy.

Also, by the looks of it, exclusive to the Microsoft store, as you buy the game under your account and it's automatically linked. From what I hear that's not the case if you buy from Amazon, even if you buy the digital copy.

A good wheel brings racing to another level. From pad to wheel is similar jump than from keyboard to a pad

This looks so awesome! I'm just wondering when Ivory Tower's next driving game will come (possibly The Crew 2).

Because #1 was so good? Really, it was pretty underwhelming, hence it being part of games with gold this month.

It wasn't perfect, but it was enjoyable and good in its own way. But yeah, driving model, physics and graphics are better in Forza. Maybe they can do better in the next game.

I have really enjoyed FH2 and I look forward to this one. Glad to hear that there will be more customisation. Posted via the Windows Central App for Android

You had me at "cross play"!

Really, we're complaining that white guys are at the forefront AGAIN, when the only new IP I can recall as being revealed for the first time in the last two years with a male lead is For Honor? No one bothered to complain about ReCore or Horizon: Zero Dawn for a lack of diversity, and we saw a LOOOOOOOT of games that had minorities front and center (Mirror's Edge, Halo 5, Battlefield 1, Dishonored 2, Assassin's Creed: Syndicate, Nier, Crackdown, Rise of the Tomb Raider, Overwatch, Beyond Eyes, and Watch Dogs 2). Just curious if we are ever going to get to a point where white people aren't seen as a disease to cure. No one complained about Crackdown, Mirror's Edge, ReCore, or Horizon: Zero Dawn for lacking diversity. Somehow, we are still saying that there are too many white guys up front, when they might not even be a real majority anymore. It is so unbelievably tired, to.the point I had to stop reading the article over the complaint and now I have lost all interest in reading further.

¯\_(ツ)_/¯ as a white guy can't say I'm even giving 2 seconds thought to it. Also, I think it's different when a game has a lead protagonist and the story circles around them vs. generic "driver" who has no identity, personality, back story, etc. leaving that open to choice. But whatever, it's sunny outside so going to go play in the sand.

I was going to offer a real response until you had to bother with your standard belittlement garbage at the end that shows no interest in actual, intelligent discussion, not that the emoticon mess at the start was in anyway mature or intelligent. What a pile of crap attitude.

He's an arrogant prì©k anyway I wouldn't take any notice of him. Cant write for §hit either, that's why they call him RUBBISH WRITER RUBINO !! He's also edited his comment. It initially said "It's sunny outside, go play in the sand." Changing the inferring disparaging comment towards you.

Changed your name again huh? I mean if you hate this site so much, why keep coming? Also Why try and hide behind name changes?

He's not changing his name, he keeps getting banned... for no real reason IMO

He says and does a lot of things that are completely against the rules, such as using foul language and insulting and threatening staff members.

So this is the game that gives NFS a run for their money huh?

Does NFS have any money to give a run for? I haven't played an NFS I liked since Bush was in office (Carbon). I wish they could get it together, because the styles of the original Most Wanted (asinine I even need to clarify that) and Carbonare what I really want in an arcade racing game. I was disappointed in how bland and stiff FH2 was, by arcade standards.

After the last NFS with its STUPID video crap with dialogue writen by stupid adults who'd watched too many Fast/Furious and other 'bro' movies? I really enjoyed RIvals and the more open world'ish titles in the series, but its all just cookie cutter garbage now.

I haven't played Rivals for days, just a few hours... but is it me, or is the map really small? I'm hoping there are areas I still have not unlocked

Must be that white privilege talking.

Bring on that HDR sunset! I just picked up a Vizio P50-C1 and will soo be getting the Xbox One S as well as Scorpio down the road!

http://www.polygon.com/2016/6/21/11996358/xbox-one-s-hdr-color-hdr10 may want to read this with regard to different HDR standards support​

The Vizio P series will support both formats later this year..so onlysublime is covered

all Dolby Vision TVs support both standards. however, HDR10 TVs can only support HDR10.

I just got the 65" LG OLED B6 with Dolby Vision and HDR10. Dolby Vision is hardware based (Dolby Chip) and HDR10 is software based (universal HDR). If a TV supports Dolby Vision it automatically support HDR10 but not the other way around. More studios like Sony, MGM and Paramount will support Dolby Vision by the end of the year. Dolby Vision is primarily for streaming some Netflix and Vudu 4K UHD content. Netflix will have 100 plus shows and movie in Dolby Vision by the end of the year. Dolby Vision is HDR10 on steroids. I will be getting the Xbox One S next month. It has a 4K Bluray Player and upscales all content running through the Xbox One S in 4K (including scaling games to 4K). I plan on getting Project Scorpio next year. I will put that on my 65" OLED B6 and put the Xbox One S on my 50" Samsung SUHD in my bedroom.

I am a big Forza fan, I have purchased every one of them. With that said, I really enjoy Project Cars. I like the way you progress through the game and I think it has made me a better racer. I will continue to buy and race Forza, but I will also continue to spend time in Project Cars.

This will be the only horizon title I won't get as I don't want to race in Australia.

What's wrong with racing
in Australia?

It's not New Zealand of course !! Now that would be amazing. We have some of the worst roads in the world and the best scenery. Not that I have anything against our Aussie cousins you understand ;-)

I didn't mind the roads there, but all tha green can't be healthy.

People should be glad it's Australia and not Panama, speed driving at 5MPH due to traffic and breaking axles in huge pot hole

Playing your own music should be in all games. At least in games where you can drive around like GTA or need for speed or just cause 3

If only it weren't limited to Groove streaming garbage. Why we can't get local music support and background music in 2016 (both of which we had in 2005) is beyond comprehension.

they already announced background music. its coming soon. but i mean for playing music in the actual game for the radio in a car or radio in an apartment

I know what you meant. I was just saying it should be taken a step further. All games need it through the background music they suggested would be out this summer, and now they didn't even mention it as a future update. And background music isn't nearly as useful if I can't store it on the console or plug in my phone to access it.

I just wish we could actually download music straight to the hard drive. We could do that on the last 2 generations of Xbox but not this one. It seems like we have taken a few steps back on a few things with this generation of consoles.

Its probably more to do with the wonderful folks at the RIAA. "Let gamers put music they own onto your console and we'll remove all music from the artists we 'represent' from your music service"

How dare there be a white man anywhere in this day & age. They have no place in our society anymore, what's that? They created our society? Who needs it, let's go back to living in caves and wiping our butts with our hands.

It's always best to think before you comment.

Unmorphed, congratulations you have managed to post the most ignorant thing I've read on the internet today, and that includes tweets by Donald Trump. Amazing effort.

Every game should have a character creator or at least have characters that you can select that represents the different races. I'm white and if I'm forced to play with a character of a different race it draws me out of the game unless it is necessary for the story.

They had the idea when they introduced the Kinect on the 360, you would creata your own avatar, but then the majorty of the game developers were lazy and did not bother to use that, instead used their stock

It won't be the ultimate racing game on Windows 10 because:
1-it won't be on steam
2-it isn't asetto corsa

What does being on steam have to do with it being a good game? Also realism does not always equate to 'ultimate' when it comes to enjoyment.

Steam is Windows' gaming platform. Windows store is like a windows app store and is only available on w10, steam isn't. They should make a dedicated platform to games available on all windows versions, not only windows 10.

Not if they want Windows 10 to be successful, which they obviously do. Of course Microsoft is supporting its own Store.

No. Steam is a DRM platform, thats all.

I though kat was Window's gaming platform

I can't wait - Groove support for custom music is the icing on the cake. Been a fan since Horizon 2 but since then I've beaten both on 360/One and am super hyped to play it on Windows 10! Open world racing games are fantastic by the way :)

Got bored reading all that, didn't even get half way thru

Yet not bored enough to comment..

As a PS guy, Gran Tourismo ftw!

LOL. You can cry now. That's OK. We understand ;)

Lol. You Xbox fanbois have been crying for years bay bay;)

Umm, sure there is a game or two I wouldn't mind playing on PS, but I am far from crying. Too busy playing Forza, Titanfall and Halo.

That's enough console wars talk out of you. Please don't start pointless argument in our comments.

Can't wait for the open-world Gran Turismo that's never coming!

Horizon is fun, gt is a simulator.

I have to say, the word simulation is so over used in the wrong places these days. I tried forza apex after upgrading my graphics card and I had high expectations after what I had heard and read on the forums and the internet in general, I had high expectations since the last forza game I raced was forza 3 on the 360, and it had reasonable car handling physics and a decent level of realism. At least it was as good if not better than the gran turismo of that time. However forza 6 apex really disappoints me. Its arcadey even on the hardest settings, the force feedback is marginally satisfactory (on a 360 pad). I drove a f12 berlanetta at rio with no driving aids and unbeatable difficulty, and its challenging, yes, but in no way realistic. I had to adjust my instincts to get used to that game. Natural instincts from driving don't work like they do on real simulators, if that makes sense. It has been a long time since I've played forza 3, but I'm sure they've taken a turn for the worse (no pun intended) since then when it comes to car handling characteristics. And since forza horizon 3 is based on the car handling and physics of forza 6 (I presume) then its anything but simulation. And that's not opinion, its fact. But for the average gamer, I guess all of the above doesn't really matter too much I have to say though, the graphics are amazing Rant over

Yea forza horizon is definitely not a simulation. The Forza Motorsport series was closer to being a simulation, in the same way gran turismo is simulation. I think, having played both, gran turismo is more a simulation than forza motorsport. Forza horizon is not at all. I mean, a Lamborghini on sand? Not going to get traction etc

Agreed. Except that even gran turismo isn't a sim. Its close but some things fall short. Its definitely currently more realistic than forza though

I can't really play Apex due to its inability to run well on my Surface Book, so I don't have too much time in it, but... The little that I have played, it absolutely had an arcadey feel compared to 6. IMO the simulation aspect has only gotten better since 3. Don't judge the forza series off a free UWP that is in beta. I can't compare to GT as it has been a very long time since I have played. I can compare to Project Cars and say that Forza is not quite to that extent of simulation, but it is fairly close.

That's quite interesting actually. Maybe I'll have to nip by a game shop and hope they have an xbox one loaded with forza 6 and give it a shot. However, I have doubts that it will be as simulation as assetto ccorsa or project cars. That said, I was at first amazed that UWP could handle such a large abd 'desktop like' game, since everything I've seen on the store can run on phones too. I.e. The games on UWP are small and not demanding and are not like desktop games, if that makes sense. I was thinking that this might be the start of something where UWP becomes as capable as conventional desktop programs, since they said apex has the same graphics engine and some other stuff carried over. Since you mentioned that apex is more arcadey than the actual forza 6, then I kind of feel a bit sad that its just a glorified UWP app which still demonstrates that UWP is still lacking in some areas in terms of functionality abd capability compared to conventional desktop apps. Anyone else played both apex and forza 6 that would like to add to this?

I really love racing games, but lately forza series is just milking too much with all the extra car dlc, don't mind the expansion packs.

There was just a single expansion for FH2 (storm island was great), and you certainly don't need to buy any of the car packs. Anyway, just install Forza Hub on your PC or xbox and you get loads of extra cars anyway.

So with the Groove music support does that include support for groove music pass as well? So far I have only found information about it working with your own music you have saved to your OneDrive. I hope so since I have had my music pass for so long (talking zune days) that I don't even have much music outside of the pass, haha

Getting access to groove streaming would be awesome

I'm all for more fun arcade style racing games. I look forward to this when it releases.

I'm Australian. I'm hanging out to race on some favourite local roads :)

Forza looks beautiful, im not a racing games guy but ill give it a shot one day, the original series (not horizon) is not for me but maybe i can have some fun with forza horizon :)

I am super pumped up for this game!!!!

oups wrong article. how do i delet this. as i said before nothing has changed I WANT THIS GAME TODAY!!!

When will they stop charging for car packs? This is insane. Who buys them? Rich people?

It comes with 350 cars. If that somehow isn't enough for you, then you have the option of buying more. The base price of the game is more than fair.

350 cars is more than enough for me. I doubt if I'll even touch most of those.

I've preordered the Ult edition that comes with a heap of extra cars over the life of the game. at a lot lower price than the expensive car packs. Plus, install Forza Hub and you get lots of freebies including more cars.

Nice review! There were some great tidbits that I hadn't read, yet. Really excited for this game.

Allows like your reviews Paul. I just hope the menus are improved, particularly in regard to sharing content. Can't ever knock Forza game visuals, pm but their UIs are embarrassingly poor. Hopefully, we also keep splitsceen modes, for same screen fun.

The 50 big jumps are copied from burnout paradise

Crap, even in GTA 4+ (I forget earier), there are big jumps needed to be done for an achivement, and a total of 50 of them

GT is ok but it doesn't hold a candle to Forza. I went with Sony this generation but I had to eventually get a Xbox One just to have a decent racing game. Forza rules the racing world.

Really looking forward to this but i still think Forza Motorsport or Project Cars are the better racing games on the XBOX One

Was a big fan of 1 and 2....No question this is a day one buy for me... Physical disk only...

Nice! Looking forward to this.

Can you just drive an old muscle car in the australian highway?, btw, waiting for this game to be tested on pc's, I'm not convinced yet of Forza Apex's performance.

Yeah, you can do that. These games have a huge variety of cars, including a number of classics.

This does look good though

I've always thought of the Horizon games as more of an arcade racer and the Motorsports games as a simulator. I haven't played FM6, but it seemed to me that FH2 wasn't quite as realistic as FM5. And not just the offroad stuff either, but the road courses just didn't feel right to me. That's not to say FH2 was a bad game in any way. It was just different. I pre-ordered this one and I may be looking to join the Windows Central club since I only have one or two friends who are into racing. Might have to get an actual stand or something for my wheel and pedals before this one comes out.

HAHA was that Blue Blue Skies reference to the classic song on Daytona USA game on Sega Saturn?

Of course! There's a very good port of Daytona on Xbox 360 too. :)

That's awesome! Lol Posted via the Windows Central App for Android

I found creating custom decals on the console clunky. If you are able to fire up your PC and do that part in Win 10 w/ a mouse & Kb....might be alot easier to work with. Here's hoping. Can't wait for this game.

Oh yeah, that'd be really neat. We shall see.