How to get and apply custom decals in Forza Motorsport 6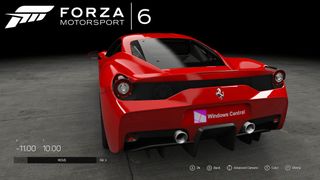 Forza Motorsport 6 has launched at last. The latest in Microsoft's racing simulation series, Forza 6 includes over 450 cars, 26 tracks, realistic rain and fog, and night racing. With a 70+ hour career mode, new online leagues, and 24-car multiplayer races, it's safe to call this the biggest and best mainline Forza yet.
For creative gamers, a big part of the Forza series' draw is creating custom decals and car designs. Forza 6 does not disappoint, offering the same robust editor as found in Forza 4 and 5. Users can even share and download their designs, making it easy to decorate your car with community designs. This guide will walk you through downloading custom decals and applying them to your cars.
Why custom decals
The designs players can apply to their cars in Forza 6 are referred to as decals, vinyls (yes this is a word), or layer groups. We'll mostly call them decals because I like to imagine that our custom designs actually get turned into stickers that people will apply to their cars. Also, the word vinyls makes some people cranky.
We're saving decal creation for another guide, so this one focuses entirely on how to get decals made by others and apply them to your vehicle of choice. You don't need to be creative or invest a lot of time when applying existing vinyl designs, so anybody can do it in a snap.
Forza 6's menus are a bit clumsy and confusing as far as procuring decals, but there are two ways to get them. Either go to Create Vinyl Group or Paint Car. Use Create Vinyl Group when you want to find designs for future use. Pick Car painting when you want to apply designs directly to your car.
Car painting is the more streamlined approach, so that's what we'll explain.
Getting custom decals
From the main Forza 6 menu, head right four pages to Customize.
Select Paint Car.
Go to Car Select and choose the car you'd like to Customize. If you already have that car selected, skip this step.
Select Apply Decals.
Choose which side of the car you'd like to decorate. Use the LB and RB buttons to switch sides and surfaces.
Pick New Layer and then Apply a vinyl shape. If you already downloaded or created the decal you want to use, you could Load a layer group instead.
From the Vinyl Select menu, you can press LB to view a small selection of custom designs or use RB to browse the default shapes and letters provided by Turn 10.
To really personalize your car's appearance, you'll want to search for custom decals. Press the View/Back button to Search.
Using the Vinyl Search menu
The Vinyl Search menu has four meaningful criteria to help you find designs. You can ignore the Max Layers field as it's basically useless.
Keyword 1 and 2 allow users to browse designs by category. Set Keyword 1 to see all of the designs within that category. Set Keyword 2 as well to narrow the design results.
Creator is a great way to find designs that friends and people you know have shared. Search for EastX to find all of my designs - be sure to hit the X button and Follow Creator as well!
Description lets you search for specific keywords that appear in a vinyl's description. For instance, you can search for all designs with Mario or Zelda in their descriptions. This is the best way to find just the right decal when you already have something in mind.
Any designs you pick will be saved to your profile for later use, even if you end up removing them from the car. You can delete decals from your profile from the My Vinyl Groups menu.
Applying custom decals
Having selected a decal, you can now position it on your car. Use the following options to modify the decal's position and appearance:
Move: Slide the decal around as needed using the left analog stick or d-pad.
Size: Press RB to switch from Move to Size. Use the left analog stick or d-pad to adjust the vinyl's size. Setting the size to a negative value will flip the design 180 degrees, but it will not mirror it.
Spin: Press RB to switch from Size to Spin. Use the left analog stick or d-pad to rotate the decal.
Color: Press the Y button to adjust the color of the decal. This will change the design to a solid color, not adjust specific colors within the design. Use it to create shadows, silhouettes, etc.
Stamp: If you want to apply more than one of the same vinyl on the same side of the car, press the Y button to stamp as many copies of the decal as you'd like. If you only want to apply the decal once, press A instead.
More application tips
Adjusting multiple decals: You can adjust multiple vinyls at once by highlighting them. To select multiple specific decals, press or hold Right Trigger on every decal you want to select. Press RT again to deselect a decal. Alternately, select one decal and pick Highlight all layers to do just that. You can now perform mass adjustments from the Edit selected layers menu.
Changing decal order: Want to move a decal in front of or behind other decals? Highlight or place the cursor over the decal(s) to move and press the X button to Cut them. Now scroll left or right on the decal list and press the Y button to Insert the decal(s) in the desired place. You can also Insert decals on different sides of the car.
Mirroring decals: Forza 6 doesn't make it easy to mirror a design (flip it on the X axis), but there is a way! Apply the decal whose orientation you want to change to either the left or right side of the car. Then switch to the other side, pick New Layer, and choose Insert all from right/left side. Anything that faced right will now face left and vice versa!
When you're finished decorating your car, press the B button to access the Save menu. Choose Save to current car to complete and apply the design. If you're not working with other players' custom decals, you can choose Save to design catalog and share to let other players download your car design.
Liking custom vinyls
After downloading a custom decal, it's only fair to show the creator some thanks by liking his or her design. Remember, any decal you use is automatically saved to your profile. To like a custom vinyl:
From the main Forza 6 menu, head right four pages to Customize.
Go to My Vinyl Groups.
Select the decal you wish to like and press A to bring up its context menu.
Choose Like. That's called spreading the love!
Decorate your car with the Windows Central logo and more
Want to show your Windows Central pride when racing online? Then grab our logo decals and apply them to your favorite cars! I've created a large library of decals for our readers to enjoy, including logos and a variety of videogame sprite designs.
To see all of my decals, search by Creator for EastX. Be sure to hit the X button and Follow Creator as well!
To grab only the Windows Central logos, search by keyword for Windows Central.
Remember to Like the decals you download! See instructions in previous section.
Be sure to share screenshots and photos of your Windows Central-decorated car in the comments of this guide and our other Forza 6 articles!
More Forza Motorsport 6 coverage
Don't miss our other big Forza 6 stories!
Forza 6 Car Pass review – Coming soon!
Stay tuned for more Forza 6 guides from your good friends at Windows Central.
Get the Windows Central Newsletter
All the latest news, reviews, and guides for Windows and Xbox diehards.
Paul Acevedo is the Games Editor at Windows Central. A lifelong gamer, he has written about videogames for over 15 years and reviewed over 350 games for our site. Follow him on Twitter @PaulRAcevedo. Don't hate. Appreciate!