How to get free and premium DLC cars in Forza Motorsport 6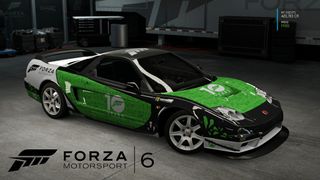 Forza Motorsport 6 has launched at last. The latest in Microsoft's racing simulation series, Forza 6 includes over 450 cars, 26 tracks, realistic rain and fog, and night racing. With a 70+ hour career mode, new online leagues, and 24-car multiplayer races, it's safe to call this the biggest and best mainline Forza yet. But we can always want more, right? That's where downloadable content (DLC) comes in!
Early editions of Forza 6 include a free DLC pack called the 'Ten Year Anniversary Car Pack.' Microsoft also offers the 'Fast & Furious Car Pack' for $9.99. Downloading either pack will unlock the cars it brings, but they don't just show up in your garage. Read on for a quick guide to grabbing your DLC rides in Forza Motorsport 6!
Getting the Ten Year Anniversary Car Pack
If you bought the retail version of Forza Motorsport 6 at launch, a download code for the 'Ten Year Anniversary Car Pack' should have been included in the package. The pack includes ten cars decorated in special Forza livery.
Downloadable versions will have included it as a bundle with the main game, so you won't need to deal with codes. To actually start the download, follow these steps:
Highlight the Forza 6 tile on your Xbox One's home screen or from the My Games & Apps list.
Press the Menu/Start button on the Xbox One controller and select Manage Game
Scroll right and select Show all add-ons
Pick the 'Forza 6 Ten Year Anniversary Car Pack' and choose to Install
That's it!
Picking up your cars
Now that you own the 'Ten Year Anniversary Car Pack' (or any Forza 6 DLC car pack), you'll want to pick up your cars and get racing. Here's what to do:
From the main Forza 6 menu, scroll right two screens to the Cars menu
Choose to Find a Car
Any DLC cars available to you will be listed along the left side of the screen under Free Cars
Select the car you want
Choose a design! If you'd like the car to wear a community-crafted design, simply scroll left and right until you find a design that suits you
If you'd rather have the default design (and the 'Ten Year Anniversary' cars all have special designs), press the Y button for Colors and pick from the official color designs
Buy the car (for free) and it's yours to drive!
Repeat until you've claimed all available free cars for your garage
To hop into a car and race, choose the car in My Cars and then head to Free Race
Getting more car packs
At launch, Microsoft offers three premium car packs for Forza 6. You can be sure that more packs will follow!
'Forza 6 Fast and Furious Car Pack' – Price: $9.99
'Forza 6 Car Pass' – Price: $29.99 (Includes six car packs to be released monthly, for a total of 42 cars)
'Forza 6 VIP Membership' – Price: $19.99 (Includes five cars, doubles credit earnings, free gift cars, and more)
We'll have reviews of all three DLC packages soon. In the meantime, don't miss our other big Forza 6 stories!
Stay tuned for more Forza 6 guides from your pals at Windows Central!
Forza Motorsport 6 – Xbox One – GB – $59.99 – Xbox Link

(opens in new tab)

– Amazon Link

(opens in new tab)
Paul Acevedo is the Games Editor at Windows Central. A lifelong gamer, he has written about videogames for over 15 years and reviewed over 350 games for our site. Follow him on Twitter @PaulRAcevedo. Don't hate. Appreciate!
Glad you found the guide so useful! :P

You should have also mentioned that if you played any previous Forza game using the same gamertag you will also get a free car for each game played.

Yeah, but those just show up in your inventory. You don't have to go through any extra steps to download them (as far as I know).

Right. They just appear when you open there game for the first time.

Also youd have to have looked in rewards either from forza hub or the rewards site

True, and fair enough. Just figured it be a nice bit of info for those who hadn't bought the game yet.

This guide is awesome! Thanks. On my way home from work now to pick up the console bundle . Posted via the Windows Central App for Android

It ain't out yet in the UK. We have to wait until Friday.

Thank you Paul , this was very helpful , BTW until when is the ten year DLC will be available for free (I'm thinking of getting the game next weekend digitally , will I get that DLC ?

You're very welcome! Microsoft hasn't stated when the car pack will stop being free. It's safe to assume that it will be available throughout the rest of the month, and possibly until next year.

Thanks again Paul , BTW I'm very pleased with the latest gaming content on this site , great work from your team , keep it up

Thanks for the kind words!

Cool.. One day ill get this game when I finish the other two... Angle says I have two racers all ready.

Kinda sucks they didn't extend a discount for fh2 fm5 players guess I'll wait for sale

Also, if you play the first race in the Forza 6 demo, you will receive the Ford GT in the full game.

Does anyone else think its crap that this game only comes with a few cars and you have to buy the rest as DLC's. The whole idea of everything being a DLC now days is getting out of control. So far I have $120 invested in destiny alone and I think that's pretty crazy for a single game.

The "few" cars in the game is over 400. You're getting plenty without the car pass.

Well, you still buy them, so there's that ;)

Well to be fiar Forza 6 does come with 400+ cars. But to your point I think the price for the DLC is total BS. To get all the cars for this game you would have to spend $60 in just DLC. Game devs and publishers are ripping people off, $120 for the game and some cars? LMAO The bigger problem is the millions of idiots paying for it. If morons will pay for it companies will charge for it.

It's just an upsell for them to make money from people who love cars to an extreme degree. The number of cars the game includes is way more than enough for any normal user - it's more than Forza 5 had even with DLC cars factored in. And unlike the Destiny DLC, Forza 6 car DLC is not required to enjoy or remain competitive in the game.

Over 450 cars!
350 of them locked behind DLC!

Hello, I bought the physical copy with a download code for the the 10 Years car pack around ten days ago, but I cannot download this DLC... When I click on market and then on the 10Y DLC from the game, an error message appears. So I tried your method, but when I click on the DLC, I can't choose install, there is just a link to buy a digital copy... If anyone had the same problem, could you please help me ? Ps: I live in Europe and I don't know if that could cause the market problem Thanks
Windows Central Newsletter
Thank you for signing up to Windows Central. You will receive a verification email shortly.
There was a problem. Please refresh the page and try again.