Forza Motorsport 6 VIP Membership review: Get exclusive cars and more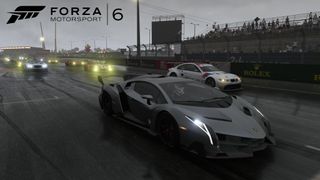 Forza Motorsport 6 is one of this year's biggest exclusive games for Xbox One. The latest in the mainline Forza racing game series, this installment offers an incredible array of 450 cars and 26 tracks for automotive enthusiasts to enjoy in single-player and multiplayer races. With new effects like night and rain racing and a rocksteady 60 FPS framerate, Forza 6 is also one of the most impressive looking racing games on any console. It's the complete package.
Games in the Forza series traditionally offer VIP memberships as optional paid DLC. Becoming a VIP in Forza 6 promises extra cars, faster progression, exclusive races, and in-game recognition for other players to see. Read our detailed review to find out how Forza 6's VIP membership stacks up against the Forza Horizon 2 VIP access and whether it's worth your twenty bucks!
How to become a VIP
To get a VIP membership, you just need to head to the Xbox One Store through your console or Xbox.com. Permanent VIP access for Forza Motorsport 6 costs $19.99 through Xbox Live or from GameStop (Amazon doesn't currently offer it).
Players who own VIP Membership in Forza 5 or Forza Horizon 2 don't get a discount on Forza 6 VIP membership, unfortunately. It's a shame Microsoft didn't offer a discount for returning VIP members as it did with Forza Horizon 2.
You can also get VIP membership from buying the downloadable Forza 6 Deluxe Edition $79.99), as well as the downloadable Forza 6 Ultimate Edition ($99.99). Each bundles additional DLC, making them a better value than buying the game, VIP membership, and DLC separately.
Once you've made the purchase, allow your console to download the 11 Megabyte VIP DLC file and you're ready to go. Purchasing a VIP membership does not unlock VIP benefits for other Gamertags on the same console, unfortunately. Only one account gets the goods, which makes sense given that those other accounts would no longer qualify for VIP status when used on other consoles.
VIP benefits at a glance
The Forza Motorsport 6 VIP membership includes five cars right off the bat. These are exclusive to VIPs and can't be purchased otherwise.
Cars:
2012 Aston Martin V12 Zagato
2013 Ferrari 458 Speciale
2016 Ford Shelby GT350R
2013 Lamborghini Veneno
1997 McLaren F1 GT
Additional benefits:
Double credits payout for completing races
Access to exclusive VIP Rivals races
In-game gifts from the Forza community team
Special in-game recognition
The Forza 6 VIP cars
As with other DLC car packs, the game doesn't automatically add the VIP cars to your garage. You have to visit the in-game Find a Car menu and get them from there. Luckily, all DLC cars cost zero credits, so they won't break the in-game bank. For instructions on how to receive these cars after purchasing the VIP pack, check out our How to get DLC cars guide.
2012 Aston Martin V12 Zagato
2013 Ferrari 458 Speciale
2016 Ford Shelby GT350R
2013 Lamborghini Veneno
1997 McLaren F1 GT
Extra credits, bling, and gifts
Besides the five exclusive cars in the VIP pack, the main reason to get VIP membership is the 2x credit payout. This doubles the base number of credits earned from completing any race in any mode, both in single-player and multiplayer. It doesn't truly double all of your credits earnings because other credits bonuses like Assists and Difficulty are not doubled.
Unlike Forza Horizon 2, the VIP membership here doesn't double credits earned from wheel spins when players level up. Then again, Horizon 2's VIP membership didn't double credits earned from actual races, so the bonuses sort of even out. Still, given the relatively slim level of benefits from the Forza 6 VIP package, it really should double credits from all sources.
If you're going to spend extra for VIP membership, you might as well get some recognition for it. VIP members have a crown displayed next to their Gamertags. You'll see them when encountering or competing against other Drivatars, during multiplayer games, and while browsing custom decals, car designs, and tunes created by VIP players. The crown doesn't mean all that much, but it does broadcast some of your enthusiasm for the game to the world.
One of the VIP membership benefits is not available just yet: in-game gift cars. Throughout the life of the game, the game developers will occasionally send new cars as gifts to VIP players. We don't know the schedule for these gifts, but Forza Horizon 2 VIPs have received a total of six gift cars with exclusive VIP designs in the first year of that game's release.
VIP Rivals races
VIP members also receive access to exclusive VIP Rivals events. Rivals races are time attacks in which players race in a specific car or car type on a specific track against the ghost of a rival player. Your best lap time will be compared against that rival ghost and added to the Forza 6 leaderboards.
I'm not a big fan of Rivals races because I'm not that great to begin with. I'd always pick actual online multiplayer over racing against ghosts anyway. And the Forza 6 Career mode is so massive that spending time in Rivals mode feels a bit wasteful towards your overall progress.
What really makes the VIP Rivals races such an unenticing bonus is how insignificant they are compared to the regular Rivals races. At present, VIP members have three exclusive races to play: Ford VIP Challenge, Lamborghini VIP Challenge, and McLaren VIP Challenge. More could be added in the future.
Compare that to the selection of Rivals Races already available to all players. Forza 6 offers fourteen sets of Rivals races, and each set has anywhere from 3-130 races of its own. That's a whopping 1194 races at present! Three exclusive races is a drop in a bucket in comparison. But hey, maybe somebody out there wants to compete only against other VIP members – the exclusive Rivals races make that possible.
Overall value of the VIP membership
Two kinds of players will want Forza 6 access. First, car lovers. This membership gets you five gorgeous cars that only your fellow VIPs will have. When you hit the track in multiplayer games or share in-game photos while driving these elite vehicles, you're professing your love for Forza for all to see. The VIP crown next to your Gamertag does the same.
Second, VIP membership will appeal to gamers who want to progress through the game and build their car collections faster. Busy gamers (like me) might not have the time play Forza 6 as much as we'd like. Doubling the credits we earn from races helps us rack up funds that much faster. In turn we can then buy more cars and mod packs with those credits. Every little bit helps!
If neither of those categories describes you, the Forza 6 VIP membership probably wouldn't be a good buy at full price. The exclusive Rivals races are underwhelming considering how many Rivals races (and Career races) everyone gets already. Turn 10 and Microsoft need to throw in another benefit (such as increasing XP or Affinity gain) to give VIP access more value.
Still, I happen to love collecting all the cars I can in Forza, so the VIP cars and doubled credits from races are worth it to me. Forza VIP membership might not be a must-have, but serious fans of the series will definitely enjoy it.
More Forza 6 coverage
Don't miss our other big Forza 6 stories!
Forza 6 Car Pass review – Coming soon!
Stay tuned for more Forza 6 guides from your good friends at Windows Central.
Get the Windows Central Newsletter
All the latest news, reviews, and guides for Windows and Xbox diehards.
Paul Acevedo is the Games Editor at Windows Central. A lifelong gamer, he has written about videogames for over 15 years and reviewed over 350 games for our site. Follow him on Twitter @PaulRAcevedo. Don't hate. Appreciate!