Editor's Choice: Paul's top Xbox One games of 2014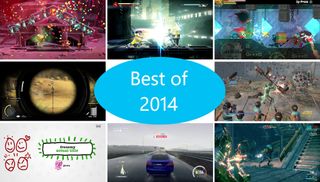 Now that the new year has started, it's time to look back at 2014 and decide which games we loved the most. Fellow Windows Central staffers Richard Devine and Jonathan Dollison have already shared their single favorite games of the year. But you know me. I play a lot of different games and I couldn't choose just one.
Instead, I've named my eight favorite Xbox One games of 2014. My list is made up of completely different games that critics and players might have overlooked, plus one big exclusive that won my heart. Production values and console exclusivity weren't a consideration; it was all about the gameplay for me. Get ready for a lengthy look at eight of the best games for Xbox One, complete with an all-new showcase video!
Rayman Legends
Why you can trust Windows Central Our expert reviewers spend hours testing and comparing products and services so you can choose the best for you. Find out more about how we test.
Xbox One has no shortage of truly special puzzle platformers, starting with Max: The Curse of Brotherhood and culminating in the late 2014 releases of Thomas Was Alone and Kalimba. But if you want a traditional platformer, the easy choice is Ubisoft's retail release Rayman Legends.
Originally released on previous-gen consoles in 2013 before debuting on Xbox One and Playstation 4 in February 2014, Rayman Legends is the sequel to Rayman Origins. It also happens to be an absolutely massive game, filled to the brim with challenging platforming stages, characters, and secrets to discover.
Legends' simple story is not exactly compelling, and yet the game gets by just fine thanks to finely honed controls, unparalleled 2D artwork, and ample humor and creativity. The local 4-player co-op also provided an early incentive for owning multiple Xbox One controllers. Rayman Legends' colorful world is utterly joyful, and it belongs in any platforming fans collection.
Strider
Released alongside Rayman Legends in February, Strider is a remake/reimagining of the classic action platformer from Capcom. The new Strider combines elements from the arcade and NES games (plus Strider 2) into a single action-packed Metroidvania-style platformer.
Players take on the role of Strider Hiryu, a heroic ninja tasked with infiltrating a futuristic fictional version of Russia and bringing an end to the Grandmaster's evil scheme. Strider will run, jump, slide, climb walls, and cling to ceilings as he explores the vast game world, defeats challenging bosses, and hunts for secrets.
With super-fast gameplay, wonderful music, and tons of futuristic areas to explore, Strider is both a fantastic revival of a classic series and one of my favorite games of the year.
Strider – Xbox One – 3 GB – $14.99 – Xbox.com Link

(opens in new tab)

Strider – Xbox 360 – 1.5 GB – $14.99 – Xbox.com Link

(opens in new tab)

Strider – Steam – 3.7 GB – $14.99 – Steam Link
Guacamelee
Although Strider was the first exploration-based platformer on the Xbox One, the second one – Guacamelee – is just as excellent a game. Both titles involve running, jumping, and climbing through nonlinear areas and returning to previous areas once new powers have been unlocked.
Whereas Strider takes a fast-paced, streamlined approach to combat, Guacamelee boasts a deep, robust combat system with tons of wrestling moves to learn. Players can mix these into combos and even use them to solve puzzles and reach new areas. That depth and versatility makes Guacamelee's combat system the best ever found in the genre – no hyperbole.
Guacamelee also has a totally unique setting and story, as the game takes place in a fantasy world of luchadors and spirits inspired by the Mexican Day of the Dead. Protagonist Juan Aguacate starts the game as a humble farmer, but when an evil skeleton kills him and kidnaps his girlfriend, Juan returns to life as a powerful wrestler.
One last feather in the game's cap: 2-player local co-op! You'll wonder why so few Metroidvania games offer multiplayer after playing through this one with a friend. The tag-team partner makes daunting boss battles easier, and a more skillful player can help a weaker one get through even the toughest areas.
Anyone who enjoys games like Super Metroid, Castlevania: Symphony of the Night, and Dust: an Elysian Tale absolutely must play Guacamelee and help keep the borders between the lands of the living and dead firmly in place. Read our full review if you need more convincing, muchacho.
Guacamelee! – Xbox One – 812 MB – $14.99 – Xbox.com Link

(opens in new tab)

Guacamelee! – Xbox 360 – 690 MB – $14.99 – Xbox.com Link

(opens in new tab)
Sniper Elite III
Halo: the Master Chief Collection was poised to be my shooter of the year, but its continuing online multiplayer woes prevent me from including it on this list. Instead, I fall back Rebellion's Sniper Elite III –a slower-paced third-person shooter with excellent (and gory) first-person sniping.
Sniper Elite III takes place in North Africa – a fresh setting for World War II-era games. Players will take on the role of series hero Karl Fairburne as he battles Germany's infamous Afrika Corps. Allied intelligence indicates that the Nazis are developing a super weapon that could turn the tide of the war, making it imperative for Karl and his allies to stop them.
The main game consists of eight massive missions that can be completed in multiple ways. They really are quite long – I spent more than two hours on a single mission and had a blast the entire time. But leaving and coming back won't be a problem since the game allows players to save anywhere.
With full online campaign co-op for two players, several single-player Challenge modes, and both cooperative and competitive online modes for up to 16 players, players won't run out of things to do in Sniper Elite III. Just be warned there is a lot of screen tearing.
If you enjoy sneaking around and taking out enemies methodically, you can't do any better on the Xbox One. In case you don't have Sniper Elite III yet, an Ultimate Edition is due out early this year.
Warriors Orochi 3: Ultimate
Koei Tecmo's Warriors Orochi series is a crossover between the ancient Chinese setting of Dynasty Warriors and the feudal Japanese setting of Samurai Warriors. That series made its debut on Xbox One with Warriors Orochi 3: Ultimate.
Admittedly, Warriors Orochi 3 is not much to look at; its 3D visuals resemble those of an Xbox 360 game. It does push hundreds of characters around on screen at once, though. Look past the graphics and you'll find a game whose scope and content is almost unrivaled on Xbox One. The scope starts with the characters.
See, Warriors Orochi 3 has literally hundreds of characters to unlock and fight with. These include Dynasty and Samurai Warriors mainstays, plus guest characters from Ninja Gaiden, Dead or Alive, Soul Calibur, and Blade Storm. Surprisingly, most of these get woven into the game's expansive story (however briefly).
The premise of the game involves a mysterious multi-headed dragon called the Orochi attacking and destroying nearly all of the world's heroes and warriors. With the help of a friendly goddess, the few remaining warriors must travel back into their own pasts to save their fallen comrades and build an army strong enough to take on the Orochi and its demonic leader. The time-traveling aspects make for a unique and compelling story.
Warriors Orochi 3's actual fighting is quite simple, but the game's ample RPG elements and addictive character collection will provide beat 'em-up and role-playing fans with hundreds of hours of gameplay. Give this niche game a try and it might make a fan of you. See our full review for more details.
Warriors Orochi 3: Ultimate – Xbox One – 19 GB – $59.99 – Amazon Link

(opens in new tab)

– Xbox.com Link

(opens in new tab)
Jackbox Party Pack/Fibbage
Back in August, Jackbox Games made a splash with its downloadable party game Fibbage. As the game slings difficult trivia questions at players, the goal is to either answer correctly or come up with a "lie" that other players will think is correct. Up to eight players can participate at once, all playing through their smartphones or tablets. See our full review to learn just how that works.
The developer soon followed up with an even more ambitious offering: a collection of five games called the Jackbox Party Pack. Included are Fibbage XL (the original Fibbage with extra questions), You Don't Know Jack 2015, Lie Swatter, Word Spud, and Drawful. These games vary in quality (Word Spud and Lie Swatter are too simple and lack the other games' sense of humor), but the stronger games make up for the duds.
Drawful is my favorite, as it plays a lot like Pictionary. Each player has to draw a difficult or impossible set of words, and then everyone tries to guess what the others drew. The drawing interface is great, although a bit too low resolution and lacking an eraser function. Play with friends or family and you'll have an amazingly silly time drawing and guessing together.
Oddly, neither Fibbage nor Jackbox Party Pack support traditional online play. But you can still play with friends via Twitch – just stream the main game and everyone else can join in on their phones while they watch the stream. Get Fibbage or the more robust Party Pack and you'll be the star of the party when you have get-togethers.
Jackbox Party Pack – Xbox One (US and specific regions only) – 1.5 GB – $24.99 – Store Link

(opens in new tab)

Fibbage – Xbox One (US and specific regions only) – 320 MB – $6.99 – Store Link

(opens in new tab)
Retail game of the year: Forza Horizon 2
As 2014 retail games go, the one that I've written the most about and continue returning to is Microsoft's Forza Horizon 2. No, it doesn't have much of a story, but the racing genre really doesn't need a complex narrative to succeed. A racing game just needs to look and sound great, be fun to play, and provide a strong sense of progression; Forza Horizon 2 succeeds on all three fronts.
This Forza centers around the Horizon Festival, a gathering of cars and racers from all over Europe. Players can enter over 150 different sets of races, with numerous objectives and locations keeping things interesting. Instead of racing on sterile tracks, you'll be cruising through European streets and countrysides. Races can even take you off-road, cranking up the adrenaline and challenge.
It certainly helps that those locations are utterly gorgeous in motion. That goes for the weather effects too. Forza Horizon 2 handles inclement weather really well, something we rarely see in racing games. Storms will break out organically as you play, changing the way everything looks and how your car interacts with the road.
Forza Horizon 2 also has two great online multiplayer modes, allowing participants to go on structured road trips together or simply free roam. But the asynchronous multiplayer features are my favorites. The world's AI racers are mostly made up of Drivatars based on the play styles of your friends and other players. Richard Devine found them a bit annoying in his Game of the Year writeup, but they really keep the game lively for me.
Car clubs, the game's version of clans, provide extra goals and competition even when you're not directly challenging other players. We even have a Windows Central club you can join – just search for it by name or club tag WPCe.
Even without add-ons, Forza Horizon 2 is a massive racing game. But Microsoft offers some compelling downloadable content for serious fans. We've reviewed the main game, its VIP membership, and the Car Pass already, and will soon be reviewing the massive ' Storm Island' add-on as well.
For more Warframe gameplay footage, check out our extended Twitch replay!
Downloadable game of the year: Warframe
The only Xbox One game I come back to as often as Forza Horizon 2 is a game you don't even have to pay for: Warframe from Digital Extremes.
Warframe takes place within the same universe as cult classic Xbox 360 actioner Dark Sector, only thousands of years in the future. The story begins with the player waking from cryosleep as a member of the Tenno, an ancient race of warriors (space ninjas).
As a Tenno, you'll select and customize a Warframe, your own distinctive armor with unique stats and abilities. Essentially, a Warframe is a unique playable character. The game offers more than 20 totally different Warframes to craft or buy. Each of these plays differently and levels up independently.
The same applies to the huge arsenal of weapons, which include a variety of guns, bows, and melee instruments like swords and staves. If you like collecting and leveling up characters and equipment, this will be your dream game.
Warframe is not an MMO, but it certainly recalls mission-based multiplayer RPGs of yore like Phantasy Star Online and Universe. You suit up, customize weapons and equipment, and craft items in your personal hub ship. When you're ready to play, select from over 10 planets or planetoids to visit. Each location offers numerous missions to complete. The actual maps are randomly generated, so you'll never see the same one twice.
You can go on missions alone or form a team of up to four players, which makes things much easier and more enjoyable. Warframe also boasts a robust clan system. Clans can unlock a variety of Warframes, weapons, and items for their members to craft, so you definitely want to join one. Our Windows Central clan happens to be seeking active players – see this forum thread for details.
It can be hard to get the free to play model right, but Warframe is one of the most fairly monetized F2P games I've ever played. You can play through every mission and experience the whole game without spending a thing. The in-game store sells premium characters, weapons, and items, but nearly all of those can be crafted instead of bought. And if you really get into the game, picking up a premium character is certainly a great way to extend your fun and support the developers.
With so many characters and so much to do, Warframe is one of the most expansive and enjoyable downloadable games on Xbox One. Try it and you might find yourself playing it more than your retail games! Learn more about the gameplay from our original review.
Warframe – Xbox One – 7+ GB – Free – Xbox.com Link

(opens in new tab)
Honorable mentions
I play a lot of games, but even I missed out on a few great games like Shadow of Mordor and Dragon Age: Inquisition that might have otherwise made their way onto my list. I haven't even booted up Titanfall or Sunset Overdrive either. I would likely have put Grand Theft Auto V on here too, but I've played it too little to tell. A game like that is a super obvious choice and doesn't need my help anyway.
If you enjoyed this roundup, be sure to check out our Best Xbox Games of 2015 and Worst Xbox Games of 2015 stories!
What do you guys think of these picks? Did I leave out any of your favorite Xbox One games of 2014?
Windows Central Newsletter
Get the best of Windows Central in your inbox, every day!
Paul Acevedo is the Games Editor at Windows Central. A lifelong gamer, he has written about videogames for over 15 years and reviewed over 350 games for our site. Follow him on Twitter @PaulRAcevedo. Don't hate. Appreciate!
paul new author on @windowscentral ?

I've been with the site nearly four years!

LOL. I would have just gone with it and said yes, I started today.

LOL True talent is never appreciated in its time...

LOL! Now that's offensive.

LMAO, you must be a new reader here to not know who Paul is!

Time to leave this planet

Paul, do you mind sharing your gamer tag? I Would like to follow you like the other WindowsCentral guys! Mine is Briggz Country and I also love to play ALOT of different games :)

Sure! My Gamertag is EastX. Playing a variety of games is good! That's what this list was all about. :)

My fav started out as Forza Horizon 2 then Halo MCC but slowly but surely Warframe is becoming my goto game when I turn the XB1 on. I still throw in a bit of Angry Birds Star Wars to entertain the little one. Great list, still some of those I haven't played but I'll be getting a HDD soon so I'll have more room to store games!

I haven't played any of the games on this list. I've played Warframe on PC though.

You missed AC : Unity, Black Flag, Titanfall and so many more.

I'm on the fence about AC Unity but Black Flag is awesome.

Always happy to hear about what games you guys enjoy! I definitely want to play both AC Unity and Titanfall, but I haven't have a chance to try them yet.

I haven't ENJOYED any game as I do not have enough money to buy an Xbox One. In the US, the Kinect version might cost $400 but here in India it's just the double. For around $800, amazon.in sells the Kinect version of Xbox One, AC: Unity, AC: Black Flag, Dance Central and an additional controller. If I were in the US, I would have bought it by now. Currently, I get a bit satisfied watching YouTube videos of the games.

Sorry to hear that. I hope you can get one eventually!

My top games that I played this year by number of hours spent.: Diablo 3 UEE, Forza Horizon 2, AC Unity and now Shadow of Mordor. On platformers I like Trials and Guacamelee.

Nice choices! Trials is too frustrating for me, but I know lots of players love it.

"Halo: the Master Chief Collection was poised to be my shooter of the year, but its continuing online multiplayer woes prevent me from including it on this list." Hear ya. Feel ya. 3/8 games being free. Interesting first for a GOTY gaming article. Strider - PS+ Guacamelee - GFG Warframe - FTP on both consoles + PC Enjoyed the coverage & discussion in 2014 Paul... looking forward to more this year

Great article Paul. I loved Guacamelee also. The games i have really enjoyed in 2014 are COD: Advance Warfare campaign, Fifa 15, Titanfall, Max: Curse of the brotherhood. Non Xbox One games - Order & Chaos, Football Manager 2014.

Uhhh, RYSE!! (stones incoming lol)

Ryse is a 2013 release so it was ineligible.

Ha! Maybe the real Halo 5 will make my best of 2015 list. :-)

I sure hope you are right about that. I have big hopes for that game.

It's interesting that your screenshot for Sniper Elite III shows the guy's arm cut in two. Maybe another shot would have been better?

Thanks for catching that. Replaced with a better shot.

The Xbox One games I've played the most are Titanfall, Destiny, and GTA5. I really like Sunsert Overdrive but I haven't played it enough to say its GOTY for me. GTA5 originally came out last year. Even though I have very little desire to play it now (the DLC splitting some playlists bothers me), I'd have to go with Destiny as I had a lot of fun with it, despite all it's issues.

Yeah, I didn't disqualify GTA for coming out on other platforms in 2013 - if I did that, I'd have to disqualify Rayman Legends and Guacamelee too. I just didn't get to play GTA V enough since the fall was such a busy season. Have you tried Warframe? If so, how do you feel it compares to Destiny?

No I've downloaded it but have never actually launched it. I watched most of the stream you did for Warframe and I want to give it a try. I didn't want to join in the clan since I don't know if I'll stick with it and there's a finite cap on it, so I didn't want to take up a spot yet

Gotcha. You'll have to let me know how you like it once you play!

Great choices. Love the Jackbox party pack and guacamelee. Also love playing Titanfall and sunset overdrive.

FAR CRY 4 is the most fun I have had in a game for a long time.

Haven't even TRIED Titanfall or Sunset Overdrive!? Whaaaaa!? Anyways, I enjoyed you list. It was nice to hear about some of the lesser know, non-AAA titles that really shined.

I would have played Sunset Overdrive on release day, but there was an issue with the code that came with my white console that we didn't get cleared up until later. I definitely want to play both games, it's just hard to pull myself away from Forza and Warframe during the tiny amount of free gaming time that I get. Really glad you enjoyed the list. :-D

I am playing Far Cry 4 right now and it should have made one of your lists. While it isn't as good as Far Cry 3, it is still quite impressive.
Also when you compared Warframe to Phantasy Star Universe I was reminded that PSO2 isn't out in the USA and I got pissed! Warframe isn't an MMO and PSO2 is. There are cities to explore with many people showing up on your screen in PSO1 and 2 and also in Universe. The closest thing in Warframe you get to an MMO experience is walking around in a clan ship. Phantasy Star for life even though I hate Sega for not giving me PSO2.

I don't think any of us at Windows Central played Far Cry 4 - shame that Ubisoft didn't hook us up with a review copy (not that we asked). I am interested in the game though. True, Warframe is not an MMO. Onigiri is the first MMO for Xbox One, unless you count Neverwinter (currently not playable outside of China). The similarities between Warframe and PSO/PSU are in the co-op level structure, descending to planets as a team of 4 and working through maps. Indeed it's a huge shame that Sega chose not to release PSO2 over here! I pestered them about it during an interview early last year, but I don't think they're going to change their minds.

FC4 is basically more FC3 in a different place. I'm okay with them doing a "Lets reuse everything!" like COD this time, but I think FC5 should be majorly reworked. As for Phantasy Star Online 2, I heard it is a legal issue between Sega Japan and Sega USA that is stopping it from coming here. I would still like to know whether or not is actually going to come rather than be left hangin. I seem to be left hanging enough with WP. Haha.

Paul, you weren't kidding on the Saturday Twitch stream. I might have to reconsider Warframe...
Everything else I'm right there with you (haven't played Sniper Elite 3 though, and Dynasty Warriors isn't my wheelhouse tbh)

I completely agree with most of this list! O ly ones I can't agree with are the ones I haven't played (sniper elite, which I wanna play, and warriors). Awesome list though, very well done! I appreciate all your work Paul!

Got my Xbox One about a month ago. Titanfall is really fun, Halo has been cool, we had a blast playing Dance Central and Just Danse with the family, Halo Spartan Assault was great game i picked up for a couple of dollars on sale... Overall I am thrilled so far. I picked up Sunset Overdrive on boxing day for 25$ I have have been blown away. The learning curves is a little tough at first but stick with it the games gets soooo much better as you progress. This game is insanely addictive and fun. It's like all your favorite games mashed into one... from Jet Set Radio, Tony Hawk, Crackdown, Saints Row and Dead Rising!!! I also really like the NFL app, it is awesome. We need a few more apps for Xbox One, any reason why there are so few?

Good to hear you're enjoying your new console! The number of Xbox One users compared to say, Android or Xbox 360 users, is still really small since the platform is so new. As time passes and sales increase, more and more apps will be created.

Glad to see Rayman Legends on this list, one of my favorites from the past couple years.

Good choices. There are a few on your list I haven't played. You should play sunset overdrive :)

Nice choices Paul. We should game online sometime.

That would be rad! Do you play Warframe or Forza Horizon 2? Those are my go-to games lately.

Paul, love the round up. For me, Plants Vs Zombies, Defence Grid and Trials Fusion have kept me going. Max and the Curse of Brotherhood is one I also enjoyed. Not had more than an hour on Sunset Overdrive, but I wanna get into it. Titanfall is good, but I wouldn't have got it unless it had dropped to £10, which is insane value. Valiant Hearts, Child of Light and Contrast are ones I am eager to try. As is Peggle 2, but I may wait and get EA Access once their Vault has some other stuff I want. Rayman is one I fancy too, just need it to drop to a silly price.

You missed out on Titanfall. It was my favorite game of 2014.

Enjoyed your summary, Paul! Nice to read about games you don't hear a lot about otherwise.

Fantastic piece Paul. Really like the diversity of games. Will need to try Warframe. Now if I could just follow my New Year resolution and slog through my game backlog...

Thanks Avatar! Would be great to play Warframe with you sometime. And good luck with that resolution - mine is getting in shape. :)

I'm an XBOX One newbie and have been enjoying Forza Horizons 2 and Tomb Raider - Definiive Edition mostly and dabbling with FIFA 15 some.

Good choices! I still need to pick Tomb Raider up sometime.

Great breakdown of all those games Paul! Forza Horizon 2 is definitely on top of my list as well and I love Guacamelee and Warframe. Too many to choose from, but you did a great job of categorizing your best of / favorites.

Thanks for the kind words, LightCycle (and everybody else). :)

The more I play Warframe the more i love it! I love how in-depth the gameplay is, unlike a certain Bungie title out there...

WARFRAME CELTICDRAIGON clan not windows central as I have played this as soon as it released xbone but I'll help anyone. Inv to voids ;D

Destiny, Forza Horizon 2, Sunset Overdrive, Call of Duty Advanced Warfare, Assassin's Creed Unity, Shadow of Mordor, Far Cry 4, GTA5, The Evil Within & Alien Isolation.

No destiny in your list...wow

Guacamelee is such a good choice. Such an amazing game, and the combat is so much better than you see in the average 2D game! Also had some great times with Fibbage with some friends! It can be a riot if you get enough people playing!

Hi from late 2015. I did end up getting some of these games. Its amazing how many more games are on the xbox one now compared to 2014. Paul this years list will not be easy.