Forza Motorsport 6: Apex update offers UI and stability fixes, lets you disable Vsync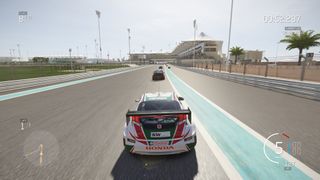 Forza Motorsport 6: Apex has picked up its first update, which includes UI and performance fixes. While there isn't an option to unlock the framerate yet — that's said to be coming in a future update — you can now disable Vsync.
Here's what's new, according to the changelog:
Players can now disable Vsync in Apex (NOTE: This feature requires upgrading to a specific version of Windows 10 [OS Build 10586.318])
Stability and performance updates spanning a number of machine configurations, with specific focus on AMD devices
Gameplay/objective modifications to a handful of events in both the Showcase Tour and Spotlight Series
Improved integration between Apex and Forza Hub, as well as improved redemption flow for the free Nissan GT-R bonus car
Additional UI fixes and general improvements, including: Expiration times for Spotlight Series events are now shown in local time; "New" UI designation now only applies to events that are actually new; Total medals available in Spotlight Series now only counts for active events
It looks like the update is leading to errors during launch (501 Error Code). If you're facing the issue, there's a fix:
Forza Motorsport 6: Apex preview
Windows Central Newsletter
Get the best of Windows Central in in your inbox, every day!
Harish Jonnalagadda is a Senior Editor overseeing Asia for Android Central, Windows Central's sister site. When not reviewing phones, he's testing PC hardware, including video cards, motherboards, gaming accessories, and keyboards.
Not seeing the update quite yet, but can anybody confirm if it's a full 19GB download, or if it just downloads a patch like on other stores?

I can confirm no update yet

Installed yesterday, 300 mb.

I already went through all the tracks and races on it...Hit the 100g achivement on it (finishing it). More content is what I want..

Beta my friend. It's free and it's beta :P Posted via the Windows Central App for Android, still love me some Windows Phones

Well gonna install that when i get the time, hopefully after that i'll be able to launch it on my Surface Pro 4 i5, since the actual version doesn't want to start

Unfortunately it still errors at start and when I do the page down trick it still tells me below spec. I am on an i5 SB with dGPU. Not too happy. Oh well, I didn't buy it for gaming. Still frustrating though.

I don't think it will run on the iGPU in the Surface Pro line, it will run medium on a GTX960 (desktop card, not the 960M) at 1080/60fps but it won't go much higher. The 960 is a budget card but not bad compared to the integrated cards - I don't think the Surface Pros will handle it even on the lowest setting (I've got a SP3 and haven't bothered trying it on there)

I need this game on my Lumia 640XL :-p

Game is really nice. Getting 40+ fps (without aa) on ultra with my r7 250x. Looking forward to the steering wheel support. Want to get the logitech driving force gt :)

can't disable V-sync in Insider Preview (RS1) builds. The new Windows Update is only for Th2, so us users in the new build of Windows 10 won't get a feature that the people on older build is enjoying.

Not true. Check the options properly.

Not sure I want try after the load nfs put on my m18x r2

Why did Microsoft create a PC game that cannot run on a Surface Pro ? I understand having the right graphics card gives optimum performance but surely they could have allowed for both ?
Windows Central Newsletter
Thank you for signing up to Windows Central. You will receive a verification email shortly.
There was a problem. Please refresh the page and try again.