Forza Motorsport 6 NASCAR expansion is official; 24 new cars to race and available today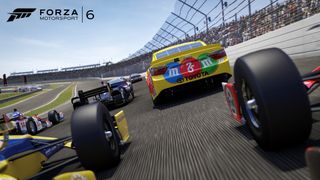 Having been leaked recently, today Microsoft is officially announcing its NASCAR expansion for Forza Motorsport 6 on the Xbox One. The new expansion will add 24 new race cars to the mix as well as a brand new location in the form of the Miami Homestead circuit.
The expansion adds a new World Tour career mode to Forza 6 which Microsoft says is good for 10 hours of additional racing. It's described as the ultimate "what if," pitting America's finest stock cars against other elite racers from across the globe.
The new location, Miami Homestead, will be available to play in all modes of the game and will also include new NASCAR themed leagues and rival events. The cars come from a variety of teams including Team Penske, Hendrick Motorsports, Stewart-Haas Racing, Joe Gibbs Racing and Chip Ganassi Racing.
The NASCAR expansion also adds a couple of new mechanics to Forza 6 for the first time. There's now a rolling start as well as a more complex drafting system, essential for NASCAR success.
The expansion pack will cost $20 and is set to be available starting today. Find out more over at ForzaMotorsport.net
Windows Central Newsletter
Get the best of Windows Central in in your inbox, every day!
Managing Editor - Tech, Reviews
Richard Devine is a Managing Editor at Windows Central with over a decade of experience. A former Project Manager and long-term tech addict, he joined Mobile Nations in 2011 and has been found on Android Central and iMore as well as Windows Central. Currently, you'll find him steering the site's coverage of all manner of PC hardware and reviews. Find him on Mastodon at mstdn.social/@richdevine
Man, this looks good! I'm so getting my hands on this when I get it!

Off the topic but i want to ask question??? Should i purchase gaming console or build a powerful gaming pc ?? I still love my ex lumia 520

If you just want to play games and not worry if your PC will run X game, buy a console. You could buy a cheaper PC which could run modern games but forget about 4K, ultra settings and 999 FPS PC enthusiasts like to bloat about.

You don't have to buy a very powerfull PC right off the bat. You could go for a medium one and just upgrade it as time goes by (like buying a new GPU every 2 -3 years)

Do you want to spend $300 and never have to worry about upgrading? Or do you want to spend 2-3 times that and have to worry about upgrading? I like the former; consoles are my preference.

The flip side is: Do you want to spend $300 dollars and get average graphics and performance, or spend 3 times that and get superior performance that can be easily upgraded to stay ahead of any console?

Buy whatever has the games you want to play. Thats all you need to be asking yourself.

Is the new ford mustang gt350 R on here yet?

It was on the game before the actual release of the car. The only problem is the stats of the car are all wrong. On the game the z/28 isn't as fast in a straight line but carves the corners better. Real life test have shown the gt350R is faster in a straight line, stops better, has higher mid corner speeds and higher corner exit speeds due to being able to put the power down better. They've updated the sound of the car but not the physics of the car.

They should just make a NASCAR game. I would buy it. Less interested in half a roster and 10% of the tracks.

I agree. Still buying it for sure, but I would love for Turn 10 to build a full game.

I would, but I traded in Forza 6 monthg ago, and don't care to pay for it again, then pay for the DLC as well. With the likelihood of a FH3 this year (or something else from Turn 10), I'll just hold off until E3 before I consider this. That, and I'll wait for a sub-$30 sale of the base game.

I am playing right now. Turn 10 did a great job. Quite impressed, actually. But yeah, I hear ya. Buying it twice would suck... It's really good though. :)

The nascars in the game are so unrealistic. They basically gave you a ferrari with a NASCAR body on it. I would much rather buy a real nascar game...

There's supposed to be one coming out this year by dmi but Eutechnyx is making it.
But I'll pass on that.
I bought the 1st game Eutechnyx made it was unplayable, I'll never buy one from them again.

My understanding was that the last Eutechnyx game has already shipped, NASCAR '15 Victory Edition. (Not on Xbox) The next game will be from DMI, later this year, early next. I hope so...

Doesn't mean there isn't awesome racing.

Lol I don't mind it, in truth I find it quite entertaining. Haven't been able to see one live myself being in Jamaica and all

It is amazing live. The sounds, the smell of burning fuel and tires, the food. All of it is amazing. Quite a site to see. I have been to 5 in person, but I have watched every race I can every weekend for 20+ years (Damn that makes me sound old). I am a fan. (wearing my Dale Jr. Windows 10 hat right now!)

Lol I'll take your word for it Xsled. #WordsOfATrueFan

Hmmmm, been waiting for a good NASCAR game on the One now for a while. May have to jump on this. Decisions decisions decisions Posted via the Windows Central App for Symbian

And Forza enters the world of Arcade :( Leave the gimmicks in Horizon, and stick to purity in Forza. What a Stock Car is doing on track with an Audi LMP1 I will never know. Like they aren't even almost in the same league! Also the Indy Car pairing... Just embarassing. You want to let people hold NASCAR races at Spa, fine, but don't throw in ridiculous pairings

Is Forza a complete Sim, no but you throwing a fit over a video of a nascar sharing a track with a prototype and or indy car. It's a game and there are people who would want to compare the two cars. If that's a problem then the Forza series is fiasco cause there is a boat load of different racing disciplines in the game. I'm sure you know that nascar does race on road circuits so racing at SPA or anywhere else fancy wont hurt.

I don't see how that turns the game from sim to arcade. You're right an LMP1 car is in another class, but if folks want to race a stock car on spa let them. It's all just fun. Forza has an arcade game and it's called Forza horizon.

Anyone know if hot wheels shipped this month's car yet

Quite honestly, its really not worth it. Basically all turn10 did was take a ferrari, butchered the handling, and put a NASCAR body on it. Totally not worth the $20 I spent. Ive been waiting for a new NASCAR game for a while now and this was a major dissapoiment... I guess now I will just have to wait for DMR to ship the new NASCAR...
Windows Central Newsletter
Thank you for signing up to Windows Central. You will receive a verification email shortly.
There was a problem. Please refresh the page and try again.