New Foundbite update adds transparent tile, likes, tile notifications and more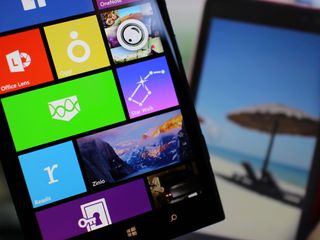 Foundbite is one of our favorite apps on Windows Phone. Why? It's a solid app that's really fun and it's exclusive to Windows Phone. We don't have too many apps that are 100 percent unique to Windows Phone, but the few we do are really good. Foundbite has also just been updated today, so we're going to take a look at some of the new features in this latest version.
The last update for Foundbite came in early April. That was version 1.5 and introduced new features like photos automatically saving to the camera roll, a redesigned feed and more. It also introduced Pioneer, a new pro subscription within Foundbite that gives users extended profiles with a bio and links to other social networks. With Foundbite Pioneer you're also able to capture longer sounds and higher quality images. It goes for $2.99 per year.
Today we're looking at 1.6.1.0 in the Windows Phone Store for Foundbite. Here's the changelog for the most recent update:
Fast app resume improved
Transparent tile
Tile notifications
See when foundbites were taken
Mapping - Foundbite's equivalent of liking, allowing you to create a map of your favorite foundbites.
Import photos on the camera viewer to add sound
Upload bug fix
Foundbite fans on Windows Phone 8.1 will be pretty happy to get support for a transparent tile. Everyone else can look forward to fast app resume being improved, notifications on the tile, and the ability to see when foundbites were taken. You'll also notice a redesigned Foundbite viewing page.
A new feature we're excited to play around with is the ability to 'like' content. Though it's called Mapping in Foundbite and gives you the ability to create a map of your favorite foundbites. To add foundbites to this map just favorite them. This a cool move and makes likes/favorites a little more meaningful and useful.
What's next for Foundbite?
The team has been fairly quiet with features on the Windows Phone app from because they've been tweaking the website. There's a site redesign happening behind the scenes and we can't wait to see what the Foundbite team has planned.
Foundbite is an awesome app and social network for Windows Phone fans. You can create foundbites, which are a collection of images with the ambient sounds of the world from those images. Download the newest update and let us know what you think of the app!
Windows Central Newsletter
Get the best of Windows Central in your inbox, every day!
Nice (I'm too high to read the whole article, this Zubat don't even let me walk away)

That's what's up! Sharing is caring. ;P

Just when I think I know street names for drugs something new comes up; What's Zubat?

Take Picture.
Add background sounds.
Upload it.
Done.

Thank you for this answer, read the hole article, not a clue what the app does!

What don't you understand? It lets you add audio to pictures. Example: If you see a live band play, you take the picture and you can record a clip of the song to go with it. Example: Take a picture of the sunset at the beach and record the waves to play along while viewing the image.

i'm sorry, i think i conveyed some sarcasm there, i was truly grateful with this answer it was clear and to the point. In the article the author kinda explains what the app is all about but i never saw it as clear as it should

Oh. Gotcha. Try it out. It's fun! :)

Sam, why would someone pin the dev preview app ?

Because they like to live life on the edge? And they were using it for a photo about the Dev Preview program?

It's funny that it has a wide tile though, no?

Live tile updates when there's a phone update.*

Are you sure?... Or assuming?

Been using this since day one. Great developer and great app

FB sign in doesn't work for me for some reason

How else are you going to show your beautiful background image?

Seriously, why can't I choose which tiles are and aren't transparent? Is it not possible for developers to make it optional? Eventually my start screen is going to be entirely transparent or monochrome (bleh).

Doesn't matter now.. WP is dead once MS makes those LumiaDroid devices...

How many apps do u have on u're phone???

What kind of phone do you have?

It's the 820 , if the 830 was release i would buy it ;)

Dude, are you high ? :D
It's not 2025 yet

Well, not 2017, but it does exist.... You must be sober...

This new update are just bug fixes.
The update before this is that added all of that.

don't know if it's tru or not... just came across it http://www.windowsphone.com/s?appid=611e38dd-52a4-493c-9bec-cd4351d9d3e3

i don't have the required permitions... anyways... nobody i know use BBM and they probably don't know it exist lol. i know i wouldn't if the internets weren't so annoying about it hihihi

BBM http://www.windowsphone.com/en-us/store/app/bbm/611e38dd-52a4-493c-9bec-...

The story right above this one covered this.

I love this app. Why isn't anyone wetting themselves about it being "official"? Is it because it's WP exclusive and there's no iEnvy involved? Hmmmm...

How did you guys get your tile to have different colours + transparency Daniel? Perhaps you guys should do a tutorial for other developers. I actually do not like transparency. I prefer the colors.