Four Accessories to Consider if You're Connecting a PC Compute Stick to Your TV
Using a PC Compute Stick with your television? Don't forget these four essential accessories!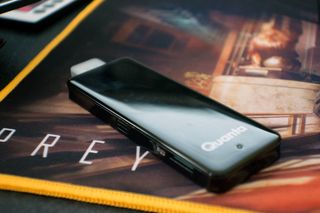 PC Compute Sticks are an incredible way to turn any TV with an HDMI port into a smart TV, not to mention an excellent way to carry important files around with you in your pocket.
If you're serious about turning your living room TV into a functional computer that doesn't make you miss a conventional laptop or PC, you're going to need a few extra items to make your life easier. These are four accessories are essential for anyone who is using a PC Compute Stick with their TV.
Mini Bluetooth Keyboard
Let's face it, you're going to need to type something at some point, and the easiest way to get a keyboard hooked up to your Compute Stick is via Bluetooth.
Now, any Bluetooth keyboard will work, but a small one is such a good idea. It's easier to carrying around and easier to store, meaning it won't leave your living room looking like a mess.
The Arteck mini Bluetooth keyboard is the perfect tiny typing device for your Compute Stick. Its rechargeable battery will last up to six months, meaning you won't have to deal with running out of power. Plus, the keys are backlit, making it easy to use in the dark when you're watching movies.
You can pick up an Arteck mini Bluetooth keyboard for about $60.
Mini Bluetooth Mouse
Just like a wireless keyboard, the easiest way to use a mouse with your PC Compute Stick is via Bluetooth. You won't need anything fancy, just something good enough to get the job done. Once again, having a small mouse will make it easier to lug around or store when your PC Stick is not in use.
The Logitech M187 mini mouse is a fantastic basic mouse to use with your PC Stick. With both left and right click buttons, plus a scroll wheel, you'll be able to perform all the basic functions of a mouse with ease.
You can pick up the Logitech M187 mini mouse for about $10.
USB-A extension cable
Your PC Compute Stick will most likely have a couple of USB ports available for plugging in your various peripherals; however, those USB ports will be on the back of your TV making them less than convenient to reach. A solid USB-A extension cable will give you the extra reach you need to make those USB ports more accessible.
The AmazonBasics 9.8-foot USB-A extension cable will give you all the reach you need to make those USB ports more useful. Plus, it only cost about $6.
microSD card
Some of the best PC Compute Stick comes with a microSD card slot to expand the storage. If you use your PC Stick a lot, you're going to want a good microSD to help you store files, pictures, documents, or anything else you want to carry around.
PNY's PRO Elite 128GB card adds plenty of storage and the speeds you need. Being U3 it is ideal for video, and it is capable of up to 95MB/s on the read, and 90MB/s on write. At around $70, this isn't a cheap option, but it is a highly-rated, reliable one.
Need to know which PC Compute Stick is the best?
There are plenty of PC Compute Sticks on the market, and you want the best one. Head over to our Best PC Compute Sticks article and see which one is the right fit for you!
Which accessories do you use?
Tell us what you like to use with your PC Compute Stick in the comments below!
Get the Windows Central Newsletter
All the latest news, reviews, and guides for Windows and Xbox diehards.