A free Forza Horizon 3 demo is now available on Windows 10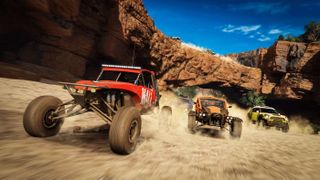 Microsoft has released a free demo for Forza Horizon 3 on PC today, allowing any Windows 10 users to get a taste of the game for no additional cost.
Similarly to the Xbox One trial, the Windows 10 demo will give players limited access to the world of Forza Horizon 3. Access will span both single-player and multiplayer, providing a small example of the features offered in the full game.
Alongside the release of the PC demo, it has also been announced that the Xbox One version will also be getting a small update. The update is set to add HDR support for the Xbox One S, which was previously restricted to the full game.
Will you be picking up the Forza Horizon 3 demo? Make sure to let us know in the comments!
Matt Brown is Windows Central's Senior Editor, Xbox & PC, at Future. Following over seven years of professional consumer technology and gaming coverage, he's focused on the world of Microsoft's gaming efforts. You can follow him on Twitter @mattjbrown.
Hopefully the demo doesn't crash at the Playground Games logo like the full version for Windows 10 does. If I didn't have a Xbox One to play Horizon 3 on as backup, I would be pretty upset after spending nearly $135 dollars on the Ultimate Edition, Treasure Map and Expansion DLCs. The game looks and runs amazing on my computer when it decides to work and it still looks amazing as an Xbox One title. The graphics are just amazing anyway I look at it, the attention to detail amd scope of the environment is staggering.

I haven't experienced any crashing on my amd 480

That's great! I almost bought a 480 but my GTX 780 died and it was replaced under warranty with a GTX 970 Superclocked and it seems that beyond that vast increase in RAM and efficiency, the AMD 480 isn't a huge jump over my new 970 in benchmarks to warrant a new purchase over a free 970. I'll probably wait a year or two and then upgrade. What resolution and settings do you use for Horizon? I play with all settings maxed, locked at 30FPS, 1080p, single monitor. Core i5 4670K @ 3.4 GHz
EVGA GTX 970 Superclocked with ACX 2.0 cooler
12GB RAM
Xbox 360/Xbox One controller

No issue on PC since launch. Treasure map is a noob scam, you could have save some money with a quick Google search.
There is a great interactive map available online.

Treasure map isn't a noob scam. It's for people who don't mind spending $2.99 to see all of the locations in game and be able to be navigated directly to the bonus signs. Just like in real life, I'd rather set a destination in my navigation app than to rely and have to keep looking at a map. Why would I want to do something that takes me "out of the game" and o to another device to look at Maps when I can just focus on driving and playing the game. For me, $2.99 is worth in game integration, navigation and ease of access inside the game, that keeps my focus inside the game. I'm glad they there are helpful things online though as we all need options and help sometimes, I just chose to pay $2.99 for the easiest and most direct help. I wish I didn't have any issues with the game crashing but if you do a Bing (Google if you prefer) search for Forza Horizon 3 crashing on PC, you'll find many posts and articles about this. It's odd because it isn't a problem with UWP as my other triple A games don't have this issue.

With the demo, can you use a steering wheel? Logitech G920? That's what I would like to try with first.

I'd like to know too. I haven't bought a controller yet for it. What is a good one to use? I was looking at the Logitech G920 with shifter on Amazon. This would be my first game with that type of controller; outside of FSX. I have everything for that (yoke, rudders, throttles). But for FH3 I'd like a wheel, pedals and shifter. The only thing that concerns me is some of the negative reviews on Amazon for it.

A wheel for an arcade racing game. Really? This isn't Forza 6.

What's your point? It's called having fun right? This is why options exist.

Totally understand options exist. But spending money on a good wheel specifically for an arcade racer I didn't think people did. Maybe I'm out of touch.

I didn't specifically buy it for forza games. I bought it for racing in general for use with PC and my Xbox 1. And note I said id like to try it with the wheel. I think it could be fun.

Forza 6 is not really a sim too, m80.

Actually fora 6 is as sim as you want it. It's the only racing title on any medium where the teal life tracks are laser traced to the milometer. Providing a realism on the track feedback other games don't have. But that's another discussion.

it's not sim. Period. It is a good simcade game, yes, but it's not really a serious simulator.

I would like to know why? Sure the game has options to allow the game to effectively drive for you. So even beginners can play. But with the settings tuned for sim, its a full on sim. And the amount of set up options and tuning options you can do to find an extra tenth is crazy. It also has the most realiatic behaviour of wet weather racing on any game. With 3d puddles and true aquaplaning and water pull. Having played rfactor and others I fail to see how it's not a tip class simulator.

Well honestly its not that bad. The brake is quite stiff, some have modded that but I haven't. I like the feeling overall physically of it. I have the shifter as well. I got mine for around 275 plus 50 for shifter on amazon. For me the only downside is that there's not as many games for it yet as the older version. But that should come with time. It is geared though and not belt driven. But for cost wise for a good belt one I'm happy with the one I have. I find it to Def be a good starting ground as this is my first wheel.

I saw that brake mod on Amazon. What do you mean on a belt drive? For the wheel? (Yes, I'm new at this!). I do have some steam games with the steam controller that I can't yet quite master - getting there though! Probably should have bought the xbox/pc controller.

Yea for the wheel steering, Belt Drive is a belt type inside the wheel unit instead of metal gearing. But the nicer ones are really expensive. I haven't tried the steam controller as I use my black 360 controller on pc with an adapter for wireless play from eBay for like 8 bucks.

One more thing, I bought the g920 so that I can use it between my Xbox one and my PC. Not many wheels you can I believe. But in this regard it works well for it.

I will play this 12 months from now. :)

What about us 950XL owners?

Best racer ever made..simply gorgeous. And so much fun.

Does anyone else have a bit of sluggish response from the steering when driving in the game? I played a lot of FH2 and that game was much more responsive than FH3. Maybe I just have to get used to it?
Windows Central Newsletter
Thank you for signing up to Windows Central. You will receive a verification email shortly.
There was a problem. Please refresh the page and try again.