Free Windows Media Center offer ending today, be sure to upgrade now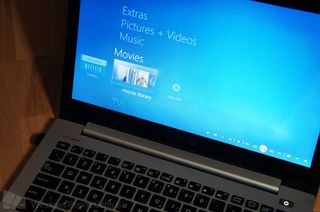 Microsoft is wrapping up its limited special offer on Windows 8 upgrades for consumers today. As well as this, the free offer on Windows Media Center (windows.microsoft.com (opens in new tab)) for Windows 8 Pro is also coming to an end. The company has offered free product keys for those with Windows Pro to add Media Center and enjoy functionality not offered in a vanilla Windows installation.
We previously looked at the free upgrade back when Windows 8 launched, but if you're not familiar with the product what can Media Center do for you? Microsoft created the product for use with TV tuners to record shows and other media. Not only that, but as well as playing movies, music, viewing photos - basically acting like a giant media player - Media Center also allows you to stream content to your Xbox 360.
But how does one get hold of a product key?
1. All that's required to take full advantage of the offer is a valid email address. Simply populate the supplied field, complete the captcha form and you'll then receive an email with the product key.
2. With the product key at hand, bring up search using the gestures on the PC you wish to add Media Center to, type in "add features" and hit the Settings filter.
3. After launching the Add features to Windows 8, choose "I already have a product key" and enter in the product key you received in the email.
The PC will then reboot and Windows Media Center should be installed and ready to go. It's a great offer for consumers to take advantage of. You can head on over to Microsoft's website (opens in new tab) to get your free Windows Media Center upgrade product key before the day ends. Be sure to check out the terms and conditions for more information on the free offer.
It's also worth mentioning that not only is today the last day you can apply for the offer, but also the deadline to utilise it, so make sure you're activating that key as soon as you get the e-mail folks!
Rich Edmonds is Senior Editor of PC hardware at Windows Central, covering everything related to PC components and NAS. He's been involved in technology for more than a decade and knows a thing or two about the magic inside a PC chassis. You can follow him over on Twitter at @RichEdmonds.
Wish it played blu ray discs...

What's the price going to be after today??

Same here, it's disappointing that is not a feature of windows 8.

Same. No worries for me. I never used it anyway.

My windows media player stoped working on my windows 7netbook

I have a key and installed on my Windows 8 partition. If I need to reinstall at some point or want to rebuld it, will this key work later to reinstall it ? Or is it tied to your email account to reinstall (like WP apps/games are) ?

Does anyone know this for sure ??

Its not tied to an ID though be sure you activate it with the new key.

I am not trying to be an a$$ but seriously, who uses media center? With other options like Xbox with smartglass there is no reason for media center. Unless one prefers the library features. I just never spent the time to actually use it.

I have it on 2 tvs. Its my DVR and a fine one at that.

Use it every single day, the interface allows me to use my computer as a media centre using a remote control from my bed. Awesome.

I was a Windows Media Center MVP for 2010 and 2011. I use it as a primary DVR in my home, giving me cablecard access to all my channels, streaming TV, DVD/Blu-ray rip Movie library, and tons of cool 3rd party apps from Youtube to revision3.

and you can even use a xbox 360 as a media center exender and watch live tv from it.

It's not that good with a keyboard and mouse but, get yourself a remote for Media Center and it works awsome...

XBMC - and you can use your phone as a remote :)

Plus, it'll scrape media files if you've got them. DRM is a problem, though.

4 Tuners that can record all of my channels onto a 1.5 Terabyte drive. Blows away the DVR the cable company can give me, and I don't have to pay 19.99 a month for it.

Everyone in my family uses it. We don't all necessarily watch the same movie on the same screen at the same time.

With the amount of codecs it has, I use to stream a lot of video from my computer to my Xbox and watch it on the big screen. It's hard trying to find something that it won't play, at least in my case.

Yeah, I use to play most of my 1080p movies on the Xbox 360 since Zune and wmp have bandwidth limits that vary on the media files container format.

I know this might sound crazy, but not everyone has an Xbox. I've used Media Centre ever since Windows 7 was launched, for movies, music, pictures and tv. Its really simple to use and works well on any decent machine.

You are really missing out by not checking out Media Center. We installed it with a Ceton 4 tuner "cable card" PCIe card and 2 XBox (as Media Extenders) to replaced three cable TV boxes. The interface is beautiful. It acts as a whole house Media server for TV, pictures, music, and movies both live and recorded. Any live cable program or recorded media can be viewed on any of the three connected TVs. Music viewed? Yes, Windows Media Center has visuals that you can choose from to play along with the music. Since we have 4 tuners, (I think the maximum limit is 6 or 8) we can record up to 4 different programs at once and be watching 3 other recorded shows. The interface and functionality is so far ahead of the "cable set top box". Those boxes' interfaces look and act primitive by comparison. We have only been a Windows Media Center user for one year and I haven't yet started to explore the add - in features for watching on my Lumia 822 windows phone, or adding in other available features such as for movies. The picture on my 1080p plasma honestly seems better than with the cable set top box. (Is that possible?). You should check it out. Even if you have to pay for it. I did, and it was worth it.

I use it with HDHomeRun for digital cable plus two Xboxes as extenders. Time Warner Cable wanted $35 a month for DVR plus two TVs, the cable card fee is $2.50. Certainly can be a pain to setup at times, but for the technically inclined it's a good way to save some jack while getting a better interface. If you've already got an Xbox it lowers the barrier to entry even more.

I use Media Browser, an add-on to Media Center to stream over 750 movies and hundreds of TV shows to xBox's and media extenders throughout my house. Couldn't live without it....

You have to activate it too, not just request it.

Crap, really? I requested a key a couple days ago but my copy of Windows 8 from Amazon doesn't arrive until today. I really didn't want to race to get it done tonight and was hoping for the weekend but if that's the case, I guess I need to cancel my evening plans.

Well, looking at the footer in the email it states "This promotion ends on January 31, 2013; your product key must be activated no later than February 1, 2013. Microsoft will only contact you at the email address you provide to send you your product key and to remind you when the activation period for your product key is ending."

So, does that mean I'd have until the end of the day tomorrow to activate? Haven't received an email today advising me that it's expiring.

Yes. You are correct. That's what my emails said.

"This promotion ends on January 31, 2013; your product key must be activated no later than February 1, 2013." I sure hope Microsoft's delievery of the key is a heck of a lot faster than it has been. When I requested a key for my machine it took two days. For my wife's machine it took FIVE days. It should take no longer than a few minutes, an hour at the very most.

and the clue may be....
Your product key will be emailed to you within 72 hours. If the email doesn't arrive in your inbox, be sure to check your junk email folder.
So probably too late

I run a tv tuner to my PC, use WMC to record my shows, and MCE Buddy to send converted files to my library for my WP8. The Zune software us to automatically then sync those shows to my phone...but we all know about that circus now.

I was actually just thinking about this yesterday. I'm glad you guys covered it again. Thanks!

I cant. I don't have that install features section! Im going nuts asking Microsoft to help me and the answer I got was "Its free anyway so might not be available to all" WTF!

Are you running enterprise? If so you can't.

If you're running win8 and searching on the start screen, it will show zero results but click "files" under the search field and it will show the result. I had to figure this one out out of frustration.

Put in email and its says they can't complete the request, only updated to win 8 yesterday

That is what I am getting, no matter what email address or when I try, there is a thread at Microsoft answers with more than a few people having the same problem, but no answer from Microsoft (of course).

Are you using the same email address for a second request? IIRC, one request per email address.

No. Email address has never requested before.
as far as I know, no one on the domain has requested before.


I'm getting the same. Have been for two days now. A little annoying but heigh ho, was only taking advantage of the freebie.

I just snatched this up, great thanks.

I entered my e-mail address and it said keys would be mailed out within 72 hours... hopefully sooner....

This is why the surface Pro got delayed til Feb 9th.
However, getting a pro and using your free media center upgrade would have been extra sweet.

I'm so disappointed also. I want to get a Surface Pro in a week so I would have loved to be able to upgrade to Media Center for free. I have a remote for Media Center that I wanted to use with the Surface.

UGH! I forgot about a getting a key for the Surface!

I wonder if you can activate it on an extra computer, then restore it when the surface comes out and use the key there. I don't see why it would be a problem.

Works well done all my machines this week. Registered all my keys by phone.

I think this will only work with Windows 8 Pro, not Windows 8. I have tried both the Pro and standard.

The add feature doesn't sure up when I search settings

Doesnt work, wont do anything after I input email and the code thing, just say they couldn't complete...

Downloaded it but it hangs everytime during scaning of the stations. Thus was never able to watch TV using it. Windows 7 works fine on the same PC.

"Your product key will be mailed to you within 72 hours." Dang it that's my fault...why do I always till the 12th hour to do stuff!?

Yeah, this is annoying. I hope they extend this for people that just requested it. I have Windows 8 and WMC already setup on a laptop, but I want to install it on an AIO (dual-boot with Windows 7) as well. I bought a Windows 8 Pro license and requested the WMC key last night. I hope I get the key by Friday.

Got mine about 2 this afternoon installed key and activated. Works like a charm; hope you faired as well.

Is anyone having a problem with Windows 8 asking for the key code or what to install? Mine comes up with the add feature window which you select or unselect the features. Not seeing windows media.

I used MCE every day as my media hub until Ms announced they weren't keeping it in W8. I switched to XMBC which is great for your HTPC.

I would only look at MCE again if MS was to properly develop it. MCE is not worth paying for in its pesent form

Mine activated today (got the email yesterday (on the 2nd)) I already had another copy activated on another windows installation, but thought might as well do it for my second pc as well, so yeah it activated fine, just now.
Windows Central Newsletter
Thank you for signing up to Windows Central. You will receive a verification email shortly.
There was a problem. Please refresh the page and try again.