Windows 8 has launched so grab yourself a free Media Centre upgrade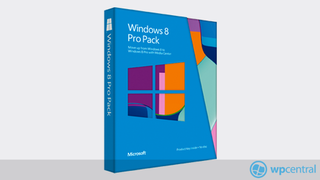 The newest addition of Windows is here and its looking very smart indeed but its lacking one thing, Media Centre.
That's right folks, Microsoft's analytics said only 10% of the Windows user base uses this full featured DVR replacement so are set to charge for it. The good news is, you can get it for free. Read on to find out how..
For those unfamiliar with this often overlooked part of Windows, Media Centre was designed to allow the addition of TV tuners to record all that free to air TV. It even allows you to stream content to your Xbox 360 using who-knows-what kinds of dark forces. I recently reviewed a great Windows Phone app called Ceton Companion which allows you to schedule recordings, use your phone as a remote and all kinds of neat stuff to, and so check that out if you are on this path.
Microsoft will be charging for this additional piece later on so be sure to grab yourself a key just in case you need it down the road. If you haven't tried it, you should. Let's get to it.
Step 1. Go to this website (opens in new tab) you should find a space to put in your email address and a code to prove your human. You will be emailed the product code to your email address, this can take a few hours, depending.
Just pop in your email address.. go on!
*The site seems a little temperamental, if it's not working today for you simply return tomorrow when the offer is officially going live.*
Step 2. Simply follow the instructions on the website to 'Add features to Windows' – its all very straightforward. Once you have done that, the PC will restart and you'll have Media Centre installed.
Really, it couldn't be simpler. Almost no work at all to get something for free, does make us wonder if it wouldn't be easier to just leave it in there. The offer is valid from October 26th through to January 31st 2013 but I wouldn't hang about as things can tend to change…
Are you one of the 10% of Windows users taking advantage of Media Centre, if so tell us what you like about it. If you have some good tips on Windows Phone apps that take advantage of it, we'd like to know about it! Get in those comments and let us know..
Source: Paul Thurrott
Thanks to Mark Tepper for his kind assistance today on this!! :)
Windows Central Newsletter
Get the best of Windows Central in in your inbox, every day!
I don't use it but will still get it in case I use it in the future. I mean, it's free!

I am upgrading my HTPC to Win 8 very soon. I am going to fill the start screen with media apps. Hopefully the apps are remote friendly. The remote for my laptop works with the home screen but doesn't work with the Netflix app. Hopefully an update or my better HTPC remote remedies that.

Remote works if you use Netflix app from within WMC - been using WMC for several years now, and love it. Have a PC dedicated to my TV, and it is my DVR.

The Netflix app is available in Win8 Media Center? If so, that is fine. Been using that for three plus years but I like the Win8 app better than the Media Center one.

I would love to know how well it works for a HTPC. I am a past Media Center MVP and even took the Microsoft certifications for Media Center. I have a good setup using media center with InfiniTV4 and HDhomeruns, with a few Xbox 360s for extenders and tons of 3rd party WMC apps for everything.

I tried it with the beta and you could not even get Media Center to start up when Windows starts. Even the simple setting in Media Center is gone (start media center when windows starts). Runng it from Startup folder or registry will cause the Win8 UI to come up and media center ran in the background. No on top option.

Media Center for Windows 8 has NO CHANGES at all from the Windows 7 version (I think the version number is the same, just the auto start and older non-retail hardware support was removed). There is no real OS intergration with Media Center, its' now just an app, nothing more. Unless there is a major perfomance boost, I see no reason from changing from Windows 7 on my HTPC...

I would love to hear peoples results from it, but, as of now, even if I had 20 spare licenses for Windows 8, I still would keep Windows 7 on my HTPC because of the possable issues.

As they say, if it Aint broke...dont fix it..

I did jump on this yesterday (still waiting for my key to show up), I do run Media Center on my Offfice machine and if I go to Windows 8, it will be usefull, if it's free and does not expire.

I actually have a CableCard system setup with an InfiniTV4, so I'll be getting this for sure, even though I'll likely keep my HTPC on Windows 7 for now.
Another thing to keep in mind is that Windows 8 has some codecs missing vs. Windows 7. The Media Center add-on will add them back.

CFC

Same here. HTPC in the basement with InfiniTV4 from Ceton serves up HD video to 2 xBox 360's and 2 Linksys DMA2200 extenders that I have used for literally years. It's a fantastic setup and I already grabbed my upgrade key for Win 8. Thanks for taking care of us MS.

Bad news. Just got an email from Ceton saying that their driver isn't ready to go yet for the nfiniTV4. Looks like at least a month if not more as they plan to release a beta first then schedule from their as would be expected.

10% is a lot of users Microsoft!!

I was thinking the same thing. 10% of the market (of which near 90% of PC's world-wide use Windows) is a pretty damn huge number!

Try the meteor app it is also a remote for mce

Yes. My #1 use for Media Center. Better featured then Media Player for DVDs, and arguably more stable.

This is a must have app. Even though I'm an early adopter, I had to downgrade back to Windows 7 to keep WMC running this fall TV season. I have a TV Tuner card (Hauppage) hooked up to a HDTV attenna in my Media Center PC and DVR all my shows on my PC. I play them back on my XBOX Media Extenders on various XBOX's throughout the house. Perfect setup!! And free!!!

Just tell me when I can purchase and download my Win8 Pro for £15 :D

You can update recently (less than 6 months ago) bought Windows 7 PC to Windows 8 already. Updating older PCs to Windows 8 will be available in the next few hours.

I think this is important to note - the free Media Center Pack is only if you have Windows 8 Pro. If you have just regular Windows 8 - not Pro - you apparently have to add the $69.99 Pro Pack to get Media Center. Seems kinda crummy that this Pro Pack is $69.99 when Windows 8 Pro is only $39.99.
Another important thing to note from the fine print:
"If you purchase a new PC with Windows 8 preinstalled and you later upgrade that PC with Windows 8 Pro Pack, Windows 8 Media Center Pack, a volume license edition, or a retail edition, you will no longer be able to install apps that are provided exclusively from your PC manufacturer through the Windows Store."


Update to Windows 8 Pro is $39.99. It means you already have license from Microsoft so you paid them once. It's really fair offer - they could charge full price if they wanted but they essentially ask you to price only for new things in Windows 8.

"* Offer valid from October 26, 2012 until January 31, 2013 and is limited to five upgrade licenses per customer. To install Windows 8 Pro, customers must be running Windows XP SP3, Windows Vista, or Windows 7" So upgrade 7 to 8 Pro for $39.99 and add the Free Media Center via code and you're all set.

The $39.99 update to Windows 8 Pro appears to only be available if you are currently running Win XP / Vista / 7. From regular Windows 8, to get to Pro you must buy $69.99 Pro Pack.

Did anyone follow the directions to get the key and actually receive it? I tried more than 1 email and have yet to receive the key.

did mine about 10 minutes ago, nothing yet.

Tried a couple of hours ago and then another 5 mins ago. A key has just come through now.

Woot! Submitted my email address. I didn't use MC often in Windows 7 or Vista, but it is a nice program, especially when the price tag is free!

I use it. The media center records tv shows, and then I watch it over my Xbox 360 streaming the media center... Also use it to watch home videos and review pics. Love it

Really surprised more people aren't using Media Centre with W7 and a bit disappointed if an 'add-on' in W8. I use it as the core if my home theatre and it works perfectly....

I think it's 10% who have ever even launched it and much lower than that for those who actually use it. Most people don't know what it is and or don't have a TV tuner.

You don't need a tuner to enjoy the free streamable content. Not much to pick from, but sometimes find some good shows.

When was the last time you used Media Center? The Internet TV functionality went the way of the dinosaur a few weeks back.

I've tried linking my Media Centre to my 360 but I've never been able to get it to connect for some reason even though they can see each other.

Hmm, tried with 3 different email addresses over an hour ago and nothing yet...

I use it quite a bit and it's nice just to watch tv through the tv tuner, much better picture and channel menu than the cards free app.

nice to rip stuff to an electronic source as well, can't do that with my cable dvr, i only get the non-digital channels, but if I need to record a hockey game and tv shows are already set to record, I have issues watching on my pc.


i used it years ago when i got my first xbox 360, but it didnt interest me much. that said, its a nice feature if you can use it and i'll get it cos its free. thanks for the heads up.

The reason why media center isn't used as often is because it doesn't fully work in many countries. It is all but useless in Canada. I can't use a tv tuner with it because Canadian cable companies won't release their codes. I also cannot access internet TV through it. To us canucks, it is simply a glorified windows media player.

I've used Windows Media CentER for many years.. I literally record hours of TV programming every single day with my Happauge (HP rebranded) tuner card. It really is great. The only thing keeping me from upgrading to Win8 was uncertainty of WMC. Guess this settles that.

So I need to get Win8 PRO for this deal to work??

Yes, just upgrade your windows 7 system (im assuming is what you have) pay the 40$ bucks and then follow the steps listed on this article and you are set :)

Hmm I thought that Windows 8 Pro came with Media Center already and my understanding was the Windows 8 standard did not.


You can get it for $10 bucks as well as a add on.

http://www.neowin.net/news/windows-8-media-center-add-on-now-available-costs-10

I used media center if I wanted to watch any of my movies over 4GB in size that aren't in WMV format. Which is nice since I don't like the WMV format and codec.

Is this applicable/installable to my Surface RT which is due to be delivered tomorrow?

No. Windows Media Center is x86/x64 only as far as I know.
I would suspect that it won't be long until Silicon Dust will come up with a TV viewing app though. That is why I am adding another one of their network tuners to my setup.

No, WMC will not run on RT given that Win 8 Pro is required,

They explain things well here..


http://www.theverge.com/2012/10/25/3549970/windows-8-rt-upgrade-update-new-pc


I use media center as my whole house DVR. Record 6 shows at once with unlimited storage. $4 cabel card rental fee beats $12 for one of their DVRs and limited storage.I can also (with tunebite) add my shows to my other media players (cough..cough..iPad...cough).

Even if you just use the DVD player, you might need this Media Center pack. I was looking at hp.com about upgrading and found this: "If you currently have DVD playback software from Microsoft, this software will not run on Windows 8. To continue to play DVDs after you upgrade, you either need to acquire the Windows 8 Media Center Pack from Microsoft or purchase other DVD playback software. Windows 8 Media Center Pack is available in the "Add features to Windows 8" section of the Settings menu."

I mostly care about this as a FREE option to regain DVD playback (literally my only gripe about upgrading from W7 to W8). I'm quite upset that they took DVD playback and recording away in Windows 8. The "DVD Maker" component should have been rebundled with Windows Essential's Movie Maker tool. *sigh* Oh well.

This is a very good point. Windows 7 came with the DVD codecs needed to play DVD's and unless you get Windows 8 Pro (where you download media center after installation) it does not.

3hrs have passed since I applied for the WMC add-in and still nothing. I have been fighting the erge for weeks not to stick Windows 7 back on for the media center functionality. I use Windows media center, to feed my media from my Windows Home Server to my Xboxes around the house in the form of the media center extender. Using the Xbox dashboard for media is a nightmare, should really build a dedicated machine and leave Windows 7 on. I do not use the media center functionality to play DVD's or record programs via tv tuner, but its as equally important to have the WMC built into Windows rather than having it as a optional add-on.

Idk how many times i have tried this throughout the day, still nothing.... Ideas?

I tried a few times last night, also 1 this morning and I still haven't recieved a code.

I tried also. No code. Was stupid to stop DVD playback. I watch DVD's while I get stuff done.

No code yet, been almost 24 hours on muliple emails. IDK... I hate wxpmc on xbox, the processe always needed a restart and would fail all the time. I have just used the media player libary to link to xbox, but I would perfer this...

Did it yesterday a few times, different emails, have not gotten any,...

I tried four emails...not one code. :/

Me too. No codes. Four emails.

Emails just came for me a couple minutes ago.

Submitted four emails yesterday. Four codes received about 20 minutes ago.

Must of just been turned on as I have been trying it all day. It just worked a few minutes ago too.

Got my code a couple of hours ago and it is installed and working now. Glad to finally get it installed to complete my Windows 8 install.

Got my confirmation code around 5PM yesterday. Now we just need to hold our breath until Ceton releases the drivers for the InfiniTV4. Looks like it could be a few months before my HTPC gets the Win8 goodness.

Hi all
Windows 8 upgrade with no problems at all.
I got my WMC key by email with instructions. I opened the "Add features to Windows 8" wizard and entered the key which was accepted.
I was then prompted to restart my PC to enable the update.
When my PC restarted I cannot find WMC anywhere. As far as I can see, it is not installed.
The "Add features to Windows 8" wizard also seems to have disappeared from my PC.
I am running a HP Touchsmart Tx2Z Laptop/Tablet convertable.
Did anybody else encounter this problem? If so, how did you sort it out?

Just type the word "media" from the start screen of Windows 8 and Media Center should boil up for you. I downloaded it. Never used it when I had it on Win7 but I like it. Nice visuals. Smooth transitions. I have no idea what else I can do with it, so for now I'm just using it to play my music. Applied for the key last night and got it this afternoon. Free can't be beat. I have no idea wht it is capable of but from reading the posts here apparently it can run your whole audio/visual system in your house. I see a lot of Zune and the Music App in it's DNA. Good stuff.

This Media center add in is bad, most of my media is pixalated though the Xbox. If I watch it through the dashboard it is fine, same on the app on the PC, if I watch it in Media Center, its really un-watchable, but watch it through something like Media Player and it is fine, so I have no clue what is going on. My network is all wired except for my daughter's laptop, by Cat5e cable, so there should be enough bandwith for the media.

This is a bit annoying. I still don't have my media center key. I sent a couple more requests today, and nothing.

Microsoft had problems sending a key to my email addy so I used another address and got a key in minutes. Easily installed and running.

I tried to search for "Add features", but the only option I get is "Turn Windows features on and off". Any idea how I can I activate Windows Media Center?
Windows Central Newsletter
Thank you for signing up to Windows Central. You will receive a verification email shortly.
There was a problem. Please refresh the page and try again.