Fresh Paint and Straw for Windows 10 appear in the Windows Store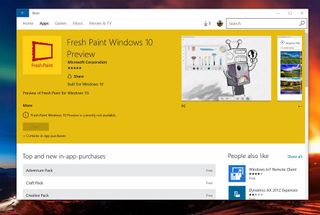 Two new Windows 10 apps have appeared in the Windows Store, Fresh Paint and Straw. At this time, you can download Straw for Windows 10, but the Fresh Paint Preview is not yet available for download. We've seen lots of Windows 10 apps go live in the recent weeks, and it is great to see even more of them continue to arrive.
Fresh Paint is a new preview app from Microsoft, which is described as:
Check out the Fresh Paint Store listing (opens in new tab)
Straw, the polling app created by some Microsoft employees, is available now as a Windows 10 app. The description does not note any changes that may be included besides it becoming a Windows 10 app. You can download it from the Windows Store now. Note: Not available for Mobile just yet.
Download Straw from the Windows Store (opens in new tab)
Thanks for the tips, Stefano!
Jared started off writing about mobile phones back when BlackBerry ruled the market, and Windows Mobile was kinda cool. Now, with a family, mortgage and other responsibilities he has no choice but to look for the best deals, and he's here to share them with you.
Any news on Microsoft's movie creator and video tuner apps.? I am waiting for it.

You're welcome. :-) Posted from Windows Central app on Windows 10 Mobile

Still no word on one clip? Posted via the Windows Central App for Android

Lol I totally forgot about it

It was a great concept and they should make it work for metro apps and desktop apps. Dunno why its still nit seeing the lime light

Fresh paint is great for doodling. Really annoying that there's no way to disable touch drawing when a pen is connected to the system, like with one note or drawboard. Quite annoying when I go to pan or start drawing and end up with a giant line across my drawing. Posted via the Windows Central App for Android

I don't understand...
Fresh paint is the Windows store since many weeks/months ?!
What's new?§

*for Windows 10. The one in the store is a Windows 8 app.

I have the windows 10 version. I think it is the truly uwp version for mobile....

I checked the store, to doesn't say Built for Windows 10.

well it is. check on your windows 10 pc. the mobile version is still 8.1

The windows 10 preview of fresh paint has been available since may of 2015, not sure what's new here

Yeah, nothing new and I don't understand why this news Posted via the Windows Central App for Android

Yeah, I have it installed since the Windows 10 launch.

Guys, anyone knows anything about MS Paint? I have W10 Pro on my laptop and I can't find it. Any help plz guys

Go to File Explorer and navigate to C drive then search for mspaint.exe it should show up then right click to pin to desktop / task bar / star screen.

Thanks bro. I'm gonna check for that.
Thank You Very Much :D

For how good the drawing mechanics work, it is almost too simple for it's own good. There should be layers and paper options, or at the very least be able to erase pencil marks after drying paint... But it looks fantastic

Layers would be awesome Posted via the Windows Central App for Android

Looking at the app again, it does look like layers may be coming, there is a grayed out section when you start a new canvas. And there are different paper sizes and types, so this just got a whole lot more useful. I am already working on some ideas for me projects. Sweet.

You didn't see the paper sizes before? Maybe I've always had it, since I started using it when I got my SP4, so it was probably preloaded with the windows 10 version, based on what some other comments around here.

As an art student (Fine art & Graphics) I would love to see Microsoft make Paint have more functionality like what you have said, layers, paper options etc. It would be nice for Microsoft to make their own editing software for images/Graphics, like a rival of Photoshop, or at least something that would work well as a stand alone for people who can't afford Photoshop. Then all they have to do is preload it with Windows 10 and if they want to, have extra features that can be paid for (like, have the normal paint app, and pay a price and unlock the advanced functionality like layers, filters, colour curves, etc. Would be a great way to gain more interest in Windows 10 too... If only.....

But I already have the Fresh Paint for Windows 10 since many months ago! '-'

Read the article u will understand

As Rafael says, the Fresh Paint that I already have installed says "Built for Windows 10;" there is no "Fresh Paint Preview for Windows 10" in the Store.

Couldn't agree with you more coocooman3. Without changing touch to pan when pen connected makes this program near useless for me. OneNote is my key drawer at the moment.

You can use two fingers to pan. You just have to put them on the screen at basically the same time, or it doesn't work. Really badly made.
However, I think we'll see a big improvement this summer because of all the new inking tools coming to Windows. Makes it easier for devs to change features around. Posted via the Windows Central App for Android

Im all about modern apps taking over, why can't this replace paint app on the desktop

There is still a place for desktop apps. I mostly use Paint when I need to quickly crop or resize something on my PC. Fresh Paint wouldn't do this as well. But Paint is essentially obsolete at this point, but we still need more powerful desktop apps... It's what separates man from Mac.

A Sent from Lumia 730 running windows 10

Why Microsoft remove some app from windows store some panorama app also remove

Straw doesn't save my login credentials so I have to write user and password every time. I can't review either because it says I'm missing hardware requirements. Nice app, stupid situation. From the Windows 10 App on a PC. :)
Windows Central Newsletter
Get the best of Windows Central in in your inbox, every day!
Thank you for signing up to Windows Central. You will receive a verification email shortly.
There was a problem. Please refresh the page and try again.