Full specs for the world's thinnest convertible the Lenovo Yoga 3 Pro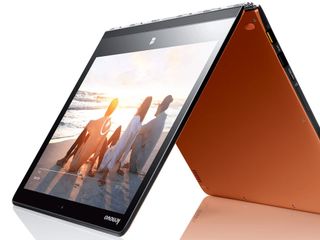 Lenovo just announced the new YOGA 3 Pro ultrabook. It's a sexy machine and one that we think a lot of you will want to grab very soon. Here's the full specs for the Lenovo YOGA 3 Pro.
Processor Intel® Core™ M-70 processor
Operating System Windows 8.1
Display/Resolution 13.3" QHD+ (3200 x 1800) touchscreen; Intel integrated graphics
Color Clementine Orange, Platinum Silver and Champagne Gold
Memory Up to 8GB LPDDR3L Storage 256GB or 512GB SSD
Sound Integrated JBL® stereo speakers with Waves Audio certification
Integrated Comms 2 x USB 3.0, 1 x DC-in with USB 2.0 function,4-in-1 card reader (SD, MMC, SDXC, SDHC), Micro-HDMI out, Audio Combo Jack
Connectivity Bluetooth® 4.01, 802.11 A/C WiFi
Camera 720p webcam
Battery Up to 9 hours
Weight 1.19 kg (2.62 lbs)
Dimensions 13in x 9in x 0.5in (330 mm x 228 mm x 12.8 mm)
The Lenovo YOGA 3 Pro is a sexy machine and we can't wait to play with one. You can order today and the ultrabook will ship in three weeks. It starts at $1,349.99. Hit up the Lenovo page linked below to buy it today.
Buy: Lenovo YOGA 3 Pro (opens in new tab)
Windows Central Newsletter
Get the best of Windows Central in in your inbox, every day!
That was the first thing I noticed. It actually makes me a bit worried about my yoga 2 Pro. I was already a bit concerned with my hinge as it feels a bit weak. I am wondering if they've had problems with the hinge and decided to spread the load a bit.

Hopefully the new hinge is stiffer? The main thing that bothered me when testing out the Yoga 1 & 2 was that everytime I touched the screen, the screen would wobble or shimmy a little bit. Actually, most laptop screens seem to, but the Yoga especially. In contrast, when I touch the screen on my Surface RT, it is rock solid due to the kickstand design.

I've used a Yoga Pro 2 for over a year now as my main developer machine and never had any issues with the hinge - absolutely rock solid. I actually find myself frequently marveling at the design of the hinge.

Infatuated with my dell xps 13, though this looks nice.

The Dell XPS 13 is the da bomb (and a better value). I should have a small review in a day or two here.

The XPS doesn't have the 360-hinge though, does it?

512 ssd with W8.1 pro 64?

Nah, 256 GB. I don't need that much space. I mean, it's nice, but these are work machines with only more core stuff needed.

The 512GB also has Windows 8.1 Pro, if that makes a difference.


Thank you, Daniel! These UltraBooks are an awesome giveaway prize for the most outrageous comment of the day!
But why did you order just one?! :-)

What-efa Dan! LOL! Score!

Looks sexy. Dat price tag, tho...

Nothing wrong with the price, its actually quite competitively priced.

Is not expensive, but people like he (probably) and me cannot afford it :(
If only I have the money...

Since USD prices quite often get converted 1:1 to EUR instead of using a realistic conversion rate, my guess is this device will be 1350€, which - conveyed back to USD - would be the equivalent to $1700. Way too much of you ask me.

Can one compare this to the Surface pro 3? I know that this one is a "convertible" and the surface is suposed to be a replacement for the laptop aka tablet pc ...

Yes, easy: get the Surface Pro 3; avoid Lenovo at all costs.

I have the Yoga Pro 2 and love it, though the screen res is to high for desktop mode.

and the screen looks like crap because its pentile. I was shocked when I saw the horrible pattern after unboxing mine.

Lol coming from Lenovo Helix to SP3, I would be in agreement.


The SP3 gives you portability, pen input, tablet kickstand. The Lenovo has a slight edge in connectivity (2x USB 3) but no displayport, better keyboard. I'd take the Surface for a bit more versatility.

The screen resolutiong just seems excessivly pointless.

That's what they said about 720p and 1080.....

It is. They had the same resolution on the Yoga 2 Pro and it is so stupid because you can never use it anyway, have to lower the settings to be compatible with anything, including every external monitor or TV. Not worth it at all.

Yeah, don't get me wrong, it's cool to have 3200 but it is a bit overkill, at least right now. On my 15-inch XPS 15, it makes more sense. On a 13-inch it seems excessive. I would have been okay with something lower with better battery life, TBH.

Typically that's where the non-Pro version come in. 1080p instead and slightly bigger dimensions but otherwise very similar. I wonder if we hear announcement on Yoga 3 this year. But otherwise I guess at CES since Core-M devices seems in short supply.

Will never buy any lenovo again since screen on my yoga 2 13 just cracked for no reason. And of course it's not a warranty case.

It can an does happen with any brand. I used to repair laptops for a living and had an acer do the same thing. Interesting thing is I discovered that Acer and Lenovo monitors were compatible and it made it a lot easier to replace them. I had it down to a science. It took about 30 minutes to pull appart the bezel and replace the panel.

No reason....of course ;).
Damn ghosts!

From someone who dropped $1300 on the Yoga 2 Pro because I was enamored with the design (still am, by the way) take my advice and don't buy this or any other Lenovo product ever. Their quality control team is terrible, they skimp on the hardware, funneling inferior RAM, Bluetooth, wireless cards, batteries, and display panels into their devices to save money; their drivers are atrocious; they lied about battery life; and their Customer Support is the worst I've ever experienced--unqualified, rude, and dishonest, pretending that problems don't exist even though there are hundreds of pages worth of complaints on their official forums (despite overbearing moderators there who delete as much bad press as they can), and then trying to upsell you on their premium support for an extra fee even though you're covered under warranty. Never again, Lenovo. Never again.

Very happy with my X1 Carbon.

Obviously experiences can vary, as some swear by them, but I can see some truth in what you are saying. My advice is still the same to people in the US: always buy from the Microsoft Store when you can. You get a stripped down OS, often cheaper, and unparalleled service.

I will agree to that: Microsoft Store has the best customer support I've ever experienced. All of my future computer, phone, tablet, and Xbox console purchases will be through them, for sure.

I hate the pentile display, but its the best experience I've ever had from a computer I didn't build myself. No bloatware at all except for norton antivirus. INFINITELY better than HP and acer. Oh and the touchpad is better than any other laptop I've ever used.

Yea, I was holding out for a good deal on the Surface Pro 3 (include a keyboard and more!) but I may dive in for this. Only thing that will stop me is if MSR comes out and says all the stuff they showed last week is actually coming as a product prior to Dec.

When it comes in I'll do a head to head with the SP3 and share the pros/cons.

Thanks Daniel! Will look forward to it.

Meh... Was always cool, but...i don't know...

Oh! Approx ₹82,500/- (excluding tax)

That would be if and when it comes to India..

I'll probably get the surface pro 3-i7-256 + type cover + office personal for about 1.600€
Is there a better deal for the Lenovo 3 pro?

I thought that the photo with the keyboard and the hand flipped back made it look incredibly luxurious.

Specs are right there. 2.6 pounds / 1.19 kg

Daniel please provide a post about Intel M-70 processor.

Excellent. My bad I missed that. Thanks Daniel.

Still too high for tablet mode.

Is core M better than the I7 , sorry I don't have suck knowledge in tech :/

Not quite. Core M is really just another name for the Y series of the new Broadwell architecture (the newest 14nm process) Remember how you always see Intel core i5 but when you see more details it'll say Y4200 or U4400 well Core M is the Y series on the 5th generation Intel Core processors :) it is also the only Core processor that is an SoC (system on chip) and that is how they achieved fanless designs. simplest terms, No this wont be as powerful as an i7 but this is definitely equivalent to the lowest end 4th gen core i5 which is great for 9 hour battery! and this Lenovo Yoga has an insane resolution so expect other tablets to get 10-11 hours of battery with Core M inside :)

Core M = fanless i5. That's pretty awesome! Of course, I already bought my Tablet, so I'll be aight for a bit.

Does it has keyboards backlight?

I think that hinge looks tacky and I would get my hair caught in it one way or another.

Don't use it as a pillow...

Don't rub it on your pubes...

When will it be launched in India.

WTF? Why is it that on the consumer version of the tablet that the Touch Pad is centered on the handrest and on the ThinkPad it is centerd on the keyboard? Do people not type on the Yoga Pro? Is that why it is ok to shift the Touch Pad so you palm always rests on it when you type?

i have a yoga 2 pro for sale in the classifieds, only asking $749 with MS Office included. STARTING at $1,349 for the Yoga 3 Pro? that seems high, i think the yoga 2 pro started at like $1,100 when it launched

Dan, will you be doing a drop test? And see if it will blend?

Yeah. Being the world's thinnest, I can bet it will fail the "blend" test. Lol.

Depends on the definition of "failing". After all, Apple intended the iPhone 6 plus to bend, they just didn't tell anyone. It's not a bug, it's a feature called "adaptive material t response casing". ;-)

http://ark.intel.com/products/family/83613/Intel-Core-M-Processors#@Mobile

Does it still have the same crappy pentile display my Yoga 2 Pro does? I hate it. It looks like crap. Pentile should be illegal.

The amount of hipster in that video was too damn high!

It looks nice in the picture though. But is core M faster than i7?

When Lenovo says "Battery Up to 9 hours" you can be sure that means up to 4 (max. 5) hours.

The hinge is Amazing but this ultrabook should have shipped with USB 3.1 TYPE C its sad Macbook Air 12 will ship with this and people will be like wowowowow apple is awesome they invented it.

Really wish it had the aspect ratio of the SP3... that is perfect for portrait mode operation as a reading tablet. Of course, 13" is a little big for portrait mode anyway. This looks fantastic in all other aspects...! EDIT: Wish the 256GB model came with Windows 8.1 PRO, bit it's only listed as Windows 8.1, whereas the 512GB has Windows 8.1 Pro. Annoying.

I have a Yoga 2 Pro. Does the Core-M processor mean they have been able to get rid of the fans altogether? I'm very surprised they have dropped the function key row. For me it's a backward step that I couldn't tolerate.

Processors always need cooling. So maybe. But on Intel's site they never said anything about the m chip doesn't need a fan

Too high. I didn't want to put that behind price

What's the Intel M70 processor ? Is it a next gen processor after the (i3,i5,i7) ?

Does anyone know what design software the woman is using at 0:07 and 0:11 of the video?

What's with the Australian price?! Starting at $2099 for the 256GB?

I think it's the extra cost of engineering. Being down-under, they had to engineer the hinge to fold the other way "In Australia, Lenovo Yoga Pro 3 bends you over!"

Best Buy exclusive again, please no.

While that's an attractive device with good features, I still prefer the Surface Pro 3. I don't need another laptop. I have an excellent Toshiba laptop. What I needed was a tablet that could replace my laptop = SP3. Besides...$1350!!!???? Really?

This is gorgeous, but I will have to take a look at one. I have tried out many laptops and touch often leads to the screen flexing back on the hinge and in some cases bouncing a bit. You know which 2 in 1 didn't do that? The Surface3 Pro. The kick stand is more than just a way to prop the screen. It also provides study support for the unit.

What about graphic card????

9hrs is not enough, i'd rather have the same thickness as sp3 to have better battery

TPM chip? Guessing no...as the previous 2 didn't :( cant use it for work if no bitlocker + tom.

Surface Pro 3 is the perfect hybrid device. I don't see any compelling reason to buy a Lenovo. Buy American.

But surface is far away better

Lenovo makes great machines.
I believe the Surface's have been having some heat issues and I believe their pricing structure is nearly as egregious as Apple's, perhaps even more so mobile-phone.pk/lenovo-mobiles/

Looking for advice please. I've had Thinkpads since 1997 and I'm currently using an X201 Tablet that I need to upgrade. I was looking at the Helix 2 and thought that the 2 in 1 would be nice then I saw the Yoga Pro 3. I'm always on the go in between my office and home office and currently use a docking station at both. Any advice would be appreciated. Thanks-
Windows Central Newsletter
Thank you for signing up to Windows Central. You will receive a verification email shortly.
There was a problem. Please refresh the page and try again.