Four new Lenovo Windows 8.1 devices announced including ultra-thin Yoga 3 Pro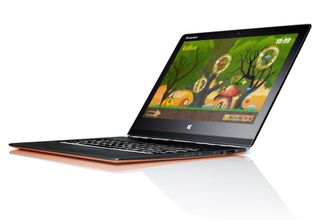 Lenovo has just announced a handful of new Windows tablets and ultrabooks. There are four devices in total and they range in price from a $299 tablet to a $1349 ultrabook. That ultrabook will be welcomed by anyone waiting for the sequel to last year's successful YOGA 2 Pro.
Here's what Lenovo has announced:
Lenovo YOGA 3 Pro
Lenovo ThinkPad YOGA 14
Lenovo YOGA Tablet 2 Windows 8"
Lenovo YOGA Tablet 2 Windows 10"
Here's a quick overview from Lenovo on each device
Lenovo YOGA 3 Pro ($1349 at launch)
The YOGA 3 Pro is the latest version of Lenovo's flag ship 2-in-1 convertible Ultrabook.This system has a new watchband hinge design that allows for additional strength, rigidity and style. Additionally, it is 17% thinner and 15% lighter than its predecessor, and packs a QHD+ resolution and runs on Intel's latest Core M-70 processor.
The Yoga 3 Pro is only 12.8 mm thin.
Lenovo ThinkPad YOGA 14 ($1199 at launch, with potential instant rebates $1099)
The first ThinkPad Yoga with a 14" screen size and made exclusively for Best Buy. The system has the backlit Lift n' Lock Keyboard that automatically lifts and the keys lock flush. As far as specs go, this machine packs a FHD resolution display, ample storage, discrete graphics, and runs on the Intel Core i5 processor
Lenovo YOGA Tablet 2 Windows 8" & 10" ($299 & $399)
As the first YOGA Tablets to run Windows, they share almost all the same hardware specs with the Android counterparts: FHD display, larger speakers, and bigger kickstand with 180-degree rotation and hang cutout and processor platform with Intel Atom. The Windows versions differ from the Android versions as they have twice the storage (32GB) and ship with one-year subscription of Microsoft Office 365. The 10" model includes a Bluetooth keyboard cover.
We'll have more on each device as we go hands-on at a Lenovo launch event in London. Which device are you most interested in? Sound off below an we'll make sure to spend some time with that tablet or ultrabook.
Windows Central Newsletter
Get the best of Windows Central in your inbox, every day!
I'm more interested in the fact that they announced more Windows devices than Androids. 5 vs 3 right?

coz they know windows 10 is coming. so they are making correct decisions

Good JOB Lenovo MOre Windows Device More Enterprize and the meaning of your Slogan About Do.

The 14nm process, Intel's gift to man.

It should be significantly more efficient than the new 20-nm apple A8. Time for Intel to show off.

That's a mobile processor that you are talking about. Sent from somewhere. Don't worry I ain't illegal.

I bought my Yoga 2 Pro one month ago :( I should have wait for this...

And I sold a Yoga 1 for almost 600

The Lenovo YOGA Tablet 2 Pro runs android so thats 4 Windows devices, not 5.

Nothing running a mobile OS should ever be called "Pro". That's just misleading.

Designed by Mr Kutcher, maybe thats why. /s

Looks to be a nice 8" table.

bah!!! Why does that Tablet Pro2 have to be on android only. garbage.

Yes I agree. there are 2 massive sticking points for me regarding the new tablet range – Firstly why is there no keyboard for the 8'' version? Secondly why is there no Windows version for the 13'' Tablet Pro? Would have been awesome to have windows tablet that size with a projector

The cheapest is mine. No money no things

Wow, that Yoga 3 hinge looks super intriguing.. I want to know what that's all about! Definitely would like to find out more about the 8" tablet's internals and user experience as well.

Most interested in the yoga 3 pro. Is it fanless? all the specs. At some point would like to see a comparison between it and the surface pro 3.

ThinkPad! It seems faster.

Yeah, I just bought the Yoga 2 Pro and should be arriving soon. I wonder how much better system performance is with the Y3P.

Are there stylus options for any of these? A Thinkpad Yoga without stylus? Say it ain't so!

Which are the 5 windows devices? There are 4 with Windows and 1 with Android...

So they have replaced ARM with Intel now for the entire range.

Arm is going to lose out on the tablet side, unless Nvidia / K1 can make a big splash.

For good reason. Windows RT was yet another PR failure with Microsoft.

What advantage does X86 has over ARM on Android ? They are just playing around and pretending to be Windows.

Did they give a launch date?

Oh damn, that thinkpad YOGA 14 looks like the perfect device... shame it'll be BestBuy exclusive, I want one shipped to Europe...

boy I imagine Larry page is fuming at this. Sooner or later that prick is going to have to eat a lot of humble pie and start porting his warez to the windows store or risk making google products irrelevant on hybrids. I hope he takes longer for it is a golden oportunity for competitors to get customers thanks to Larry's desire to punish customers who make choices he doesn't agree with.

Very interesting products. Love the new hinge on the yoga 3 pro. The convertible seem to be a good deal when deciding between a laptop and tablet. There are other convertibles also available like the Dell inspiron 11 3000 convertible. Good job Lenovo. I'm digging the hinge on the yoga 3 pro.

This is awesome. I really like Lenovos Windows products and been bouncing around ideas of an 8 inch tablet and who to buy from.

The Pro version runs Android? I think you're drunk Lenovo.. :p

I love this trend of companies putting Windows (or Windows Phone) on existing Android/Chrome designs and updating the internals. Let Android pave the way, and then Windows can reap the rewards of the hardware experimentation.

Why not a leveno high end windows phone

I believe the CPU on the Yoga 3 Pro is the M-5Y70. No such thing as an "M-70" that I can find, unless folks are starting to shorten it.

These Yoga tablets are incredible. Lenovo nailed it. The cylinder battery sounds like it gives a substantial boost over competitors. The hinge stand is going to be very useful and including the well-integrated bluetooth keyboard is a really nice bonus. Now we just need to get that pico projector in Windows. Stop with the Android-only garbage, I want that in Windows.

I am interested in the YOGA Tablet 2 Windows 8". Does it have a pen? Posted via Windows Phone Central App

Holy shit that thing with the watch looking thing is beautiful!!!!

The pro only runs Android... Should of made it available with windows Posted via Windows Phone Central App

I'm seriously considering the Lenovo Yoga 2 Tablet but I was expecting the pricing to be lower in line with Android. This is about $200 more than the 10 inch android one, and what you are given doesn't make up for that amount. Not totally sure what the thinking is here, but I think it might be too high to compete with the Android ones, which is a shame. Make it $50-75 more and it's an easier decision, full Wiindows functionality vs. Android. I'm not in the market for the 8 inch, but this is about $150 higher for that as well. Now I'm possibly back to my old plan of targeting one of the 13 inch ones with i3 or i5 instead of Atom. I was really hoping this would be $199 and more of a no-brainer decision for a holiday purchase, not a $600 one that maybe I need to wait until later to buy.

I think the price is easily justified. You get twice the on board storage - 32Gb vs 16Gb for the Android version - plus you get the keyboard thrown in. I'll be ordering the 4G version the day it becomes available for pre-order.

the tablet's design seems clever for landscape mode, but a complete annoyance for portrait

Aren't the screen detachable ? The big hinge looks comfortable as a grip for the thin device. I usually fold the screen cover of my tablet into the kick-stand's triangle form and use it as a grip rather than just clamping on the frame.

I don't know but I would think that the hinge will give me a better grip when handling at portrait position.

A yoga phone would be nice.

I will buy the Lenovo YOGA Tablet 2 Windows 10". It's my target device as I am in need of laptop in college. I would buy the 8" one if my budget can't get to the $400 mark.

That Yoga Tablet 2 in 10" size is on my list-- looks like a worthy replacement for my venerable Lumia 2520 once I can get hold of a job.