Game Troopers launching Monster GO for Windows Phone May 26, Tiny Troopers 2 due soon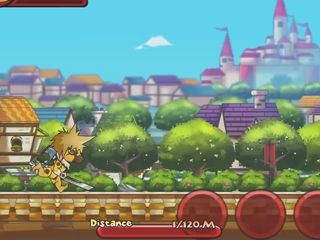 Publisher Game Troopers continues to stay busy on the Windows Phone front. The company plans to release a new game, Monsters GO!, in the Windows Phone Store on Tuesday, May 26. In addition, it is developing Tiny Troopers 2, a sequel to one of their first Windows Phone games.
Here's a quick description of Monster GO!, which is a cartoon-like endless runner game with some role-playing features:
The first game published by Game Troopers was Tiny Troopers, a top-down action-strategy game that came out for Windows Phone in December and was released for Windows 8.1 in March. Microsoftinsider.es found a private beta listing in the Windows Phone Store for the upcoming Tiny Troopers 2, which has yet to be officially announced. Here's a translated version of its description:
Tiny Troopers is back! And he does it better than ever! Get ready to fight again, soldier! Test your courage and guide your troops to victory in three exciting special operations.
MARCH! - Join the all-terrain military and handles the 50 caliber machine gun while you open you passing through hostile territory, but beware the bullets and shells!
TO ORDER! - Dress up your soldiers with new uniforms and train them to go up in rank. Improve their rifles and protections they survive as long as possible on the battlefield.
SPECIAL FORCES - Recruit all kinds of specialists: doctors, guns, soldiers with flamethrowers, Delta operators... Thus you will complete missions easier.
READY FOR COMBAT - Sophisticated Tiny Troopers 2 controls allow you to move to the peloton, download bursts of bullets and deplete the ranks enemies with grenades, rockets and air attacks.
YOU DO NOT REACH - It resists the endless hordes of zombies and exceeds three action-packed maps! How long can you survive among the undead?
Source: Game Troopers (Twitter), Microsoftinsider.es
Hope tiny troopers comes with better soldier control.

My thoughts exactly!! Love the original game but the controls leave a LOT to be desired.

Endless Runner game? Might try

There are thousands in store! We don't need anymore.

Of course we need more, this way of thinking would only allow 1 idea to be realised and nobody else could improve on it, in my opinion, we need as many as possible and then some.

Official article saying Tiny Troopers 2 coming to WP, published months ago: http://www.plungeinteractive.com/blog/2015/01/30/tiny-troopers-2-special...

The article is referring to tiny troopers.

Nope, it says tiny troopers 2. Read completely

Nope, tiny troopers. You read it completely. It says it received requested for tiny troopers 2.

Developing a game could take long. Isn't it

Hope tt won't come with online game

Another endless runner..?! sick of these endless games..!!!!

They're endless ...did you expect them to end?

Will they also realease what in the world?""this month?

Keep em coming devs, cuz the other platforms are too naive and full of piracy. -Melissandre

Not in a haste still waiting for a flagship this year end. With Windows 10

640XL was even cheaper on Snapdeal

I'm still waiting and wondering for Clash Of Clans.. Most of my friends play COC on there devices.

Much rather have 8 Ball Pool

wow endless runner game! we surely fine few of those, nice to have a new one. /s At least this one seems sucky but a little less sucky than most endless runners. It would have been nice as a "simple" 2D side scrolling game, but not, they had to ruin it with a "ok let's make an endless run, great idea!!" but anyway, I might play it, I might not. I just think it had the nice graphics and all to make a nice side scrolling game, not a boring endless run.

I like Game Troopers they follow me on Twitter and release great games and keep supporting Windows Phone.

Have we heard an update on Abyss? They announced that one eons ago and haven't said anything since.

I read that they changed a lot of things and that it is almost a completely new game (same spirit).
They need one more month of work.

Cool. Thanks for the info. I don't mind waiting. Just was worried it wasn't coming anymore. That's the Game Troopers game I am most looking forward to.

Gonna download it for sure. Game Troopers is on fire, so glad we got them.
Windows Central Newsletter
Thank you for signing up to Windows Central. You will receive a verification email shortly.
There was a problem. Please refresh the page and try again.