A hidden room in CS:GO reveals details about the Russian invasion of Ukraine
Journalism takes many forms, even in video games.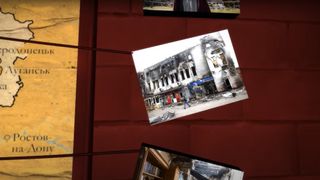 (Image credit: CS:GO)
What you need to know
To celebrate the 30th World Press Freedom Day, a Finnish newspaper collaborated with CS:GO developers to hide a room within the game revealing details about the war in Ukraine to Russian players.
The map, named de_voyna, means war in Russian and contains a hidden red room with real-world photos, maps, and information about the atrocities committed by Russia and its mercenaries.
The map contains clues to lead players to this room, such as a burning car, a lamp, and a Slavic-inspired building.
---
Helsingin Sanomat, a huge subscription newspaper in the Nordic countries, is renowned for its hard-hitting journalism and ability to visually represent subjects in new and engaging ways with its readers.
Still, nobody expected them to collaborate with one of the most played games on Steam for World Press Day to make such a statement against the war in Ukraine.
Helsingin Sanomat's coverage of Russia's war and unlawful occupation of Ukraine has been critical and tirelessly creative in its methods, including dedicating a website to exposing Russian propaganda, but they've since taken that a step further by inserting a map into Counter-Strike: Global Offense to reveal the truth to players.
To celebrate World Press Freedom Day, the map named 'de_voyna,' which means war in Russian, appears normal at first glance but is littered with clues for players to follow to an underground secret. As reported by PC Gamer, one particular clue is a burning car resembling the eternal flame monument, a common symbol of World War 2 in Russia. There's also a Slavic-inspired building with a sign stating 'voyna' for players to find, leading them closer to the bunker full of information.
Players who find the underground room will discover information that contradicts Russian propaganda and show players the Ukraine invasion's reality via various images and news coverage. When asked about collaborating with CS:GO, Helsingin Sanomat's Editor-in-Chief Antero Mukka said that Russia did not consider games as a method to deliver journalistic content, therefore getting information to Russian players via this means would be overlooked by the Russian Government. "Counter-Strike has remained as one of the rare channels that allows us to communicate independent information to Russians about real events from the war."

The walls in the room are plastered with information, everything from the Bucha massacre to statistics on how many Russian lives have been lost in the war against Ukraine, a figure played down massively by the Russian media. Maps show civilian targets hit in the raids, and a Russian-speaking narrator gives more context to each piece of evidence as the player hovers over them.
If you want to see more of the project, Helsingin Sanomat has published a complete visual guide to their work on the de_voyna map here. Go with a fair warning; there are images and stories of the war that are uncomfortable to read.

Russia has its citizens banned from social media like Instagram and Twitter and access to the Western journalistic press, even the BBC. Whether this insertion of a grim but informative easter egg into CS:GO actually reaches a large volume of Russian players is still uncertain, but we commend Helsingin Sanomat and its staff for the continued effort to get the truth out in the most unexpected of places.
Get the Windows Central Newsletter
All the latest news, reviews, and guides for Windows and Xbox diehards.
Jen is a News Writer for Windows Central, focused on all things gaming and Microsoft. Anything slaying monsters with magical weapons will get a thumbs up such as Dark Souls, Dragon Age, Diablo, and Monster Hunter. When not playing games, she'll be watching a horror or trash reality TV show, she hasn't decided which of those categories the Kardashians fit into. You can follow Jen on Twitter @Jenbox360 for more Diablo fangirling and general moaning about British weather.