A much cheaper version of Valve's Steam Deck dock just hit the market
A new competitor for Valve's official dock enters the ring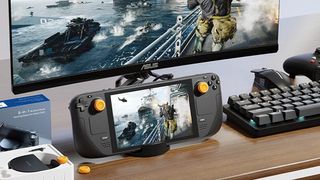 (Image credit: Syntech)
The Steam Deck is both a great PC gaming accessory and an entry point into PC gaming itself for around $400. Up until now, Steam Deck players could buy Valve's dock separately for $80 which enables connectivity to a bigger screen, and a stable base when the deck is not in use. Today however a new player has entered the ring with a much cheaper alternative to the Valve Steam Dock, the Syntech 6-in-1 Docking Station which is currently letting you use a 40% off voucher on Amazon.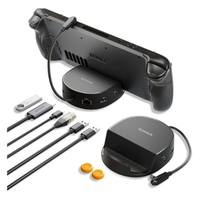 Syntech 6-in-1 Docking Station $49.99 $26.99 at Amazon
A versatile and affordable accessory for your Steam Deck. The 6-in-1 docking station lets you use your Steam Deck on a 4k monitor or TV, and connect to a wired network as well as various controllers. At a much cheaper price than the official Valve offering, we think this is a great deal.
Please note that the price has been fluctuating between $49.99 and $39.99 since this item was listed, but Syntech has told us that the official RRP is $39.99 and £39.99 in the UK. The price quoted above is correct as of writing. The current price takes it even cheaper than the JSAUX Steam Deck dock which currently retails at $50.

Considering the price difference between the Valve dock and this Syntech version, the specification differences are negligible.
Swipe to scroll horizontally
| | | |
| --- | --- | --- |
| Row 0 - Cell 0 | Valve Deck | Syntech 6-in-1 |
| Ports | 3.1 USB-A Gen 1, Ethernet port, HDMI 2.0 and DisplayPort 1.4 | 3.0 x 3, Ethernet, HDMI. |
| Display | 4K at 60Hz or 1440p at 120Hz | 4K at 60Hz output |
| Charging | USB-C Power Delivery passthrough | USB-C (no passthrough) |
| Weight | 119 grams | 153 grams |
| RRP | $89 | $39.99 |
While there are certainly other docks on the market, the Syntech dock claims to set itself apart from competitors with its high-quality build and durability. The dock also boasts a more minimal appearance with its rounded design compared to other docks available, and it's compatible with Nintendo Switch, tablets and smartphones that have USB-C connectivity.

We hope to have this piece of hardware in our hands soon for a full in-depth review of how it matches up to the Valve dock, but for now, on price alone it's an extremely tempting buy, and won't be available at this discount for long.

Check out the best Steam Deck accessories for your gaming on the go.
Get the Windows Central Newsletter
All the latest news, reviews, and guides for Windows and Xbox diehards.
Jen is a News Writer for Windows Central, focused on all things gaming and Microsoft. Anything slaying monsters with magical weapons will get a thumbs up such as Dark Souls, Dragon Age, Diablo, and Monster Hunter. When not playing games, she'll be watching a horror or trash reality TV show, she hasn't decided which of those categories the Kardashians fit into. You can follow Jen on Twitter @Jenbox360 for more Diablo fangirling and general moaning about British weather.