Grounded's biggest update ever is 'more powerful than anything our development team at Obsidian can do'
The "Make It or Break It" update for Grounded gives players the tools to create anything in their wildest imaginations.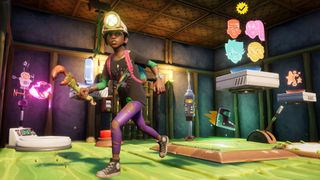 (Image credit: Xbox Game Studios)
UPDATE Nov. 13, 2023 — Grounded's 1.3 Make It or Break It Update is now beginning its official release process. The update is gradually rolling out to all Grounded players across Xbox Series X|S, Xbox One, Windows PC, Xbox and PC Game Pass, and Xbox Cloud Gaming. On Xbox Series X, the update measures approximately 5.61GB in size.
You can continue reading my original article for an in-depth breakdown of the update alongside an interview with Grounded Game Director Adam Brennecke from Obsidian Entertainment.
---
I love Grounded. I made no secret of that when I reviewed Grounded just over a year ago — Yeah, it has already been a year! The critically acclaimed survival crafting game from Obsidian Entertainment and Xbox Game Studios just celebrated its very first anniversary and, since launch, has enjoyed a number of updates to add new content, improve existing features, and address community feedback.
The Grounded team has been silent since the game's last update in May of this year, though. Players have been speculating what Obsidian has been cooking behind the scenes or wondering if everyone's favorite bug-sized survival game has seen the end of its life already. Well, we finally have a definitive answer. Grounded's 1.3 update is coming later this month, and it's the largest single content update the game has enjoyed since its launch.
The passionate Grounded team has been working on the Make It or Break It Update basically since the release of the last update, and it's introducing an all-new way to play the game. It puts all the power in the hands of players, letting the most creative among us design and build our very own adventures. I've gotten a sneak peek at what's to come in the update and had an opportunity to interview Grounded's game director, Adam Brennecke. Here's everything you need to know about Grounded's 1.3 Make It or Break It Update and why it's the most exciting update the game has gotten yet.
Disclaimer: This interview has been edited for grammar and clarity.
What is the Make It or Break It Update for Grounded?
What you need to know
The Make It or Break It Update is the next major content update for Grounded, Xbox's bug-sized survival game.
The update introduces a ton of new vanity items, completely overhauls BURG.L quests, and brings hundreds of system changes and improvements.
The headlining feature is actually Playgrounds, though, a new sandbox that'll allow players to build and share anything they want in the Backyard using a huge number of tools.
The 1.3 Make It or Break It Update is heading to all Grounded players on Nov. 13, 2023.
---
From certain angles, Grounded's long-awaited 1.3 content update may appear just like previous content updates. Just its "traditional" changes and new features are enough to make plenty of Grounded players excited. An abundance of new vanity items and decorations are coming to the game to help players customize their bases, for one. BURG.L's quests are being completely overhauled, with over 100 new quests that should massively improve the diversity and longevity of Grounded's quest-based gameplay.
Obsidian Entertainment has also been busy listening to player feedback and considering their own playthroughs to incorporate hundreds of minor system changes, quality-of-life improvements, and balance updates. All of that amounts to a decent content update for any video game, but the Grounded team has been silent for six months for a reason. The headlining feature for the Make It or Break It Update is Playgrounds, a new creative sandbox designed to unleash player creativity.
I'll put it simply: Playgrounds is to Grounded what EventLab is to Forza Horizon 5, and Forge is to Halo Infinite. Players are able to start in a fresh version of the Backyard or a completely blank grass field and build absolutely anything they want. Playgrounds gives you access to completely everything in Grounded, including all items, resources, building props, furniture, decorations, and even environmental objects and assets. Hell, you can even spawn any number of every creature in Grounded. However, it goes so much further than that.
Playgrounds also includes a vast assortment of Gizmos, new tools, and gadgets that players can use to do... Well, basically anything. There are switches and buttons, spawners and timers, visual effects and audio files, and so much more. There are even full-blown logic gates. All the fundamentals of programming are here; all the tools Obsidian itself uses to build Grounded are here, condensed down into an accessible, approachable, flexible format perfect for the hands of players. You can create countless (literally, there is no limit) connections between objects to orchestrate your own Grounded adventure. Even the few examples the Grounded team showed me were incredibly impressive.
The depth here is unimaginable, enabling players to build all manner of things that simply don't exist in regular Grounded. It's also a free update coming simultaneously to Xbox Series X|S, Xbox One, Windows PC, Xbox and PC Game Pass, and Xbox Cloud Gaming on Nov. 13, 2023. It's fully accessible via mouse and keyboard or controller, and it even supports multiplayer — meaning you can design and create in Grounded with up to three of your friends.
Read on for more information, including a behind-the-scenes look at the past, present, and future of Grounded with Adam Brennecke.
Image 1 of 4
Playgrounds was the plan from the beginning
Adam Brennecke revealed to me early on in our discussion that the idea for Playgrounds started well before its development, inspired by modding and his desire to give players more power to play Grounded their way. The Grounded team at Obsidian Entertainment is small and possesses limited resources, however, meaning they had to prioritize and focus in order to make their vision a reality.
Since Grounded's debut, the team has been wholly focused on making the base game as great of an experience as possible. That meant fleshing out the Backyard, the story campaign, the survival experience, and the gameplay. Just over a year after its launch, though, Obsidian was feeling very confident about where Grounded was. The 1.0 version of the game was already excellent, but subsequent updates brought more features, more content, and more improvements. Shortly after the release of the Grounded Super Duper Update, Brennecke and his team knew it was time.
"We didn't start working on this until after [the Super Duper Update] was done," he told me. "We had some ideas of 'Hey, it would be awesome to try this,' but we didn't really go into tackling the problem until about May this year." The Grounded team is sitting on a veritable vault of Grounded ideas and concepts, but Playgrounds has been high on the list for some time. Even so, they had no clue what the feature would end up becoming.
"We didn't really have an idea of where this would end up when we started the process — We just started getting a few things in here and there and it turned out to be pretty awesome," Brennecke said. Of course, tackling this problem presented all new challenges for the talented Grounded developers, who had never attempted such a thing before.
Making Playgrounds a reality was a huge challenge
Obsidian Entertainment may be a huge studio under Xbox Game Studios, but the bulk of the studio's force is working on The Outer Worlds 2 or Avowed. Smaller teams put together Pentiment and Grounded, with considerably more limited resources. Brennecke told me how the plan for the Playgrounds feature was challenging from the offset since the Grounded team doesn't have a lot of engineers, and adding modding support (or similar features) to any game requires an absurd amount of work.
"Just being able to switch between Play Mode and Design Mode and have everything reset properly was a pretty big challenge," Brennecke said of some of the major obstacles the team faced. Grounded's Playgrounds feature lets you seamlessly switch from Design Mode to Play Mode with the press of a single button, testing your creations in real time without any loading screens or menus. It's impressive, and ensuring that the process is not only smooth but guarantees the world properly resets after everything you do in Play Mode was a mighty challenge for Obsidian.
Brennecke also wanted to make Playgrounds as accessible as possible, though. "Another challenge for us was just making things user friendly," Brennecke told me, referring to how the features work with mouse and keyboard or controller, and features easy-to-navigate menus and controls so that any player can grasp the basics of using Playgrounds' various tools. "And all this works in multiplayer, so you can design and create with friends," Brennecke concluded.
I can't even begin to imagine how difficult it was to make Playgrounds work in multiplayer just like the base game, a feature that's missing from similar features in other titles like Forza Horizon's EventLab. One facet that massively impressed me was that the Make It or Break It Update has full feature parity on all platforms, including Xbox One. "We definitely pride ourselves in making sure the game runs well and the framerate is good," Brennecke told me. "[Playgrounds] runs well on older hardware, not only Xbox One but also older PCs."
These are just a few examples of what the Grounded team had to figure out while designing Playgrounds, but it's not the end of the challenges (as I'll discuss more later).
Playgrounds will unleash players' creativity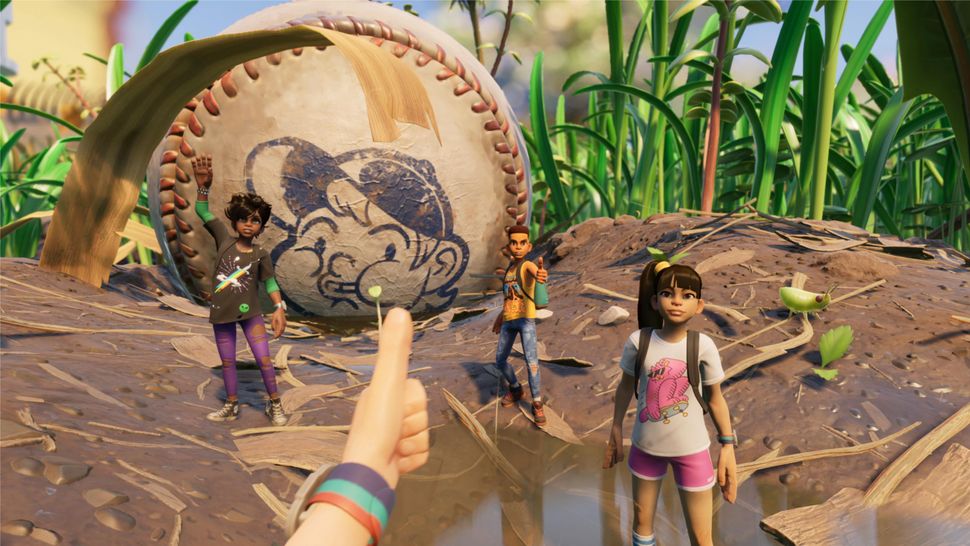 "It's a very powerful thing to have mods in your game," Brennecke told me when discussing the influence modding in games had on Playgrounds. "Allowing players to do whatever they want, create their own stories, create their own content..." Brennecke trailed off, leaving unsaid what we both knew. Video game communities have proven time and time again their ability to far surpass any and all expectations set by developers. We've seen it in Minecraft, Halo Forge, and in every game that supports mods.
"Players are so creative," Brennecke continued, "and we were always interested in seeing if we could provide those tools to the community." Exploring this area of video game development for the first time is complicated, as mentioned before, but the Obsidian team had plenty of resources, examples, and experience to call upon.
"[Forza Horizon 5's EventLab and Halo Infinite's Forge] were big inspirations for us. Even going back to Minecraft, I think being able to have players create in the same ecosystem as they're playing the game is powerful," Brennecke said. Before those incredible game features existed, though, members of the Grounded development team had their ties in game modding, Brennecke included.
"Back when I was in high school, that was when Quake came out... I was really into making Quake mods. I think that got me into game development," he told me. "[Playgrounds] makes [modding] so much more accessible, and players can be so much more creative in that space," he continued. "It opens it up for every type of player."
We briefly discussed how countless current or future developers were likely inspired by Minecraft, which provides an accessible entryway into programming that has allowed players to accomplish incredible feats inside the game. "It's going to be really cool to see a lot of young players get into that experience for the first time and get exposed to some of those ideas, like logic gates, which teach the fundamentals of programming," Brennecke said, clearly excited about the possibilities.
There was a common theme throughout our conversation — Playgrounds was all about enabling players to create the experiences they want to create, and the passionate team at Obsidian has spent the last six months working on how to make that experience as powerful and intuitive as possible. If the Grounded community embraces Playgrounds, it'll not only breathe fresh life into the game and give it a near-endless life... It'll inspire new creators in video games.
More updates are coming to Grounded in the future
Once the Make It or Break It Update releases to all Grounded players on Nov. 13, the Obsidian-bound team isn't going to rest on its laurels. Grounded is far from over; the team has a lot of big plans, not only to improve Grounded but to bring new content and features to the rest of the game, too. First, though, the team will be listening closely to players on what they can do to improve Playgrounds.
"Once [Playgrounds] gets out there and people get time with it and provide feedback, we're going to have to filter through all that to see what the next steps are," Brennecke explained to me. "But we are definitely going to be adding more to [Playgrounds] and seeing where we can take it."
There's a list of ideas and plans at Grounded, but I did hear about a few features that are slated for future updates (I happened to stumble upon these plans by asking the right questions). For example, Obsidian wants to give players more ways to share their creations. "[We want to add] a way to browse through other creations. We have a shareable code, but we would like to expand on that," Brennecke said. Eventually, Obsidian wants Grounded to have a sort of community marketplace similar to Forza Horizon 5's EventLab, enabling players to browse through shared creations. We may even see featured creations, tags and filters for more powerful searching, and more, but that's mostly my personal wishlist.
"We have other crazy ideas that people probably won't even ask for because they have no idea if it's possible or not," Brennecke continued. He wouldn't elaborate on what this means, but I'm excited by the possibilities. I did ask Brennecke if there's one feature he personally wants to make sure is added to Playgrounds in the future. "We don't have a very good way of ending and resetting the game," he told me. "So, providing a way to have win/lose conditions with a way to reset the game would be great... That might be coming sooner rather than later."
I also know that the Grounded team is exploring control over creature AI. For now, all spawned creatures will follow their default behaviors. However, Obsidian is exploring tools to control creature hostility, pathing, and more. If that feature comes, Playgrounds really will have all the scripting tools players need for fully custom adventures. "There are a lot of challenges involved with doing a lot of this stuff," Brennecke cautioned, "but we're ready to take on some of these challenges now that we've gotten a lot of the fundamentals working."
If you might be thinking that Playgrounds sounds like the future of Grounded, I wouldn't blame you. However, Brennecke was quick to inform me that the team has a plethora of other ideas for how to improve the game. "We're not done yet," he said, indicating that there's a lot more players can expect beyond the Make It or Break It Update. "There are some teases in this update of what's to come. I'll leave it at that."
Grounded still has a very healthy future of support ahead of it. However, Brennecke and I also took some time to discuss an inevitability: the end of Grounded.
But Grounded will have to end eventually
Brennecke made it clear to me that the team has a basically endless list of ideas for how to make Grounded better, and that list continues to grow over time, thanks to the community. However, despite Grounded's immense success (over 15 million players according to the last update we got), the game was never intended to extend into perpetuity like other titles, such as Minecraft.
"We never wanted to monetize Grounded outside of buying the game once and playing it and enjoying it," Brennecke said. "There will be a stopping point to updates sometime. Then we'll think about what's next for Grounded as a whole." Grounded has no microtransactions, paid DLC, or any other way to continue funding the game beyond players purchasing it. That was always the plan, though, and Obsidian is prepared for it.
"We're always discussing when's the right time to [move off of Grounded]," Brennecke admitted before continuing, "We still have quite a few more ideas left for Grounded." We talked for a while about the impossibility of deciding when on that list of ideas to say "enough" and stop updating Grounded, but Brennecke let it be known that the cut-off point for Grounded is still a ways away. Even when that day does eventually come, Grounded isn't finished.
Brennecke reminded me that the Grounded animated TV show is still in the works, and the energy in his voice when mentioning it was palpable. There are also apparently other things in the pipeline for the Grounded franchise, too, because that's what Grounded has become — a franchise. This isn't a one-off game for Obsidian Entertainment or Xbox. Grounded is here to stay, even after the original survival game receives its final update.
Making players more powerful than Obsidian
If I had to choose one emotion to describe my conversation with Adam Brennecke, it would be "ecstatic." The Grounded team has been building the Make It or Break It Update for months, and we're now on the eve of its release. Brennecke took every opportunity to reiterate how exuberant he was about it. Toward the end of our conversation, we moved on to the absolute certainty that players would take the tools Playgrounds gives them and run far beyond what the Grounded team could ever imagine. I asked Brennecke what he hoped to see following the update's release.
"I want to see all kinds of things [from Playgrounds], like combat arenas or escape rooms — I think those will be really fun," he told me. "There are a lot of stories that could be told [in Grounded]; I'm curious to see if anyone wants to tackle a story-based campaign with these tools." Brennecke doesn't know what players will do with Playgrounds, though, and that's part of what thrills him.
"You can make anything in your dreams and wildest imaginations. We're providing you with the tools to go out there and make your own Grounded experience that you can share to millions of players around the world," Brennecke said. We only had moments left before Brennecke had to move on to the next item on his busy agenda, but he had one last point before we moved on to our farewells and ended the call.
"That's more powerful than anything that our development team at Obsidian can do," he concluded. Looking at what players have accomplished in Minecraft, Forza Horizon 5, Halo Infinite, Skyrim, and so many other games... I have absolutely no reason to argue.
Grounded's 1.3 Make It or Break It Update brings Playgrounds to Xbox consoles and Windows PC on Nov. 13, 2023, alongside new vanity updates, quests, and countless quality-of-life improvements. It's the biggest update for Grounded yet and the beginning of a new era for this wonderful survival game. Time to build our own Backyards.
Get the Windows Central Newsletter
All the latest news, reviews, and guides for Windows and Xbox diehards.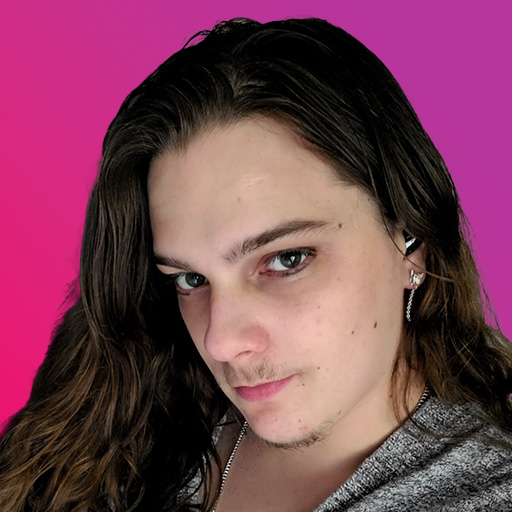 Zachary Boddy (They / Them) is a Staff Writer for Windows Central, primarily focused on covering the latest news in tech and gaming, the best Xbox and PC games, and the most interesting Windows and Xbox hardware. They have been gaming and writing for most of their life starting with the original Xbox, and started out as a freelancer for Windows Central and its sister sites in 2019. Now a full-fledged Staff Writer, Zachary has expanded from only writing about all things Minecraft to covering practically everything on which Windows Central is an expert, especially when it comes to Microsoft. You can find Zachary on Twitter @BoddyZachary.