GTA 6 gameplay leaks online in over 90 videos of early footage (Updated)
Rockstar Games has responded to a mega leak with over 90 videos of gameplay from the next Grand Theft Auto entry.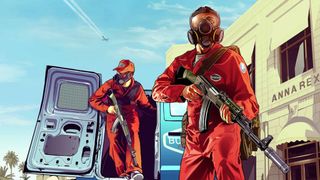 (Image credit: Take-Two Interactive Software, Inc. )
What you need to know
The first footage of the next Grand Theft Auto game has leaked online, with over 90 videos showcasing its engine, gameplay, and more from an early development build.
The historic leak provides a glimpse into the next Grand Theft Auto entry, confirming prior reports of the series' first female protagonist and a Vice City setting.
The leak stems from a "network intrusion," according to Rockstar Games, allowing a third party to gain access to confidential information from within the studio.
Rockstar Games parent, Take-Two Interactive, stated it has "already taken steps to isolate and contain this incident," in a recent K-8 form filed with the SEC.
The user, who first posted the footage to GTA Forums, has claimed access to stolen source code and other assets or "no less than five figures," though Rockstar Games states the hack has no "long-term effect" on development.
Update (16:41 EST — Sept. 19, 2022)
In an interesting twist, Take Two Interactive has won itself an unlikely ally in ride-sharing service Uber. Uber has issued a statement noting that it's working with the FBI and US Department of Justice in tandem with Take Two to look into this series of hacks.
Reports suggest that the culprit is the Lapsus extortion group, known for attacking both Microsoft and NVIDIA in the past year. Uber issued a statement via its website.
"We believe that this attacker (or attackers) are affiliated with a hacking group called Lapsus$, which has been increasingly active over the last year or so. This group typically uses similar techniques to target technology companies, and in 2022 alone has breached Microsoft, Cisco, Samsung, Nvidia and Okta, among others. There are also reports over the weekend that this same actor breached video game maker Rockstar Games. We are in close coordination with the FBI and US Department of Justice on this matter and will continue to support their efforts."
Uber and Rockstar Games are in close coordination with the FBI and US Department of Justice amid both companies being hacked.The group known as Lapsus were seemingly involved with the attacks which have previously targeted Microsoft & Nvidia in 2022.https://t.co/VVrGsA2ljJ pic.twitter.com/1Dv3rXnsrbSeptember 19, 2022
Update (11:33 EST — Sept. 19, 2022)
Grand Theft Auto publisher, Take-Two Interactive, has issued its own statement on the recent hack, which saw early GTA 6 gameplay footage posted online. The firm, discussing the leak in an 8-K filed via the SEC, stated it had "already taken steps to isolate and contain this incident."
The filing follows an effort from Take-Two Interactive to suppress leaks on popular video sharing and social media platforms, including DMCA takedowns on platforms like YouTube. The requests have seen videos containing the footage removed, though many remain easily visible, even on popular websites. The full statement from Take-Two Interactive follows below, echoing Rockstar Games' response earlier in the day.
"Rockstar Games recently experienced a network intrusion in which an unauthorized third party illegally accessed and downloaded confidential information from its systems, including early development footage for the next Grand Theft Auto," Take-Two Interactive stated. "Current Rockstar Games services are unaffected. We have already taken steps to isolate and contain this incident."
"Work on the game will continue as planned. At this time, Rockstar Games does not anticipate any disruption to its current services nor any long-term effect on its development timelines as a result of this incident."
Update (09:10 EST — Sept. 19, 2022)
Rockstar Games has responded to a recent leak that saw over 90 videos of gameplay footage from the next Grand Theft Auto game posted online. The developer has confirmed the leak resulted from a "network intrusion" from an external third party, which obtained access to "confidential information" from the firm.
Work on the next title, widely known as GTA 6, remains underway "as planned," according to Rockstar Games, promising more information on the project at a later date. It also stated it doesn't "anticipate any disruption" to its live service titles like GTA V and Red Dead Redemption 2 or " any long-term effect" on GTA 6 development.
The latest hack on Rockstar Games remains a rapidly developing situation and we're still scoping out what the breach entailed. The user behind the leaked gameplay has also stated they have access to GTA 5 and GTA 6 source code, a claim seemingly contradicted by Rockstar Games' latest statement.
Rockstar Games has also stressed it is business as usual for the developer, with its existing titles and future projects facing no "long-term effect" following the leak. While we still don't know when to expect the release of GTA 6, there's no doubt this historic leak will have rippling effects throughout the company.
Update (08:07 EST — Sept. 19, 2022)
The fallout continues from what many describe as the biggest leak in video game history. The site of the original leak, GTAForums, stated it had been contacted by Rockstar Games parent, Take-Two Interactive, stipulating that copyrighted material be removed. A large red banner has appeared across the top of the site, echoing the follow-up from the leak.
The user has also claimed they're part of the same team that breached Uber in a recent "social engineering" attack. Social engineering refers to the practice of tricking a privileged user within a secure network into giving up their authentication credentials and allowing the attacker to gain unauthorized access.
the admins of the GTA Forums where the GTA 6 leak was first posted say they have been contacted by Take Two to remove the content pic.twitter.com/Nei5iPvU9YSeptember 19, 2022
A Reddit thread has compiled some of the major feature reveals as a result of this leak, as Take-Two Interactive continues to play whack-a-mole with copyright takedown notices across YouTube, Twitter, and other forms of social media.
Here are some of the possible features confirmed from various videos and posts, although, of course, with any pre-release game, any and all of this may be subject to change in the final product.
Map locations appear, seemingly set in series staple Vice City.
As reported previously, the game seems to feature dual female and male protagonists who may be a couple, perhaps taking cues from Bonnie and Clyde.
You'll be able to rob interior premises while managing crowds, robbing hostages, and so on. Reminiscent of the opening scenes of Pulp Fiction. It seems to include restaurants, gun shops, gas stations, and more.
Police seem to recall and record stolen vehicles, potentially forcing you to be more creative with escaping law enforcement, ditching cars and so on.
Strip clubs and pawn shops return to the game.
An in-game "WhatUp!" messaging app appears, parodying Facebook's WhatsApp.
It seems players can take a prone position on the ground, a first for the series.
Character animations seem more advanced, with models reacting, bracing, and flinching while being shot at.
Vehicle interiors and exteriors reportedly feature impressive detail.
Update (19:05 EST — Sept. 19, 2022)
The plot has thickened around the major GTA 6 leak, which has seen dozens of videos spill out onto social media and video-sharing websites.
The original source of the leak claims it's the result of a hack / social engineering by a sole actor, who is now ransoming GTA5 source code and other Take-Two Interactive property for "no less than 5 figures," according to reports from Telegram. Take-Two has also started issuing DMCA copyright claims against users who share the stolen content.
A couple of GTA 6 leak updates:- The hacker has requested that someone from Rockstar/Take-Two contact them after going "unexpectedly viral"- Take-Two has started to DMCA footageI'll continue to update this as a thread as more information comes out. pic.twitter.com/vIymD1XGWvSeptember 18, 2022
The hacker has now said that he will sell GTA 5's source code and assets and will not accept any offers under 5 figures.GTA 6 source code is "not for sale at this moment" #GTA6 pic.twitter.com/kHz9w1Xp43September 18, 2022
As a further development, a user was seemingly scammed out of $100K USD worth of Bitcoin by purchasing a false repository of the GTA code. The original hacker confirmed that nothing had been sold yet, meaning that the purchaser likely just lost their money.
The hacker's original Telegram feed also appears to have been deleted. Take-Two's involvement will undoubtedly lead to charges if the hacker is caught, owing to the unauthorized access and the purported attempts to blackmail the company in exchange for a return of the code.
If GTA 5's source code leaked, it would lead to an unprecedented compromise in security for users playing GTA Online and potentially other Rockstar Games, leading to cheats, or perhaps worse for the best-selling title.
Original article (Sept. 18, 2022)
The next entry in Grand Theft Auto franchise remains shrouded in mystery, and beyond a brief confirmation from Rockstar Games, we know almost nothing about the project. The title, informally known as GTA 6, will mark the first mainline game since 2013's GTA V, having racked up a record-breaking 170 million sales to date.
We might be witnessing our first GTA 6 leak, with a historic dump of media surfacing online, featuring hours of footage from a pre-release build. Over 90 videos are now circulating from the project, as reported by PC Gamer, showcasing its engine, planned setting, and early iterations of gameplay.
The leaked footage closely aligns with what Bloomberg reported back in July, with plans for the game's first female protagonist as one part of a criminal duo. The narrative, set to draw inspiration from the infamous Bonnie and Clyde, also reportedly aims to retain the franchise's satirical themes while crafting a more inclusive tone.
The alleged GTA 6 footage comes via GTA Forums user "tepotuberhacker," posting various snippets of its open world in action from what appears to be an early development build. Footage making the rounds features our two protagonists, including a Latina woman named Lucia. The build also alludes to a Vice City setting, suggesting a revival of the Miami-inspired locale from 2002's GTA Vice City.
The over 90 videos also provide an extended look at robberies, NPC interactions, vehicles, and more from its sprawling sandbox. The footage appears to be from builds at least a couple of years old, suggesting development has been underway in tandem with recent years of GTA V content updates.
It's a historic leak from a notoriously tight-lipped developer, providing our first glimpse at one of the most anticipated titles of this decade. Rockstar Games parent Take-Two Interactive has high hopes for GTA 6, in what CEO Strauss Zelnick stated would "set creative benchmarks for the series, our industry, and for all entertainment."
Editor's note — 10:30 ET, Sept. 19, 2022: Removed reference to unverified reports of access to development documentation for the unannounced Bully 2.
Get the Windows Central Newsletter
All the latest news, reviews, and guides for Windows and Xbox diehards.
Matt Brown was formerly a Windows Central's Senior Editor, Xbox & PC, at Future. Following over seven years of professional consumer technology and gaming coverage, he's focused on the world of Microsoft's gaming efforts. You can follow him on Twitter @mattjbrown.