Can the ROG Ally survive a full day of gaming on its battery?
ASUS dominates Valve in every category except battery life.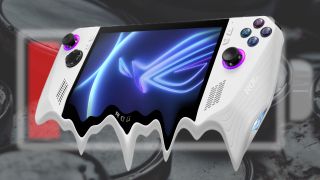 (Image credit: ASUS | Windows Central)
It's a big day for ASUS. Its brand-new handheld PC gaming console, the ROG Ally, has officially launched with a confirmed set of specifications (although we may have already known a bunch of these, thanks to some less-than-discreet retailers.) Coming up in a battle versus Valve's Steam Deck will be tricky, but it feels more realistic than any of the no-name brand attempts from the past year or so.
There's only one genuine concern I can't shake off after browsing the full ROG Ally specs: the battery capacity. We already knew about a few components lurking under the hood of this impressive portable console, like its AMD Ryzen Z1 Extreme CPU pushing for a jaw-dropping 8-core, 16-thread combination of processing power. Still, prospective battery life remained a mystery, at least until today.
Up to 8 hours — on standby?
The ROG Ally has a 40Whr battery — same as the Steam Deck specs, except Valve claims a far more reasonable '2-8 hours of gameplay' on a full charge. ASUS and its chosen third-party retailers mention 'up to 8 hours' for the ROG Ally, but can we honestly expect the same kind of battery life from a device with much beefier components?
A considerable amount was riding on the Z1 Extreme CPU's ability to optimize its power efficiency in the lead-up to ASUS' unveiling. Unless AMD has pulled out some serious black magic, I doubt it will ever reach those lofty heights on anything besides 'ideal' conditions. 40Whr isn't necessarily terrible, but even the AYANEO 2, another Windows-based competitor, promises 50.25Whr.
I'm not getting the vibe from ASUS that they expect users to play exclusively lightweight games on the ROG Ally, and I'm craving some first-hand test results. Given my experiences with the Steam Deck, in that, I play it almost every evening, I've become somewhat obsessed with pushing Valve's handheld to its breaking point.
Whether I'm targeting longer battery life or its upper limits of graphical performance, the Steam Deck is a tweaker's dream. Part of what convinces me it'll stick around to fight, and maybe even come out triumphant, against the ROG Ally is its gigantic community of crowd-sourced Steam Deck tips and tricks for running practically any game in the most efficient way possible.
But, again, ASUS touts its offering as cutting-edge. It promises to play all your games wherever you are, but anyone who booted up Marvel's Spider-Man on Steam Deck knows how devastatingly fast the battery will drain. It's the same story for most high-end titles, they need more power for the components, and you're looking at 1-2 hours of gameplay at best on its comparable 40Whr battery.
Is it portable if you never leave the house?
As a bittersweet frame of battery life reference, we know for a fact that ASUS failed to impress at least some testers, thanks to PC Gamer's ROG Ally review. I'm not mad that they were the ones who bagged an early sample, but I'm still curious to see how it would perform in my own testing. Still, it confirms my worst fear that it can't replace the Steam Deck in my travel bag unless I stick to lighter games that won't stress the components.
But then again, what's the point? Why fork out the extra cash for a more powerful handheld console if using it to its full potential barely bags me an hour of smooth gameplay during a five-hour train journey across the country?
I'd rather stick with custom-made profiles for titles in my Steam Library that have already been tweaked into oblivion to squeeze every last bit of juice out of the Steam Deck for the entire duration.
That, or the ROG Ally becomes another 'portable' device that never leaves home like our Nintendo Switch — doomed to remain in its dock where it proves most useful. It certainly makes a case for itself as a flexible desktop environment thanks to Windows 11, but I'm already dual-booting Windows on my Steam Deck. So far, it's a hard sell. Maybe I'll feel differently when I get my hands on it.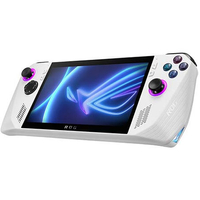 ASUS ROG Ally
With Windows 11 and a new processor from AMD, this gaming handheld promises more power than the Steam Deck and access to several gaming services. You can pre order the ROG Ally now, though it won't ship until this summer.
US Preorders: Asus (US) | Best Buy (US)
UK Preorders: Asus (UK) | Currys (UK)
Get the Windows Central Newsletter
All the latest news, reviews, and guides for Windows and Xbox diehards.
Ben is the channel editor for all things tech-related at Windows Central. That includes PCs, the components inside, and any accessory you can connect to a Windows desktop or Xbox console. Not restricted to one platform, he also has a keen interest in Valve's Steam Deck handheld and the Linux-based operating system inside. Fueling this career with coffee since 2021, you can usually find him behind one screen or another. Find him on Mastodon @trzomb@mastodon.online to ask questions or share opinions.