EA Sports FC 24: Everything you need to know about the next step for FIFA
A new era for a classic game.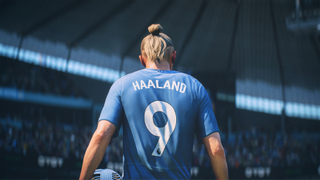 (Image credit: EA Sports)
2023 marks a new era for the world of soccer video games. Following the conclusion of EA's partnership with FIFA, the company is set to introduce the next annual entry in its long-running soccer series under a new name, EA Sports FC 24.
While the name may be entirely brand new, the game aims to once again be one of the best sports games of the year, and fans of the FIFA series are likely to feel right at home when they eventually get their hands on the new entry for Xbox and more.
What's new in EA Sports FC 24?
As is the case every year, EA Sports' yearly soccer game will once again see a few big upgrades in how players experience it. This year, EA Sports FC 24 will slow things down a bit and make the game a bit more physical. The game's new HyperMotionV motion capture aims to capture even more subtle movements and animations from the real world to bring into the game.
This means that not only will players look more like their real-life counterparts but play like them as well. Similar to how the Madden NFL series has tried to mirror real-life motions and subtleties, it seems like EA Sports FC 24 will have a big focus on making fans really feel like they're playing soccer.
Also new to EA Sports FC 24 is the inclusion of PlayStyles, which EA Sports hopes will further make each player and team feel unique. As explained in EA Sports' gameplay deep dive, PlayStyles will have 34 basic PlayStyles, each of which have higher-tiered versions that can improve a player's skill even more.
PlayStyles operate similarly to X-Factors in the Madden NFL franchise, giving players unique abilities or better skills due to certain traits. Man City's Kevin de Bruyne, for example, has six PlayStyles: Pass Into Space, Bullet Pass, Lob Pass Expert, Outside Foot, Whipped Crosser, and Set Piece Specialist. These abilities should result in players feeling a difference when controlling him vs. any other player, for example.
Is there an EA Sports FC 24 trailer?
The latest look that fans have been given at EA Sports FC 24 came via a new gameplay trailer for the game. In it, a few new features (including upgraded Hypermotion, new Playstyles, and more) could be seen, as well as some of the upgraded visuals the game will sport.
EA has also recently released a gameplay deep dive on EA Sports FC 24. In it, EA Sports explains some of the new things coming to the game, including the inclusion of PlayStyles, as well as a look at the enhanced Frostbite engine.
What's different between EA Sports FC and FIFA?
By far, the biggest and most notable change for EA Sports FC 24 is the name of the game. For 30 years, EA and FIFA have had a partnership that allowed the publisher to use the international governing body's name for its games.
After no agreement could be reached for the future, however, EA officially decided to use its own naming structure, while FIFA has said it plans to enter into a partnership with others to develop a game.
While it may seem like a lot is set to change, it actually doesn't seem like too much will be.
Although the FIFA name and branding may be gone, EA still has exclusive partnerships with the Premier League, La Liga, Ligue 1, Bundesliga, Serie A, and MLS, meaning that aside from World Cup content, fans won't have to worry about losing not getting to play with certain teams or players.
Who is on the cover of EA Sports FC 24?
EA Sports FC 24 is turning into one of the best players in the world for its cover athlete this year. For their upcoming game, Manchester City's Erling Haaland will grace the cover. Haaland was a phenom for City this past season, breaking the Premier League record for most goals scored in a season in his first year in England.
As is the case most years, EA Sports FC 24 will also have a different cover for the game's Ultimate Edition. This cover will feature a collage of legendary players from past and present, including Ronaldinho, David Beckham, Pirlo, and more.
When is the EA Sports FC 24 release date?
EA Sports FC 24 is currently set to launch on Sept. 29, 2023, for Xbox Series X|S, Xbox One, PC, PlayStation 5, PlayStation 4, and Nintendo Switch.
Get the Windows Central Newsletter
All the latest news, reviews, and guides for Windows and Xbox diehards.
Anthony Nash has been writing about games and the gaming industry for nearly a decade. When he's not writing about games, he's usually playing them. You can find him on Twitter talking about games or sports at @_anthonynash.