I created my own 808 from Xbox's Hi-Fi Rush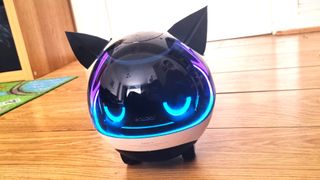 (Image credit: Jennifer Young - Windows Central)
Hi-Fi Rush is a rhythm-based action game from Tango Gameworks and Bethesda that took the Xbox world by storm when it was shadow-dropped in January at the Xbox Developer Direct.
The game features Chai, a boy who dreams of becoming a rockstar, and his quirky sidekick 808, a cat companion that transforms into a portable hovering speaker that pulses to the beat and helps Chai sync his attacks to the music. 808 has captured the hearts of many Xbox fans, and some have even hailed her as Xbox's new mascot. One fan even created their own 808 figure using a 3D printer.

I was one of those fans who fell in love with 808 at first sight, and after finishing the game and enjoying every rocking minute of Chai and 808's story, I couldn't help but wonder if Xbox had a great opportunity here for some merchandise, specifically making 808 a real-life music speaker.
Petitioning for @Razer to make a special edition 808 Kraken Kitty speaker with RGB reactive lighting. I would buy it! pic.twitter.com/IXRSHHtIGNFebruary 2, 2023
Having just received the striking Ebo-X robot family companion for review, I noticed its striking resemblance to my favorite feline sidekick. Could I make my own 808?
The Ebo-X already pairs with your phone or even Alexa to play music on Harman speakers, no less, and has a similar pulsing light to indicate the beat of the tracks you play through it. It's also shaped like a ball; it just needed the final touch… cat ears.

After scouring the internet for stick-on rubber ears, I found a lot of perfect picks to transform this device into my Hi-Fi Rush fantasy, but delivery alas would take too long. I got impatient.
What I actually ended up doing was cutting ear shapes out of some headset packaging and sticking them tentatively onto the unit. If you are reading this Enabot (creators of the Ebo-X), don't worry, I haven't ruined your device; the ears come off. But why would I ever want to remove them? Behold, my beat-bopping 808 speaker!
I've been playing the epic Hi-Fi Rush soundtrack on it all day as it's bopped around my living room, from The Prodigy to Nine Inch Nails, to Joy Formidable and Black Rebel Motorcycle Club. Seriously if you haven't listened to the Hi-Fi Rush soundtrack yet, go check it out immediately. Not only does my 808 play music, but it can also be commanded to follow me around the house, just like the real 808 follows Chai.
A lot of people on Twitter have asked me what on earth this curious device is, and it's currently an experimental family robot from Enabot. Initially launched as a Kickstarter project, the Ebo-X family companion has started to go out to supporters from May, with an intended full launch on Amazon later this year. The Enabot syncs with Alexa, has a 4K security camera, alerts you to crying children and even tells you if someone in the house falls over. Yes really.

This tiny security guard and voice assistant has won a CES 2023 Innovation Award for Robotics & Smart Home, and it's not even realized its full potential yet.
Image 1 of 3
Speaker deals: Walmart | Best Buy | Amazon | Dell
My main interest in the Ebo-X is not just how damn cute it is, but its ever-improving features that will include Chat-GPT integration. When this actually happens it will definitely be the smartest device in my house. We'll have a more in-depth feature on the Ebo-X coming soon when I've had time to fully test its features, but if you want to know more check out their Kickstarter page here.

In the meantime, I've been having way too much fun with my new 808 buddy; the combo of the Harman speakers and two-wheel dancing with its customizable light show make it the perfect stand-in for my 808 merchandise fantasy.
Over to you Xbox, now how about that Razer collab?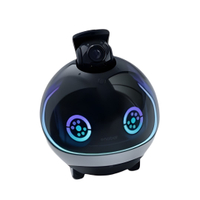 Enabot EBO-X Family Companion Robot
A smart, friendly and adorable robot that does more than just play. This companion robot protects your home with a 4K security camera, responds to voice commands and delivers high-quality sound via Harman speakers. Live your Hi-Fi Rush fantasy.
Preorder | Enabot
Get the Windows Central Newsletter
All the latest news, reviews, and guides for Windows and Xbox diehards.
Jen is a News Writer for Windows Central, focused on all things gaming and Microsoft. Anything slaying monsters with magical weapons will get a thumbs up such as Dark Souls, Dragon Age, Diablo, and Monster Hunter. When not playing games, she'll be watching a horror or trash reality TV show, she hasn't decided which of those categories the Kardashians fit into. You can follow Jen on Twitter @Jenbox360 for more Diablo fangirling and general moaning about British weather.