Starfield has leaked its ESRB Rating, giving us a glimpse of the game's features (Updated)
Bethesda's upcoming open-world sci-fi epic will reportedly be an M-Rated adventure.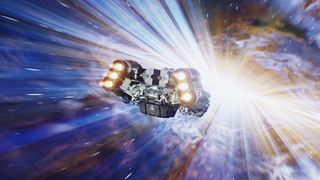 (Image credit: Bethesda Softworks)
What you need to know
Starfield's ESRB Rating has inadvertently "leaked" on its official Twitter page, ahead of an official ESRB listing.
The game is reported to be rated Mature (+17) and it will contain scenes of violence, blood, suggestive themes, strong language, and use of drugs.
Starfield is an upcoming upcoming open-world RPG by Bethesda that's set to release for Xbox Series X|S, PC, and Xbox Game Pass in Sept 2023.
---
Update: The ESRB has officially confirmed that Starfield will receive an "M" Rating (Mature +17) for Violence, Blood, Suggestive Themes, Strong Language, and Use of Drugs.
The full ESRB listing is as follows:
This is an open-world role-playing game in which players assume the role of a miner tasked with finding Artifacts across the galaxy. From first-/third-person perspectives, players interact with various characters, complete quests, and search for supplies while battling enemies (e.g., humans, robots, alien creatures). Players use futuristic guns, lasers, axes, and explosives to kill enemies. Combat is fast-paced, with frequent gunfire, cries of pain, and explosions. Attacks on some enemies can result in blood-splatter effects; several environments depict blood stains on the ground around corpses. The game contains some suggestive material in the dialogue, and after sharing a bed with characters (e.g., "Life is a sexually transmitted disease that's a hundred percent fatal"; "I'm all for getting a little wild, but next time let's try it without the jetpacks"; "Talk about seeing stars, whew… that was amazing."). A fictional drug (Aurora) is prominent in the game, with a section involving players' characters working in an illicit drug lab; players can also obtain Aurora by stealing or buying it from vendors (consuming Aurora results in a distortion effect on the screen). The words "f**k" and "bullsh*t" appear in the game.
Original:
Today, Bethesda may have accidentally "leaked" the ESRB rating for Starfield, an upcoming sci-fi open-world RPG where players travel through space to uncover the mysteries of the universe. The "leak" comes from an image that serves as the banner image for Starfield's official Twitter page. The ESRB is the United States parental advisory board for media, and typically rates games on the basis of their content. Bethedsa's ESRB rating has not been publicly shared previously until they placed a stamp for it on their Twitter banner.
According to the banner image, Starfield will be rated M (Mature +17) and it will contain the following content:
Violence
Blood
Suggestive Themes
Strong Language
Use of Drugs
We already know the game sports violence and blood owing to Starfield's previous reveal trailer. Use of drugs, suggestive themes, and strong language are also all typical of Bethesda's previous games, which revolve around giving the player a huge degree of freedom. Starfield has been described as "NASApunk," where players will be able to live out a spacefaring fantasy akin to shows like Firefly or Cowboy Bebop.
Windows Central's take
The full ESRB rating has yet to be shared, and may contain further details than what has been offered here. Given the mature content of Bethesda's other franchises like Fallout and Elder Scrolls, it is perhaps unsurprising that Starfield will be rated Mature (+17) as well.
The ESRB will more than likely make an official announcement of Starfield's full rating very soon or during the upcoming Xbox Games Showcase on June 11, 2023. So, stay tuned as we wait for Starfield's formal ESRB rating confirmation.
Starfield is one of the most highly anticipated upcoming Xbox titles in recent memory. Given the disappointing launch of Redfall, which even Microsoft's Phil Spencer has commented on, the pressure is on now more than ever on Bethesda to deliver what many fans are hoping will be one of the best Xbox games once it finally materializes.
Starfield is set to release for Xbox Series X, Xbox Series S, PC via Windows and Steam, and Xbox Game Pass on Sept. 6, 2023.
Get the Windows Central Newsletter
All the latest news, reviews, and guides for Windows and Xbox diehards.
Alexander Cope is a gaming veteran of 30-plus years, primarily covering PC and Xbox games here on Windows Central. Gaming since the 8-bit era, Alexander's expertise revolves around gaming guides and news, with a particular focus on Japanese titles from the likes of Elden Ring to Final Fantasy. Alexander is always on deck to help our readers conquer the industry's most difficult games — when he can pry himself away from Monster Hunter that is!