Garmin StreetPilot - Review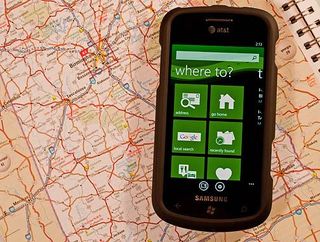 Garmin recently released StreetPilot over at the Windows Phone Marketplace. StreetPilot looks really good, is feature rich but carries a healthy price tag ($39.99). While the high price might be justified, Garmin doesn't provide a trial version to StreetPilot to allow Windows Phone users a chance to try it out first before investing the non-refundable $40.
Over the past few days we've taken StreetPilot out for a test drive and after tinkering with StreetPilot, it appears the navigation app is worth the $40 based on the number of features. But, is it worth the $40 with regards to performance? Well...that may be a different story.
Ease on past the break to read more on StreetPilot and see how it measures up to the sticker price.
App Layout
Instead of launching into a map view, StreetPilot launches into a menu layout. Once you get past the "Warning" page (which you can disable in the settings), you find yourself on a multi-page menu that covers:
My Locations: A listing of favorite or frequently traveled locations. You will also see a listing of recently found destinations and your Home location (can be established in the settings).
Where to?: This is a menu in itself giving you nine options to find your destination as well as flight status. You can search by address, go home, search locally via Google, view recently found destinations, search by category (food, hotels, gas, banks, lodging, etc.), favorites, search by city, or search by intersection. The local Google Search pulls up categories of local establishments (dining, gas, lodging, auto repair, etc.) or you can search by keyword.
In searching for establishments, you can pull up details on the business that will give you the physical address and phone number. From this detail screen you can create a route, save the location as a favorite, view traffic around the location or call the business. The "Where to?" page is a nice feature of StreetPilot in that it makes finding your destinations simple and efficient.
Traffic: Here you will find any information concerning traffic delays in your area. From construction to accidents, this may give you a fighting chance to avoid delays. In tapping the specific traffic issue, you can pull up a map of the effected area.
Traffic information is also available as a map overlay and from the destination views which details the traffic issues for that particular area.
Suggestions: As you begin to use StreetPilot, it will generate suggestions on places near you that might be of interest. Just tap on a suggestion to get a map view and more detail on the place.
On the top of the menu view is a keyword search field that you can use at any time to search by address or keyword. At the bottom of the screen, you'll see two buttons that will send you to the map view or settings.
Settings
Garmin StreetPilot's settings are spread out over several pages which includes:
General: Establishing your Home Location, turning on/off the warning page and location services.
Sound and Display: Here's where you determine backlight settings (always on, on when map is displayed, etc.), map color (day, night or auto) and turning on/off the voice directions and speed limit alert.
Navigation: This is where you set your navigational preferences such as route style (shortest or fastest), route optimization (car/motorcycle or walking), route views (2D or 3D) and an choose your Avoidances (such as toll roads, traffic, car pool lanes, etc.)
Map Layers: Sets the information layers on your map and covers traffic, favorites, suggestions and points of interest. The POI layer also has a filter to limited what is displayed.
Locale: Here is where you set how your distant units and temperature units are displayed (Imperial or Metric, Celsius or Fahrenheit).
As easy as StreetPilot is to pick up and use, it was a little strange not to see a Help Section.
Map View
Garmin's map view is fairly simple. You have 2D or 3D views with your current position represented by a car. You have buttons to the right of the screen to let you zoom in/out and center the map to your location. A button at the upper left pulls up your map layer options.
The map is touch navigable in the general view (route not set) but when a route is set, you are restricted to zooming in and out. You can roam the map or pinch to zoom when the route is displayed.
Once you've set your route, navigational information will be displayed at the top and bottom of the screen. To the top you will find your turn and location information. To the bottom, you'll see your arrival time, speed and a pull up menu options (route overview, directions, walking mode, stop navigation).
To the bottom right corner the speed limit will be display (if known). As you are traveling, should your speed exceed the posted speed limit, your speed will be displayed in red and a tone will sound. You can disable to tone but your speed will continue to be displayed in red. It's a nice feature for those who are conscious about the speed limits.
The map doesn't have an automatic zoom feature, which was a little disappointing. It would have been nice for the map to automatically zoom out when you increase your speeds and zoom back in when you slow down.
Another issue I have with the map view is that the car symbol is a little on the large side and can obstruct your view of intersections or street names, especially in the map view (the non-route view). The car looks nice but needs to be smaller or users given the option to use a smaller arrow icon.
All in all, the map view will do but, for me, it takes a little getting used to. Bing Maps just seems to have a cleaner appearance.
Establishing your route
Routing can be established many ways with StreetPilot. You can search by keyword or address, use one of the "Where To?" options or tap on a point on the map. While you can search for specific destinations by keyword or address, Garmin adds the functionality of Yelp! or Poynt by allowing you to search by various categories, returning results in your immediate area.
In the map view, you can tap on a map point, and an information bubble will pop for that point. The bubble will have the GPS coordinates of that point, an information button that will pull up the nearest address and intersection, a search button to find establishments in the area, and a weather button to pull up current weather and a six day forecast for that point.
Garmin does a good job of presenting a lot of information on your potential destinations. Again, these features goes a long way towards the ease and efficiency of searching for destinations.
On the Road
I took StreetPilot out for a 45 mile road trip on a route I'm familiar with. This allowed me to deviate from the route (without getting lost) and gauge route re-calculations.
StreetPilot was quick to establish the initial route. It is my understanding that StreetPilot downloads your route map to minimize the data connection dependence while traveling. Longer routes did take longer to establish but not painfully longer. The speed in which routes was created was impressive.
Routes were re-calculated quickly and maps kept pace nicely while traveling. The only issue I had with routes was that StreetPilot relied a lot on u-Turns and circling the block. Re-calculations also seemed to take the long way around things and at one instance, directed me to a road that hasn't been in existence for years. On the plus side, StreetPilot does allow you to remove u-Turns from the equation in the settings menu under the "Avoidances" button found on the Navigation page.
Streetmap tracked my position and movement fairly accurately, maybe being just a hair off but not enough to get me lost. Every once in a while, my position went off road or stayed on route even if I wasn't. StreetPilot corrected things quickly but the deviations were noticeable.
Voice prompts were loud, clearly understandable but a little too robotic for my taste. Another plus for StreetPilot is that announcements not only informed me of the upcoming turn but also the street I was turning on to. Voice directions also included directional references to help you identify the right road (e.g. exit right onto I 459 North towards Atlanta). This reduced the amount of time looking at the map and let you concentrate more on the road.
Overall, I was pleased with the "on the road" performance of StreetPilot but unfortunately there wasn't a silver bullet to make StreetPilot a clear cut choice above other voice navigation apps.
Overall Impression
Garmin's StreetPilot comes close to putting the functionality of a stand alone GPS unit on your Windows Phone. The app ran smoothly with no bugs, glitches or crashes experienced and offers a ton of features. There is room for improvement which prevents the $40 app from being a clear choice over the other less expensive alternatives such as Turn by Turn Navigation.
On one hand, none of the other gps apps matches StreetPilot's features. The search options, traffic information and weather forecasts help gives StreetPilot a strong edge over the competition.
On the other hand, a few of the alternatives match Garmin's performance as far as routing, recalculation, and maps, dulling that edge slightly.
If you find yourself needing a voice navigation app on a day to day basis, Garmin is well worth the price. If your use is less frequent, I think I'd have to give one of the lesser priced alternatives a try first (unlike StreetPilot, they have trial versions).
Another thing to consider is that StreetPilot only supports English and is limited to maps of the U.S., Canada and Puerto Rico. If you are an International traveller, the alternatives would be a better option for the time being.
It is disappointing that Garmin didn't offer a trial version of StreetPilot. They could have easily provided a version that limits routes to twelve miles to give Windows Phone users a taste of what thier app offers. Especially when you're asking customers to pay $40 which is non-refundable.
Overall, Garmin's StreetPilot is a good voice navigation app. I think if you make the investment you'll be pleased but if you're still on the fence, give the trial versions of the other voice navigation apps a try first. If you find yourself needing more features, then StreetPilot may be the ticket.
You can find Garmin StreetPilot here (opens in new tab) (opens Zune) at the Marketplace.
See our other GPS review round-ups for Windows Phone 7:
George is the Reviews Editor at Windows Central, concentrating on Windows 10 PC and Mobile apps. He's been a supporter of the platform since the days of Windows CE and uses his current Windows 10 Mobile phone daily to keep up with life and enjoy a game during down time.
Needs to be available for Australia.

Overall the application appears very similar to my Garmin Nuvi unit that I have (which I'm very happy with). From what I see, the UI is 'Metro' until get you get into the map itself (then it looks almost identical to my Nuvi), but all of the options are there (and more since it is also internet connected). Not sure yet if I'll get it for my phone as well since I have a GPS unit. However, there have a been a few times that my wife needed the Garmin for somewhere she was going, but I was going on a business trip at the same time and could of used a GPS street navigation unit myself, so perhaps I'll get it if that happens again.I am interested to know how well the traffic overlays work. Does it route around traffic backups?

The overlays work nice and yes, it will route around traffic issues. It is one of the avoidances

Is there the ability to download maps for offline viewing?

Not exactly. As I understand things, it will download a snippet of the maps from recent searches to help speed things up.

That's a real shame, because when you're in another country you'll need expensive roaming to use it then. Useless for me then.

Was so cross when I saw this had come out as US only as I really wanted a fully featured sat nav I have used co-pilot for years and miss some of those extra features. Their loss, hopefully some one will release a decent sat nav App for he UK soon Dan

Looks good. If it was maybe 15 or 20 bucks I might replace my free Turn by Turn. Nice review.

Thanks for the review George Ponder. Great job as usual. Having said that, giving this an 8 is far too generous. I think at best, 5 and I tell you way I think so. I think it is pretty decent as far as map apps go. My big issue with this and why I WOULD NOT buy it is because the developer got lazy creating the kinds of buttons that move when pressed as does the rest of the OS. I would think that at 40 bucks for this app, the developer would have spent the time creating a Windows Phone 7 centric application rather than this port from Garmin where the buttons can't show they were pressed, nor does any of the text fly in as I feel they should. What's worse, they stuck a Google label on top that looks like an afterthought. Not that I have a problem with Google navigation as such, but the black text on a white field looks like they really didn't give a damn about the aesthetics.I want the best for this OS and if a developer's app wants to sit on my phone and lift 40 bucks from my wallet, they damn well better want show it cares about the platform it wants to represent. As it sits, I won't own it. It needs a lot of work before it qualifies as a Windows Phone 7 app. IMHO.

GEORGE SAID "It is my understanding that StreetPilot downloads your route map to minimize the data connection dependence while traveling."How did you come to this conclusion and have you confirmed this George? My current phone has a free app that get's the job done but those data disconnects come at the worst time! Any feedback would be appreciated.

How did I come to the conclusion? Developer's description."And to minimize data usage, maps are downloaded on demand for areas relevant to your route."and "Garmin StreetPilot® stores map data on your device so you can continue to view route details as you travel in and out of coverage areas."It doesn't have a tool where you can select the portions of the map to save to your device (such as the case with Turn by Turn Navigation). In confirming things, in turning on the Airplane Mode I can pull up a screen's worth of map on my favorite destinations and recently searched destinations. I'll take StreetPilot out this morning to see how loosing data completely effects things but in driving through low signal areas during my initial test, the app didn't skip a beat.

Going to Airplane mode while in the middle of the route kills things. Likely because the app can no longer determine your location.I drove through weak reception areas several times where I was down to one bar of reception and the maps didn't miss a beat in keeping pace with my position.

Airplane Mode turns off all wireless signals, including GPS, so even though the maps might have been cached on the phone, Airplane Mode would have shut off the actual GPS receiver.You would have to see if there was a way to just kill your data connection but not turn off GPS.Google Nav works in a similar way for Android.I just my phone for short things or emergencies, or if I'm in the car with someone else and we need to look something up. For longer, planned trips, I still have a standalone Garmin that I use.For those talking about going out of the country, right now, even if they offered offline maps, it wouldn't matter since its only for North America.

Tks for your response George and great review. Your review of the Turn by Turn app has me leaning towards that app. I drive a school bus voluntarily on the weekends and I need a decent navigation tool. I know I could buy one but if my phone offers apps that can do the job I will gladly save my money.

Just yesterday I drove down to a secluded park just past Waldorf in MD, on the way I was having a conversation when I lost wireless connectivity. I was using a Magellan GPS unit but if I was using one of these data reliant GPS programs I could run into a problem if I lost connection while navigating. These programs are not really suitable for navigation if you need a constant wireless connection when you cant guarantee you will have one. And this programs goes for $40, far overpriced to me. Much better alternative is Turn by Turn, goes for 5 bucks and you can download maps beforehand. May lack features but ultimately gets you where you are going and thats what counts in the end.

Off topic, but can someone tell me the case that is on the Focus in this review?Thanks.

Mobi Case. Here's the link https://www.windowscentral.com/e?link=http2F2...

Thanks a bunch. The one in the review looks grey unless it's the lighting and is actually black. I couldn't find a grey one one your link.Thanks again.

It's the lighting. It's listed as black but has a matte finish that comes across grayish at times.

CoPilot, please come to Windows Phone marketplace! Royal fan to you guys but copilot for wm won't work...

Nice revue. Thing of it is for me anyway. Currently Turn by Turn is what I'm using. It runs well, maps are good has a hybrid map it basically give me a good route. I can't justify paying $35.00 more for this app without at lest seeing how it works for me. That is how I bought Turn by Turn. I gave the trail a test run liked it bought..It works great for me and Garmin hasn't given me any reason to switch over to them.

Just a quick question - are you able to select a contact address to navigate to?

Nope. No integration with your People Hub.

Nice review, too bad it was $40 just to try it

What I want to know, does it show address on screen in text? Currently TBT for wp7 doesnt...when you get to destination it just shows a flag and no destination address, so I have to look it up and make sure im at customers house!! So lame.
Also, does it work in landscape mode?

Thanks..

Great nav app, just like the best of the Garmin navigator appliances.
Here's what I don't get. Bing maps manages to get spoken directions to my car bluetooth (NO A2DP), but Garmin and many other apps don't. How is that possible?
Also, even though it caches maps, theres not way to specify how much to cache, and searches don't work without digital services.
pg



I'm curious about the "real-time traffic updates" and "Detour around unexpected roadblocks or emerging traffic conditions" claimed from Garmin. Can anyone confirm whether 1) the Fastest Route planning uses current traffic conditions, and 2) whether the app will automatically change your route mid-trip if traffic gets worse along your planned route?
I have a commute with several possible routes. Basically, I'm looking for a Windows Phone app like the recent dedicated GPS units that will choose the fastest one at the moment, then if things change, automatically reroute me to the fastest route as I'm driving along.
Can anyone confirm if StreetPilot will do that?
Windows Central Newsletter
Get the best of Windows Central in in your inbox, every day!
Thank you for signing up to Windows Central. You will receive a verification email shortly.
There was a problem. Please refresh the page and try again.