Gears 5 team talks Xbox One tech, PC promises, 4K ambition
Delving into the technology powering Gears 5 – and how it elevates the adventure on Xbox and PC.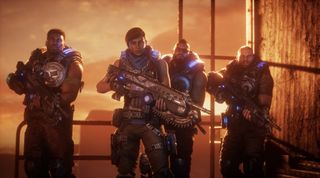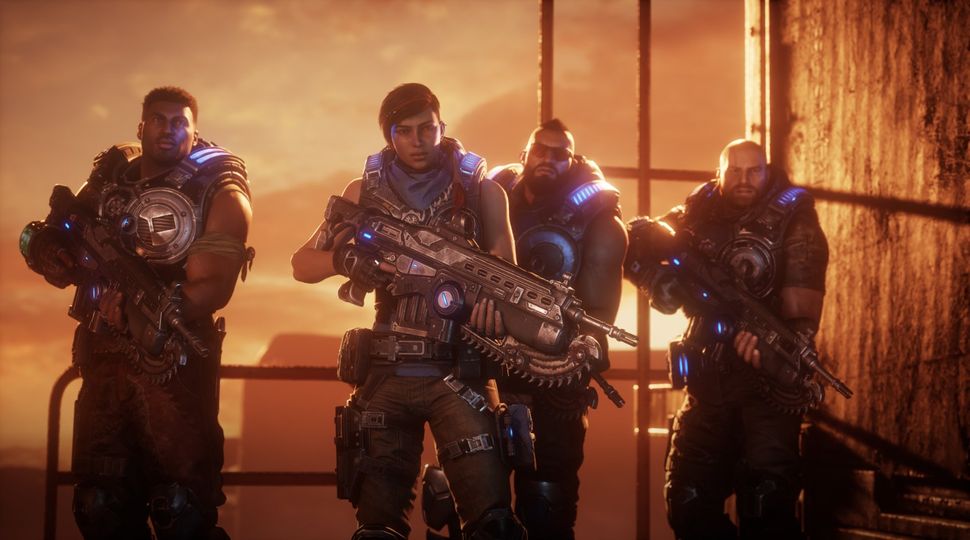 (Image credit: Xbox Game Studios)
Microsoft soon delivers its fifth Gears of War entry, spinning its bestselling franchise with a fresh palette. The heavyweight shooter once again sets out to elevate the Xbox lineup, building upon series' celebrated trio of narrative-driven campaigns, cooperative Horde, and competitive Versus multiplayer. And with high technical ambitions, Gears 5 packs considerable underlying handiwork to pull the package together.
Gears 5 is the latest showpiece on Xbox One and PC, cranking up visual capabilities and design opportunities. Alongside an early hands-on, we sat down with Mike Rayner, Technical Director at The Coalition, for a deeper dive under the hood.
Save on Gears 5
Gear up for a wild ride.

Gears 5 raises the stakes with Microsoft's latest evolution of the brutal shooter series. Amazon is currently offering the game at the cheapest price we've found, just $50. The game is expected to be released on September 10, 2019, while the $80 Ultimate Edition grants four-day early access.
How Gears 5 lives up to its 4K 60 FPS ambitions
Traditional hardware cycles for consoles continue to evolve, and since Gears 4's 2016 debut, Microsoft's own Xbox One landscape has too. We've seen Xbox One X hit store shelves bringing 4K gameplay to the platform, while the Xbox One S serves as a baseline alternative for HD gaming. Gears 5 aims high with its visual upgrades, striving to deliver improvements in resolution, framerates, and overall visual fidelity.
Headlining Microsoft's fall 2019 lineup, Gears 5 serves as a poster child for the Xbox One X's graphical prowess. The flagship locks down 60 frames-per-second (FPS) across all modes on the system at 4K resolution. The HD sibling achieves similar results at 1080p HD, only faltering to 30 FPS for its campaign vistas. The experience presents increased fluidity title-wide, emerging especially valuable in multiplayer.
"That's one of the big accomplishments of Gears 5, and it was a big focus for us early on. We knew that we wanted to be 60 [FPS] across all the multiplayer modes," said Rayner. "When we did the Xbox One X Enhanced version [of Gears 4] we supported 60 [FPS] 1080p or 4K 30 [FPS]. And we knew we wanted to go 60 and 4K for Gears 5, so we did a lot."
Packing visual advancements across the Xbox family, Gears 5 required substantial refinements to draw the finest from fast-aging hardware. The Coalition shifted its approach to the foundations of the title, nailing down optimization across the hardware suite.
The Xbox One X brought a notable assortment of horsepower advances in 2017, touting a GPU with around four times the capabilities of the former setup. But relatively minimal CPU revisions left the box bottlenecked by the brains – and where Microsoft has eyes set for Project Scarlett's upgrades. Rayner detailed efforts to reduce CPU load and streamline processing to achieve its 4K 60 ambitions on Xbox One X.
"We more than doubled the simulation speed. There was a lot of CPU optimization, focused on that so that we could keep the same fidelity and player counts. We moved a lot of the systems off the CPU into the GPU," said Rayner. "We switched the physics engine, from PhysX to Havok. Havok is a much more performant physics engine. [...] We did a lot of graphical optimizations, a lot of it's just using the latest techniques. And then we have implemented a temporal reconstruction technique."
Temporal reproduction plays a crucial role in grounding Gears 5, ensuring the perception of constant visuals and fluidity when under strain. With 60 FPS locked across the sandbox, the game leverages dynamic resolution scaling masked with temporal reproduction in demanding scenarios. "[W]e have a form of dynamic scaling in the game," said Rayner. "We'll render 4K native resolution. But if we're under extreme pressure, let's say we have something crazy going on, to ensure that we have a locked 60 frames per second, we will let that dynamic scaling kick in. But then we use an upscaling technique that's sort of a modern technique, it's called temporal reconstruction. But it's much more sophisticated than just like a simple scale like we had in Gears 4."
Taking Gears 5's world to new heights
Accompanying a strong palette of visual enhancements, Gears 5 also expands its gameplay boundaries. The fifth mainline installment brings newfound depth to Kait's heritage, fostering a lineup of acts with fixated on adventure and discovery. The move also welcomes large-scale environments, serving as the framework for open combat and vehicular encounters. Accounting for the scale, The Coalition looked to streamline presentation across modes.
"[W]e wanted to have a much bigger environments and you definitely see that," said Rayner. "Both in some of the interior locations, but also obviously in the large open spaces. To do that we invested quite a bit of technology where we leverage a number of things that Epic had done with Unreal Engine. [We] also invested in our own systems for hierarchal level of detail, improved texture streaming."
"We have ability to just keep your eye locked on one part of the map and just walk from one end to the other, skiff to one end to the other, without having a loading screen [or] a major visual discontinuity. That was certainly a lot of work, we're really proud of that. We introduced a number of visual features to support that within worlds. We added tessellation to the engine, that's GPU-based tessellation. And you'll see that when you're walking around in the sand in the snow."
Approaching the end of a hardware generation, ray tracing has also secured the spotlight for the coming generation. The progressive technology brings advanced physics to lighting, with improved reflections and propagations for realistic backdrops. Dedicated ray tracing cards lead the PC market, while Xbox Project Scarlett commits to similar hardware-accelerated implementation, poised to shake up presentation.
"We have some ray-traced shadows as part of our lighting techniques. In our maps, the shadows that are further away are ray-traced, whereas closer up they're cascaded shadow maps, so they're fully dynamic. That really allows us to have ultimately higher-quality shadows, the ray-traced shadows let us have shadows that get softer as they get farther away, from the shadow techniques," said Rayner.
While Gears 5 doesn't join those doubling down on ray tracing in 2019, Rayner alluded to the beginning of future ambitions. "It's all in the GPU, compute-based, ray-traced shadows. This is earlier work, that works across all platforms, versus requiring you to have bought ray trace-specific GPU hardware. And so this works on the Xbox One, works on the Xbox One S, as well as the PC."
Locking down that secret sauce
Outside of the glamor of 4K clarity and buttery smooth framerates, where does Gears 5 ultimately stand out? Rayner feels Gears 5's most noteworthy technical leap lies with its underlying multiplayer systems.
With expanded online features, the studio further leverages Microsoft's cloud empire, debuting the new TrueMatch matchmaking technology. "We've made a number of investments to continue to optimize and tune our multiplayer. We moved our dedicated servers from 30 Hz to 60 Hz, lowering the latency. And we have invested quite a bit in our matchmaking technology," said Rayner. "We have some advanced new machine learning-based matchmaking systems, one's called True Match, which will optimize your match based on the population. […] You're going to find higher-performing, better-matched games, a better matchmaking experience. And all that extends to cross-play."
Gears 5 also ties into Microsoft recent PC efforts, finally showing commitment to the mouse and keyboard. Reversing well-documented past missteps, it recently brought Xbox Game Pass, a sleek new Xbox app, and accompanying overlay for the core PC crowd. "We've introduced Steam as well and we've made quite a bit of investment into the PC side. Gears 4 was a big investment and with Gears 5, we've really built the PC from the ground up to be able to ensure that it's really an awesome experience there. And with Steam in the mix, as well as the investments we've made with Windows Store — we've moved away from UWP, we're a native Win32 app in the store. It's going to be a first-class PC experience, and I'm really looking forward to watching that."
Between new hardware gains and accompanying tools since Gears 4, The Coalition's latest already demonstrates a clear technological leap for the shooter. Between Xbox One X and increased PC investments, Gears 5 now sees potential to draw from the best on the market. Whether it fulfills such promises should be determined in the weeks ahead. In the meantime, Gears 5 remains available for preorder, currently starting as low as $50 via Amazon.
Save on Gears 5
Gear up for a wild ride.

Gears 5 raises the stakes with Microsoft's latest evolution of the brutal shooter series. Amazon is currently offering the game at the cheapest price we've found, just $50. The game is expected to be released on September 10, 2019, while the $80 Ultimate Edition grants four-day early access.
Updated August 31, 2019 Updated with minor transcription amendments.
Get the Windows Central Newsletter
All the latest news, reviews, and guides for Windows and Xbox diehards.
Matt Brown was formerly a Windows Central's Senior Editor, Xbox & PC, at Future. Following over seven years of professional consumer technology and gaming coverage, he's focused on the world of Microsoft's gaming efforts. You can follow him on Twitter @mattjbrown.